So you want to visit Scandinavia, but you only have time for one Nordic capital. Which should it be: Copenhagen or Stockholm?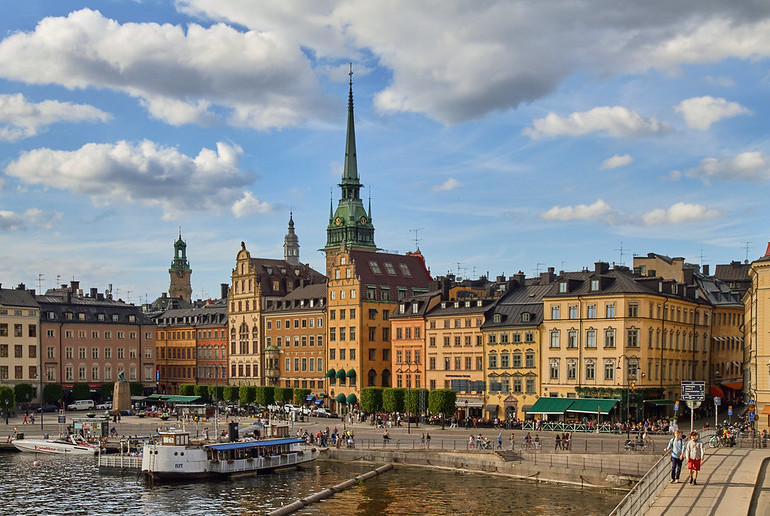 It's true that Stockholm probably has the edge in terms of sheer beauty, but you can't beat Copenhagen for edginess, trendiness and a cool, vibrant atmosphere.
In truth, there are loads of really good reasons to visit both cities, so we've done the comparison for you.
We've looked into the cost of visiting each city, what there is to do in each, what the weather's like and which has the best places to stay and eat, to help you decide where to go.
So read on to find out which is better: Copenhagen or Stockholm?
Sightseeing and attractions
Free things to do
Guided tours and experiences
Outdoor activities and nature
Culture and history
Weather and when to go
Accommodation
Food and dining
Nightlife
Shopping
Getting there
Getting around
Safety and friendliness
Budget and costs
Our verdict
Sightseeing and attractions
So, most importantly what is there to see and do in Copenhagen and Stockholm?
One thing both cities have in common is that they're based around water. Stockholm is built on 14 islands connected by 57 bridges, while Copenhagen is Denmark's largest port city, and laced with canals.
So, it's not surprising that taking a boat trip is a must-do in both.
Boat tours in Copenhagen take in the canals, the harbour front and the main city sights. We particularly like this classic harbour and canal tour that cruises down the colourful Nyhavn waterfront past the famous Little Mermaid statue.
In Stockholm, you can choose from loads of different boat trips too, either around the city or further afield out into the archipelago. We suggest the Royal Canal tour, which explores the beautiful Djurgården Canal.
Stockholm is known for its museums, including the hugely popular Vasa Museum and the iconic ABBA Museum.
Copenhagen's top attraction is Tivoli Gardens, an amusement park visited by more than 4 million people a year. Read our review to find out if the theme park is worth a visit!
Free things to do in Stockholm and Copenhagen
Both cities also have plenty of cheap and free things to do and see too. Stockholm is so picturesque that you can simply wander around its atmospheric, medieval Old Town, Gamla Stan and drink in the beauty.
Copenhagen's iconic Little Mermaid statue is completely free to visit too, as is the lively waterfront Nyhavn and the unique freetown of Christiania.
See our epic guides for tonnes of other ideas for free things to do in Copenhagen and Stockholm.
Guided tours and experiences
If you fancy splashing out on a sightseeing tour or experience, both cities have plenty of choice, from ice skating in Stockholm to a bar crawl in Copenhagen.
We particularly like these fun Segway tours of Copenhagen and this gondola trip over the top of the domed Avicii Arena in Stockholm.
You can see more ideas for guided tours in these two guides (we made one for Stockholm and one for Copenhagen).
There are loads of different options to choose from – and because both cities are so close to the water, there are lots of rural activities to enjoy too, like canal trips from Copenhagen or the many hiking trails near Stockholm.
★ SUGGESTED DISCOUNT
Save with the Stockholm Pass
Get up to 50% off at Stockholm's top attractions, including the Vasa Museum, SkyView Stockholm and The Viking Museum, plus discounts on some of the city's best boat trips.
Outdoor activities and nature
Even if you stay downtown, you'll find that both Copenhagen and Stockholm have plenty of green spaces, urban parks and islands to explore.
In Stockholm's case, some 30,000 islands make up its archipelago, and a kayak trip is one of the best ways to explore at least one or two of them: read our guide for some more suggestions.
Copenhagen is one of Europe's most bike-friendly cities, and renting a bike or taking a bike tour is the best way to explore its green spaces.
There's also no shortage of wild swimming spots in both cities: Stockholm has its lake beaches, and Copenhagen has beaches and harbour pools where you can cool off in the summer.
And both cities have options for skiing too: check out these ski slopes near Stockholm and this amazing year-round ski slope on top of a power plant in Copenhagen!
Culture and history
Both cities have a rich history and cultural heritage to explore. Stockholm probably has the edge in terms of museums, with the Skansen open-air museum, the Viking Museum and the ABBA Museum plus loads of kid friendly options.
Copenhagen, however, is a great destination for lovers of art and design with the award-winning Danish Architecture Centre, the Glyptoteket museum of sculpture and the world-renowned Louisiana Museum of Modern Art.
For more on Copenhagen's galleries, check out our art gallery guide.
Both cities are well provided with theatres and music venues and are on the international circuit for top-name touring bands and singers. So in terms of culture and entertainment, we don't think there's much in it between Copenhagen and Stockholm.
Weather and when to go
Stockholm lies just over 400 miles northeast of Copenhagen, but the climates of the two cities are not too dissimilar. Overall, Stockholm is a bit colder than Copenhagen in winter and has more chance of snow and blue skies.
As you can see from the table below, Copenhagen gets slightly more rain, so you may want to bring an umbrella! There's more in our guide to the best time to visit Copenhagen.
Average monthly temperatures in Stockholm and Copenhagen
| | | |
| --- | --- | --- |
| Month | Copenhagen | Stockholm |
| January | -1–3ºC | 0–4ºC |
| February | -1–3ºC | 0–4ºC |
| March | 1–6ºC | -2–4ºC |
| April | 4–11ºC | 2–10ºC |
| May | 8–16ºC | 7–16ºC |
| June | 12–20ºC | 11–21ºC |
| July | 14–22ºC | 14–23ºC |
| August | 14–22ºC | 14–21ºC |
| September | 11–17ºC | 10–16ºC |
| October | 7–12ºC | 5–10ºC |
| November | 4–7ºC | 1–5ºC |
| December | 5–1ºC | -2–2ºC |
Average monthly rainfall (in millimetres)
| | | |
| --- | --- | --- |
| Month | Copenhagen | Stockholm |
| January | 40mm | 38mm |
| February | 20mm | 25mm |
| March | 40mm | 25mm |
| April | 30mm | 30mm |
| May | 40mm | 30mm |
| June | 60mm | 45mm |
| July | 60mm | 70mm |
| August | 60mm | 65mm |
| September | 60mm | 55mm |
| October | 50mm | 50mm |
| November | 60mm | 52mm |
| December | 50mm | 45mm |
Accommodation
Both Stockholm and Copenhagen have a great range of accommodation, from hostels through Airbnbs to luxury five-star hotels.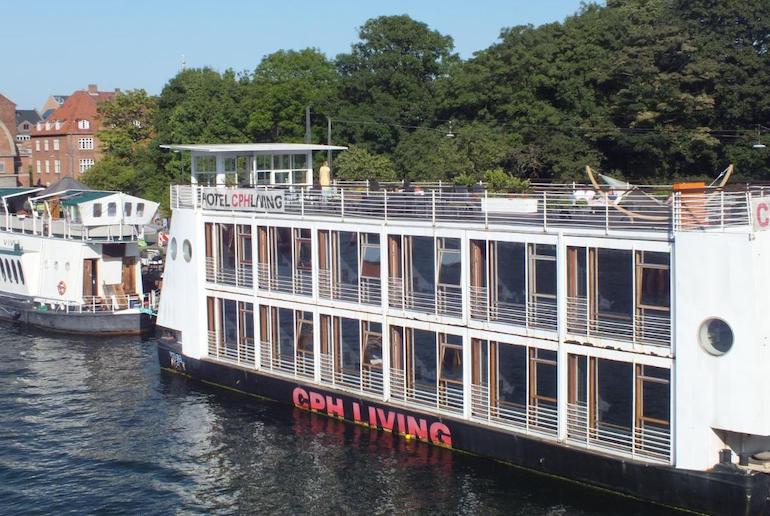 There are also some unusual and quirky accommodation options in both cities. We love this converted jumbo jet that you can stay in near Stockholm airport, and this hotel on a boat in Copenhagen.
You can also camp easily on the outskirts of both cities: see our guides for more on Camping in Denmark and Sweden.
Accommodation in the centre of any city is always more expensive, so you may want to consider staying in the trendy regenerated suburb of Nørrebro in Copenhagen.
In Stockholm, you may find cheaper accommodation in the suburbs of Norrmalm and Östermalm, rather than in the Old Town Gamla Stan. Or head out to one of islands and hire a cabin in the archipelago and commute into the city from there by ferry.
Average price in shoulder season for accommodation
| | | |
| --- | --- | --- |
| | Copenhagen | Stockholm |
| Dorm bed in a hostel | DKK 260 (US$40) | SEK 360 (US$35) |
| Double room in 2-star hotel | DKK 900 (US$130) | SEK 900 (US$90) |
| Double room in a luxury hotel | DKK 2500 (US$360) | SEK 3000 (US$300) |
| Pitch plus 1 adult on a campsite | DKK 175 (US$25) | SEK 250 ($US25) |
Food and dining
Copenhagen is the birthplace of New Nordic cuisine, and is still home to Noma, the iconic restaurant that kick-started the trend.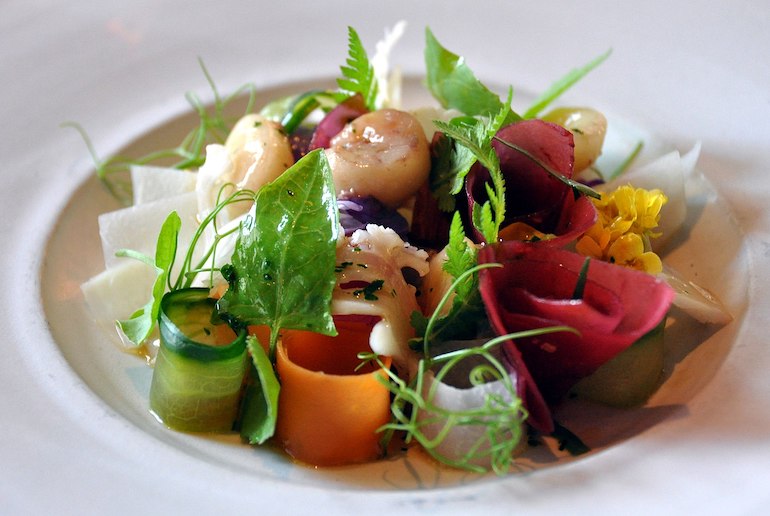 Its influence on the food scene has spread throughout the whole of Scandinavia, including Stockholm, which also has its fair share of top fine dining experiences and Michelin-starred restaurants.
Check out our guide for more on how to sample New Nordic cuisine in Copenhagen on a budget.
Of course, such restaurants are beyond the budget of most people (if you can even get a reservation!) but both cities also have a good range of places that serve a variety of good value dishes.
Local specialties and traditional dishes
In Stockholm, hot dogs, pancakes, pickled herrings and meatballs are widely available – see our guide to Swedish fast food for tips on the local specialities to look out for.
In Copenhagen, you'll want to try smørrebrød (open sandwiches), cinnamon buns, Danish pastries and stegt flæsk (pork with parsley sauce).
To discover more about Copenhagen's culinary traditions, why not try this culinary tour of the city by bike? And in Stockholm, this Nordic food walk is a great way to sample the city's specialities with an in-the-know guide.
Affordable food options and street food
In both cities, food halls are a good option for trying street food and eating on a budget. Stockholm has the upmarket Östermalms Saluhall and the good-value Hötorgshallen.
Copenhagen has its Torvehallerne, with stalls from all cuisines, the affordable Tivoli Food Hall and Reffen, a cool urban space along the waterfront.
For more ideas on affordable food, see our guides to cheap food in Stockholm and Copenhagen and community kitchens in Copenhagen.
Nightlife and entertainment
In terms of nightlife, both cities have a good range of bars, clubs and entertainment venues, though Copenhagen is probably better known as a party city.
Beer is certainly cheaper in Copenhagen – check out our guide to where to find cheap beer in Copenhagen – though you can also find budget beer in Stockholm, if you know where to look!
As well as its iconic Carlsberg brewery, Copenhagen now has a thriving craft beer scene and plenty of outdoor bars and cafés to enjoy a pint or two in.
Birthplace of the DJ Aviici, Stockholm has a few good clubs, but they can still be a bit pretentious and you shouldn't expect a Nordic version of Berlin.
Stockholm has also embraced the roof-top bar craze with a vengeance (try these fun options). It's a great city to kick back with a cocktail without breaking the bank.
Both cities have a wide range of festivals and cultural events, from jazz to opera to bluegrass.
The best-known is the annual Roskilde Festival, about half an hour outside Copenhagen, which attracts top international acts, such as Blur, Lizzo and Kendrick Lamar.
Shopping
Both Copenhagen and Stockholm have all the usual international brands. Sweden's best-known shop, of course, is IKEA (and you'll find the biggest one on Earth just outside the city) while Copenhagen is known for its Danish design classics.
Nørrebro in Copenhagen is a cool shopping district, good for vintage shops and galleries, while Södermalm in Stockholm is the district to browse round for second-hand and pre-loved bargains.
There are fun flea markets in Copenhagen, while Stockholm is home to some cool vinyl shops and bookshops.
Getting there
Both Copenhagen and Stockholm are easy to get to by plane from the UK and the US, with large international airports that serve most European capitals and a selection of US cities.
SAS, Delta and Virgin fly direct from New York to both Copenhagen and Stockholm.
There are several daily direct flights from London to both Stockholm and Copenhagen on British Airways and SAS as well as on budget airlines Ryanair, easyJet and Norwegian.
Journey times for direct flights
| | | |
| --- | --- | --- |
| | Stockholm | Copenhagen |
| New York | 8hr–8hr 30 min | 7hr 40min–8hr |
| Boston | 8hr | 7hr 30min |
| Toronto | 8hr | 8hr |
| London | 2hr 30min | 1hr 50min |
Train and ferry connections between Scandinavian cities
| | | | | |
| --- | --- | --- | --- | --- |
| | Copenhagen | Stockholm | Oslo | Helsinki |
| Copenhagen | | 5hr+ by train (direct) | 8hr+ by train (indirect) | n/a |
| Stockholm | 5hr+ by train (direct) | | 6hr by train (direct) | 18hr by ferry |
| Oslo | 8hr+ by train (indirect) | 6hr by train (direct) | | n/a |
| Helsinki | n/a | 18hr by ferry | n/a | |
Getting around
Public transport is good in both Copenhagen and Stockholm, with trams, a metro system and bus connections to all parts of the cities. Stockholm also has a good ferry network out to its islands.
Walking and cycling are great options too. Copenhagen has one of the world's best cycle path networks, and the city centres of both are compact enough to make walking round them a pleasure.
In fact, one of the best ways to see the city sights is on a guided tour, by bike or on foot. This walking tour takes in Stockholm's Old Town while this guided bike tour explores some of the city's islands as well.
In Copenhagen, you can see the Little Mermaid and royal place on this city centre walking tour or explore some of the trendy suburbs as well on this guided cycle tour.
Safety and friendliness
Both cities are considered safe to visit, with low crime rates and good health facilities. In fact, Copenhagen ranked as the safest city in the world in the 2021 Safe Cities Index.
Of course, pick-pockets and petty crime are possible in all busy areas, but serious crimes against tourists are unusual.
Copenhagen and Stockholm are both known as tolerant and open-minded cities and English is widely-spoken in both.
Due to a certain Swedish shyness and reticence you may find it harder to make friends and chat with the locals in Stockholm than in Copenhagen, whereas the Danes are generally friendly and helpful to visitors.
Budget and overall costs
So, which city is cheaper to visit – Stockholm or Copenhagen? Let's look at the prices of a few things that you're likely to buy on holiday in each city.
| | | |
| --- | --- | --- |
| | Copenhagen | Stockholm |
| Meal in a budget restaurant | DKK 140 (US$21) | SEK 130 (US$13) |
| Three-course mid-range meal | DKK 800 (US$120) | SEK 800 (US$78) |
| Coffee in a café | DKK 42 (US$6.50) | SEK 42 (US$4) |
| Local beer in a bar | DKK 55 (US$8) | SEK 75 (US$7.50) |
| Bottle of wine | DKK 65 (US$9.50) | SEK 120 (US$11.70) |
| One-way public transport ticket | DKK 37 (US$5.50) | SEK 39 (US$3.80) |
| 24-hour City pass | DKK 459 (US$68) | SEK 619 (US$60) |
As you can see from the table above and from our accommodation table, Stockholm comes out as a cheaper city to visit than Copenhagen.
When comparing like for like, you'll probably spend about 10 percent more on a trip to Copenhagen than in Stockholm.
Of course certain things are pricier in Stockholm – a bottle of wine, for example – but at the time of time of writing, we can see that Copenhagen is slightly more expensive to visit as a tourist.
For more detailed information about prices in each city, see our guides to the cost of living in Denmark and Sweden and Stockholm prices: what to expect.
So, is Stockholm or Copenhagen better?
Of course, which city you choose to visit depends very much on what you want to do and see, when you visit and what your budget is.
If you like picturesque historical streets, palaces and museums, you may prefer Stockholm. If you want a younger, edgier vibe with lively bars, cafés and galleries then Copenhagen may appeal.
We started Routes North in Stockholm, and will always have a soft spot for the Swedish capital. But Copenhagen is undoubtedly a cool city too, with less pretence and a bit more of a gritty, artistic vibe.
Obviously, the best option is to visit both – and given that direct trains run between the two cities, we suggest that you try it, if your budget allows.
But, what do you think? Which city do you prefer – Stockholm or Copenhagen? Leave us a comment and share your thoughts and experiences about which city is better: Stockholm or Copenhagen.
See also:
The best places to visit in Stockholm
Is the Copenhagen Card worth buying?
Is the Stockholm Pass worth buying?