With the word harbour (havn) incorporated into its Danish name (København), Copenhagen naturally has a strong connection with its waterways. Many of these lead right past some of the city's most popular tourist attractions, including postcard-perfect Nyhavn and the famous Little Mermaid statue.
There are loads of guided canal tours and boat trips to enjoy, and you can even rent your own boat for a bit of self-guided exploration. Seeing the city from the water can help you find your bearings before diving into the maze of historic streets on foot.
Options for boat trips in Copenhagen range wildly, from romantic gondola rides and classic canal cruises to sailing ship adventures and solo kayak trips – use this guide to choose the one that will leave you in 'oar' of the Danish capital.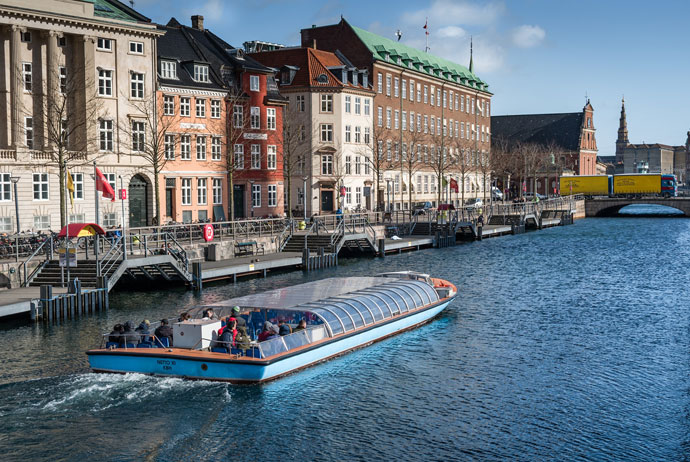 Where do the boat tours depart from?
Copenhagen's most popular type of boat tour is a trip along the canals. Most of these tours leave from the touristy Nyhavn area and from Gammel Strand, near Christiansborg Castle. Others run from Ofelia Plads near Amalienborg Palace (it's just around the corner from Nyhavn).
Havnebussen boats, which are part of the city's public transport system, can be boarded at several stops between Refshaleøen and Teglholmen, giving you a cheap alternative to the organised tours. Just bear in mind that these are very much 'local' boat services – you won't get any info on what you're sailing past.
Do the boat trips run all year?
As Copenhagen's harbour rarely struggles with ice, several companies run boat trips all year around, so you should be able to join a tour regardless of when you visit.
Tickets for most of the tourist tours and need to be booked online and in advance, but a few can also be booked on the spot. If you're going to try your luck with the Havnebussen public boats, you can buy tickets onboard.
Tips for taking a Copenhagen boat tour
Check the weather forecast and always bring an extra layer – it can get chilly here, even in the summer.
Add sunscreen and a hat if you're hitting the water during the summer months.
Consider renting your own boat for a bit more freedom – you can safely rent certain types of boats in Copenhagen, even if you have no previous experience.
Don't forget to book in advance – especially in high season.
Pack a picnic and enjoy lunch on the water. Several of the tours we've listed below allow you to bring your own drinks and food.
Guided canal and harbour tours
Touring Copenhagen's canals is so popular that a whole industry has built up around it, with several different providers offering a multitude of tours, each aimed at taking visitors to see different parts of the city. These are some of the best:

The Grand Tour
This budget-friendly one-hour tour takes you around the canals and the harbour to see the city's best bits. Guides speak Danish and English (other languages are also available on specific departures) and provide a bit of background about the city as you sail past famous landmarks.
Tours can be boarded at three different pick-up points across the city, and will take you past highlights like Christiansborg Palace, the opera house, the Little Mermaid statue and majestic Amalienborg Palace. The tours run all year round and ponchos are included, just in case it rains! A 'hop-on, hop-off' version of this tour is also available.
---
Hey Captain boat trips
Putting the focus firmly on good-old Danish hygge (you'll get warm drinks and blankets to keep you cosy), this is a much more intimate boat tour with room for just 12 guests at a time.
Running from March to December, it sets out from Ofelia Plads near Amalienborg Palace, sailing past plenty of harbour highlights before returning one hour later. Two-hour private tours are available too, if you want the whole boat to yourself.
---
Havnebussen
Havnebussen, or 'the Harbour Bus' is part of Copenhagen's public transport system, just like the regular buses on land. This means you can travel with the same kind of tickets you'd use on ordinary buses.
Riding the harbour bus isn't really the same as a guided tour, but it does offer a cheap, alternative way to get from A to B around the harbour, while still enjoying some of its attractions along the way. The main routes to try and get on are #991 and #992 (they run in opposite directions but both pass the opera house and Nyhavn).
---
Wooden sailing ship tours
Looking to explore the harbour in style? Then be sure to visit Copenhagen in high season (late June to the beginning of August), when you can book a harbour tour aboard a real wooden sailing ship. These tours aren't cheap (expect to pay around 400 DKK per adult) and you'll need to book in advance – check the De Forenede Sejlskibe website for exact sailing times.
Gondola tours
Experience the canals of Copenhagen, Italian-style. Touring the capital in an original Venetian gondola is probably the ultimate romantic option (unless it's cold and raining, of course). The gondola's route can be customised according to your preferences and includes your own gondolier, but you'll need to book ahead.
Boats for rent in Copenhagen
If you don't like the idea of setting sail with other tourists and would rather hit the water on your own, renting a boat is a great option.
There are a few different low-powered boats that you can captain yourself, and although there are age limits in place, no prior experience is necessary. You can also rent a private boat with a captain from Refshaleøen, or jump in a kayak instead.
GoBoat
Some of the most popular boat rentals in Copenhagen are GoBoats. These dinky, solar-powered boats let you go wherever you fancy along Copenhagen's system of canals, with no experience or special license needed.
There's a little picnic table in the middle of these boats, so you're free to lunch with friends or bring along a few drinks and snacks for an enjoyable day on the water. These boats holds up to 8 people and are rented on a pay-per-hour basis from their station at Islands Brygge.
---
Duffy boats
If you're travelling with a group of friends or your family, then you might want hire your own boat and captain to take you comfortably around the harbour. The California-made and eco-friendly Duffy boats take up to 11 guests at a time, and are a great option if you want a bit more space and the freedom to explore a little more.
---
FriendShips
A good alternative to GoBoats (see above), FriendShips can be rented from Christianshavn, so you're just around the corner from Christiania and the opera house. Renting for two hours (around 725 DKK) will give you enough time to take in a few of the capital's big sights while sailing quietly through the water.
---
Kayak Republic
Wanna keep those biceps in shape during your city break? Then you should consider skipping the boats altogether and jumping in a kayak. This place lets you rent stable, easy-to-use kayaks or join a two-hour city tour (around 395 DKK).
See also: 
Where to go swimming in Copenhagen
50 free things to do in Copenhagen
The best guided tours in Copenhagen
Is the Copenhagen card worth buying?
Like what you've been reading? Get our best tips by email!