If you like searching for bargains at vintage shops and eating at cosy cafes and restaurants, Nørrebro is the place for you.
This cool Copenhagen neighbourhood is only a short walk from the city centre but somehow it just feels different – and as soon as you arrive, you'll get a taste of the local, multicultural and vibrant atmosphere that makes the area so special.
We pounded the pavements to give you the inside track on where to shop, eat, drink and sightsee in this super-cool part of the city.
How do I get to Nørrebro?
From downtown Copenhagen and the city's main train station, the easiest way to get to Nørrebro is to walk or cycle across the bridge called Dronning Louises Bro.
As you approach the bridge you'll probably see people hanging out or partying, giving you the first taste of Nørrebro's lively vibe. If the weather is nice and sunny, you'll probably pass a ragtag group of beer drinkers and buskers, too.
At the point where Dronning Louises Bro ends, the street called Nørrebrogade begins, and you're now officially in Copenhagen's coolest quarter. If you came by bike, congratulations – you're doing your bit to make this the most popular cycling street in Europe (more than 36,000 locals cycle along this avenue every day).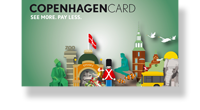 Is the Copenhagen Card worth buying?
Read this guide to see how much you could save during your trip!
Going shopping
Nørrebro is a fun place to go shopping. If you're after interesting souvenirs, walk along the streets called Ravnsborggade and Sankt Hans Gade, where you'll find some of the oldest secondhand stores in Copenhagen, along with plenty of small design shops.
Have a look at the old furniture at Ryesgade Antik (it's on the corner at Ryesgade 2); check out the silverware and crystals at ABC Antik; or peek into Sankt Hans Gades Antik at number 12, which is stuffed with old clothes and jewellery.
The modern design shops and galleries in this part of town are also worth a look; one of our favourites is Sirin, an upscale store selling bags, kitchenware, posters and furniture from across Scandinavia.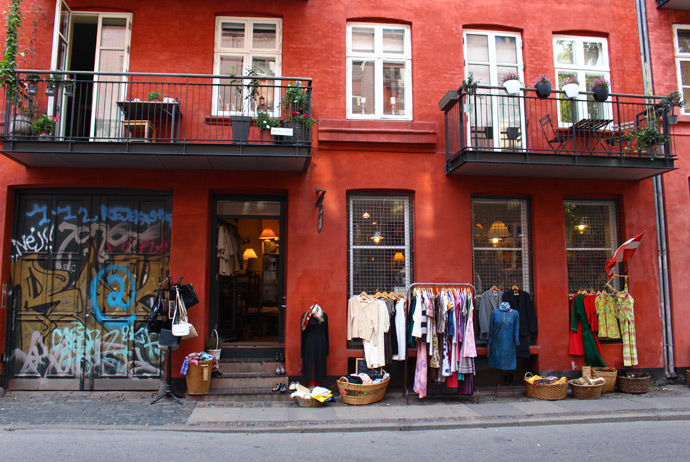 Another nice street full of cute shops is Elmegade, a few minutes' walk to the west. Book lovers will want to make a stop at Elmegades Antikvariat (at number 10) for a quick peek at the selection of English tomes. Just a few metres away at Elmegade 20 you'll find Twenty, a concept store offering trendy vintage clothing and lingerie.
If you're still not done with window-shopping, or if you just want to see more Danish fashion and design, Jægersborggade is the place to head for. Despite its small size, this hip street has all kinds of cool clothing stores and tattoo shops, making it a fun spot for a stroll during the day.
The great outdoors
When the sun comes out in Copenhagen, Nørrebro gets packed with locals making the most of the neighbourhood's outdoor places. Even if the weather's not ideal, there are still some interesting ways to enjoy the great outdoors in this part of Copenhagen.
You'll probably want to wander through Assistens Cemetery, which is the burial site of some of Denmark's most famous men and women. It might sound creepy but once you see Hans Christian Andersen's last resting place set among the beautifully tall trees, you'll feel more like you're on a cultural tour than a spooky expedition. In fact, there's an interactive puzzle walk game you should try out to make the most out of your visit.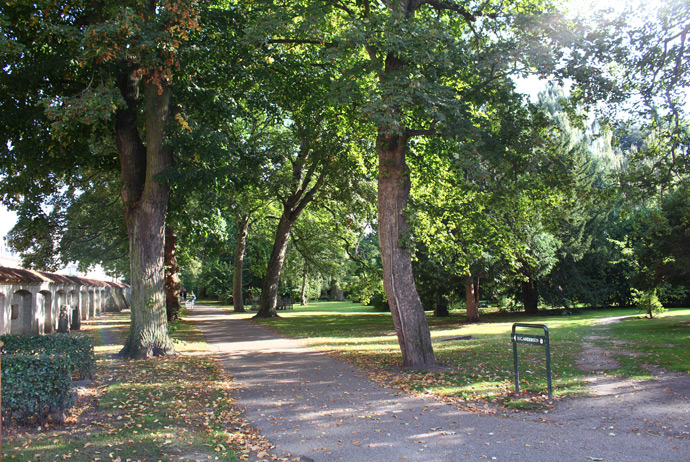 What's more, one of Copenhagen's best markets (Nørrebrogade Flea Market) takes place outside the cemetery every Saturday morning from March until October.
Take a stroll northwest along Nørrebrogade and you'll soon pass the colourful Superkilen park. Here you can jump on a swing from Iraq or sit on a bench from Brazil – the idea of the park is to celebrate diversity by bringing different objects together in the same shared space. The park is divided in three parts: The Red Square, The Black Market and The Green Park, and all of them are equally fun to discover.
If you're in the mood for a picnic, head to Nørrebroparken, the long skinny park that cuts through part of the neighbourhood. It's a pleasant, leafy spot where you can meet locals and get a feel for life in this part of the city.
Where to eat on the cheap
Nørrebro is famous for its cheap and delicious food. On Nørrebrogade you'll find loads of different cheap restaurants and takeaways but we can't resist stopping by Beyti and Konyali – two famously good Middle Eastern restaurants serving up kebabs, grilled meats and falafel.
If you're more in the mood for Italian and can afford to spend a bit more, head to Non Solo, which does authentic pizzas. Veggies should head straight for Cafe N at Blågårdsgade 17, whose low prices and mean homemade mayo have turned it into one of the district's most popular spots.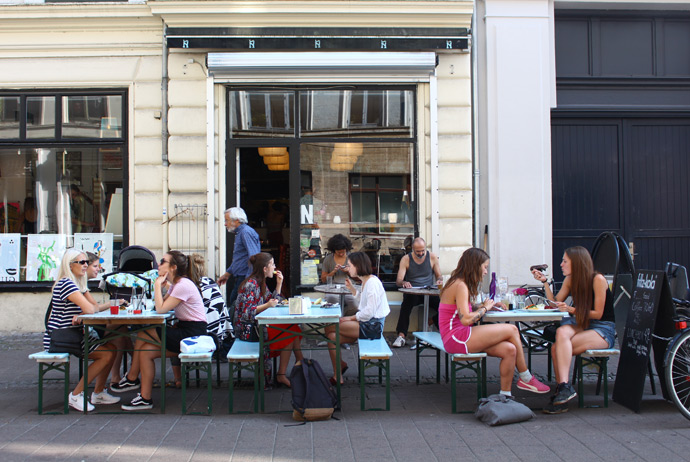 What about coffee shops?
Sankt Hans Torv is one of the most famous squares in Copenhagen. With a big granite sculpture right in the middle, it's edged by plenty of cafés and bars.
If you're looking to stop and recharge your batteries, our advice is to sip a hot coffee at Cafe Plenum or try one of the quirky bubble teas at the Mad Hatter Bubble Tea Emporium.
To truly see Nørrebro's 'hipster side' just head back towards Jægersborggade where you'll discover design-conscious cafés and takeaways serving fresh juices and cups of organic coffee to a seriously bohemian crowd.


Drinking in Nørrebro
Blågårdsgade is the pedestrian street that every Copenhagener and tourist seems to be in love with, and it comes into its own during the afternoons and evenings. This laid-back road, with neat-looking grocery stores and lots of people sitting outside the cafes and bars, just makes you want to grab a drink and become part of the scene.
Props Coffee Shop and Harbo Bar are full most of the time, and for good reason – drop in for delicious coffees and (relatively) cheap beers. You'll find a few other cafés and bars along Blågårdsgade, but the best part of being here is just soaking up the vibe. It's one of the most picturesque neighbourhoods in Copenhagen and at Blågårds Plads, a tree-edged public square halfway down the street, there are often open-air events taking place.
If you're in the mood for more than one beer, Nørrebro won't let you down. There are plenty of bars and bodegas open until around 3am, so you'll almost certainly find somewhere that suits. Trabi Bar, Café Understellet and Temple Bar are among the most popular and you can get a beer for around 30 DKK. Not bad for Denmark, eh?
If you want to experience a proper Danish night out, your last drink should be at one of Nørrebro's famous bodegas. Cafe Nørrehus is the one locals prefer, partly for its cheap beers. Just make sure you have some coins to drop in the jukebox and listen to your favourite song.
Where to stay in Nørrebro
If you're on a tight budget and Nørrebro sounds like the area you want to stay in while visiting Copenhagen, check out Globalhagen Hostel. It's right on Ravnsborggade and has a really fun, youthful vibe. The rooms and dorms are fresh and the hostel is run by a team of 200 volunteers, with profits going to help humanitarian projects in Africa, Asia, the Middle East and Latin America.
A nice, nearby alternative is Sleep in Heaven, one of our favourite hostels in the city. Check out our full round-up of Copenhagen's best-value accommodation here.