One of the great things about Copenhagen is the sheer number of cultural centres where people gather to socialise, work on community projects and generally have a good time. A perfect example is folkekøkkener, or community kitchens, which you'll find dotted across the city.
These community kitchens serve inexpensive, buffet-style meals to large groups of students, tourists and people who are just too damn lazy to cook, almost always with a vegetarian or vegan option on offer.
Everyone is welcome to come and try the cheap and delicious food, and the kitchens usually have large tables that allow you to meet new people and strike up interesting conversations with locals and fellow visitors.
As with most things in Denmark, there's an emphasis on accessibility; anyone can eat at a folkekøkken. If you'd like to take a more hands-on role and get your meal for free, rather than just cheap, you may be able help out with the cooking – just contact the organisers in advance to see what assistance they need.
Here are some of the best community kitchens in Copenhagen.
Absalon
Vesterbro
Previously a church, this hip Vesterbro venue now acts as an altogether different community space, offering a soup kitchen, a café and a bar, plus occasional yoga classes and flea markets.
The bright hall is a great place to come on a rainy day in Copenhagen – it has ping pong tables, couches, and friendly people from all different walks of life. Absalon is one of the few venues that hosts a folkekøkken dinner every night of the week. Food is served, family-style, at 6pm. Dinner normally costs 50 DKK, but on Fridays the 'luxury' dinner costs 100 DKK. Children under 5 eat for free.
Sønder Boulevard 73
absaloncph.dk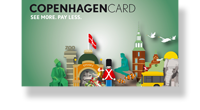 Is the Copenhagen Card worth buying?
Read this guide to see how much you could save during your trip!
Kafa-X Folkekøkken
Nørrebro
Set in a basement, this community kitchen serves up a vegan-friendly feast every Tuesday at 7pm. If you come at 4pm and help out with cooking, you can eat for free. Otherwise, it costs 20DKK (which, let's face it, is as cheap as you'll find anywhere in Copenhagen).
You'll find all sorts of good-spirited and politically active people here. Location-wise it's perfect if you're staying close to the centre; it's just across the lakes from the downtown area in trendy Nørrebro.
Korsgade 19
No website
Biblioteket
Nordvest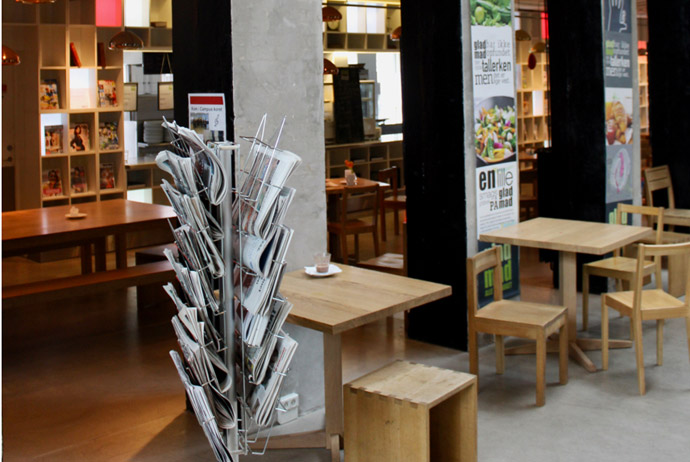 This newly built culture house and library is home to Café Glad, run by Gladmad, an organisation that aims to build a labour market that's more accessible for people with disabilities.
Community meals are served on Thursdays from 5.30–7pm (though you can order food from the café every day) and they always use 100% organic ingredients.
The meal costs 50 DKK and features meat (though there is always a vegetarian option). On the last Thursday of every month the meat is halal. This community kitchen is particularly good for families with kids – not least because of the kids' play room just past the tables!
Rentemestervej 76
gladmad.dk
KraftWerket's Folkekøkken
Valby
On Tuesdays from 6pm onwards, KraftWerket – a youth club and community space in Valby, just south of Copenhagen Zoo – serves up cheap and delicious meals. You can eat well here for as little as 20 DKK and the food is always vegan. Sometimes that price includes a dessert, and you can also buy coffee, soda and beer.
Valgårdsvej 2, Valby
No website
Café N
Nørrebro
On Blågårdsgade, this cosy café  no longer hosts a formal folkekøkken, but deserves a mention here for its great atmosphere, affordability and delicious vegan food.
Café N is open from 8am–10pm all week (9am on weekends) and is a good place to grab a snack. You can get a nice bowl of soup for about 45 DKK, or enjoy the meal of the day for around 80–100 DKK. In the summertime you can – rather bizarrely – have a soothing foot spa after your meal.
Blågårdsgade 17
cafe-n-2200.dk
Folkekøkken på Kapelvej 44
Nørrebro
This culture house in Nørrebro is home to a folkekøkken with both vegetarian and meat options every Tuesday from 5pm onwards. It costs 50 DKK for adults, and children eat half price. Often there are presentations about goings on in the community.
Kapelvej 44
kulturn.kk.dk
So, if you're looking for a cheap way to fill your belly and meet some friendly locals, check out a folkekøkken tonight. Happy collective eating!
Map of folkekøkken in Copehagen