Stockholm is the nightlife capital of Sweden and you'll find loads of cool places to drink – whether you fancy a quick nightcap or a bit of a wild night out.
We've already recommended the best places to get cheap beer in Stockholm, but if you fancy something flashier you'll also find a ton of swanky cocktail bars dotted around the city.
The selection of good drinks they serve is mind-boggling – you'll find a colourful assortment of totally inventive beverage, along with some timeless classics. As you might expect, the prices range from surprisingly affordable to 'o-m-g that's expensive'.
There's no single best part of Stockholm for slurping cocktails, which means you'll find fun bars peppered throughout the city, from serene neighborhoods in Vasastan to rooftop terraces in Gamla Stan.
At a mid-range kinda bar, you can expect to pay around 125 SEK for a small cocktail. That said, we've found that even fairly classy cocktail bars tend to have at least one awesome cocktail for 110 SEK or less – a real steal in a big Scandi city. Read on for a breakdown of the best cocktail bars in Stockholm, and how to enjoy them at affordable prices!
Linje Tio
Södermalm
At the top of this list is Linje Tio, which is located right in the heart of Hornstull. It just might be the hippest bar in Stockholm. Although the bar's name is on the tip of most Stockholmers' tongues if you mention a good cocktail, the ambiance here isn't pretentious – in fact, Linje Tio manages to be welcoming and friendly while maintaining an edgy Södermalm vibe.
Most importantly, this place serves up some of the most inventive cocktails in the city. Averaging around 135 SEK each, the drinks at Linje Tio are fresh new takes on classic drinks, with skillful bartenders blending house-produced ingredients into yummy new combinations.
Some recommendations from the menu include the 'Salty Caramel', which gives the classic old-fashioned a nice sweet kick, and the 'Bay of Biscay', which offers a refreshing adaptation of a dark 'n' stormy.
The bar's most popular drink, the summery 'Beets by Tjoget', is a zingy, purple blend of nutmeg, coconut, and ginger flavours. They also offer an amazing 'Milano' for just 100 SEK – it's a simple but extraordinary twist on an espresso martini, served with coffee-infused Aperol.
Hornsbruksgatan 24
Södermalm
Mon-Thurs 5pm–1am, Friday 4pm–2am, Saturday noon–2am, Sunday noon–1am
linjetio.com
★ SUGGESTED DISCOUNT
Save with the Stockholm Pass
Get up to 50% off at Stockholm's top attractions, including the Vasa Museum, SkyView Stockholm and The Viking Museum, plus discounts on some of the city's best boat trips.
Bar Nombre
Vasastan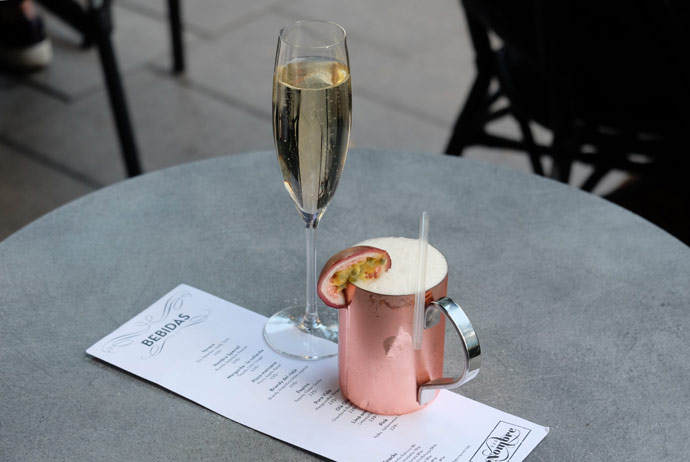 This cosy Spanish-themed bar and restaurant has become a big hit with Stockholm's 'afterwork' crowd.
Tucked away on Odengatan just a few minutes walk from the city's famous library, Bar Nombre is a bit of a local hotspot with super friendly staff, great food and some tasty Spanish-inspired cocktails.
While the food is a touch on the pricey side, the cocktails are all between 125-129 SEK each – and well worth every krona. A good place to start is the 'Nombre Special,' a scrumptiously icy mixture of brandy, passionfruit, and smörkola (caramel). If you're not into sweets, try the tart 'Pepino' instead; it's a zesty cucumber, elderflower and tequila refresher that's perfect for a summer evening.
Odengatan 36
Vasastan
Mon–Tues 5pm–11pm, Wed–Sat 5pm–1pm, Sunday 5pm–10pm
barnombre.se
Supper
Vasastan
Supper is more of a restaurant than a bar but it still has cocktails to die for, so we couldn't bear to exclude it from this list.
The South American-inspired restaurant is a real Vasastan highlight – walk down the dim entrance hallway on a Friday evening and you'll be surprised by the size and sheer energy of this rustic restaurant's lively basement space.
The 'cóceteles' menu is full of amazing drinks, served by the glass for 125 SEK each. Pitchers go for 625 SEK, or you can grab a virgin versions go for around 65 SEK/glass. While it might be a bit on the pricey side, an evening at Supper is totally worth it for two simple reasons: mojitos and pisco sours.
The flavourful mojitos are gifts from above – crisp, tart, slightly sweet and always fragrant. The Pisco Sours are citrusy and sweet, with the secret to their perfection lying in the soft foamy layer that tops them off beautifully. One will definitely not be enough. And remember to make a reservation; this place has a reputation.
Tegnérgatan 37
Vasastan
supper.nu/stockholm
Daily 5pm–late
Oljebaren
Vasastan
Located on the lovely street called Torgatan in Vasastan, Oljebaren, or 'The Oil Bar', is another great place for cocktails in Stockholm.
With outdoor street seating reminiscent of Parisian cafes, Oljebaren attracts locals and tourists alike. It offers a more upscale ambiance with a swish 'olive oil' concept and an outdoor terrace that sways to the sound of live music during the summer.
Oljebaren's cocktail menu is small but mighty, offering classic drinks that are mixed with scientific accuracy. Have a pisco sour, espresso martini or negroni spritz and you will not be disappointed. Or go for their trademark drink called 'Oljebaren' – it's a pleasing bourbon and lime cocktail with an extra flavour boost from the added olive oil.
Each drink on the list is 125 SEK, but they also offer a house cocktail for 100 SEK. Tough to beat in Sweden!
Torgatan 48B
Vasastan
Tues 2pm–10pm, Wed–Thurs 2pm–11pm, Fri 2pm–midnight, Sat 5pm–midnight
oljebaren.com
Tweed
Gamla Stan
If you're okay with splurging a little, head over to Gamla Stan and try two bars right across the street from each other. The first is called Tweed – it's an expensive spot (the drinks average 140 SEK) but it has a ridiculous list of 900 types of alcohol available at the bar.
Even though it's pricey, you might think it's worth a visit for the experience. In the summer there's a lively and colourful rooftop terrace perfect for a cold drink and in the winter it converts into a cigar-smoking lounge with comfy armchairs (book ahead).
Lilla Nygatan 5
Gamla Stan
tweedbar.se
Mon-Sat 5pm–1am
Pharmarium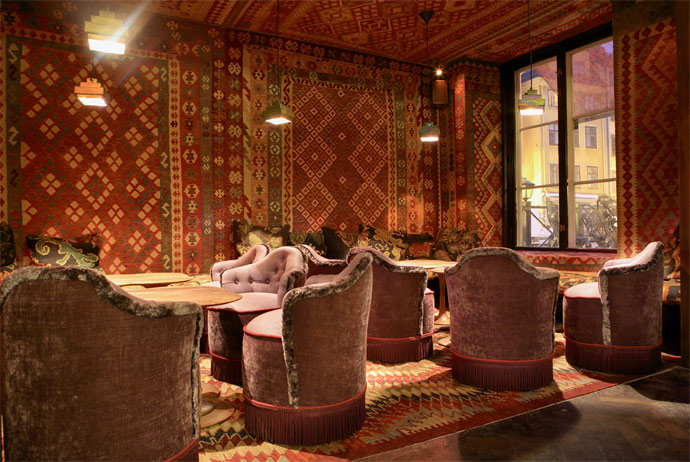 The second splurge spot on this list is just across the street from Tweed (see above). Pharmarium, an intimate little bar with Victorian aesthetics, is dedicated to making cocktails inspired by the alchemy of old-fashioned Swedish pharmacies, hence the name.
Pharmarium prices are on average 150-165 SEK for each drink, but the originality of these blends will astonish those looking to spend a bit more. Pharmarium is highly recommended by locals and tourists alike, presenting drinks made from exotic ingredients ranging from sandalwood and roasted oats to shiso foam, champagne vinegar, and kombucha. With a menu so fascinating, real cocktail connoisseurs won't want to miss this spot.
Stortorget 7
Gamla Stan
pharmarium.se
Sun–Tues 4.30pm–11pm, Wed–Thurs 4.30pm–midnight, Fri–Sat 4.30pm–1am
Geronimos FGT
Gamla Stan
The final bar on this list – a Mexican-American joint called Geronimos FGT – is also in Gamla Stan. There are two bars, one upstairs and one downstairs, both with friendly staff and good service.
The house 'dirty' margarita is priced at just 99 SEK, so this is a great spot to have drinks with friends in the heart of old town at an affordable price. They also offer fun Mexican-inspired cocktails such as the fruity 'Cadillac Margarita,' and the 'Mexican Mule', a Moscow mule with a sharp spike of tequila.
Geronimos FGT has plenty of outdoor seating, live music on the weekends and colorful, festive décor. The clientele here is lively, happy and can even get a bit rowdy – one of the usual side effects of drinking margaritas all night.
Stora Nygatan 5
Gamla Stan
geronimosfgt.se
Tues–Thurs & Sun noon–4pm and 5pm–1am, Fri & Sat 5pm–2am
See also: Cheap beer in Stockholm
Map of cocktail bars in Stockholm