Of all the Scandinavian capitals, Copenhagen has perhaps the best year-round climate, with plenty to do and see in every season.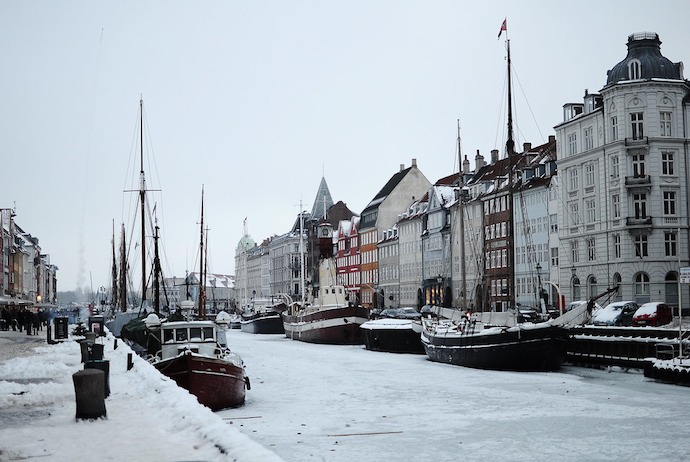 Yes, it snows here in winter, but the snow rarely settles for long and the city is very much geared up for residents and visitors to get out and about, even in mid-winter.
And from June to August, you've got a good chance of sunshine and warm weather, with locals and tourists heading to the city's beaches for a quick dip in the sea.
But a trip to Copenhagen is about much more than the weather. The Danish capital is a lively, cosmopolitan place that hosts some of Scandinavia's largest events, and boasts some of its best restaurants.
If you're eager to discover Copenhagen in style, then try this 2-hour bike tour that goes around some of the city's fabulous landmarks. Otherwise, you can always try this small group walking tour or maybe even this 4-hour walking tour that are just as popular.
For a more engaging experience, Copenhagen also offers a self-guided scavenger hunt around the city.
When to visit Copenhagen: a quick guide
For warm weather and sunshine, the best time to visit Copenhagen is from May to September (the warmest months are July and August).
If you want the best chance of seeing snow, try to visit in January or February.
Copenhagen is fun to visit all year round, but you should bring warm clothes for any trip outside of summertime (May–Sept).
October is a great month for autumn foliage, while April and May are perfect if you want to see the parks bursting into bloom.
Visit Copenhagen in December if you want a double dose of cosiness and Christmas markets.
Want an even better idea of when to go? Here's a handy month-by-month guide to the best time to visit Copenhagen! For easy traveling around Copenhagen, you can also look at this hop-on hop-off bus that goes around the Classic Copenhagen Route.
January
Of course you'll get snow (or slush), plus short days, freezing temperatures and icy winds, but there's no better time to visit than January if you want to experience authentic Danish hygge.
That feeling of wellbeing and cosiness when you hole up in a café with a hot drink and a tasty pastry while the wind howls outside can't be beaten.
Here's our guide to Copenhagen's best bakeries where you can escape the cold in style. For a more iconic experience, you can also try dining at their classic Hard Rock Cafe.
February
Pretty much the city's coldest month, there's no better time to take to the ice on one of Copenhagen's outdoor ice rinks.
The rink in Frederiksberg Have is a great place to head, particularly at night when it's lit by fairy lights. So grab some skates, pick up a warm glass of gløgg from the café next door and off you go. There are more tips on escaping the winter in this guide!
Otherwise, Copenhagen also has this magical boat tour of their February Light Festival.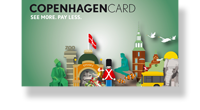 Is the Copenhagen Card worth buying?
Read this guide to see how much you could save during your trip!
March
Yes, it's still winter and it's still cold but March gives you the option to join the locals at the Copenhagen Sauna Festival. Keep warm Danish-style with saunas, outdoor hot tubs, a cold beer and some sounds – clothes optional!
March is also when the Danes celebrate Shrove Tuesday, or Fastelavn. Look out for kids indulging in some "cat-bashing" (hitting a barrel filled with sweets until it breaks), and try a traditional Fastelavnsbolle, sweet pastry stuffed with cream.
April
Spring is finally on its way, and the city's parks burst into colour as the crocuses and daffodils emerge. The Tivoli Gardens re-open in April too after their winter break, with concerts and an exuberant firework display (entry tickets are available here).
It's also Easter, of course, which Danes celebrate by eating solæg, eggs boiled in onion water to turn the yolk brown, then brined and served with mustard and a shot of snaps.
May
Milder temperatures, longer days and a stunning display of tulips in the city's Kongens Have park will greet you in May.
It's a good month for getting out and about without too many other tourists around – hire a bike and explore the city's parks, canals, castles and outdoor spaces. Here are some tips on getting a good set of wheels!
It's also the month (usually; sometimes it's early June) when Copenhagen hosts one of Europe's largest techno festivals, Distortion. Street parties take over the districts of Nørrebro and Vesterbro, and concerts are held on the island of Refshaeløen.
Loads of the city's tourist attractions are open and in full swing by May, so consider getting a Copenhagen Card if you want to do a lot of sightseeing.
June
June is all about midsummer, or Sankthansaften, on June 23rd, the longest day. Bonfires, drinking, singing the traditional Midsommervisen song, and witch-puppet burning are all part of the festivities.
Tivoli, Frederiksberg Have, Bryggen and Ofelia Plads are good places in Copenhagen to join the locals in their celebrations. For more on the midsummer festivities, see our guide to Celebrating Sankthansaften.
June is also a good month to check out one of the city's boat tours – there's normally decent weather, and the canals are less busy now than in July or August.
July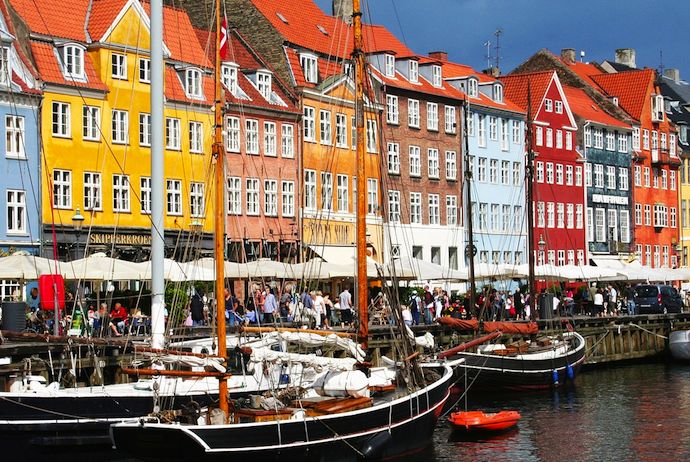 With warm evenings and long days, July is when Copenhagen is at its liveliest.
Take a stroll around Nyhavn and you'll find everyone sitting outside on the waterfront enjoying a cool beer – it's touristy, but it's also a classic Copenhagen sight that you won't want to leave without seeing.
It's also a great time to go for a swim in one of Copenhagen's harbour pools. Local favourites are the Islands Brygge Harbour Bath and the Fisketorvet Harbour Bath: check out our guide to the city's best swimming spots.
And you don't have to go far for a sea swim, either: there are some great beaches within easy reach of the city.
August
August is festival time in Copenhagen. It's a good time to check out the city's food markets and street food trucks, plus Scandinavia's largest food festival, a 10-day event celebrating everything foodie from Michelin-star cuisine to street food.
August is also the month when the park called Frederiksberg Have hosts the world's largest free open-air electronic music festival, Stella Polaris.
September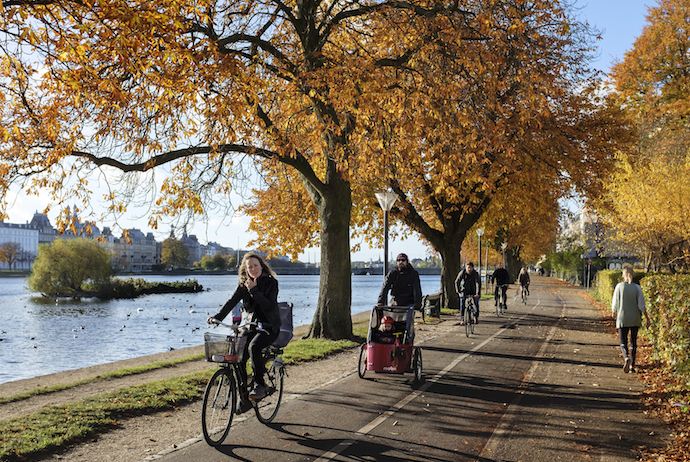 September is a great month for visiting Copenhagen. There's usually a good chance of sunshine (especially at the start of the month) and the water is often still warm enough to swim in.
As October nears, the autumn colours of leaves in parks like Frederiksbergs Have are beautiful.
October
October is your chance to explore Copenhagen's culture at night.
Culture Night (usually in mid October) is when the city opens up its museums, theatres, churches, public buildings, parks and streets to art, performances, concerts and cultural events of all kinds.
It's also Halloween, of course, and Tivoli Gardens is the place to celebrate, with scary rides, atmospheric decorations and giant pumpkins. And it's not just for one night – the festivities here last until early November.
November
Dark nights, pretty lights, cosy cafés and colourful candles. Yes, winter is drawing in, but November is an atmospheric month in Copenhagen, when the city starts gearing up for the Christmas season.

Stuck for ideas for things to do? Check out this guide to visiting Copenhagen in winter!
December
Ah, Christmas! Copenhagen has plenty of atmospheric Christmas markets, with Hans Christian Andersen-themed stalls around Axeltorv, and stalls selling arts, crafts and tasty treats in the cobbled streets along Nyhavn.
And, of course, Tivoli does Christmas like nowhere else, with trees covered in fake snow, thousands of lights and open fires adding to the magical atmosphere. Its festive season starts in mid-November and ends with a dramatic firework display on New Year's Eve.
So, when is the best time to visit Copenhagen?'
The simple answer is that Copenhagen can be a fun city to visit all year round. Every month has its own appeal, from long summer days and the magical snowy atmosphere of winter to the beautiful colours of autumn.
But if pushed, we'd have to plump for July, with its warm weather, lively outdoor scene and long evenings spent sipping beer on the beach. But, be warned: lots of Scandinavians are on holiday too, so you won't have the city completely to yourself.
See here for a private walking tour of Copenhagen together with a knowledgeable and welcoming local!
See also:
Visiting Copenhagen in winter
The best time to visit Denmark
Escaping the winter in Copenhagen
Is the Copenhagen Card worth buying?
Like what you've been reading? Get our best tips by email!