Well, we knew we would ask this question eventually. Where is the best place in Stockholm to stuff one's face with that most Swedish dish of all? Yes: meatballs.
Sweden is known all over the world for its meatballs so – being the biggest city and all – we think that makes Stockholm the meatball capital of the world.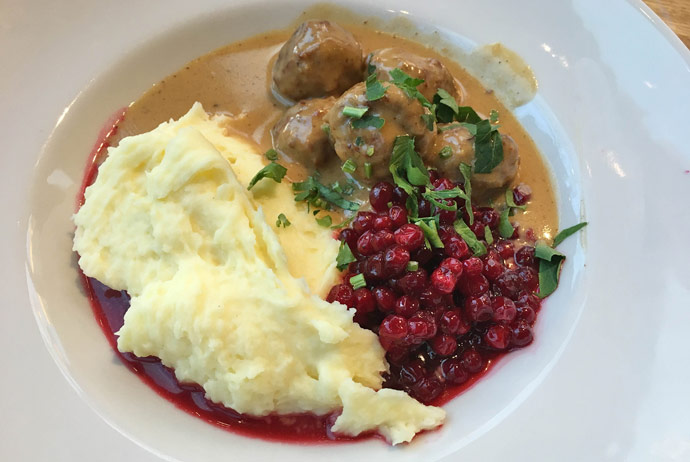 But don't be fooled; Swedish meatballs aren't just the boring meat-and-mash dish that's churned out at Ikea food courts all over the globe, including the vast branch near Stockholm. Here in the Swedish capital you can get the real deal: the most refined, traditional, and flavour-packed meatballs imaginable.
The main things to keep in mind when faced with a hunger for this classic dish are the quality of the sauces, the sides (usually potatoes and pickles) and of course, the meatballs themselves.
We've come up with this list of tasty restaurants around Stockholm that make a point of offering a special Swedish meatball experience. Generations of crafting this hearty dish to power through the chilly Nordic winters have definitely paid off.
Bakfickan
Located next to the Opera House on Kungsträdgården, Bakfickan is a classy joint operating as part of Operakällarens, an upscale restaurant that's been around since the 1800s.
If you're visiting Stockholm for the first time, eating at Bakfickan is a great choice – it has a rich history, a classy ambiance, and potentially the best meatballs in the city.
What sets Bakfickan's Swedish meatballs apart from other restaurants in Stockholm is that all parts of the dish are served separately. Eight beef meatballs are served on a plate with a generous serving of light but creamy Swedish 'brown sauce' (think meaty gravy, rather than the stuff Brits squeeze from a bottle).
These are an A+ on the meatball scale; small but perfectly browned, as well as being moist and flavourful. Bowls of lingonberry sauce and pickled cucumbers are served alongside so that you can add these stronger flavours into the dish as you see fit.
A buttery bowl of whipped potatoes – yes, we said whipped – are also served separately, dishing up a delicious and modern twist on traditional mashed potatoes. Going for around 200 SEK, Bakfickan's take on Swedish meatballs is inventive, stylish and highly recommended.
Bakfickan
Jakobs torg 12
Kungsträdgården
Mon–Thurs 11.30am–10pm, Fri 11.30am–11pm, Sat noon–11pm, Sun 12pm–5pm
★ SUGGESTED DISCOUNT
Save with the Stockholm Pass
Get up to 50% off at Stockholm's top attractions, including the Vasa Museum, SkyView Stockholm and The Viking Museum, plus discounts on some of the city's best boat trips.
Meatballs for the People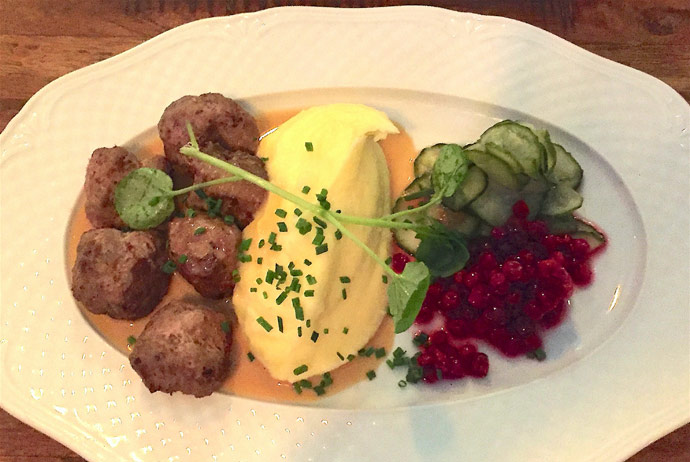 Meatballs for the People is a nice mid-range restaurant in Södermalm with a great sense of humour (just look at that name!). While they joke about most things, the chefs here do take one thing very seriously: Swedish meatballs.
This quirky spot specialises in meatballs, as you might have guessed, and there a lot of options for you, the lucky diner. Meatballs here are made of whatever's in season; veal, pork, beef, elk, deer, wild boar and even bear are just some of the options we've seen on the menu.
Depending on what you choose, the meatballs range from melt-in-the-mouth juicy to gamey, dense and filling. The classic choice here is the succulent pork and veal blend, with six to eight perfectly browned small meatballs on one plate together with a hefty serving of mashed potatoes, lingonberries and pickles.
In addition to winning on the variety front, Meatballs for the People also deserves high praise for its sauces. The brown sauce here is rich and creamy, but remains light and doesn't overpower the meatballs. The lingonberries are tart, sweet and plentiful, just as they should be.
Meatballs for the People is a super popular spot, so make a reservation in advance to avoid missing out on their creative approach to traditional Swedish cuisine.
Meatballs for the People
Nytorgsgatan 30
Södermalm
Sun–Thurs 11am–10pm, Fri–Sat 11am–midnight
Restaurant Pelikan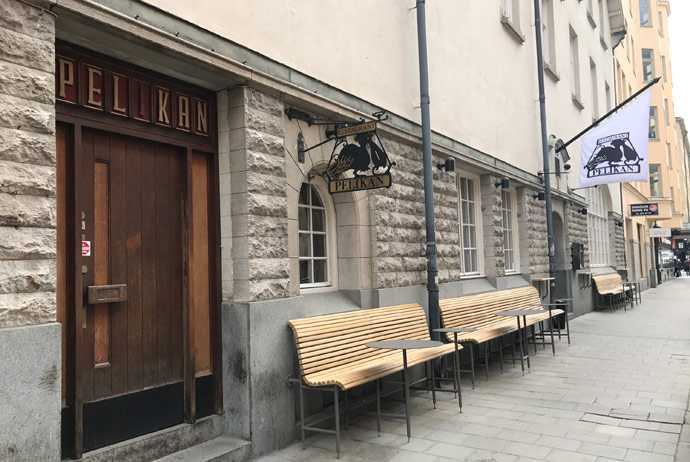 Located in Södermalm and modelled after a grand beer hall, Restaurant Pelikan is a real Stockholm classic. This place is always packed, and rightly so.
Pelikan is famous throughout the city for its rich, hearty and traditional Swedish dishes – the meatballs here are no exception. The dish arrives on two plates: mashed potatoes on one, and four enormous meatballs in a bed of gravy-like brown sauce on another, along with lingonberry and pickle spears.
There's no subtle way to put it; the meatballs here are as big as golf balls, and even the Pelikan staff refer to them as monsters. Dense, hearty and filling, they are made by hand with minimal ingredients and maximum flavour. Pelikan is a great place to do as the Swedes do: stick a bit of meatball, lingonberry sauce and potato onto your fork, and then sweep it through that rich brown sauce for the perfect bite.
Restaurant Pelikan
Blekingegatan 40
Södermalm
Daily 5pm–midnight
Kalf & Hansen
Kalf & Hansen is an excellent local hangout in Södermalm, steps away from trendy Mariatorget. This tiny restaurant offers a healthy take on fast food with a fun New Nordic angle: organic, locally sourced ingredients give classic dishes a modern twist.
We already gave Kalf & Hansen the thumbs up here, but couldn't resist adding it to this list. While it's not exactly the traditional Swedish dish you may have had in mind, the meatballs here are insanely good and totally affordable. Try the 'Stockholm' dish, which comes with a slice of freshly baked bread and three medium-sized meatballs served on a bed of hearty vegetables (they change according to the season).
The meatballs are baked right in front of you and the vegetables are a surprisingly good accompaniment – they're often topped simply with grated cheese, lemon and olive oil.
That same 'Stockholm' dish (around 110 SEK) comes with a sauce of your choice, be it creamy garlic mayonnaise or a tangy chutney. The best thing about Kalf & Hansen is the atmosphere; it's a laid back, casual and a little cramped – the perfect spot to enjoy tasty meatballs on a budget.
Kalf & Hansen
Mariatorget 2
Södermalm
Mon-Fri 10am–8pm, Sat & Sun 11pm–5pm
The meatball map of Stockholm

See also:
Cheap eats in Stockholm
A guide to Swedish fast food