Even if you're just in Stockholm for a few days, taking a day trip into the amazing archipelago that stretches east from the city can be one of the most rewarding parts of your visit.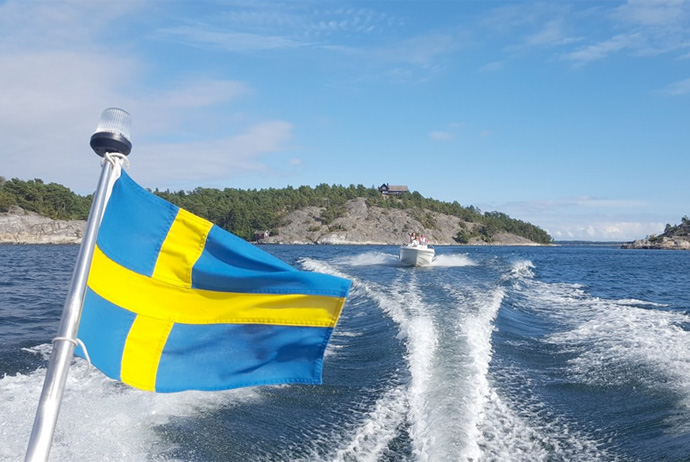 The Stockholm Archipelago is made up of tens of thousands of idyllic islands.
Needless to say, you won't see them all.

But it's definitely worth exploring a few if you have the time, especially during the warmer months, when there's endless potential for barbecuing, swimming and overnight stays.
Every summer, it seems like half of Stockholm's population disappears into the archipelago to escape from the bustle of city life.
How many islands are in the Stockholm archipelago?
There are more than 24,000 islands to choose from, some with lively communities and others with nothing but serene rocky landscapes and stunning views of the Baltic Sea.
Some of the islands can be difficult to reach without your own boat, so we've put together a list of eight islands that can be visited easily using public ferries, and without shelling out for a guided tour (though there are some great ones available).
Guided tours to the islands
If you really want to get away from it all, consider this private sailing tour, which takes you out to some of the lesser-visited islands in the archipelago.
You'll even get the chance to visit a deserted island where you can swim, sunbathe and eat lunch before heading back to the city!
A slightly cheaper option is this guided kayaking trip into the Stockholm Archipelago. Run in small groups, it lets you spend a full day exploring with nice breaks for lunch and a traditional Swedish fika.
And if you're feeling even more adventurous, how about this self-guided three-day kayak and camping trip? All the camping and kayaking gear is provided, plus maps and compasses, so all you need to do is to head off and explore. You can set up camp on whichever island takes your fancy – a great way to really explore the archipelago.
But if you're short of time and fancy a high-adrenaline trip to the Stockholm Archipelago, why not try this RIB tour? It takes you past some of Stockholm's waterfront sights, before whizzing out to explore some of the nearer islands.
Which islands can be visited from Stockholm on a day trip?
There are commuter cruise lines that connect many of the best locations to Stockholm proper, which makes planning an island day trip a total breeze.
One of the easiest islands to visit from Stockholm on a day-trip is Fjäderholmarna.
It's just a thirty-minute boat ride away from the city centre, with ferries running regularly throughout the day. For more on Fjäderholmarna, see below.
Other islands within easy distance of Stockholm and good for day trips include Vaxholm, Dalarö and Gustavsberg, on the island of Värmdö, but just a 20-minute drive from the city.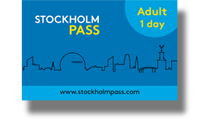 Is the Stockholm Pass worth buying?
Read this guide to see how much you could save during your trip!
Is it worth visiting the islands in winter?
Although much of the archipelago freezes over in winter, routes to some of main islands are kept clear.
Indeed, many locals feel that the Stockholm Archipelago is at its best in winter, when it's quiet with a picturesque covering of snow, and ice floating in the sea.
This Winter Kayaking and Fika Experience is a great way to see the islands of the archipelago in winter at their most atmospheric.
Alternatively, you can wrap up warm and cosy beneath reindeer skins or blankets and enjoy the views on this winter cruise around the island of Fjäderholmarna.
For more on visiting Stockholm in winter, click here.
Boats to the archipelago
The best and most affordable ferry company serving the Stockholm Archipelago is called Waxholmsbolaget.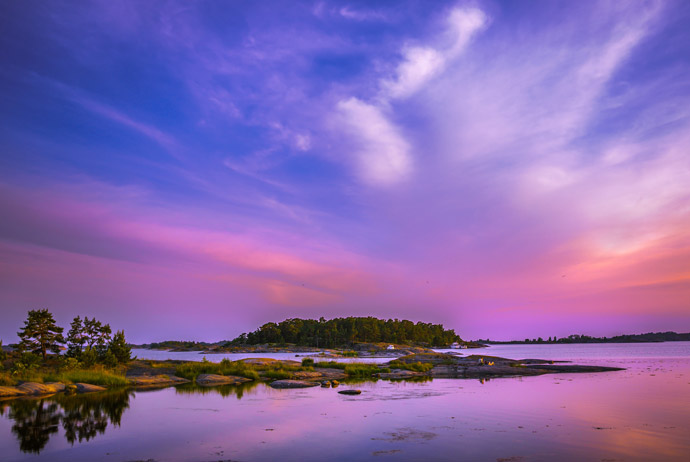 Their English-language website is the best place to check for times, prices and other journey information, or just as easily use the Google Maps app on your phone to route the trip (it's usually quite accurate).
This is the ferry company that locals and islanders tend to use.
The Waxholmsbolaget ferry terminal is at Strömkajen, just a few minutes' walk from Kungsträdgården in the centre of the city.
Look for the geometric brass building by the water and you'll see the boats docking right there.
There's no need to book tickets in advance; you can buy onboard quickly and easily.
Another transport option is the Cinderella and Strömma Kanalbolaget boats from the pier at Strandvägen.
These sometimes have faster connections, but are also pricier and need to be booked in advance, and only run from the end of April to mid-October.
How to get around once you arrive at an island
Some islands such as Vaxholm are connected to the mainland by road bridge, so you can simply drive around them, or take the bus.
Others, such as Svartsö, are only accessible by boat and are best explored by renting a bike, walking or hiring kayaks.
So which islands should you visit?
All of the islands we've recommended are served by both ferry companies – for some of the year, at least – and are easy to visit from Stockholm.
1. Fjäderholmarna
Honestly, the little group of islands known as Fjäderholmarna is so close to the city centre that the only acceptable excuse for missing it is bad weather.
Fjäderholmarna is super easy to reach from Strömkajen (under 30 minutes by ferry), and is perfect if you want to make a quick half-day trip into the archipelago without spending much cash or travelling too far away from the city centre.
The one-way trip costs around 78 SEK on the Waxholmsbolaget ferry (Cinderella ferries also cover this route, but they are slower and more expensive).
Be aware that you may not get to see a specific sign or hear an announcement when you arrive because Fjäderholmarna is so close – if you get confused, just ask the captain to make sure you get to the right place.
Once you get to Stora Fjäderholmen, the main island, you can take a stroll along the seafront, or go on a short hike into the forest trails that run through the middle of the island.
Alternatively, play a few fun rounds of boule at Röda Villan, a popular restaurant set in a red wooden house that's surrounded by mature trees.
Fjäderholmarna is a bit of a hotspot for artist studios, so there are lots of places to browse and buy handcrafted goods, from jewellery and ceramics to glassware.
A quiet road loops around the whole island, making it nice and easy to find the dock when you're ready to head back to the city.
2. Vaxholm
Vaxholm is known as the gateway to Stockholm's archipelago – it's relatively close to the city centre and is connected to the mainland by a bridge, but it's also the first stop for most ferries heading further out into the archipelago.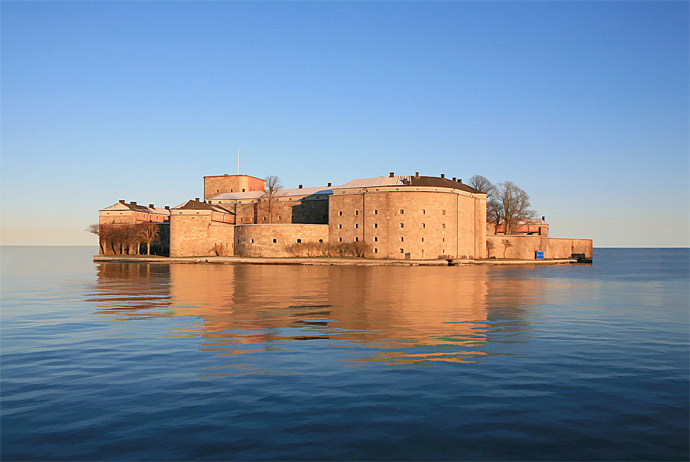 To get there from Strömkajen in central Stockholm, take a Waxholmsbolaget ferry. A one-way journey costs 97 SEK and takes between one hour and 90 minutes, depending on what time of day you leave.
During summer, Cinderella boats also make the journey from Strandvägen in around 50 minutes, but you can expect to pay around 165 SEK for a one-way trip.
Vaxholm is a cute little hub that is a lot more developed than other islands in the archipelago.
Just be aware that, thanks to its proximity to the city, it can get very busy – especially during July and August, when coaches empty hoards of tourists onto the streets.
The boats to the island can also be busy. On the upside, Vaxholm is easy to get to, and there's usually something going on, even outside of the main tourist season.
On arrival, you'll probably want to explore the old town, where twisting alleyways are lined with picturesque houses, then peek into some of the island's many souvenir shops and cafés.
If you're a bit of a history buff you'll want to visit Vaxholms Fästning, the huge fortress that was built to protect the capital from Russian invasion in 1544.
From mid-may to mid-September, boats run between Vaxholm and the fort every 15 minutes for 57 SEK per adult.
If you're taking a Waxholmsbolaget ferry to Vaxholm, it may also make a stop at the fortress – ask the captain.
If you want to stay on Vaxholm, the Waxholms Hotell is located right by the ferry terminal, or try Kastellet Bed and Breakfast, at the fortress.
3. Grinda
Grinda is often talked about as the bathing paradise of Stockholm – people from all over the city head there during the weekends to get their share of sun, swim and relaxation during the summer.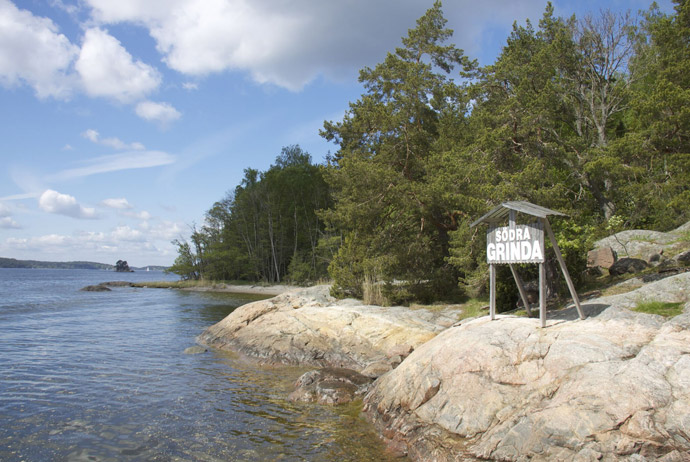 The Waxholmsbolaget ferry to Grinda costs around 116 SEK and takes about two hours, 30 minutes (compared to around 80 minutes on the more expensive Cinderella boat from Strandvägen).
It makes sense to get off at Södra (south) Grinda since you sometimes have to change boats to reach Norra bryggan (the northern boat dock).
Grinda is almost completely owned by Skärgårdsstiftelsen (the Archipelago Foundation), which helps to preserve the island's natural beauty.
This makes Grinda particularly lush and clean, with totally free access to explore the forest or swim to your heart's content.
You can find the majority of the island's shops and cafes at Södra Grinda, including a traditional Swedish värdshus (inn).
If you're feeling peckish, we'd recommend trying the traditional 'Grinda loaf,' the island's famous baked bread.
And if you fancy staying the night here, try the Grinda Wärdshus, a lovely guesthouse, with rooms in traditional red-painted wooden houses a stone's throw from the sea.
4. Svartsö
Svartsö is also reachable using the Waxholmsbolaget ferries from Strömkajen – it's about half an hour past Grinda. A one-way trip costs around 143 SEK.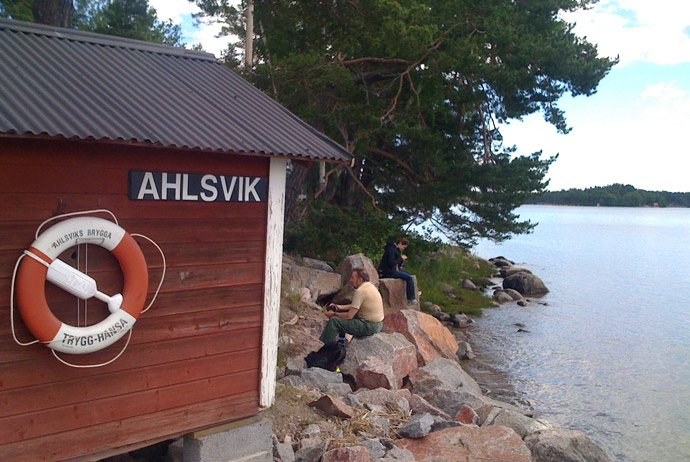 While Svartsö is actually one of the larger islands in the archipelago, with its own little community, the population is seriously small – less than 100 people live here all year round.
This makes this remote, lesser-known island an amazing spot to go out and enjoy some peaceful time with nature.
It's probably best to dock at Ahlsvik, since there's a small beach there perfect for sunbathing.
It's also close to the island's only restaurant, Svartsö Krog – a famously good, seasonal (but super pricey) place to eat if you didn't pack a lunch.
Renting a bike is highly recommended on Svartsö; it's a great way to check out the island's surprisingly varied scenery – expect freshwater lakes, forests, open farmland, and views of the Baltic Sea.
If you fall in love with the island's laid-back vibe, why not overnight at STF Svartsö Skärgårdshotell & Vandrarhem?
This bright, modern and affordable hostel offers the perfect environment to rest and recharge.
5. Ingmarsö
Just beyond Svartsö, the pretty island of Ingmarsö is a haven for walkers. With unspoilt woods, remote lakes, marshlands and sandy bays, it's a great place for hiking, swimming, fishing or simply enjoying the peaceful natural surroundings.
The Waxholmsbolaget ferry to Ingmarsö takes about four and a half hours and costs around 143 SEK, while the Cinderella boat takes about two hours, 10 minutes and costs around 210 SEK each way.
The island has a population of just 150 people but it's well laid out with hiking trails and has basic facilities for visitors including a bakery, a restaurant and a few small shops.
You can also rent kayaks and bicycles for further exploration or even go on a trail ride around the islands on an Icelandic pony.
And if you fancy staying here, the lovely Norrgården farmhouse has six comfortable rooms offering bed and breakfast surrounded by lush gardens with pretty pastoral views.
It even has a museum of island life in one its former farm buildings!
6. Sandön
Sandön is the furthest destination from Stockholm on this list, and you'll need to take the Cinderella cruise line from the docks at Strandvägen to get there.
The trip takes 2 hours, 15 minutes, and needs to be booked in advance on their website. It costs around 230 SEK.
Sandön is a beautiful destination that's well worth the time and cost of the trip.
Sometimes people get confused about the name of this island – to be clear, Sandhamn is the name of the pretty harbour village you'll arrive at, while the island itself is called Sandön.
Sandhamn is a hub for Swedes sailing around the archipelago, and you'll see tons of sailboats and yachts lining the piers all summer.
The town of Sandhamn is much posher than settlements on other islands near Stockholm, with many boutiques and retail shops in addition to the usual cafés and souvenir shops.
If you're trying to avoid crowds, opt to rent a couple of kayaks and paddle around the island – there are some beautifully tranquil hideaways along the coastline.
There are also some really nice sandy beaches for sunbathing and going for a dip, as well many gorgeous spots to unpack a picnic lunch to complete your trip out into the archipelago.
Want to stay the night? There's the comfy Missionshuset bed and breakfast just up from the beach on the island's north coast (book ahead!).
7. Runmarö
If fancy visiting an island but don't like travelling by boat, Runmarö is a good option. It's just a short ten-minute boat trip from Stavsnäs, with boats running year-round.
Stavsnäs itself is a 50-minute drive from the centre of Stockholm, or you can take bus #433 from Slussen T-bana.
Runmarö is known as the authors' island, since it provided inspiration to a variety of authors and artists, including Strindberg, the poet Tomas Tranströmer and artist Axel Törneman.
The island is home to an amazing number of orchid species – at least 27 – plus nine lakes, known locally as marshes.
There are no guest house or hotels on Runmarö, but plenty of cosy cabins and cottages to rent.
8. Möja
The pretty island of Möja is one of the easternmost inhabited islands in the Stockholm Archipelago. The ferry there takes almost five hours and involves a change of boats in Boda; the fare is SEK 173.
Home to pretty harbours and former fishing villages, it's still popular as a boating and fishing destination, while its resident year-round population makes it a lively place, with cafés, restaurants and local shops.
Despite this, it's a relaxing island with very few cars and only gravel tracks, so ideal to explore by bike.
The island lies on the edge of the outer archipelago, large parts of which are protected as marine reserves, so Möja is great place to hire kayaks and head out to sea to explore.
The STF Möja hostel is a lovely place to stay, where the rooms have sea or garden views. There's a barbecue that guests can use outside, plus bikes and paddle-boards to rent.
Tips for visiting the Stockholm Archipelago:
Plan your trip ahead of time: take careful note of the ferry schedules because it's no fun to wait at the dock for the next trip (it can be hours between departures).
Leave early, just in case: it's better to be early than late when limited to the ferry schedule! This is especially important if you're going to use the Cinderella boats and have booked your tickets in advance.
If you're on a tight budget, pack a lunch and bring it with you: prices on the islands tend to get expensive as they are small communities catered towards summer tourists.
Do you want to stay overnight? Plan ahead to avoid full bookings, or pack some camping equipment for the ultimate archipelago experience; this option is highly recommended for Grinda.
Definitely bring your swimming gear: even if you don't plan for it, spending a day out on these dazzling ocean waters can make a swim become too tempting to resist!
Bring cash. Most of Sweden is totally cashless, but you can never be too safe, especially out in the islands!
Don't forget insurance! The archipelago is generally safe but we strongly recommend getting a decent policy in place for your trip. It really can make a world of difference when things go wrong. For lots of different reasons, we recommend World Nomads.
See also:
8 cheap Airbnbs in Stockholm
The best Stockholm boat tours and cruises
How to spend a summer weekend in Stockholm
Like what you've been reading? Get our best tips by email!