Stockholm isn't all about grand department stores and pricey designer boutiques. There's a thriving market for second-hand stuff and you'll find cut-price clothes, furnishings, and vintage trinkets being sold right across the city.
There's a lot of junk out there, of course, but it's surprisingly easy to dig up real treasures – from Swedish-made lamps and dainty Danish jewellery to pre-worn Nudie jeans. Knowing where to start a second-hand shopping tour of Stockholm can be a little tricky, especially if it's your first time in the city. Follow our tips and you'll soon be bargain-hunting like a local.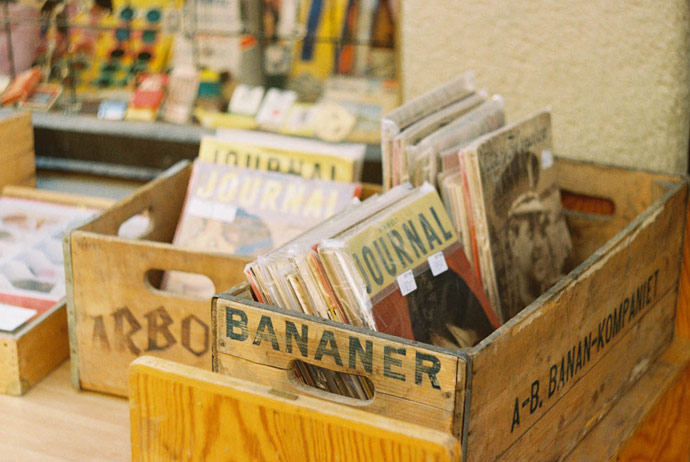 The second-hand scene in Stockholm
Vintage clothes and other second-hand items are generally sold at two kinds of places in Stockholm: permanent shops and temporary markets.
The shop side of Stockholm's vintage scene includes everything from carefully curated boutiques run by private individuals, to cluttered warehouse-type places where all the proceeds go to charity.
Getting to one of Stockholm's second-hand markets can take a bit more planning – they're usually only open on certain days of the week, or at certain times of the year. And, because many Stockholmers love nothing more than a good loppis (flea market), you might have a bit of a battle on your hands to get at the best bargains. Arrive early if you can.
Ready to get rummaging? Here's our guide to the best second-hand shops and flea markets in Stockholm. You can see all of the places we've recommended on the map below.
Second-hand shops
Although you'll find vintage stores dotted across Stockholm, the undisputed capital of second-hand shops is Södermalm. All of the places listed here are in that area, making it easy to hop from one to another without needing to use public transport.
Our advice is to take the T-bana to Mariatorget and start there (if you fancy a bit of a stroll, you can walk from Gamla Stan in around 15 minutes). Note that many of these places only open for business at 11am or even later.
Humana Second Hand
If you like your vintage clothes with a spoonful of good karma, this neatly curated second-hand store is well worth a look. There's a huge range of hip clothes to choose from, including skirts, tops, belts and 90s flannel shirts, and all profits go to the Humana People to People project, which fights poverty abroad.
Timmermansgatan 23
humanasecondhand.com
Mon–Fri 10am–6pm, Sat 11am–5pm, Sun noon–4pm
Siv & Åke
This small, skinny second-hand shop is one of Södermalm's coolest places to grab cut-price clothing. All the gear here has been carefully hand-picked by the brother and sister owners, who named the shop after their grandparents. Why pay 1000 SEK for designer jeans in Östermalm when you can get them for 300 SEK here?
Sankt Paulsgatan 20
sivake.se
Mon–Fri 11am–6pm, Sat 11am–5pm, Sun noon–4pm
★ SUGGESTED DISCOUNT
Save with the Stockholm Pass
Get up to 50% off at Stockholm's top attractions, including the Vasa Museum, SkyView Stockholm and The Viking Museum, plus discounts on some of the city's best boat trips.
Emmaus
With a whopping 400 sq m of second-hand stuff to wade through, Emmaus is one for the determined bargain hunter. There are actually two shops here – the main one stocks everything from old vinyl to pre-loved books, while the smaller one carries vintage clothing from the 1950s onwards. Items are donated by locals and profits go to development projects abroad.
Peter Myndes Backe 8
emmausstockholm.se
Mon–Fri 10.30am–7pm, Sat 11am–5pm, Sun noon–4pm
Herr Judit
Aimed at the fashion-conscious man about town, Herr Judit stocks everything from denim shirts and leather jackets to English waistcoats and umbrellas. There's a big focus on quality – the only downside is that prices are a little on the high side compared with some of the other places listed here.
Hornsgatan 65
herrjudit.se
Mon–Fri 11am–6pm, Sat 11am–5pm, Sun noon–3pm
Judits
The long-running second-hand shop Judits does a good line of dressy vintage frocks, as well as high heels, sunglasses and handbags. Some of the fancy stuff on sale here is from Sweden, but there are also lots of items from elsewhere in Europe.
Hornsgatan 75
judits.se
Mon–Fri 11am–6.30pm, Sat 11am–4.30pm
Brandstationen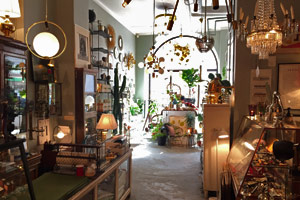 Run by the same folks as Judits and Herr Judit (see above), Brandstationen is the place to come for vintage interior design. There's a smashing selection of globes, cactuses and old wall hangings, along with some neat vintage jewellery and some more contemporary bits and bobs that'll give your home that Swedish look. Even if you don't want to buy, it's worth having a browse through this little Aladdin's cave.
Hornsgatan 64
herrjudit.se/brandstationen
Mon–Fri 11am–6pm, Sat 11am–5pm, Sun noon–4pm
Myrorna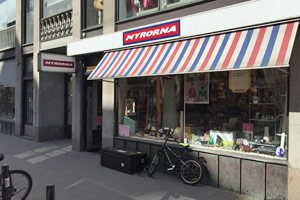 One for the penny pinchers, Myrorna is full to bursting with cheap bric-a-brac. Spread across three floors, it stocks books, CDs, kitchenware and clothing. There's a lot of useless stuff to sort through, but if you're determined enough you might find a bargain. Profits go to The Salvation Army.
Hornsgatan 96
myrorna.se
Mon–Fri 10am–6pm, Sat 11am–4pm
Stockholm Stadsmission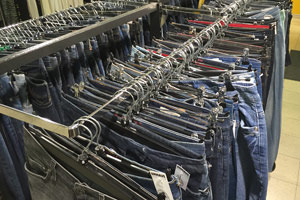 There are plenty of second-hand shops run by Stockholm Stadsmission, a local non-profit, but the one just off Nytorget has the best selection of vintage clothing and cheap Swedish books. It can get a bit cluttered but you'll have no trouble finding budget-friendly jeans, tops, t-shirts and dresses. The same organisation sells own-brand designer furniture across town in the Remake store at Klarabergsgatan 33.
Skånegatan 75
stadsmissionen.se
Mon–Fri 10am–6.30pm, Sat 11am–5pm, Sun noon–4pm
Pop Stockholm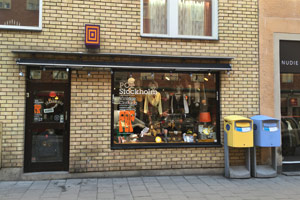 Right near Stockholm Stadsmission (see above), this colourful vintage clothing store puts the focus firmly on all things groovy and fabulous. Alongside shirts, skirts and flares from the swinging sixties you'll find thick-rimmed glasses, floppy hats and even leather cowboy boots. The store also sells new clothes from its own collection.
Skånegatan 73
popstockholm.se
Mon–Sat noon–6pm, Sun noon–5pm
Lisa Larsson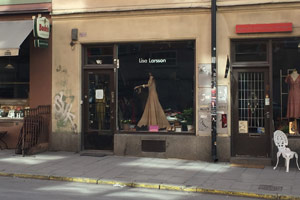 Expect lots of bold, bright patterns at this well-stocked vintage store on Bondegatan, where elegant dresses, hats and accessories fill the racks. It's quite a small space, but there's a good mix of stuff from the 1930s right up to the 1970s.
Bondegatan 48
lisalarssonsecondhand.com
Tues–Fri 1pm–6pm, Sat 11am–3pm
Beyond Retro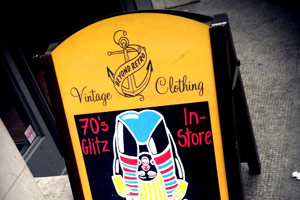 No guide to second-hand shopping in Stockholm would be complete without mentioning the sprawling Södermalm outpost of the London-based vintage chain Beyond Retro. This place has an entire room dedicated to vintage dresses. Can't find what you need? There are sister shops in Norrmalm, just across town, and in the southern city of Malmö.
Brännkyrkagatan 82
beyondretro.com
Mon–Fri 11am–7pm, Sat 11am–5pm, Sun noon–4pm
Flea markets and boot fairs in Stockholm
Flea markets (or loppisar, as locals know them) are a big deal in Stockholm. Most of them only run during the summer, but there are a couple of indoor options that keep going all year round. We've listed some of the best boot fairs and second-hand markets in Stockholm below. A quick tip: even though the city is increasingly cash-free, it's worth taking some notes and coins with you to these markets.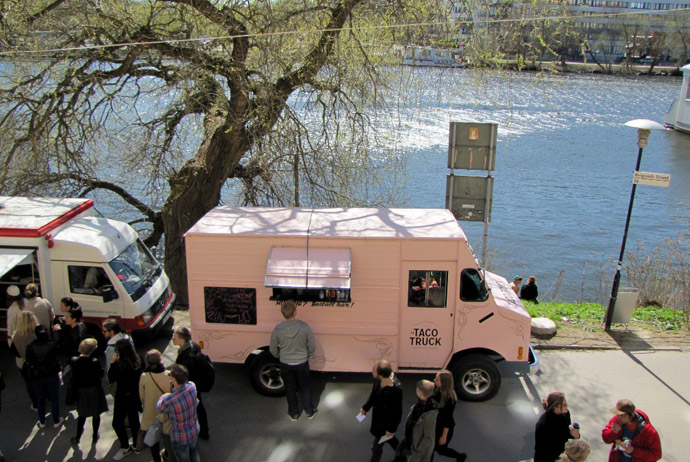 Hornstulls Marknad
Set right by the water in up-and-coming Hornstull, this summer market has a good mix of antiques, art and street food. When you're done with browsing the stalls you can check out one of the neighbourhood's cute cafés – try Vurma or Friends of Adam. There are also a few decent bars along the waterfront, should you get a hankering for a beer.
When: April–Oct; Sat & Sun 11am–5pm
Getting there: Take the subway to Hornstull and walk south.
Loppmarknaden, Vårberg
Sweden's biggest second-hand market is quite a journey from the city centre but is still accessible on the subway. The big indoor hall is full to the brim with boxes of old clothes, furniture and electronic gadgets. There's an entry fee of 10 or 15 SEK on Saturdays and Sundays (free after 3pm).
When: All year; Mon–Fri 11am–6pm, Sat 10am–4pm, Sun 11am–4pm
Getting there: Ride the subway to Vårberg (around 25 mins). The market is by the exit in Vårbergs Centrum.
Bruno Vintage Market
Open on Sundays during spring, autumn and winter, Bruno Vintage Market is a good bet for top-quality vintage clothes, music memorabilia and old vinyl. It's right in the city centre and is free to wander around. There's a café and an Asian restaurant here, too.
When: Sun noon–5pm (but not in summer)
Getting there: The market is at Götgatan 36, just south of Slussen T-bana.
Täby Park car boot sale
If you're up for a bit of an adventure, you can take the train out to Täby Park, which hosts a big car boot sale on weekends during summer. Ever wondered what Swedes have stashed away in the their attic? Want to fika in possibly rainy conditions? This is the place to come.
When: Late May–Oct: Sat & Sun noon–4pm
Getting there: From Stockholm Östra train station, board a number 28 train bound for Österskär (around 54 SEK one-way). Get off at Galoppfältet around 20 minutes later and you'll be right near the boot sale.
READ OUR GUIDE TO STOCKHOLM'S BEST HOSTELS
Map of Stockholm's second-hand shops and markets
Like what you've been reading? Get our best tips by email!