Stockholm might not be the best place for skiing and snowboarding in Sweden, but there are some great real and artificial slopes within easy reach of the city centre.
Some are less than half an hour away from the main downtown sights, while others take a little more effort to reach – and then reward visitors with much better slopes.
Whichever ski area you opt for, don't go expecting ultra-long runs and flashy après ski – the skiing in Sweden is relaxed and unpretentious, with short but well-managed pistes.
Follow our guide to the best ski areas near Stockholm and you'll be whizzing through the snow in no time at all!
Hammarbybacken
Less than 10 minutes' drive from the centre of Stockholm, this well-run ski facility is about as convenient as it gets.
Rising around 100m above the surrounding streets, the hill is manmade, but it does rely on chilly weather for its snow – and is therefore only an option when Stockholm is shivering through a cold snap. 
There are four short runs served by t-bar lifts and conveyor belts, plus and ski classes are available for newbies.
A ski pass at Hammarbybacken costs 320 SEK for a full day, or 210 SEK for an hour's access to the lifts and slopes. 
Ski gear is available to rent at the slopes and there's a café to warm up in when your teeth start chattering.
Getting there
You can actually drive to Hammarbybacken (there's parking on site) but public transport may be easier, especially if you're planning to hire skis or a snowboard when you arrive.
From Stockholm, take bus #74 to Hammarbybacken and get off at the Sickla Quay stop. It's then a 5 to 10-minute walk along Hammarby Allé to the ski slope.
Alternatively, you can go by metro. Take the Green line to Gullmarsplan, where you must change to "Tvärbanan", then get off at Sickla Quay. From there it's a a 5 to 10-minute walk to the slopes.
Flottsbro
Around 25km southwest of the city centre, you'll find the highest ski area in the greater Stockholm region. There are five runs at Flottsbro, including one that's 700m long.
These slopes are served by three lifts, and there are some fun, family friendly facilities, including a cosy restaurant, a sledging area and a ski park.
You can hire ski equipment on the spot or pre-book it online (this is recommended at busy times; just turn up and the right sizes will be waiting for you).
A three-hour ski pass costs 210 SEK, a 6-hour pass 240 SEK, or 330 SEK for a full day. 
The area around Flottsbro offers some lovely walks and, outside the winter season, there's also good swimming.
Getting there
The easiest option is to take a pendeltåg (commuter train) from Stockholm's Central Station to Huddinge Centrum (around 16 minutes).
From there you can hop on bus #714 bound for Flottsbro – it takes around 25 minutes to reach the slopes.
Ekholmsnäsbacken
Ekholmsnäsbacken is not very big, which makes it perfect for young kids and nervous adults who want to test their skills on the slopes. And, as a nice bonus, it's extremely handy for those who've rented a car in Stockholm.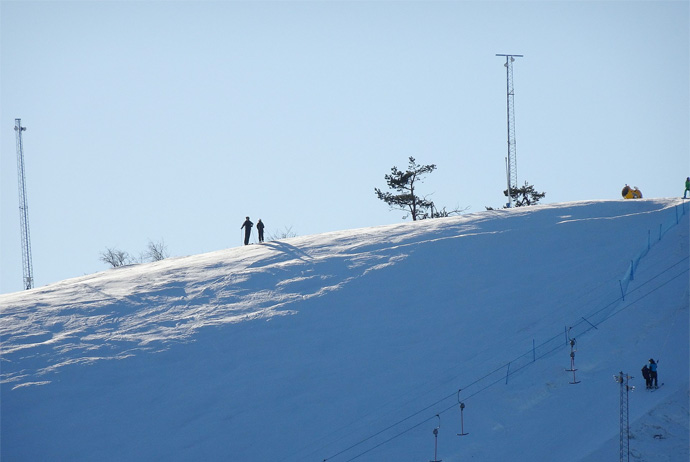 Situated on the island of Lidingö, a 25-minute drive east of the centre, this laid-back ski area invites you for family-friendly skiing and snowboarding, with lessons available at reasonable prices.
A half-day's access to the lifts costs about 270 SEK, and a whole day costs about 320 SEK. There's a ski shop onsite, along with a simple place selling snacks.
Getting there
Driving is easiest, though it is possible to get to the ski area with a rather long combination of subway, train and bus rides.
Take the red tunnelbana (subway) line to Ropsten, then change to a #201 bus bound for Båtsmansvägen. From there it's a 1.2km walk east to Ekholmsnäsbacken.
★ SUGGESTED DISCOUNT
Save with the Stockholm Pass
Get up to 50% off at Stockholm's top attractions, including the Vasa Museum, SkyView Stockholm and The Viking Museum, plus discounts on some of the city's best boat trips.
Ekebyhovsbacken
West of Stockholm on the island of Ekerö, Ekebyhovsbacken  is fairly easy to get to – if you have a car, at least.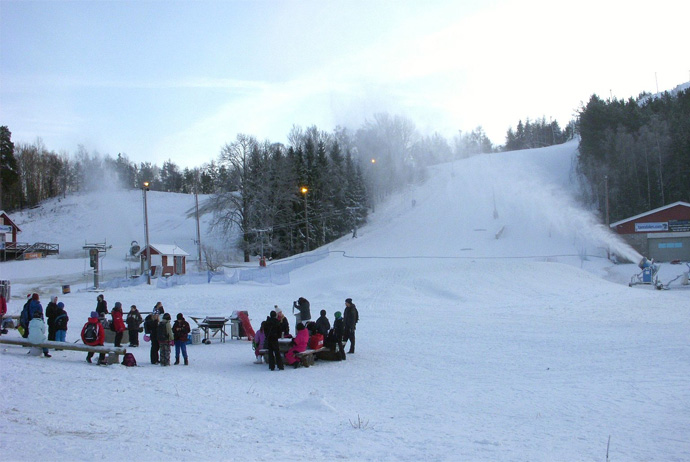 It's a great option for families; there's a ski school especially for kids, and there are separate lifts for newbies and more advanced skiers and snowboarders.
The four slopes are floodlit, which allows for night-time skiing and snowboarding, and the longest slope stretches for more than 500m.
Getting there
If you don't have a car, Ekebyhovsbacken is around an hour's bus ride from Stockholm.
Take bus #176/177 from Solna station to Centrumslingan and then walk the remaining 20 minutes or so to the slopes, following Bryggavägen to the east.
Ragnhildsborgsbacken
Make the hour's drive southwest of Stockholm to the outskirts of Södertälje and you'll be rewarded with the sight of Ragnhildsborgsbacken, a small, volunteer-run ski slope that puts the focus firmly on children – though adults are welcome, too.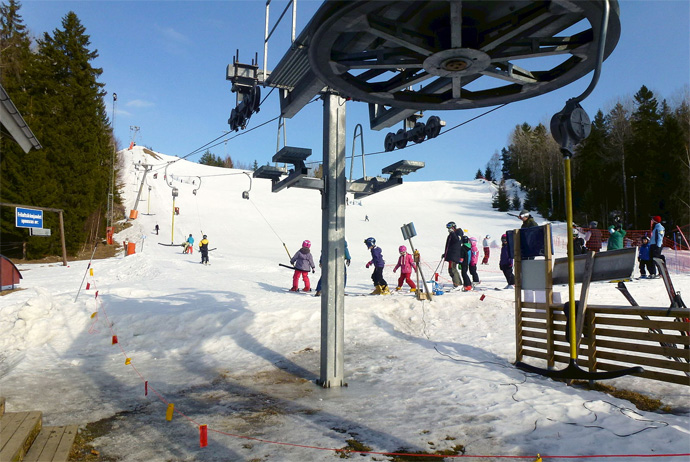 They run an excellent ski school, and kids aged seven and under get free access to the lifts. Even for adults it's cheap, with a full day's pass costing just 120 SEK, and a half-day 80 SEK. 
Note that they have a limited supply of equipment available for hire here, so either book in advance or bring your own.
Getting there
Drive from Stockholm or take the train from the Central Station to Östertälje. From there, bus #761 runs to Ragnhildsborgsvägen, a 15-minute walk south of the slope.
Romme Alpin
Situated in beautiful Dalarna, two and half hours from Stockholm, Romme Alpin is one of the closest 'proper' ski resorts to Stockholm.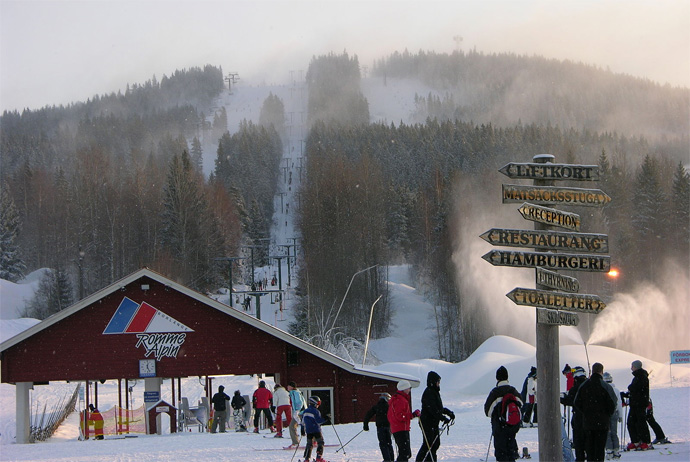 It offers 34 groomed slopes, with something to offer skiers of all levels. The longest run here is 2.7km, and this part of Sweden is exceptionally beautiful – it really offers a genuine skiing experience, away from the bright lights of Stockholm.
Adult ski passes cost around 450 SEK per day.
If you're visiting Romme Alpin from Stockholm, you'll definitely want to stay overnight.
There's a ski lodge onsite, or for a better range of options you could stay in nearby Borlänge – the STF hostel is a good cheap place to base yourself, while Quality Hotel Galaxen offers a bit more luxury.
Getting there
Seasonal ski buses run from City Terminalen in Stockholm, taking around two and half hours to reach Romme Alpin.
Another option is to take the train to Borlänge (around two hours) and then use local transport. Train tickets are available to buy here.
Kungsberget
With 25 pistes and 15 lifts, Kungsberget is a great little ski resort around 220km north of Stockholm.
The longest run can't quite compete with the one at Romme Alpin (see above) but there's a good snow park and you'll find plenty of accommodation on site, allowing you to get straight out onto the slopes from your bedroom.
Expect to pay around 435 SEK per day for a lift pass.
Getting there
If you're heading to Kungsberget, drive or take the ski bus – the fare includes a lift pass.
Sälen
If you can stretch to a journey time of around five hours, Sälen is well worth a visit. It's one of our favourite resorts in all of Sweden, thanks to its laid-back vibe and family friendly facilities.
There are four main ski areas to explore here – Lindvallen, Högfjället, Tandådalen and Hundfjället – and each has its own personality.
Apart from 100-or-so slopes, Sälen offers a snow park and plenty of placid areas for kids, including a fun 'troll forest' for them to ski through.
There are a few different ski passes available at Sälen, depending on how long you wish to spend in the mountains. Prices start at about 515 SEK a day.
Staying the night? There's accommodation throughout the resort, or you could try this cosy cottage an eight-minute drive away.
Getting there
Several companies offer direct bus transfers from Stockholm to Sälen: Fjällexpressen is a good option.
Bjursås
Bjursås has been open for decades and now offers around 60km of ski trails, plus opportunities for skating and ice fishing.
It's around 240 km from Stockholm, close to the fascinating copper mine in Falun. Cabins are available on site, and this swish self-catering guesthouse is less than 10 minutes away.
Getting there
If you're travelling from Stockholm, the best (if not only) option is to drive. Reckon on a journey time of around three and a half hours, including a couple of quick stops.
Vemdalen
The Vemdalen ski resort has three ski areas – Vemdalsskalet, Björnrike and Klövsjö/Storhogna – linked by pistes and lifts.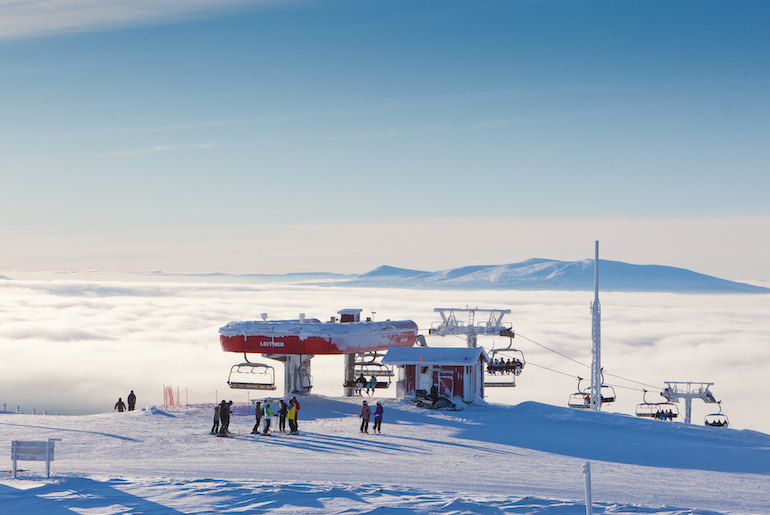 With 58 slopes and 42 lifts between the three areas, there's skiing for all abilities from advanced to novices.
Björnrike is good for families, while Klövsjö/Storhogna has the region's most challenging slopes and Vemdalsskalet is a pretty village with shops, restaurants and après-ski options.
There are more than 20 cross-country ski tracks between the three resorts too.
Lifts passes cover all three ski areas and cost from 544 SEK a day.
Getting there
Ok, so it's not that near Stockholm! Vemdalen is about 500km north of Stockholm, and it takes around six hours to drive there.
However, there is a handy overnight train from to Östersund, then a ski bus to Vemdalen – so that the journey doesn't take up any precious ski time. 
The train leaves Stockholm at 10.50pm, and the connecting bus from Östersund arrives in Vemdalen at 8.05am – in time for a full day's skiing on the slopes.
Alternatively, there's a direct bus from Stockholm to Vemdalen, which takes just under seven hours.
Ski tours near Stockholm
If you've never tried cross-country skiing before and fancy having a go, why not try this Nordic ski trip with an expert  guide? 
You'll be met at a metro station in the city and taken out into the countryside to go cross-country skiing surrounded by beautiful scenery.
Lunch, tuition and all the ski gear is included.
Dry ski slopes near Stockholm
Several of the ski resorts around Stockholm also have year-round dry ski slopes that can be used in summer or when there's not enough snow during the season.
Both Hammarbybacken and Flottsbro have dry slopes: see above for more details.
There are no indoor ski slopes near Stockholm.
Where to buy ski gear in Stockholm
Most of the resorts rent out ski kit, but you'll want your own cold weather gear, and if you do lots of skiing, you may want to buy your own boots, sticks and other equipment.
Swedish company Stadium is Sweden's largest sports chain and sells affordable sports gear of all types including skiing kit. It has 173 stores throughout Sweden, Scandinavia and Germany, including several branches in Stockholm.
The French brand Decathalon also has outlets in the the Westfield Mall in Solna in Stockholm and just north of the city in Barkarby.
For specialist gear and advice, try Alpingaraget, at Birger Jarlsgatan 127 in Stockholm or Skidbytarboden, at Fleminggatan 17. 
The Norwegian brand Norrøna has its flagship store on Kungsgatan 28 in Stockholm, plus branches around Scandinavia, France, Germany and Switzerland. 
FAQs
When's the best time to go skiing in Stockholm?
Southern Sweden's ski season doesn't start as early as you might think. While resorts in the far north can receive good snow in October, it can take until January for a decent flurry to arrive in Stockholm.
Even then, you might want to wait a little longer – the weather in early March becomes a little milder and the days are longer, too, which makes for more pleasant skiing sessions.
If at all possible, try to avoid the sportlov holiday, which can fall anytime from week seven (mid February) to week 11 (mid March), depending on which part of Sweden you're in.
Can you go cross country skiing near Stockholm?
There are some good cross-country skiing areas near Stockholm. Hellasgården has cross-country ski tracks very close to the city centre, and it also rents out cross-country ski gear.
The Bisslinge Nature Trail near near Sollentuna is a free cross-country ski route of around 6km across a golf course and through woods.
There's also a short artificial snow track here (day pass 125 SEK) for when there's not enough natural snow.
There are more cross-country routes near Stockholm for all levels listed on Skidspår.
Is there a ski school for kids near Stockholm?
Most of the resorts near Stockholm offer lessons for children. Hammerbybacken, Romme Alpin, Ragnhildsborgsbacken and Ekebyhovsbacken all have well established kids' ski schools. 
Can you ski at the Stockholm Stadion?
Built for the 1912 Summer Olympics, Stockholm Stadion is still used for sporting events and concerts. When there is enough snow in the city, the athletics tracks are converted into ski tracks for Nordic skiing.
Map of ski resorts near Stockholm
See also: 
Skiing in Sweden
The 9 best ski areas in Sweden
Cross-country skiing in Norway
Like what you've been reading? Get our best tips by email!