Right in the middle of Copenhagen, in the neighbourhood of Christianshavn, you'll find the alternative community of Christiania.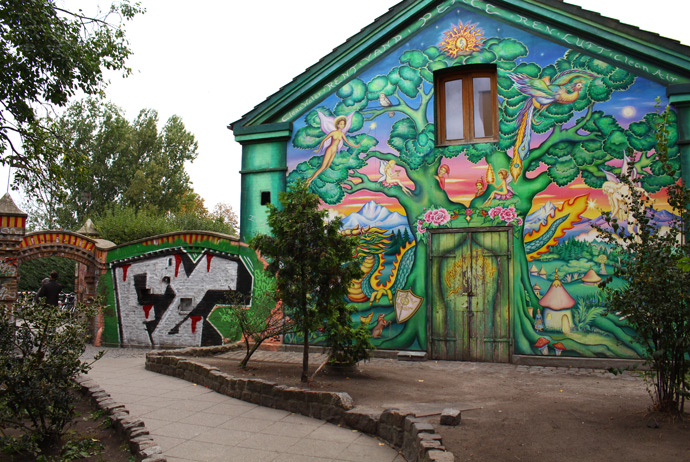 It might be very close to expensive apartments and just a few streets away from the Copenhagen Opera House, but this laid-back part of town feels a million miles away.
Christiania was founded by a group of adventurous squatters and hippies in the 1970s, on an old military barracks.
Complete with habitable buildings and electricity, this area had all they needed to take up residence and begin creating an autonomous 'freetown' with its own laid-back way of life.
Having recently celebrated its 46th birthday (and with the illicit cannabis trade that helped to make the area famous still obvious) Christiania is a living monument to alternative thinking and the hippie movement.
Don't expect to see people with flower crowns burning sage and dancing in circles; what you will see today is a chilled, graffiti-daubed neighbourhood full of cosy cafés, open-minded people and beautiful nature.
What is there to see and do in Christiania?
Christiania has around 850 inhabitants, including some of the people who first moved into the area back in the 1970s. Some will be happy to show you around and chat about the good old days, while others very much prefer their privacy.
The residents' cute and peculiar houses are easy to spot as you wander around. Most are brightly painted and many are decorated with unusual knick-knacks and drawings.
As Christiania is a car-free environment, the favoured mode of transportation is the Christiania bike – otherwise known as a tricycle with a big box at the front. You'll see these being used right across Copenhagen, carrying groceries, bags and even children.
Apart from being famed as a bit of a stoner's paradise, where weed is sold openly on the street, Christiania is known for its environmental activism and a strong sense of community spirit, so you'll see a lot of social activities being advertised on posters and billboards.
How long should you spend in Christiania?
Christiania is in the eastern part of the city centre. It's easy to reach by bus or metro (just get off at Christianshavn station). You can even make a stop there on your way to the city from the airport.
You'll get a feel for life in Christiania quite quickly, but it's nice to spend a few hours exploring, grabbing a coffee and a bite to eat, or even relaxing with a beer or at a concert.
Because Christiania is car-free and basically non-commercial, it's great place to escape from the hustle and bustle of the city. You definitely won't find a branch of Starbucks here.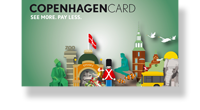 Is the Copenhagen Card worth buying?
Read this guide to see how much you could save during your trip!
Can I take a tour instead of exploring alone?
A couple of the guided tours in Copenhagen visit Christiania. This one focuses on the city's creative side and pays a visit to Christiania, giving you plenty of time to explore and ask questions along the way.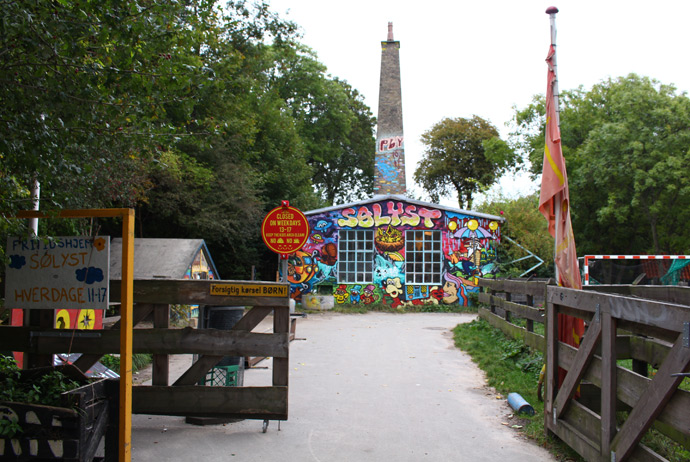 Can you still buy weed in Christiania?
The best-known part of Christiania is Pusher Street. Despite regular crackdowns, cannabis is still often sold from little booths along the street. Joints, blocks of resin, bags of skunk – you name it, you'll probably find it here.
This 'green light district' has been the subject of curiosity and indignation for many years, with the government tending to turn a blind eye to the illegal trade, which has become a part of everyday life and is tolerated by locals, if not fully embraced.
Police raids take place on a regular basis, only for the drug trade to re-emerge shortly afterwards.
After a police officer was shot during an incident in mid 2016, things changed dramatically, with local residents backing a plan to remove drugs from the area for good.
Can you still buy weed in Christiania? Well, yes. As you walk along Pusher Street you will almost certainly hear people whispering 'Weed, skunk, hash?', and there will probably be a few stalls set up selling weed openly.
The smell of weed is still in the air, too, but the vibe is definitely different from how it was in Christiania's heyday.
Before you step into Christiania and pass under its famous sign, you may even see posters asking you to "Help Christiania and buy your hash somewhere else".
What happens if you buy weed in Christiania?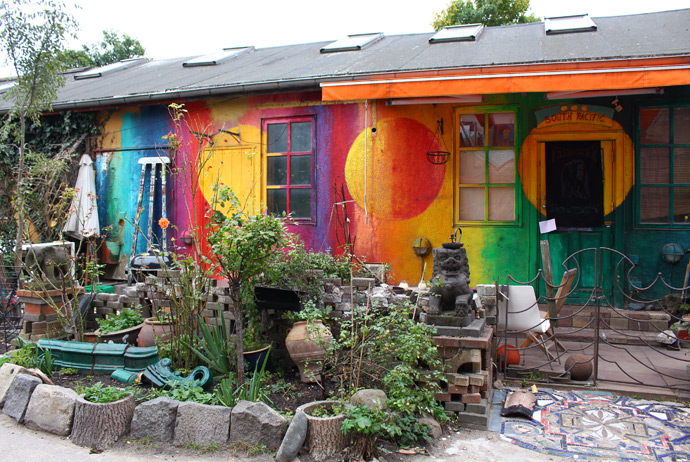 People are still buying and smoking weed in Christiania, but locals have agreed to video surveillance and police raids do happen more often than before. So, if you do decide to buy weed and smoke it there, do so at your own risk.
Remember that buying marijuana is illegal in Denmark, even in Christiania. If you do buy, listen out for people shouting, which only usually tends to happen when police are on the prowl, and remember to be discreet when buying or smoking.
Being high is not illegal in Denmark, so you can relax in Christiania for as long as you want after you've finished your joint.
Can I take photos in Christiania?
For a long time photos were banned on Pusher Street, for fear that pictures would help the police to identify dealers.
Nowadays, some of the 'no photos' signs have been painted over and it's (mostly) okay to shoot again.
Even so, you should still be courteous when taking pictures and you should always ask permission if people or private houses are involved.
Most importantly: do not take pictures of weed being bought and sold!
Where should you eat?
There's a lot of nice food in Christiania, and not just for when you have the munchies.
Right at the beginning of Pusher Street is the tiny Sunshine Bakery kiosk, which does a delicious dream cake (drømmekage), among other freshly made delights.
You can enjoy decent coffee at Månefiskeren, an alcohol-free café with a big outdoor space.
It's one of the key hangouts for locals and visitors. Another nice area with outside seating is Nemoland Café, painted yellow and red – the colours of Christiania. It serves up burgers, sandwiches and all kinds of casual snacks.
For a more upscale meal, head to Spiseloppen, where an international team serves up fresh fish and meat dishes from an a la carte menu.
Vegetarians will want to head straight to Grønsagen, a cosy eatery and grocery shop where you can choose from a hot and cold buffet and pay for your meal by weight.
The slightly fancier vegetarian dining club Morgenstedet offers hearty dishes made from organic and mostly local produce.
What about drinking?
Christiania is still a popular destination for going out. You can sip locally brewed beer at Woodstock Bar, where plenty of merry (and sometimes downright drunk) people will be only too happy to chat.
Listen to some tunes at Loppen or Operaen, both known for showcasing alternative musicians and emerging artists of all genres.
Every Wednesday and Friday, jazz enthusiasts gather at the Børneteateret for some live performances, while on Tuesdays you can get tipsy at the Science & Cocktails events at Byens Lys, aiming to make science more fun and accessible by combining it with booze.
Where is there to stay?
There aren't any hotels or hostels within Christiania itself but there are a couple of decent options nearby.
Try the cosy Sankt Anna B&B, just a short walk to the southwest of Christiania.
A cheaper, more sociable option is Bedwood Hostel, which is close by at Nyhavn, another popular Copenhagen sight and one that should definitely be on your sightseeing list when in town.
So, should you bother visiting Christiania?
The short answer is: yes! The weed market may be less obvious than it once was, but there's still plenty to see and do.
And while other neighbourhoods in Copenhagen such as Nørrebro and Vesterbro have become increasingly gentrified, Christiania has managed to preserve some of its edge and originality. Hopefully, even as things change, that will continue for years to come.
As the brightly painted signs say: 'Bevar Christiania!' (Preserve Christiania!)
Don't forget your insurance!
Christiania is a safe place but our advice is very simple: you still need travel insurance. A good policy can make a world of difference if things go wrong. For lots of different reasons we recommend World Nomads – you can get a quote on their website, even if your trip has already started.
Like what you've been reading? Get our best tips by email!