Summer has arrived in Stockholm, which means it's time to find a quiet spot for a bit of wild swimming – and maybe even get a cheeky suntan in the process. The whole city is edged by water, so there's sure to be a great lake or beach within easy reach of your accommodation.
The question is, which one should you choose? We inflated our armbands and set out to find some of the Swedish capital's best swimming spots. All of the places listed here are calm and clean, yet easy to reach from the city centre using public transport.
Expect lazy barbecues, memorable sunsets, refreshingly chilly water… and perhaps even a mosquito bite or two. If you're visiting during the winter, you'll want to make sure you visit a swimming spot with a sauna. Ready to go swimming? Let's dive in!
Dreamy beach swimming on Lidingö
The leafy island of Lidingö is just northeast of central Stockholm. Crossing the bridge to the island is the first great thing about this trip – look closely as you approach and you might just be able to see the contours of Carl Milles' fascinating sculptures outside the Millesgården museum, which is dedicated to his work.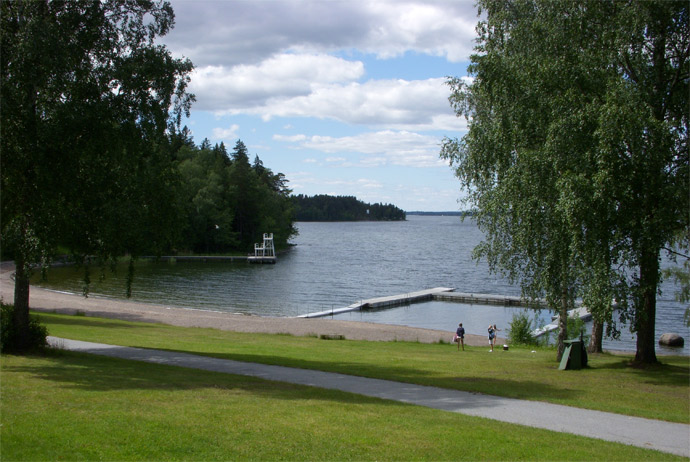 You can save the museum for later: we're heading to the northern edge of the island, to a picturesque beach called Fågelöuddebadet. When you reach the waterfront you'll be rewarded with clean yellow sand and sky-blue seawater. You can swim, paddle, or just sit and keep an eye out for ships sailing along the shoreline. There's also a diving platform, a barbecue area and a mini-golf area. When you've had enough sun, you can picnic in the shade of nearby trees.
Getting there
From central Stockholm, ride the red subway line to Ropsten. You can then hop aboard a #204 bus bound for Lidingö. Once you're on the bus you'll have about 25 minutes to enjoy the lovely scenery before the driver pulls up at Fågelöudde. From there, just walk uphill along Fågelöuddevägen. After around 10 minutes you'll reach a car park; the beach is 100 metres away, down the hill.
★ SUGGESTED DISCOUNT
Save with the Stockholm Pass
Get up to 50% off at Stockholm's top attractions, including the Vasa Museum, SkyView Stockholm and The Viking Museum, plus discounts on some of the city's best boat trips.
Lake swimming at Hellasgården
Saltwater isn't for everyone, and as some Stockholmers insist: local lakes are actually cleaner and fresher than the sea. The good news is you don't have to travel far from the city centre to find decent lake swimming.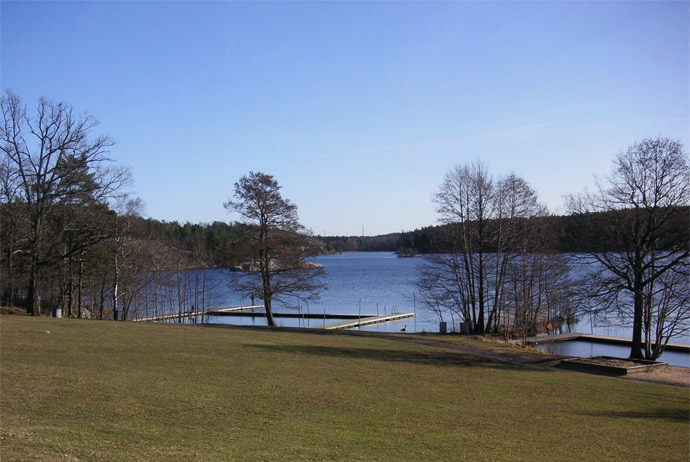 Hellasgården is a great little spot on the edge of Källtorpssjön, a 20-minute bus ride from the centre of town. There's loads to keep you busy, including fishing, running tracks and plenty of opportunities for splashing around in deep, clean water. Although Hellasgården is great on hot days, when families arrive from the city, it's also worth a visit in winter. There are saunas for men and women (a fee applies, as does the usual sauna etiquette). If you're brave enough you can even try dipping into an isvak – a hole cut in the lake's icy surface.
Getting there
Public buses run to the lake from Slussen in central Stockholm. Take bus #401 bound for Älta and get off at Hellasgården around 18 minutes later. The lake itself is a short walk north of the main road.
Back-to-basics dips at Söderbysjön
If you really want to escape it all but don't fancy a long journey from Stockholm, try Söderbysjön. This beautiful lake is surrounded by tracts of forest that invite you for lazy walks and nice bike trips.
There is a small sandy beach, but we reckon you're better off finding a quiet spot on one of the warm rocks that drop gently into the water. There isn't much in the way of facilities, so take a good book and some snacks.
Getting there
Take the green subway line to Bagarmossen T-bana; once there, it's a 20-minute walk northeast to the lake. From the subway station, cross the main square towards Folkets Hus. You then want to follow the street called Lillåvägen, before turning left to Stångåvägen. Finally, turn right onto Ljusnevägen. When you pass the animal hospital on your left-hand side, turn left into the forest, following the blue signposts. Then turn right at the crossroads and you'll see the sparkling surface of the lake.
Relaxed swimming at Saltsjöbaden
Want to get a feeling for life in the archipelago, but running out of time? Just hop on a train to Saltsjöbadens Friluftsbad, a nice upscale swimming spot that's still free to visit. On sunny days the warm rocks tempt you to lie and sunbathe, and the water is usually nice and clear. It's also very salty – they don't call it Saltsjöbaden for nothing.
Getting there
Take the Saltsjöbanan train from Slussen and get off at the final stop. Walk south from the station and follow the smell of the sea. To find a spot just for yourself, try turning left after the little bridge. Note that due to improvement works, buses may replace trains (these also run from Slussen).
Inner-city swimming at 
Hornsbergs Strand
If time is really short, or if you just fancy a city-centre swim after a busy day of sightseeing, head towards Hornsbergs Strand on Kungsholmen.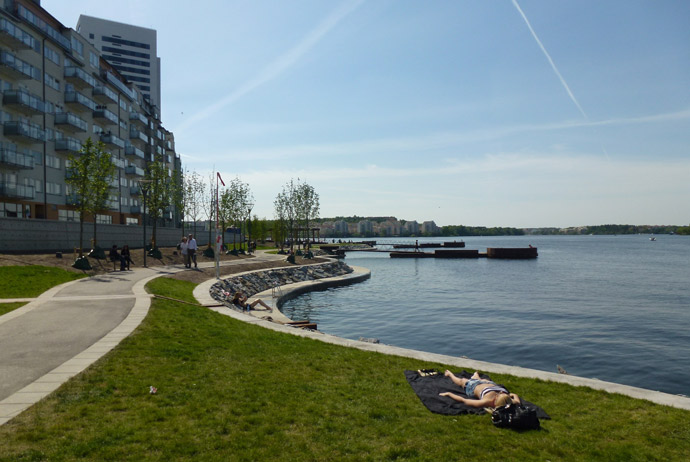 A word of warning, though: this place can get pretty crowded during the summer. Go very early in the day if you want the place to yourself. In the evening it pulses with life and there are some good restaurants, bars and cafés nearby. Bomans Glassbar, just across the road, also does great ice cream.
Getting there
Rent a bike and cycle along Kungsholmen's northern shore until you reach the bathing area. Alternatively you can take the subway to Kristineberg: just walk down Nordenflychtsvägen until you reach Lindhagensgatan, then turn left. Another option is to take bus #50, which runs all the way to the waterfront at Moa Martinsons torg.
Need more tips? Download our Stockholm guide!