Summer days in Copenhagen can get surprisingly warm, and when the sun is shining brightly a nice cool dip can be a very tempting prospect. Fortunately there are loads of great (and free!) swimming spots to choose from across the city.
Whether you're feeling hot and bothered or just want a bit of exercise, it's worth slipping on that swimwear and taking the plunge at one of these great outdoor swimming places, which are all within easy walking or biking distance from the downtown area.
We've also included a nice affordable indoor option with a sauna for when the weather's not so kind. So what are you waiting for? Jump in!
Islands Brygge
Like a central artery running through the middle of the city, Copenhagen's harbour is pulsing with life. And on a balmy summer's day, nowhere is more happening than the waterfront area known as Islands Brygge, which is home to large stretches of wooden decking and some great outdoor swimming facilities.
Just a short walk from the downtown hotels and hostels, this beauty is home to four open-air harbour pools, including two that are suitable for kids. All of the pools offer views across to some fine waterfront architecture on either side of the wide harbour, and there are a few different platforms available for those who want to practice their dives, jumps and tumbles.
During the summer season, from June–September, Islands Brygge is a great place for a picnic. If you prefer evening swims but arrive after the lifeguards have gone home (usually at 6pm), you can still enter the harbour water, where you'll find locals hanging out and splash around until sunset.
Islands Brygge is completely free to visit and should be high on your list if you want to swim like a local in Copenhagen.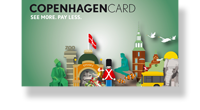 Is the Copenhagen Card worth buying?
Read this guide to see how much you could save during your trip!
Havnebadet Fisketorvet
A day out at Havnebadet Fisketorvet lets you enjoy a nice refreshing swim and a bit of shopping in the same trip. Located across the water from Islands Brygge, this enclosed harbour hub is right next to a multi-storey shopping precinct and is positively bustling with shoppers, bathers and cyclists during the summer (it's open from June to August).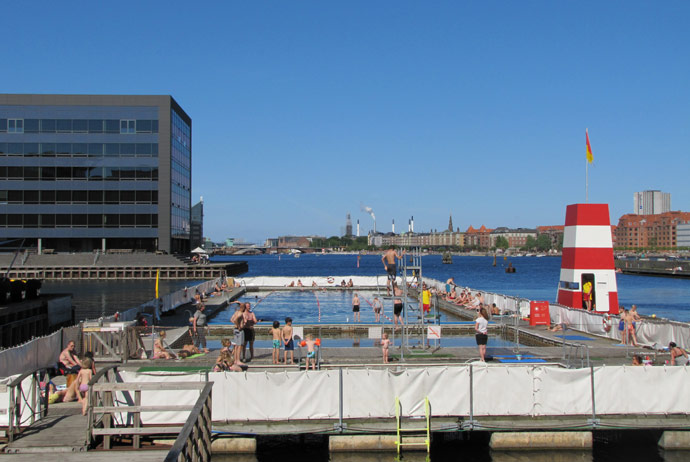 There's a four-lane 50m-long pool to do lengths in, and there are a few small diving boards too. The complex also has a kids' pool, making it popular with families who arrive throughout the day. Showers are available at the pool complex and there are toilets over in the Fisketorvet shopping mall.
Just be aware that there's nowhere to get changed near the pools, so arrive wearing your swimming gear beneath your ordinary clothes or be prepared for a bit of the old 'changing under a towel' routine. As with Islands Brygge, swimming here is totally free.
Sluseholmen Havnebad
Copenhagen has a third harbour pool that's free to use, the Sluseholmen Havnebad. South of the city centre in the suburb of Sluseholmen, it's smaller than the other two and consists of three pools surrounded by wooden decking.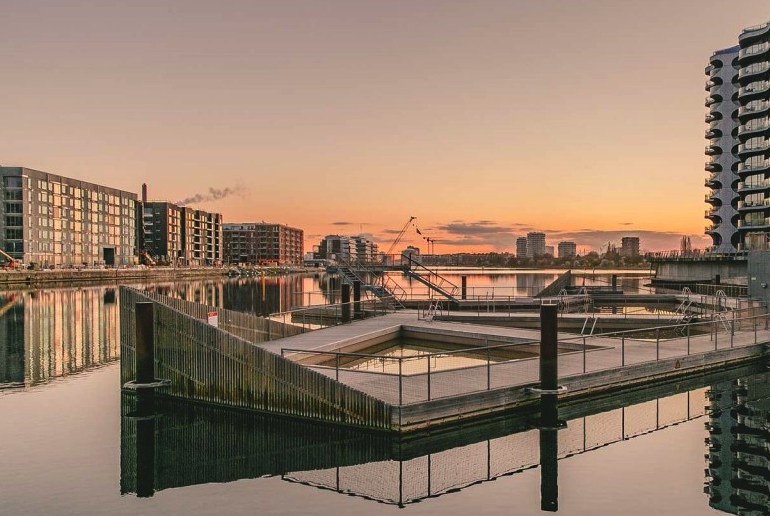 Its design was inspired by the shape of coral and it has a main exercise pool, with a diving section and a great bridge for leaping into the water from, plus shallower children's and youth pools. It's open from June to August, with lifeguards on duty from 10am–6pm.


Amager Strandparken
If it's the pleasures of the seaside that you seek on a hot day then head for Strandparken on Amager. Just south of Copenhagen, this beach park is home to a man-made island and over 4km of pristine beachfront.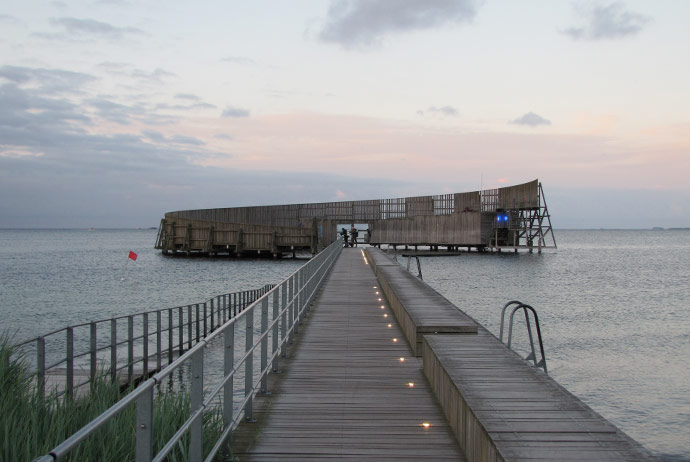 When approaching the island from the city, the first thing you're likely to notice is the stunning views, which peel off towards the Øresund Bridge, which connects Sweden with Denmark. You might also notice a plane or two quietly descending into nearby Copenhagen airport.
Finding a spot on the beach is not hard, even on busy summer days. Once you've slapped on the sunblock, the choice is simple: wade into the lapping waves on the eastern side of the beach or, if shallower waters are preferred, turn around and cross the dunes to the large lagoon on the other side. Either way, the water is clean and refreshing, making this a great little escape from the hustle and bustle of the city.
If you want to make a real splash then take a 10-minute stroll south along the spacious promenade until you reach the impressive diving structure, Kastrup Søbad, known locally as 'The Snail'. Rising out of the deep seawater, this snail-shaped wooden structure is fitted with specially designed diving platforms.
To reach the beach and the snail from central Copenhagen, take the metro to Amager Strand (around 15 minutes) and then walk east along Italiensvej for around 600m.
Svanemøllestranden
You can reach this lovely little beach north of the city by bike in around 20 minutes – and trust us when we say that the lovely soothing seawater rewards the effort it takes to get there.
Once you arrive, walk down the elegant curved pier and you can leap into the water at will, or just relax on the long wooden bench, which looks south towards sailboats and city buildings. Right behind the pier the triangular beach extends towards an older boardwalk, which is popular with couples taking lazy summer strolls.
The beach's fine soft sand makes Svanemøllestranden an ideal spot to sunbathe and swim. Some advice, though: get here early if you want to find a good spot on the beach – space is limited and this place is extremely popular with locals.
We'd also recommend bringing a packed lunch as there's not much to choose from near the beach, besides ice cream and coffee.
Valby Vandkulturhus
If your plans to hit the beach or harbour get derailed by bad weather (and let's face it, that's very possible in Copenhagen), consider a trip to this public pool at Julius Andersens Vej 1A, southwest of the city.
Allow a few hours for your visit to Valby Vandkulturhus; there's a lot more on offer beyond the swimming pool. Once you've paid the admission fee (around 45 DKK) you're free to follow flowing water through the ground floor swimming area and soak in inviting waterfalls and pools of different temperatures – the warmest is heated to 34c.
Afterwards you can go upstairs and enjoy the saunas in the wellness area (an extra charge of around 40 DKK applies). There's even an infrared sauna to help get rid of any aches or pains you've picked up on your travels.
To reach the pool either cycle (around 20 minutes one way) or take the S-tog train from Copenhagen's central station to Ny Ellebjerg, then walk the rest of the way. Opening hours vary and the pool closes for a couple of weeks during summer – check the official site before travelling (the hours appear under the word 'abningstider').
Harbour swimming
Copenhagen is one of the few European capitals where the water is clean enough to swim in, and there are several designated bathing zones around the harbour where you can safely take the plunge.
Some are simply areas marked out with buoys and metal ladders into the water: others have facilities on land such as changing rooms and saunas. Some are only in the summer, while others, such as the Halfdansgade, are open all day year-round for hardy swimmers. None has lifeguards, so swimming there is at your own risk. See here for a full list of Copenhagen's bathing zones and their opening hours.
See also:
Copenhagen's best communal baths and spas
Copenhagen's best houseboats and waterfront hotels
The best beaches near Copenhagen
Copenhagen with kids
50 free things to do in Copenhagen
Map of swimming spots in Copenhagen