You may have heard of Danish smørrebrød and wondered what the fuss is all about.
Why are the Danes so obsessed with their rye bread and open sandwiches? What are the classic smørrebrød toppings? And when do Danes actually eat this stuff?
Trust us: there is a good reason why Denmark's unofficial national lunch is such a reliable hit.
In fact, smørrebrød is so popular that it once featured on a series of Danish postal stamps!
You can even take a college course in the subject and become a qualified smørrebrødsjomfru (literally, a smørrebrød maid).
And you certainly can't visit Denmark without trying some – so how about a 'shooting star' or a piece of the 'veterinarian's midnight snack'? Confused? No worries. Read our ultimate guide to Danish smørrebrød and learn how to tell your kartoffelmad from your pariserbøf.
So what is smørrebrød exactly?
The name smørrebrød comes from the Danish words for butter and bread, and it is probably one of the most difficult words to pronounce for non-native Danes.
It was invented in the late nineteenth century and basically consists of varied toppings on dark rye-bread, although some of the classics include white bread too.
The combinations for toppings are endless but normally include a mix of the following ingredients: thin slices of cold meat, leverpostej (liver paste), fish and prawns, eggs, vegetables, sauces, garnish and spices.
Many places in Denmark consider smørrebrød as small edible pieces of art and more often than not, you won't be able to spot the bread beneath the topping.
When do the Danes eat smørrebrød?
Traditionally, smørrebrød is eaten for lunch, whether packed or served on a plate.
But don't be surprised to find the festive version called højtbelagt (highly topped) served as a main course for informal dinner parties.
And don't forget the smørrebrød for "natmad" (literally, 'night food'). That could be a sneaky midnight snack or a late supper given out before guests leave a party.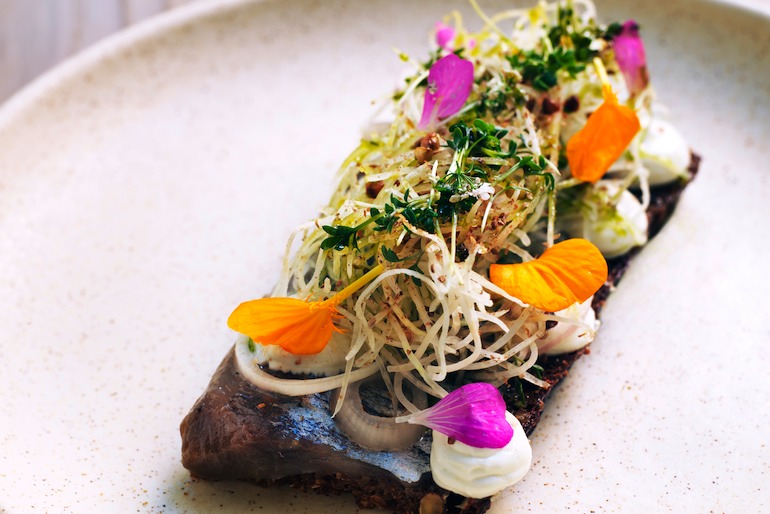 Smørrebrød is particularly popular around Easter and Christmas, when it tends to be dominated by toppings such as eggs, prawns and herring or roasted pork and red cabbage, respectively.
At festive times, or in a restaurant, smørrebrød is traditionally washed down with beer and shots of Danish snaps.
It's usually eaten from a plate with a knife and fork, although the quick 'klapsammen' (clap together), which is like a regular sandwich, is eaten more casually at home.
More about the classic smørrebrød toppings
Most smørrebrød restaurants in Denmark will feature a bunch of these classic toppings on their menu – whether traditional or with a modern twist. Here are some of the most popular combinations.
Leverpostej (liver paste)
The most unusually named type of smørrebrød is without doubt the Dyrelægens Natmad – the Veterinarian's Midnight Snack.
Named after a Copenhagen vet who used to dine on smørrebrød after work, it consists of a thick layer of leverpostej, (liverpaste or pate), on rye bread covered by a thin slice of salty beef, a wobbly slice of sky (meat stock jelly) and red onion rings.
In another popular combo, warm leverpostej is garnished with crispy bacon, sautéed mushrooms and occasionally pickles.
Fish and prawns
The king of the seafood-themed classics is stjerneskud – a shooting star. This is a stand-alone dish and you'd better be hungry to order it, as portions as usually huge.
Many seafood restaurants serve stjerneskud too, even if they don't specialise in smørrebrød.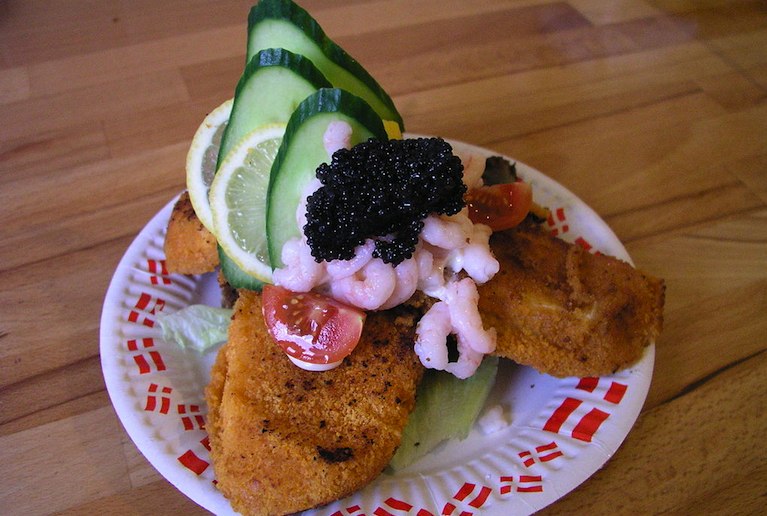 Stjerneskud is usually served on toasted white bread hidden beneath a layer of lettuce and a whole pile of seafood.
A layer of prawns and caviar sits on top of a fried and a boiled plaice fillet with a garnish of asparagus, dressing, lemon and dill. A lighter version, also on white bread, has a combination of smoked salmon and prawns garnished with a slice of lemon and a sprinkle of dill.
Sol over Gudhjem (meaning 'sun over Gudhjem', a town on the island of Bornholm) is another fishy favourite amongst Danes. It's served on rye bread topped by smoked herring fillets, chives, radish and a raw egg yolk.
If you're feeling adventurous, try smoked eel topped with scrambled eggs, herbs and a slice of lemon. But if you prefer to keep it simple, then stick with the classic egg and prawns, found on almost all smørrebrød menus, served on either white or rye bread and garnished with mayonnaise and cress.
Meat and sausage
Some of the Danes' favourite smørrebrød include roasted meat.
Roast beef with remoulade dressing, shredded horseradish and crispy fried onions is a popular combination, with pickles, cucumbers, tomatoes or a slice of orange often added too.
At Christmas, roast pork is popular, topped with sweet red cabbage, pickles and orange slices. If you're lucky, you might even get a piece of crunchy crackling to go with it.
Rullepølse is a salty rolled sausage that contains pork belly, onions, herbs and spices, and is popular in packed lunches in Denmark.
When served on smørrebrød in a restaurant or at a party, it usually comes beneath a slice or sky – meat stock jelly – and garnished with raw onion rings and a sprinkle of cress.
Alternatively, try the hearty pariserbøf (Parisian beef), consisting of toasted white bread topped with a beef burger, onion rings, an egg yolk, pickles, horseradish, capers and slices of beetroot.
And if you like your meat really raw, go for the beef tartare topped with raw onion rings, shredded horseradish and a raw egg yolk.
Potatoes and cheese
A kartoffelmad, literally meaning potato food, has thick slices of boiled new potatoes on rye bread, with a classic garnish of mayonnaise, crispy bacon and chives.
And let's not forget the cheese smørrebrød, which is served on white bread and often topped with rings of fresh pepper or onion rings, but might also come with sky or halved grapes.
Where to try the best smørrebrød in Denmark?
We bet you're hungry now, so where are the best places to try this Danish delicacy?
Copenhagen is unsurprisingly home to some of the country's best-loved smørrebrød restaurants – and several claim to offer the best smørrebrød in the city.
But you will also find high-quality smørrebrød elsewhere in the country, so we've included some of our favourites in Copenhagen, Aarhus and Odense.
Where to find good smørrebrød in Copenhagen
Fru Nimb
Combine your craving for smørrebrød with a visit to the legendary Tivoli amusement park. You can book your entrance ticket here.
Inside the old gardens, Fru Nimb in the majestic Nimb Hotel is said to be the first place in Denmark to have featured smørrebrød on its menu. Try their classic with chicken salad, mushrooms and salty bacon. Prices start at around 95 DKK.

nimb.dk
Aamanns 1921
A short detour from Copenhagen's main shopping street, Aamanns 1921 serves modern and unusual smørrebrød combinations in a contemporary Scandinavian interior.
Individual smørrebrød start from around 85 DKK, while a set menu of three is around 260 DKK – and their homemade snaps provides a lively kick to your lunch.
There are other branches of Aamanns 1921 around the city, including at the airport – and they even run specialised smørrebrød-making workshops for groups.

aamanns.dk
Ida Davidsen
The name Ida Davidsen is synonymous with smørrebrød in Denmark and her son is now the fifth generation to run the family restaurant in central Copenhagen. Ida is a true smørrebrød queen and author of several books on the subject.
Serving a huge variety of different types of smørrebrød, the restaurant has attracted Danish royals and other celebrities throughout the years, some of which have had a smørrebrød named after them. A menu of two smørrebrød, a beer, coffee and cake starts at around 425 DKK.
Schønnemann
This is an old-style lunch-only restaurant with an authentic atmosphere, and one of the oldest in Copenhagen, dating back to 1877. Herring features large on their smørrebrød menu – and they also serve no less than 140 different kinds of snaps. Smørrebrød begins at around 80 DKK, although most are over 100 DKK.

www.restaurantschonnemann.dk
Lumskebugten
Combine a visit to the Little Mermaid and Copenhagen's impressive citadel with lunch at nearby Lumskebugten, one of the capital's oldest restaurants with 160 years of history.
For almost a decade, it has been run by the renowned chef Erwin Lauterbach, with a focus on vegetables and seasonal produce. Why not try a piece with avocado, wild herbs and roe? Their smørrebrød starts from around 95 DKK.
Christianshavns Færgecafé
In the authentic neighbourhood of Christianshavn, this ferry café is an atmospheric spot for lunch – whether eat inside or outside along the harbour canal.
They have been serving classic Danish food for more than 150 years and serve up smørrebrød from around 79 DKK a piece as well as homemade snaps and a selection of aquavits.

faergecafeen.dk
Kompasset
At the far end of Nyhavn near Copenhagen's Playhouse, the Compass is housed in an 18th-century building and serves up smørrebrød with a modern twist, plus craft beer.
Try their signature "Sun Above New Harbour" with smoked herring, egg yolk, smoked cheese, chives, radish and red onions – and enjoy it with a view of the wooden ships in the scenic harbour canal. From around 100 DKK a piece.

restaurantkompasset.dk
Where to find good smørrebrød in Aarhus
Restaurant Klokken
In a modern restaurant near the city's cultural complex Dokk1, Klokken offers a unique twist on smørrebrød from 79 DKK a piece. Try their meat-free smørrebrød of boiled potatoes, onions, pickled tomatoes and mustard mayo.

restaurantklokken.dk
Restaurant Kohalen
With more than 100 years of history, the Cow's Tail is one of the oldest restaurants in Aarhus and their smørrebrød is some of the best in the city. They have all the usual classics on the menu, with prices starting at around 58 DKK a piece.

kohalen.dk
Spisesalon
In a stylish yet cosy restaurant, Spisesalon is near Aarhus' popular department store Bruuns Galleri, which makes it a handy lunch spot when you need a break from shopping.
The smørrebrød menu is relatively short but focuses on high-quality pieces, like crispy plaice fillet with marinated fennel and herb cream. From around 85 DKK a piece, or 3 pieces for 225 DKK.

spisesalon.dk
Where to find good smørrebrød in Odense
Restaurant HOS
For some of Odense's most delicate smørrebrød, Restaurant HOS has a short but ambitious menu of smørrebrød from around 100 DKK a piece.
Try fried cauliflower with salty lemons, almonds and summer truffles – or fried herring with potatoes and smoked cheese cream. Then wash them down with homemade schnapps and local beer from Funen.
Kong Volmer
A day without smørrebrød is a day wasted – that's the mantra at Kong Volmer, tucked away among former factory buildings in the heart of Odense.
With prices from 68 DKK a piece, it's good value and there's a long list to choose from – since you're on the island of Funen, why not try a piece topped with the local smoked cheese?

kongvolmer.com
Oluf Bagers Gård
In a building dating back to 1586, Oluf Bagers Gård is a piece of Odense history near the historic Hans Christian Andersen quarter – you can enjoy your lunch either in its old half-timbered stables or in the cobbled courtyard.
It's an atmospheric spot to sample the chef's selection of three pieces of smørrebrød for around 145 DKK.

olufbagersgaard.dk

See also:
Where to try New Nordic food on a budget
The best vegetarian and vegan food in Copenhagen
Finding cheap food in Copenhagen