Think 'Danish' and you might start dreaming of delicious pastries. One little word conjures up thoughts of warm, flaky pastries that just need to be devoured.
The truth is, Danish pastries aren't really Danish (the idea was introduced from Vienna and has stuck around ever since), but trust us: when you start tucking into some of the tasty treats on offer, you're not really going to care.
Denmark's pastry scene is at its most vibrant in Copenhagen, and the city is home to loads of welcoming bakeries that serve up freshly baked, sweet-smelling treats the traditional Danish way.
Offbeat, independent pastry shops can be surprisingly difficult to find among the downtown coffee chains, though, so we've rounded up a few of our favourites in this simple guide.
Most of these great bakeries are set in different Copenhagen neighbourhoods, giving you the perfect excuse to strike out beyond the central area and explore some new parts of town.
Sankt Peders Bageri
Latin Quarter
Baking in Copenhagen is often a family business and as soon as you step into Sankt Peders Bageri in the Latin Quarter you can tell that this is a welcoming, family run place.
This is one of the oldest bakeries in Copenhagen and the fact that it's been around for a few decades only adds to its charm.
The name might not sound very appetising but you're well advised to ask for one of their sticky and fluffy 'Wednesday Snails' (onsdagssnegle). These snail-shaped cinnamon rolls are the unquestionable stars of the show and, as the name suggests, they are only baked on Wednesdays.
Each week the bakery produces around 4000 of them to satisfy the growing demand and they are huge enough to keep you going until lunch (we've tried it).
Sankt Peders Stræde 29
Mon–Fri 6.30am–5.30pm, Sat 8am–2pm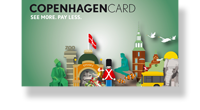 Is the Copenhagen Card worth buying?
Read this guide to see how much you could save during your trip!
The Corner @ 108
Christianshavn
The Corner is the newest addition to Copenhagen's bakery scene. It's part of 108, a restaurant that first became famous as the little sibling of Noma (it has the same owners).
The restaurant itself is expensive, as you'd imagine, but the little corner café does some excellent baked goods and coffees at fairly reasonable prices. There are three different pastries to choose from each day (40 DKK) and the flavours change according to the season. The secret ingredient is apparently a 'fermented beef garum' glaze. Erm… it's better than it sounds.
Strandgade 108
Mon–Fri 8am–midnight, Sat & Sun 9am–midnight
Andersen Bakery
Vesterbro
Directly opposite the main train station and right near the Tivoli Gardens amusement park, Andersen Bakery is one of the city's most famous mid-morning pit stops.
The Japanese man who started the bakery, Shunsuke Takaki, fell in love with Denmark back in the late 1950s and today the bakery offers a unique mix of traditional Danish flavours and quirky Japanese pastry art.
Everything in the bakery seems designed to make your mouth water, from the chocolate croissants to the homemade jams. Mini versions of the pastries let you try lots of different ones without getting too full, and unlimited coffee refills are available too.
Craving an afternoon snack? Try one of the bakery's gourmet hot dogs (50 DKK), which have a reputation as some of the best in town.
Bernstorffsgade 5
Mon–Fri 6.30am–6pm, Sat 7am–6pm
Mirabelle
Nørrebro
This upscale, Italian-inspired artisan bakery in the heart of multicultural Nørrebro uses organic ingredients to turn out some of Copenhagen's best pastries.
Try their croissants (28 DKK), which rival some of the best in Paris, or opt for their Italian focaccia, which comes with an exciting Danish twist.
Due to the high level of Danish hygge (cosiness) at this place, you could easily get stuck there for an hour or two. If you decide to stick around for something savoury, their homemade pasta and burrata (authentic Italian cheese) is well worth a try. The bakery is open from 7am–6pm, and the restaurant stays open until around 10pm.
Guldbergsgade 29
Daily 7am–around 10pm
Naturbageriet
Indre By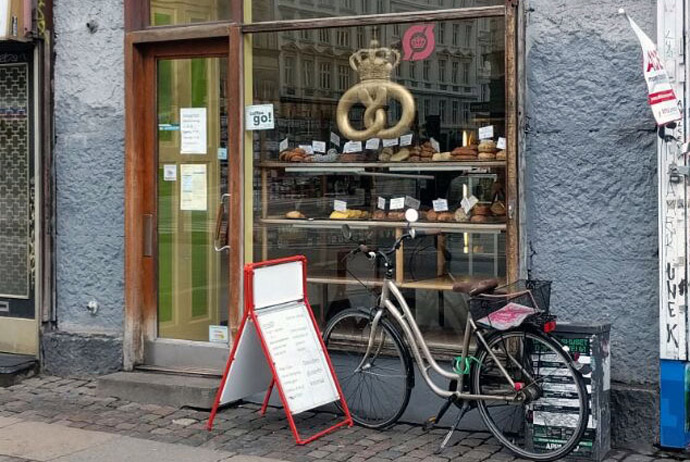 Imagine tasty, gluten-free and vegan pastries, with great service to boot. Naturbageriet offers all of this in the heart of Copenhagen, but it does take a bit of extra work to enjoy.
The menu is only available in Danish, for example, which provides the perfect excuse to chat with the friendly staff. There's also no seating, so the only option is to order and take away.
Our tip is to grab a snack and head either to the nearby King's Garden or The Lakes: two picturesque and very Instagrammable parks where you can enjoy your pastry with a view (or take a quick nap, if all that sugar knocks you out).
Frederiksborggade 29
Mon­–Fri 6.30am–6pm, Sat & Sun 7.30am–6pm
Bageriet Brød
Vesterbro
Bageriet Brød is the kind of sweet, tiny bakery that everyone wants in their neighbourhood. They sell heavenly rustic bread and warm morning buns, but we reckon it's the sweet almond croissant that will keep you going back for more.
This place is a little out of the way, but quite handy for the excellent food market in Copenhagen's Meatpacking District – perfect if you're on a foodie adventure and want to tick off a few tasty budget eats in one go.
Enghave Plads 7
Mon–Fri 7am–6am, Sat–Sun 7am–5pm
Map of bakeries in Copenhagen