If you're planning a holiday in Scandinavia, why not embrace the full winter vibe and stay in an igloo? Scandinavia is home to some of the best igloo hotels in Europe. Trust us when we say that these igloos provide the full-on 'winter wonderland' experience!
So, if you like the sound of snow, saunas and a spectacular northern lights display, check out our top ten favourite igloo hotels in Scandinavia.
There are plenty of different types of igloo that you can stay in, from remote authentic igloos built of snow and ice to high-tech glass domes where you can lie in your bed and look out at the stars above – and hopefully catch the amazing aurora borealis lighting up the night skies.
Are igloo hotels warm?
Igloo hotels can be heated in various ways: some have central heating; some are solar-powered; and some have a cosy wood-burner to sit around.
All are super-insulated with extra-thick duvets, and some come with reindeer skin rugs, so you can be sure that you will stay warm overnight.
Finland iglo hotels
Glass igloo village hotels in Finland tend to have all sort of facilities and trips laid on, including husky-sledging, snow-mobiles and ice-fishing. Here are some of our favourites.
Arctic Snow Hotel
In the village of Sinettä inside the Arctic Circle, Arctic Snow Hotel has cosy domes with underfloor heating and a 360º glass roof, so you can lie in bed in comfort and look at the stars. One of the world's best northern lights igloo hotels, it even has a special alarm service which will wake you up when the aurora borealis appears so that you don't miss a moment of the spectacular show.
There's also an outdoor hot tub, a snow sauna and an ice restaurant filled with ice sculptures, where you eat at a table made of ice!
Kakslauttanen Arctic Resort
The ultimate Lapland igloo hotel, Kakslauttanen lies high up in the Arctic Circle near the borders of Norway and Russia in traditional Sami land. Its family glass igloos sleep four with their own bathrooms, or you can opt for a cosy two-person igloo (which comes with its own toilet, with showers and sauna in a separate building) for a romantic night of star-gazing and northern lights viewing.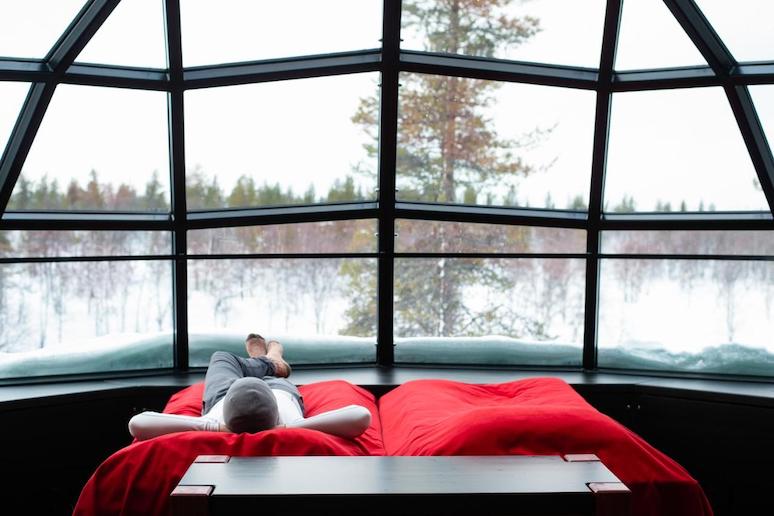 And there are plenty of on-site outings that you can sign up for, from ice-fishing to reindeer sleigh rides with native Sami herders, husky safaris to a trip on an ice-breaker ship.
Levin Iglut Golden Crown
Perched high up on a ridge, the glass igloos at Levin Iglut have far-reaching views over a huge valley, plains and a river. Close to the ski resort of Levi up in Finnish Lapland, the igloos are open from September to April, and the glass-roofed restaurant where breakfast is served specialises in cuisine made with local ingredients such as arctic char and reindeer.
All the igloos come with a kitchenette and en suite bathroom, but it's worth splashing out for a suite igloo that has its own terrace and outdoor hot tub, so you can really make the most of those views!
Igloo hotels in Sweden
As you might expect, design-conscious Sweden is home to some of the world's best and most inventive igloo hotels, as well as the original Icehotel.
The Peace and Quiet Hotel
The Peace and Quiet Hotel in Jokkmokk really lives up to its name.
This glass and aluminium dome sits on its own right on the edge of the river Lule, though it's just a fifteen-minute walk through the woods from the facilities of the main hotel.
In summer you can swim in the river; in winter, it freezes over and the ice is thick enough that you can barbecue on it!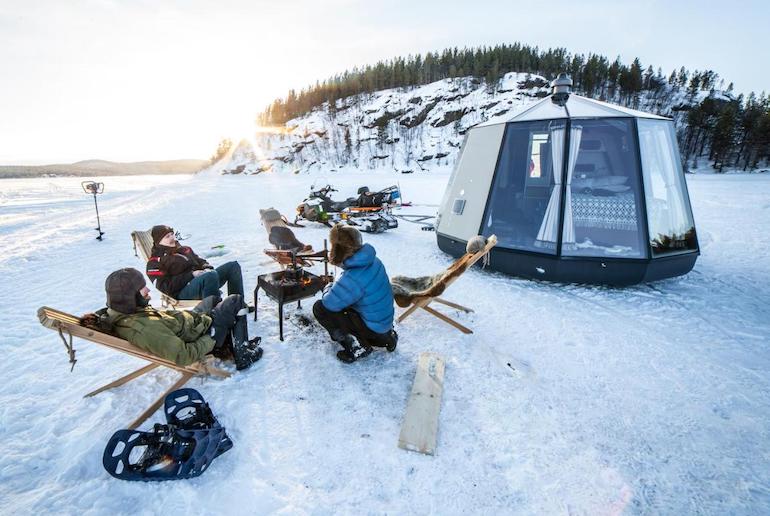 Activities include skiing, snowshoe hikes and wildlife safaris, while the on-site spa has outdoor cedar hot tubs, a Siberian sauna tent, ice baths and a waterfront massage tent.
The Icehotel
The rooms at the Icehotel are igloos in the very traditional sense of the word in that they are made completely out of ice.
They may not be individual round-shape dwellings, but everything in the rooms is hand-carved out of ice, from sculptures to the bed itself.
The rooms are rebuilt each year from ice blocks carved out of the nearby frozen Torne River. The temperature inside the rooms is -5ºC to -7ºC, but you're provided with extreme-temperature sleeping bags and there are cosy reindeer hides on the beds – plus there's a proper hotel with a 24-hour sauna and shower block nearby if the cold gets too much!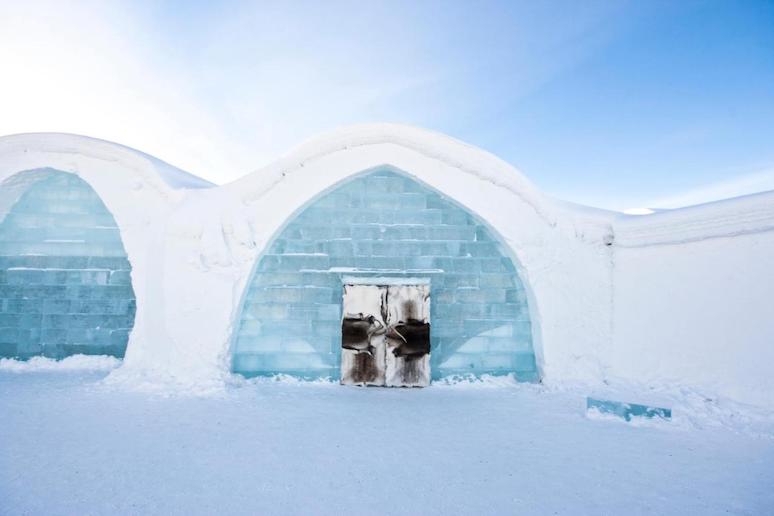 Norway igloo hotels
Lyngen North
In the far north of Norway, on the shores of the Lyngenfjord, Lyngen North is one of our favourite igloo hotels in Norway. A small family-run operation, it has five super-insulated glass igloos with amazing views of the Lyngen Alps and the fjord (frozen in winter), plus a couple of cottages to rent.
There's also an on-site restaurant serving super-fresh local dishes, and they can organise dog sledding, snowmobile and snowshoe trips out into the wilderness.
The Wild Caribou Dome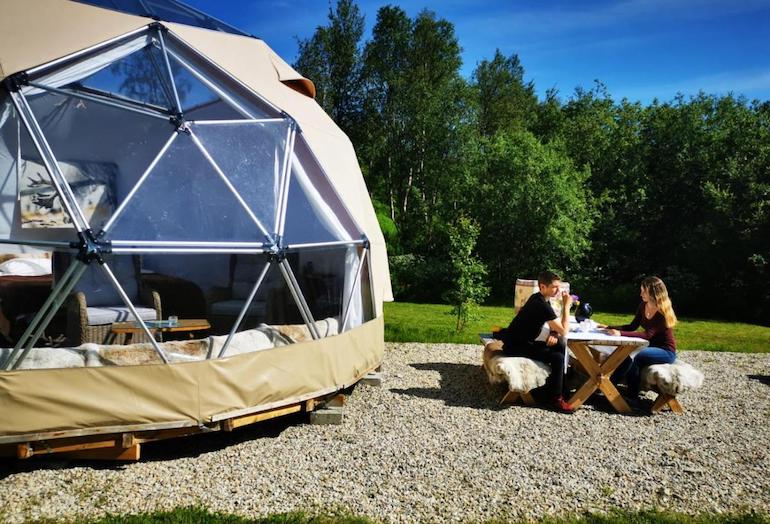 The Wild Caribou Dome is an igloo-shaped yurt next to the river Brennelva with a huge window giving views over the wilderness, and roof windows for star-gazing and northern lights' viewing. Right up in the north of Norway, just outside the Stabbursdalen National Park, it's a real away-from-it-all romantic break.
Igloo hotels in Greenland
Hotel Arctic igloos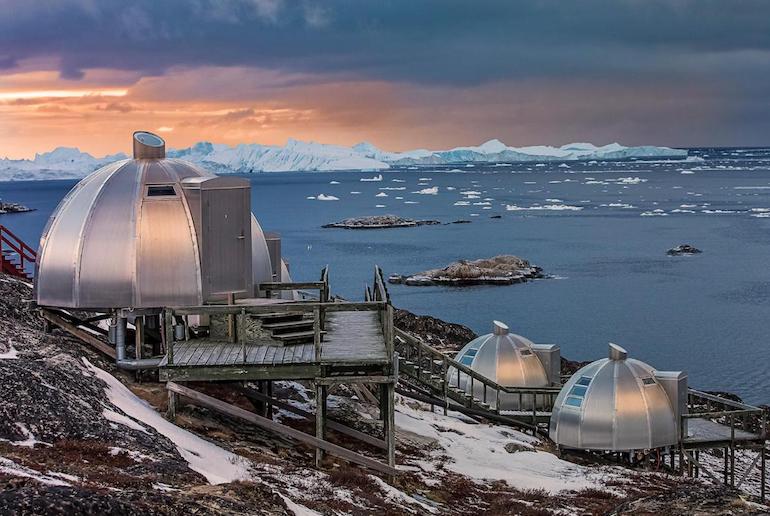 Although part of Denmark, Greenland lies some 2000 miles away with much of the island lying within the Arctic Circle. On Greenland's west coast, Ilulissat is home to the world's most northerly four-star hotel, which has cosy aluminium igloos perched on a cliff overlooking the UNESCO-protected Icefjord. The igloos have large picture windows, so you can look out at the huge icebergs in the fjord, plus windows in the roof so you can lie in bed and look at the stars.
Igloo Lodge
And for a real wilderness experience, Igloo Lodge has six authentic Inuit-style igloos carved out of snow and ice that sit out on the remote tundra. The only way to get to the igloos is by snowmobile from Ilulissat, then you can go on a snowshoe hike over to the frozen Kangia Ice Fjord.
The cosy snow domes have sheepskins and super-insulated sleeping bags, but there's also a heated wooden hut nearby for dinner, and in case the temperature drops too low in the night!
Iceland igloo hotels
Buubble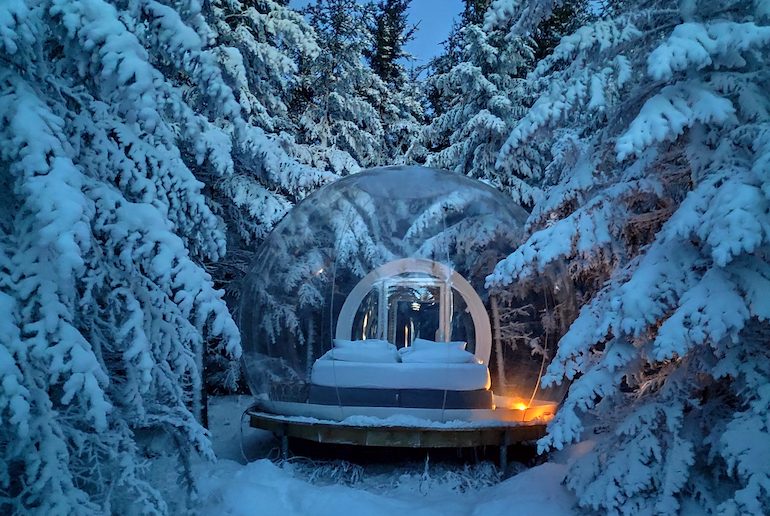 There are no actual igloo hotels in Iceland, but we just had to include these amazing transparent bubble rooms, tucked away in a forest near Selfoss on the south coast. Some even hang from the trees, like giant Christmas baubles! The domes contain a comfortable double bed, and there's a service house a short walk away, with showers and toilets.
See also:
Eco-friendly places to stay in Norway
Amazing places to stay in Sweden
12 of the best places to stay in Scandinavia