If you're planning a trip to Stockholm, you might have already seen adverts for the Stockholm Pass – also known as the Go City All-Inclusive Pass.
It's an all-in-one discount card that guarantees you free entry to dozens of attractions across the Swedish capital, and has a few organised boat and bus tours thrown in for good measure.
According to the official website, buying the Stockholm Pass could save you more than 1530 SEK (around US $160) on a three-day visit. But is it really worth buying?
And will it actually save you a big wad of kronor (Swedish currency) when you're trying to see Stockholm's best bits? Read our review to find out!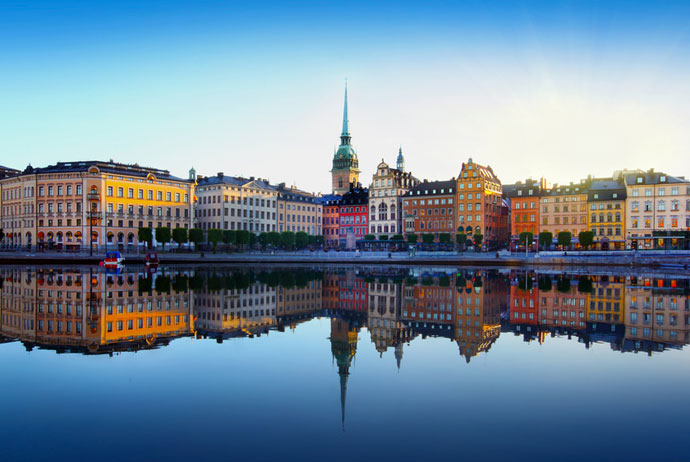 Wait up! What is the Stockholm Pass?
The Stockholm Pass is a little 'card' that you can carry around, either on your phone or in your wallet. Show it at one of the participating attractions in Stockholm – or at the start point of one of the included city tours – and you'll be waved through with the rest of the paying visitors.
Once you scan the Stockholm Pass at the first attraction, the time remaining on the card starts running down automatically. There is also a mobile version which is even simpler to use.
What's included with the pass?
The Stockholm Pass includes free admission to some of the city's top attractions. This gives you a good opportunity to cram in lots of sightseeing without worrying about what it costs to get into each attraction.
Here are some of the places you can access for free with the pass:
Vasa Museum
The Royal Palace
Nobel Museum
Drottningholm Palace
Skansen open-air museum
Nordic Museum
Storkyrkan Cathedral
Gröna Lund theme park
Fotografiska
Gripsholm Castle
Artipelag art gallery
And many more
Apart from giving you access to attractions and tours, the Stockholm Pass comes with a free guidebook offering more info on things to see and do.
You can see a full list of the included attractions on the Stockholm Pass website. Once you have the card you will also get free access to some of the most popular bus and boat tours, including:
'Under the Bridges' tour
Boat trip to Drottningholm Palace
Guided archipelago tour
Hop-on, hop-off bus tours
The Royal Canal Tour
In addition, you can buy the pass with a travelcard add-on. This includes unlimited use of the city's boats, buses, trams and local trains, so that your journeys on public transport between the sights are included too.
Bear in mind that this can only be added to the card version of the Stockholm Pass, not the mobile pass. You can also access the Stockholm City Pass here.
How much does the Stockholm Pass cost, and where do I get it?
There are several different versions of the pass, with validity periods of between one and five days. Passes are available on the Stockholm Pass website. Passes for kids are half price, but there aren't any discounts for students.
| | | | | |
| --- | --- | --- | --- | --- |
| | 1 day | 2 days | 3 days | 5 days |
| Stockholm Pass | 719 | 1019 | 1250 | 1619 |
| Stockholm Pass with unlimited travel | 849 | 1279 | 1510 | 2139 |
Costs (in Swedish kronor) are for one adult (aged 16+) and are correct at the time of publication.
Where do I collect the Stockholm Pass?
Once you've paid you can either have the pass sent to your home address (there's a charge of between 70–90 SEK) or you can pick up it for free when you arrive in Stockholm.
There are three collection points: the Stockholm Visitor Centre, at Sergels Torg 5; the Strömkajen terminal, at Södra Blasieholmshamnen; and the Royal Djurgården Visitor Centre, at Djurgårdsvägen 2.
Alternatively, you can get the mobile version instead, which you download directly onto your phone (though you can't buy the travelcard add-on with this).
And if you'd rather buy it in person, a number of shops and hotels in Stockholm sell the card, including selected 7-Eleven stores, larger hotels and some branches of the Pressbyrån convenience store.
The million-dollar question: is it worth buying?
Well, yes – especially if you are visiting for the first time and want to see as much as possible.
If you have a few museums, galleries and attractions on your radar then the Stockholm Pass is definitely worth buying (get it here) and could save you money. Armed with a pass, you can also avoid queuing for tickets at each attraction.
On the other hand, if you only want to check out a couple of Stockholm's big attractions, but will spend most of your time wandering around, eating, drinking, shopping, and generally getting a feel for the city, you might not save as much with the Stockholm Pass.
Not all Stockholm's big attractions are included with the Stockholm Pass (at the Abba Museum, for example, you'll still have to pay the usual 250 SEK entry fee) but overall it can be a great way to save money when exploring.
Take a look at the sample itinerary below to see whether you could save money by buying the Stockholm Pass.
We've added some of the real must-see attractions that are included with the pass, such as the Vasa Museet, along with a couple of smaller sights and tours.
Three days in Stockholm: would you save cash?
The DIY option
Stockholm Pass
Stockholm Pass w/ travel
Upfront cost
n/a
1250
1510
Entry to the Royal Palace
160
n/a
n/a
Entry to Skansen
220
n/a
n/a
9 x short subway trips
405
405
n/a
Entry to Vasa Museum
150
n/a
n/a
Entry to Fotografiska
165
n/a
n/a
Drottningholm Palace Boat & Tour

350

n/a
n/a
Royal Canal Tour
230
n/a
n/a
Total cost (SEK)
1680
1655
1510
Costs (in Swedish kronor) are for one adult and assume a three-day trip to Stockholm. All prices correct at time of publication.
If you visited these attractions during a three-day stay you would spend 1680 SEK in total.
So in this example, buying the Stockholm Pass works out cheaper than going it alone, and it also gives you the flexibility to add in more attractions if you get time. But of course, results will vary depending on exactly what you want to see.
And is it worth buying the travelcard add-on? We've factored in nine trips on public transport, which works out at three a day, making the travelcard worthwhile.
But, with each journey on public transport costing around 45 SEK, you'd actually only need to do six journeys over the three days to make the travelcard pay for itself.
So, work out which attractions you might want to walk to, factor in the weather (depending on what time of year you're travelling) and see how many journeys you're likely to want to make.
The Stockholm Pass: is it worth it?
Is the Stockholm Pass actually worth buying? Well, if you're planning to do a lot of sightseeing, you could save a lot of cash by getting the Stockholm Pass. The best advice we can give is to work out exactly what you want to see and then add up the totals, just like we did above.
If you're doing a fair bit of museum hopping and want to check out big must-see attractions like the Vasa Museum, you'll probably find that it's much cheaper to buy the Stockholm Pass rather than going it alone.
If you do decide the Stockholm Pass is worth buying, the easiest (and often cheapest) option is to order it online and have it shipped to your home, or collect it when you arrive in Stockholm.
You may be able to lower the cost of the Stockholm Pass by finding a discount code online. It's also worth checking the official Stockholm Pass website, as they sometimes offer discounts of around 10% of the full price.
FAQ
Can you get a 7-day version of the Stockholm Pass?
No. The Stockholm Pass comes in one-, two-, three- and five-day versions. If you want the pass for a full week, you can always buy a five- and a two-day version.
What's the difference between the Stockholm Card and Stockholm Pass?
The short answer is nothing! They are the same thing. The Stockholm Card is the old name for the Stockholm Pass.
Is Drottningholm Palace included in the Stockholm Pass?
Yes. Entry to the Drottningholm Palace plus the boat trip there along Lake Mälaren is included. Bought individually these would cost 350 SEK per person.
Is Moderna Museet included in the Stockholm Pass?
No, but Moderna Museet's permanent collection is free to enter. The admission fee for temporary exhibitions is around 150 SEK.
Is the Royal Palace included in the Stockholm Pass?
Yes, the Royal Palace, containing the Swedish crown jewels, is included. Bought separately admission costs 160–180 SEK.
See also:
Our Stockholm travel guide
The best Stockholm boat tours and cruises
110 cheap and free things to do in Stockholm