The iconic Tivoli Gardens is always high up on any list of must-sees in Copenhagen. The world's third-oldest amusement park has been delighting visitors to the Danish capital since 1843.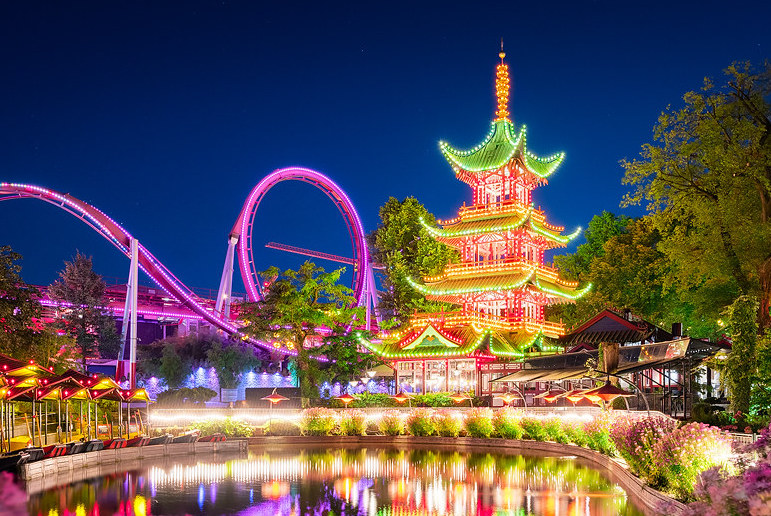 But what is there actually to see and do at Tivoli? Is it worth visiting? And, crucially, how much does it cost?
Read all about the attractions and highlights of Copenhagen's famous Tivoli Gardens, plus practical information about when to visit – and how to avoid the queues!
What is there to do at the Tivoli Gardens?
The Tivoli Gardens were originally created as a pleasure garden by Georg Carstensen, with the idea that "when the people are amusing themselves, they do not think about politics."
Today, the gardens are still an important part of the Tivoli experience, and the site is home to around 15 different green spaces with foliage and fountains, from the Chinese bamboo forest to the beautifully landscaped Parterre Gardens.
There's even an edible garden, where all the plants can be eaten (but presumably not by the thousands of tourists who visit every year)!
The rides
But, of course, there's also the rides. Tivoli has rides to suit all tastes, from the gentle Dragon Boats to the scream-inducing Demon rollercoaster with three upside-down loops, and the mad Aquila, where you're subject to forces of 4G.
So whether you're a thrill-seeker who likes nothing better than a high-adrenaline stomach-churning ride or prefer a gentle trundle round the park in an old wooden trolley car, you'll find something to do.
The gardens are also known for their illuminations and are beautifully lit at night, with a laser light show taking place at the lake on summer evenings, plus fireworks every Saturday in summer.
You can also watch theatre plays, ballet, concerts and jazz gigs or let loose at the weekly Friday Rock events.
What is there to eat and drink at Tivoli Gardens?
There's no shortage of cafés, restaurants, ice cream and sweet kiosks, bars and food outlets in the gardens.
You can eat just about any cuisine you can think of, from the smart Nimb Brasserie serving seasonal Danish dishes to Wagamama, sushi or a pancake house.
The Tivoli Food Hall has stands serving everything from Danish smørrebrød to filled flatbreads, Thai noodles and lobster rolls.
And if you're on a budget, there's nothing to stop you bringing your own picnic to eat in the garden.
Top tips for visiting Tivoli
Buy your tickets online to save time and get free cancellation.
Get there early. The park is quieter and queues for the rides are shorter in the mornings.
Bring a picnic. Although there are plenty of food outlets, you'll save money by bringing your own. No glass or alcohol, though.
Visit at dusk. Tivoli is at its most attractive and atmospheric as the thousands of lights begin to come on round the gardens.
Keep your cups. You'll pay an extra 5 DKK whenever you buy a takeaway drink in Tivoli. If you return the cup to one of refund points, you'll get your 5 DKK back.
Visit in September. Schools will have returned by then so the park is less busy, but the weather is usually still good.
Leave by the food hall exit. If you want to leave and re-enter, exit via the food hall where you can get a re-entry stamp from staff.
How much does it cost?
There are various different ticket options depending on what you want to do when you're at the gardens and how long you want to spend there.
Admission-only ticket
The basic admission-only ticket allows access to the gardens for the full day, but doesn't include any rides.
You can also get an early-bird version during the week, which includes a free drink at one of the park cafés if you arrive between 11am–1pm.
If you buy the ticket in advance online, you can skip the queues at the ticket office and go straight into the park. It costs around $20 on weekdays, $25 at weekends.
The unlimited rides wristband
This unlimited pass gives you unlimited goes on all the rides in the park for one day, though it doesn't include admission to the park itself.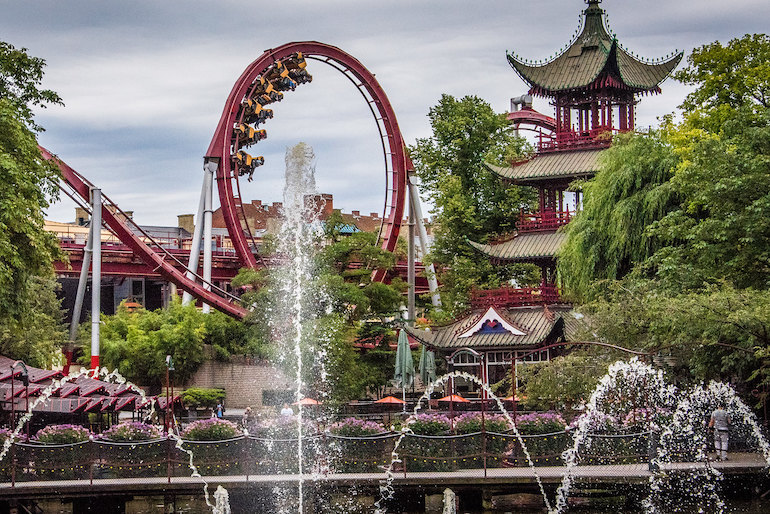 It's a good option for those who already have the Copenhagen Card, which includes entrance to Tivoli, and want to upgrade to include the rides.
If you don't already have the Copenhagen Card – see our guide to find out if it's worth buying – you'll have to buy the rides wristband in conjunction with the admission ticket above.
The wristband costs around $37 or a little more with unlimited ride photos and access to the Villa Vendetta haunted house.
The all-in-one admission and rides ticket
The classic combination ticket costs around $63 and includes admission, all rides and attractions plus unlimited ride photos. If you buy it in advance you can bypass any queues at the ticket office.
The Tivoli Pass
The final option is the Tivoli Pass which gives free access to the gardens all year, and is only really worthwhile if you live in or near Copenhagen or are planning to visit the gardens three times or more.
Prices start at around $55 for unlimited admission for the full season, up to around $150, with all rides included whenever you visit.
What to expect when visiting the Tivoli Gardens
The Tivoli Gardens is open from the beginning of April to late September. It also opens from mid-October to around November 5th for its halloween season and from mid-November to the end of December for Christmas.
Each season has different features. At halloween the gardens are decorated with lanterns and spooky lights, while Christmas sees beautifully lit trees, hot gingerbread and gluhwein stalls.
During the main summer season the gardens stay open until 10 or 11 in the evening, and midnight on Fridays and Saturdays.
Like most attractions, Tivoli is busiest at weekends and during public holidays. If you can, visit on weekdays and avoid school holidays – both Danish and Swedish (Copenhagen is just a short drive or train ride from Sweden).
The gardens are quieter the earlier you go, so get there as near to opening time (11am) as possible if you want to avoid the queues. Saturday nights can be particularly crowded.
What are the pros of visiting the Tivoli Gardens?
Its unique atmosphere. There's something genuinely nice about the old-fashioned vibe and the way the park has been put together.
Its location. Unusually for an amusement park, the Tivoli Gardens is located right in the centre of Copenhagen, making it incredibly easy to access. It's next door to Copenhagen's main train station – and you can walk or cycle there from most parts of the city centre.
No parking fees. Because you can easily get to the park by public transport, there's no long walk from the car park (common in many amusements parks) and no need for extra parking fees.
The rides. Tivoli has around 30 rides, suitable for all ages.
The seasonal events. Christmas and Halloween are particularly magical times to visit.
The lights. Tivoli's illuminations are one of its highlights.
And what are the cons of visiting the Tivoli Gardens?
The crowds. Tivoli is on a small site and it's Denmark's most visited attraction, so expect it to be busy.
The queues. The most popular rides and attractions can attract long lines at busy times.
It's closed from January to March!
So, is Tivoli Gardens worth visiting?
OK so it may be pricey, especially for families (kids older than 8 pay full price), but it's a unique place and one that it would be a shame to leave Copenhagen without visiting.
If you're not bothered about the rides, the gardens-only ticket is not too expensive.
To get the best value for money, we recommend the combined pass – but do your research beforehand to see what concerts, shows or events are on that are included in the entrance fee.
There's reason that this is the most visited attraction in Denmark and our advice is not to miss out on this iconic attraction, especially when it's all lit up at night.
See also:
The best time to visit Copenhagen
Visiting the Little Mermaid
The best canal tours and boat trips in Copenhagen