It's the capital city of an expensive country, so you'd be forgiven for thinking that there is no cheap food in Stockholm. But with a bit of careful planning and some insider knowledge you can eat well for less than 100 SEK. Here are our tips for finding cheap eats in Stockholm.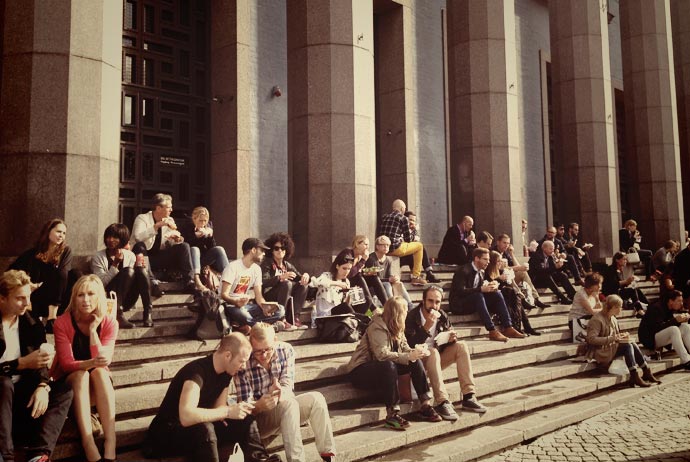 Eat your main meal at lunchtime
As with all Swedish cities, food in Stockholm is cheaper at lunchtime. The dish of the day (known simply as dagens) will often only cost around 100 SEK, even at relatively swanky places that charge two or three times as much for evening meals. These lunchtime deals are popular with office workers, but there's nothing to stop you from joining them.
Embrace Stockholm's cheap food trucks
Thank hipsters for that fact that food trucks are now so widespread in Stockholm. While some places have been around for years (including Nystekt Strömming, which serves classic Swedish food to go) there are literally dozens of new food trucks parking up around the city. Keeping track of them can be difficult as they move around lots but there is a website (unfortunately in Swedish only) which posts the locations of Stockholm's food trucks. You can also see the food trucks on a map here. We reckon these are some of the best cheap places to eat in Stockholm.
Hit the food halls
Stockholm's food halls are perfect for stocking up on ingredients for a cheap picnic or budget lunch. The best of the lot, Östermalm's Saluhall, is wildly expensive. But across town at Hötorgshallen you can grab cheap food from dozens of deli counters and takeaway joints. There's also an open-air market selling fresh fruit and veg just outside.
Cheap supermarkets in Stockholm
Okay, so if you're really on a budget, nothing quite beats this. Stockholm's supermarkets run some good deals and have shelves stacked with everything you need to make cheap meals back at your hostel or Airbnb rental. Our advice is to skip the expensive supermarket right near the T-Centralen subway station, which usually gets a mention in the guidebooks, and go for one of the supermarkets a short walk from the city centre, such as Lidl at Sveavägen 57 (it's right near Rådmansgatan T-bana).
Go to Systembolaget
This isn't really about finding cheap food in Stockholm, but as booze can easily double the price of a meal out, we thought it was worth mentioning. Head to Systembolaget (the only shop with permission to sell alcohol stronger than 3.5%) and buy some drinks to enjoy before you go out.
Go to an 'afterwork'
Lots of bars and restaurants across Stockholm run 'afterwork' evenings between Monday and Friday, with a small buffet of food laid out for after-work drinkers. Just buy a beer or glass of wine and you can make as many trips up to the buffet as you please. The quality of the food varies from place to place, and can include everything from pizza, meatballs and chicken wings to tasty vegetarian salads.
Eat at budget restaurants and cafés
Eating out on a budget in Stockholm is definitely possible, and you can save a lot of cash by picking your restaurants and cafés carefully. Avoid the overpriced places in the middle of Gamla Stan and head out to cooler, more reasonably priced joints away from the main tourist sights. Our guides to the best restaurants and cafés in Södermalm, Kungsholmen, Norrmalm and Östermalm are packed with cheap places to eat and drink.
One of our favourite places for cheap eats is K25, where you can get a decent lunch for around 90 SEK.
Drink tap water
Swedes don't often drink bottled water and nor should you – even a small bottle will set you back around 25 SEK. If you have to, buy one bottle and keep refilling it. The cold water that comes out of the taps at hostels, hotels and museums is totally safe to drink.
Looking for things to do in Stockholm? Head over to our main Stockholm guide for ideas.
Like what you've been reading? Get our best tips by email!