Think 'budget travel' and Copenhagen is probably not the first place that springs to mind.
After all, the Danish capital's reputation was built on swanky restaurants and design stores, rather than affordable eats and second-hand shops. Dining out is costly, and even a night in a fairly boring hotel room can cost you an arm and a leg.
Why is Copenhagen so expensive? Well, part of the blame falls on healthy local wages and Denmark's sky-high taxes, which help to keep everything ticking along so smoothly.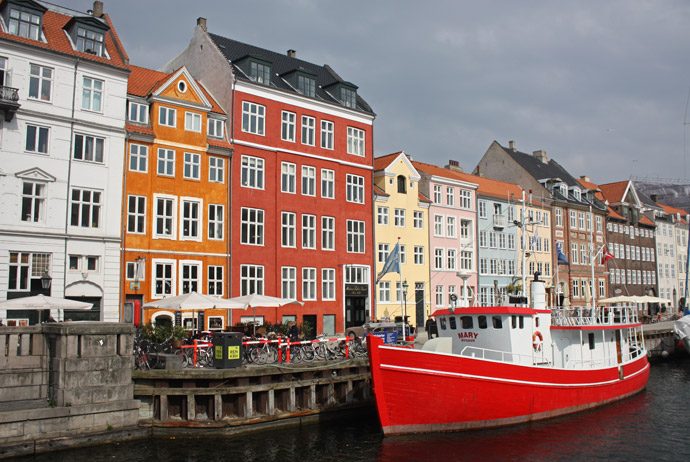 But despite the relatively high prices, you can visit Copenhagen on a surprisingly small budget. And you know what? You can have a great time while you're at it.
There's a big, lively backpacker scene in Copenhagen, and there's a whole load of fun activities to enjoy without ever needing to open your wallet. Best of all, the options for exploring on the cheap keep expanding all the time.
This guide will show you how to get the best out of your trip to Copenhagen, regardless of how much spending money you've got in your pocket. Read on for our tips, or use the menu below to hop between sections.
♦When to visit
♦Getting there
♦Getting around
♦ Where to stay
♦ Where to eat
♦ Drinking on the cheap
♦ What things cost
♦ Setting a daily budget
♦ Free things to do
♦ Discount passes
♦ Beyond Copenhagen
When to visit Copenhagen
There's no single best time for budget travellers to visit Copenhagen, but it's worth bearing in mind that accommodation prices tend to increase in the run up to Christmas and during the main summer rush.
A much bigger concern is the weather: depending on the time of year that you choose to visit, you could be blessed with glorious sunshine, beautiful snow… or an awful lot of rain.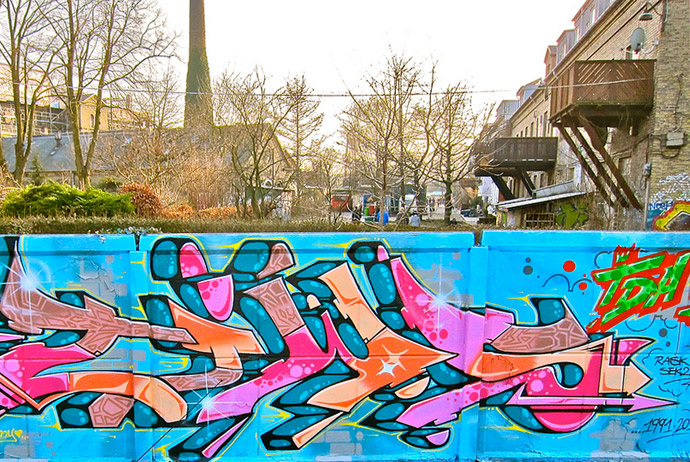 Generally speaking, the best months for visiting Copenhagen are June, July and August. These are the brightest, warmest months and in the height of summer it's not unheard of for temperatures to exceed 25c.
A big benefit for budget travellers visiting during the summer is that there are lot more things to see and do: outdoor events take place throughout the summer (many of them free) and the city's parks also come into their own, providing space for cheap picnics and sociable beers.
Visit Copenhagen during the winter and you can expect low temperatures. The average daily temperature in January is just above freezing point. Snow is a possibility, but it doesn't happen as much as you might think – and certainly less often than in Scandinavia's northern reaches.
The spring and autumn seasons are both good for budget travellers. The weather tends to be a little crappy (plan for rainy weather) but you can often find cheap deals on places to stay.
Getting there 
Copenhagen Airport (Kastrup) is the biggest and busiest airport in all of Scandinavia, making it easy to reach from Europe and North America.
Budget travellers heading to Copenhagen from other parts of Europe will be able to take advantage of super-cheap flights – EasyJet, Norwegian and Aer Lingus all fly to Copenhagen, keeping prices nice and low.
Copenhagen is also easy to reach using land-based transport. The easiest way to arrive from southern Sweden is by using the Öresund Bridge. Our guide has full details of how to make the crossing on the cheap.
Arriving from Germany? There are buses and trains from Kiel (both around six hours) and Berlin (via Hamburg; at least seven hours). You can book tickets through the rail.cc website.
Whichever route you take, you'll probably end up at Copenhagen's main train station, København H. It's slap-bang in the middle of the city and is extremely close to some of the city's best hostels.
Tip: consider getting yourself an Interrail pass if you'll be making a few journeys by train. It could save you lots of hassle.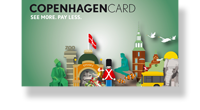 Is the Copenhagen Card worth buying?
Read this guide to see how much you could save during your trip!
Getting around 
Copenhagen's best bits are surprisingly spread out. You could spend time getting to grips with the efficient public transport system, which includes a metro system and a network of reliable buses.
Unless the weather is terrible, though, our advice is to rent a bike for the duration of your stay. Copenhagen is famous for its bikes and is widely regarded as the most cycle-friendly city on the planet.
Bikes are allowed pretty much everywhere and specially designed bike lanes and bridges make it a breeze to nip between the city's main neighbourhoods and sights.
The cheapest way to get hold of a bike is usually to rent it through the place you're staying at. Many budget hotels and hostels offer their guests access to bikes, either for free or at cheap daily rates.
Failing that, you can rent a bike from one of the many private bike shops dotted around town. A good cheap option is Baisikeli at Ingerslevsgade 80, which rents out second-hand cycles for around 80 DKK a day. Proceeds go towards bike-based development projects in Africa.
For short one-way trips within the city, you can hop aboard one of the Bycyklen city bikes, which come equipped with lights, battery-assisted pedalling and an onboard GPS system to help you navigate between attractions. Rentals are charged at around 30 DKK per hour.
For longer trips away from the city centre you will need to use public transport. This guide includes detailed instructions on how to get to some of the main attractions outside Copenhagen, including Legoland and the Viking boat museum at Roskilde.
If you have internet on your phone, it's worth downloading the very helpful Citymapper app, which tells you the easiest way to get around on foot, by bike, or using public transport. It's free on Android and iPhone.
Budget accommodation in Copenhagen 
Accommodation will almost certainly be your biggest cost in Copenhagen. Even at quiet times, prices are surprisingly high. As a budget traveller, you'll want to book as early as you can to secure the best rates.
Hostels
Copenhagen has one of the best hostelling scenes in all of Scandinavia. There are some amazing places to stay on a budget, and some of the best hostels are more like flashy hotels than the kind of scruffy crash pads that you may have seen elsewhere.
A couple of our favourite places – including Generator Hostel and Urban House – mix fresh dorms with a whole bunch of other great facilities, including lively bars, chill-out rooms and modern kitchens. Plenty of the newer hostels also offer extras like nightly music, free dinners and complimentary iPad rental.
Every hostel has its own character and there's a big difference between how 'party' each one is. You can get a good overview of what's available by checking out our guide to the city's best cheap digs.
Budget hotels
True budget hotels are few and far between in Copenhagen but it's worth checking sites like Hotels.com and Booking.com for last-minute deals.
If you're looking for a private room for two, the best option may be to check out one of the hostels – their double and twin rooms tend to be cheaper than those at hotels, and there's really not much difference in terms of quality. Some, like Danhostel Copenhagen City, are less party focused and offer rooms with private bathrooms.
Couchsurfing and Stay 4 Free
If you want to stay in Copenhagen on a really tight budget, don't panic – there are a couple of options that will leave your bank balance unscathed.
There's a lively and active Couchsurfing scene – just post a message on the forum and you'll probably find someone who's willing to host you. If you're lucky enough to have your own place back home, you can try house swapping with a local. There are some good central places listed on Stay 4 Free.
Airbnb
In Copenhagen, Airbnb has taken off in a big way. Depending on when you visit, you can rent a whole flat for as little as 500 DKK a night, or rent a room in a house for around 300 DKK. New to Airbnb? You can get 230 DKK off your first trip by using this link.
Cheap eats in Copenhagen 
From delicate hotdogs to mountainous open sandwiches: there's no shortage of delicious food to get your chops around in Copenhagen.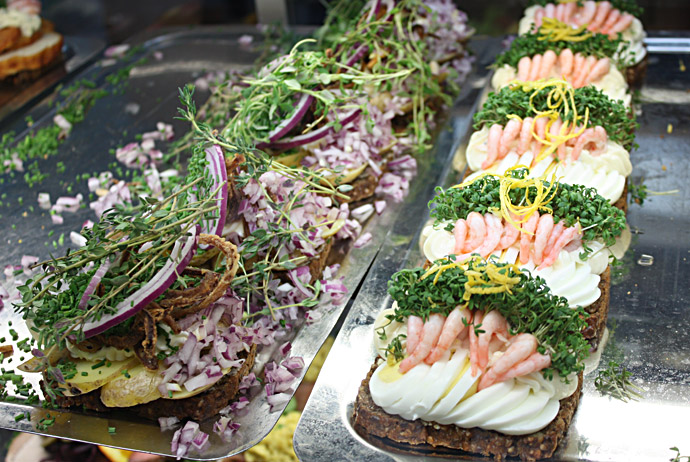 Some of Scandinavia's priciest restaurants are found in the Danish capital but it's still possible to eat like a king on a surprisingly low budget, whether you're hitting up food trucks or browsing one of the city's markets or food halls.
The average price of a meal in Copenhagen varies depending on the kind of restaurant you choose, but if you pick wisely you should be able to eat a decent dinner with drinks for around 200 DKK. This guide is packed with recommendations for cheap places to eat in Copenhagen.
Drinking on the cheap 
If you're arriving from Sweden or Norway, the Danish attitude to drinking comes as a bit of a surprise – things are a lot more liberal here and it's perfectly normal to see people swigging lunchtime beers by the canal.
There's also no alcohol monopoly in Denmark, which makes it much easier to get hold of cheap drinks. Hostel-goers and other budget travellers tend to stock up at Copenhagen's supermarkets, which have a decent selection of beers, wines and spirits. They sometimes run special offers. Try one of the downtown branches of discount supermarket chain Netto (there's a handy one at Landemærket 11, a five-minute walk north of Strøget).
Bars, on the other hand, tend to be quite expensive by European standards. You can expect to pay around 60 DKK for 50cl glass of beer at a casual bar – more if you hit a nightclub or swanky cocktail joint. A glass of house wine will usually set you back 70–80 DKK.
What about weed?
There's always a waft of weed in the air in Christiania, the 'freetown' in the heart of the Copenhagen, where cannabis is still sold openly from little booths at the side of the main street.
There's nothing risky about visiting (it's a great place to have a wander around) but we'll remind you straight away that cannabis is illegal in Denmark, and that Christiania is subject to regular police busts.
If you're going to buy and smoke weed, do so discretely. The likelihood of you being caught and punished is very small but you should always exercise caution – and definitely don't smoke in your hostel or hotel (there are often fines for doing so and you may even be kicked out). It goes without saying, but do not carry drugs across the border to Sweden.
What things cost in Copenhagen 
Sometimes you just want to know how much things cost. This simple table will give you an idea of prices in Copenhagen and help you manage your budget.
| | |
| --- | --- |
| | Approximate cost |
| Night in a hostel (shared dorm) | 190 DKK |
| Double room in a hostel | 800 DKK |
| Basic meal at a food hall | 70 DKK |
| Entry to the National Museum of Denmark | 75 DKK |
| Draft beer in a bar | 60 DKK |
| Train from Copenhagen–Copenhagen Airport | 36 DKK |
| Bike rental (one day) | 80 DKK |
Daily budget for Copenhagen 
It's hard to come up with an exact figure for how much you can expect to spend per day in Copenhagen.
If you stick to cheap eats and sleeping in hostel dorms (and don't spend crazy amounts on partying) you should be able to get by on around 450–500 DKK per day. You can spend even less if you Couchsurf and prepare most of your meals yourself.
If you want a private hotel room and fancy eating at least some of your meals in proper sit-down restaurants, reckon on spending around 800 DKK per person each day.
Free things to do in Copenhagen 
Sightseeing can have a huge impact on the amount you spend in Copenhagen and, unfortunately, some of the best museums and attractions have recently started charging admission fees.
There are still masses of free things to see and do, though. Check out this super-detailed guide, which has 50 ideas for budget activities in Copenhagen.
Discount cards – are they worth buying? 
Like several other Nordic cities, Copenhagen has a special discount card aimed at tourists. The idea is that you pay for the card upfront and then get big discounts at some of the main attractions (or completely free admission). Is it really worth buying? We road-tested the card to find out. Click here to see if it will save you money.
Beyond Copenhagen
If you're sticking around for a while and want to get a feel for life outside the city, check out these day trips from Copenhagen. Most of them are cheap, easy and can be done using public transport.