What's the best way to go sightseeing in Copenhagen? By bike, of course.
The city is regularly ranked number one in the index of best cities in the world for cycling, and its network of dedicated cycle paths are a joy to use.
So, why not do as the Danes do and explore the city on two wheels?
Why Copenhagen is such a good city for a bike tour
Over the last decade Copenhagen has invested more than $200 million in its cycling infrastructure, and it now boasts 239 miles of bike lanes.
But it's not just the excellent network of cycle paths that makes it such a bike-friendly city.
Bikes are considered a natural way to get around – nine of ten Copenhagen residents own a bike – and almost half of all commutes for work or education are by bike.
And of course the city is fairly flat, with no hard hills to climb. So if you're wondering where to bike in Copenhagen, the answer is pretty anywhere!
What you can see on a bike tour of Copenhagen
If you opt for one of the classic guided bike tours in Copenhagen, you'll see all the main sights in the centre of the city, including the canals and lakes, the Little Mermaid, Nyhavn and the Amalienborg Royal Palace.
If you already know the main sights, you may prefer one of the themed tours, that take in lesser known parts of the city or take you to places of specific interest.
When the tours run
Some bike tours in Copenhagen run year-round, weather permitting, but you'll get more choice in the peak seasons of spring and summer.
Of course, if you're just renting a bike and doing doing your own self-guided bike tour you can go at any time of year you like. And many of the private bike tours of Copenhagen run year-round too.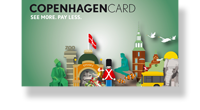 Is the Copenhagen Card worth buying?
Read this guide to see how much you could save during your trip!
Who can join a Copenhagen bike tour?
As long as you can cycle, you can go on a guided bike tour in Copenhagen. If you find a conventional bike difficult to ride, you can opt for an e-bike.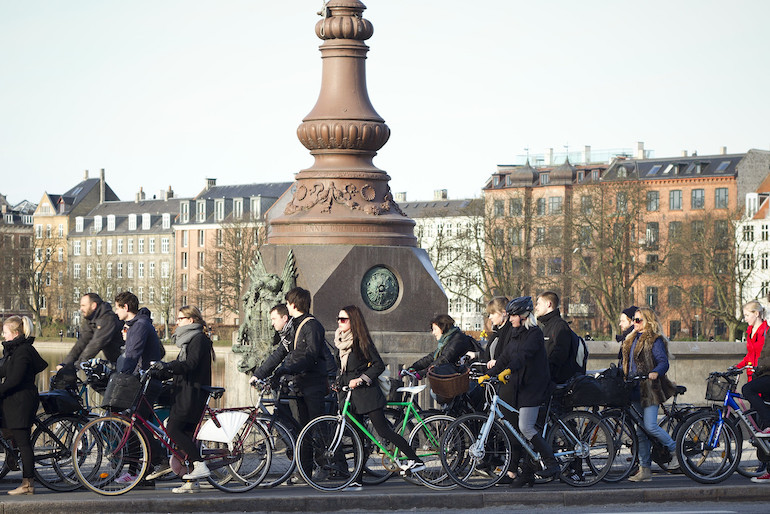 If you're looking for family bike tours in Copenhagen, most are happy to take children provided they are confident and competent on two wheels.
And if your kids are too young to cycle themselves, you can always take a cargo bike tour and put them in the bucket seat at the front.
The best bike tours in Copenhagen
So, if you fancy exploring the city by bike, here are some of our favourite bike tours in Copenhagen.
The classic best of Copenhagen tour
This is the classic three-hour Copenhagen bike tour that takes you round all the main sights, including the Gefion Fountain, the English Church, the Amalienborg Palace, the Opera house and, of course, the Little Mermaid. 
You'll also visit a local food market, and learn all about the history and culture of Copenhagen from a knowledgeable guide.
A speedy highlights tour of Copenhagen
If you're short of time, why not try this 90-minute tour that whizzes you round the highlights of Copenhagen.
Your experienced guide will give you an insight into the the city's history and show you to the main points of interest.
Fun foodie trip
Foodies will love this three-hour foodie trip by bike to six different venues where you can sample the best of Danish cuisine.
The trip takes in a local food market, a smørrebrød restaurant and an award-winning Danish hot dog stand.
Check out these guides for more on Danish smørrebrød and where to get cheap food in Copenhagen.
Take a private bike tour
If you already know the city and have seen the main sights, you may want to book a private tour so that you can choose where to go or ask the guide to take you off-the-beaten-track to the lesser-known parts of the city.
And if you're travelling with family or a group of friends, it may not work out much more than going on a group tour.
Cargo bike tour
When in Copenhagen, you just have to have a go on a cargo bike, also known as Christiania bikes, after the suburb of Copenhagen where they were invented. (For more on the freetown of Christiania, read our guide.)
These distinctive bikes with a big bucket in front are great fun to cycle, or you can sit in the cosy front seat and let the driver do the peddling. And because these cargo bikes are electric it's not that hard work, so just about anyone can have a go at cycling.
Most people swap around and have a turn in the bucket seat and a turn cycling, or you can stay in the saddle and put your dogs or children in the front seat!
Hygge and happiness on a bike
What could be more Danish than cycling around in search of hygge (that very Danish feeling of well-being and cosiness)?
This tour takes you to some of the city's pretty old cobblestoned streets and quieter green spaces to reconnect with nature.
And, of course, it includes a lovely coffee and a Danish pastry for that all-important sense of well-being. For more on how to embrace Danish hygge, read out ultimate guide.
Bike Mike
Considered by many to be the best Copenhagen bike tour, no rundown of cycle trips in Copenhagen would be complete without the iconic Bike Mike tours. 
A longstanding institution, Bike Mike has been cycling round the streets of Copenhagen for almost fifty years and has become legendary amongst cycle guides for his non-conventional and authentic tours.
Go easy with an e-bike tour
If you fancy a bike tour, but don't want the effort of cycling yourself, this e-bike tour takes all the hard work out of it. All the iconic sights are included and you'll also spend some time in Christiania which you can explore on foot.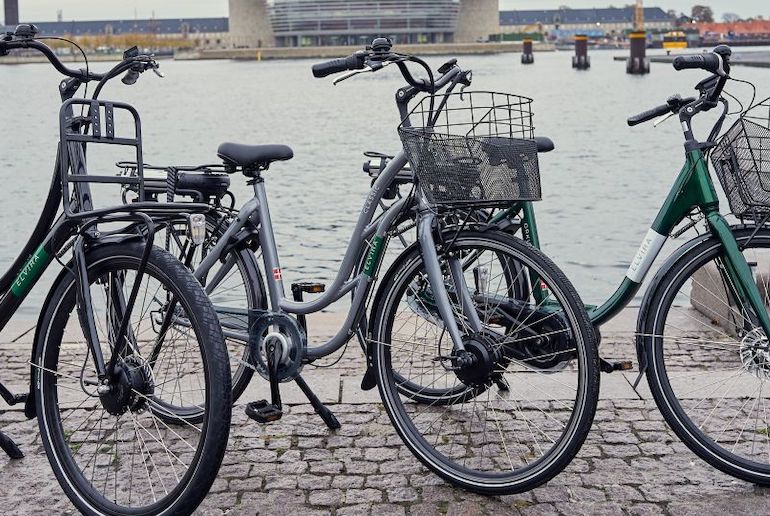 Bikes and head-sets (so that you can hear the guide) are included and because e-bikes go faster then push bikes you'll get to see more of the city in less time.
Rent your own e-bike
For those who know where they want to go and don't need a guide, renting an e-bike is the fastest and most fun way to get around.
Bikes come with baskets (so you can go shopping) and helmets, though they're not compulsory in Denmark and you'll see plenty of Danes cycling without them.
You can rent a bike from two hours up to five days, and they have a range of 80km so you can explore out of the city centre too.
Hang out in hip Nørrebro
Seen the main sights already? Then why not explore the lesser-known areas of Copenhagen by bike.
You can hang out with hipsters in the trendy district of Nørrebro, a former working-class area that has been gentrified and is now a lively, vibrant, multicultural suburb. 
It's home to some striking street art, artisan coffee shops, ethnic cafes, design shops and artists workshops.
See also:
Copenhagen's best spas and communal baths
Where to east Danish pastries in Copenhagen
70 cheap and free things to do in Copenhagen