You've probably heard of Lapland, but do you know where it is? Also, is it even a proper country? And is it covered in snow all year?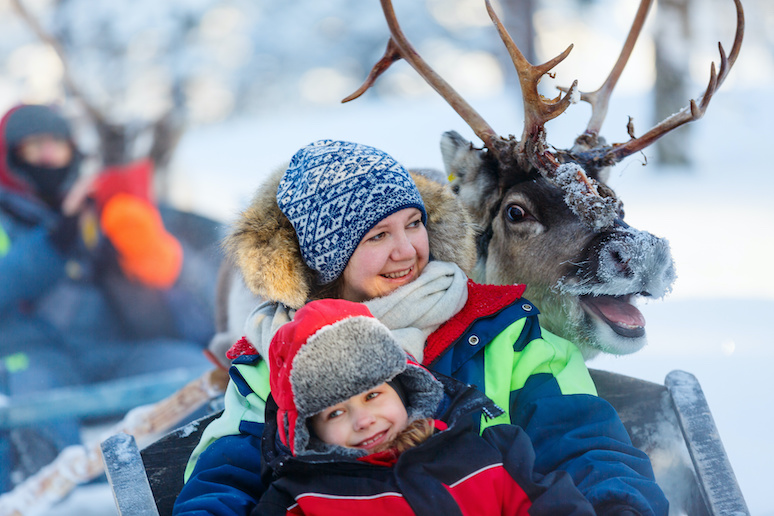 We've looked into the facts and figures and found some fab fun activities and tours that you can do in Lapland.
Where exactly is Lapland?
Lapland is a large region in northern Europe, much of which lies within the Arctic Circle. It covers an area of around 100,000 square kilometres – about the size of Belgium, Holland and Switzerland put together!
The region is bordered by the Norwegian Sea to the west, the Barents Sea to the north, and the White Sea to the east.
Which countries does Lapland stretch across?
Lapland stretches across northern Norway, northern Sweden, northern Finland and the Kola Peninsula in Russia.
Is Lapland a country?
Lapland isn't a country; it's a region that was traditionally where the native nomadic Sámi, Inari, Utsjoki and Hetta people lived.
Is Lapland a real place? And how many Laplands are there?
Lapland is definitely a real place, but it is a region not an autonomous unified entity. There is only one Lapland but it is governed and administrated by four separate countries – Norway, Sweden, Finland and Russia.
So you may hear people refer to Swedish Lapland or Finnish Lapland, which refers to the part of Lapland that is in Sweden or Finland. The Norwegian section of Lapland is, confusingly, also known as Finnmark!
To further complicate the issue the northernmost province of Finland is also called Lapland (or Lappi in Finnish), which covers around a third of Finland's total area.
Hold up, is Lapland a derogatory term?
The name Lapland is derived from the word Lapp, which is the name the Scandinavians gave to the indigenous Sámi people who have lived and herded reindeer in the region for thousands of years.
The Sámi themselves consider the name Lapland to be derogatory, and call the region Sápmi.
Where is Lapland on a map?
So, if we look at the map below, we can see that Lapland is the area marked Sapmi in yellow, that stretches across the north of the Scandinavian peninsula.
Who rules Lapland?
The Sámi people have little autonomy over their own laws or governance, but are dependent on the rights granted to them by each of the four individual countries.
Under the Finnish national constitution, for example, the Sámi have the right to maintain and develop their own language and culture, and the government is obliged to consult with the Sámi parliament on issues that affect them.
And, whilst the democratically elected Sámi parliament is recognised by Sweden, Norway and Finland, it has limited powers if its interests are in conflict with those of the ruling governments.
However, the Sámi people do have a degree of self-determination and are working towards increasing it.
Is there a Lapland flag?
Yes, the Sámi flag was approved as the official flag of Lapland in August 1992. It was designed by Sámi artist, Astrid Båhl.
Its colours – red, blue, green and yellow – represent the Sámi national costume, with green symbolising nature, blue water, red fire and yellow the sun.
Who actually lives in Lapland?
The Sámi, of course, are the original inhabitants but there are also large settlements within the region where citizens of Norway, Sweden, Finland and Russia live.
What are the biggest cities in Lapland, and what can you do there?
As you can see from the table below, the largest settlements in Lapland are actually in Russia. But there are plenty of smaller towns and villages in Finland, Sweden and Norway that you can visit in Lapland.
Just click on the links below for more info about the towns and some ideas of cool things to do in Lapland.
Murmansk, Russia 288,000
Rovaniemi, Finland 64,200
Tromsø, Norway 59,500
Apatity, Russia 56,700
Severomorsk, Russia 51,000
Monchegorsk, Russia 42,900
Bodø, Norway 42,600
Kandalaksha, Russia 32,600
Kirovsk, Russia 27,000
Kiruna, Sweden 23,178
Tornio, Finland 21,300
Olenegorsk, Russia 21,100.
Harstad, Norway 21,000
Gällivare, Sweden 18,100
Alta, Norway 15,000
What's the climate like in Lapland?
Since most of Lapland lies within the Arctic Circle, the climate is – unsurprisingly – cold! However it's a large area, so the climate varies within it.
Finnish Lapland, for example, has a subarctic to continental climate, with relatively mild summers and long, cold, snowy winters.
Lapland gets snow from as early as September through to April, with peak snow cover being in January and February.
And its average temperatures range from about 10–15ºC in summer to -16–3ºC in winter, though they can go as low as -30ºC!
What is Laponia?
Laponia, or the Laponian area, is a region of pristine wilderness in Swedish Lapland that includes four national parks and two nature reserves.
With primeval forests, marshes, lakes and mountains, its rich biodiversity has been granted Unesco world heritage protection.
And what is Finlandia?
Finlandia is a piece of music written by the Finnish composer Sibelius in support of the Finnish free press to protest against the censorship of the Russian empire.
It's also the name of a brand of Finnish vodka!
What are the Lapland Mountains?
The Lapland Mountains is just another name for the Scandinavian Mountains, along with the Kjølen or Kölen mountains.
Is it easy to travel around Lapland?
Since much of Lapland is remote wilderness, it's hard to access the more off-the-beaten track parts without your own transport.
Some of the larger cities have train connections, such as Kiruna in Sweden which has direct trains from Stockholm, and Rovaniemi in Finland which has direct trains from Helsinki.
However, the easiest way to really explore the area is on a guided tour, such as this two-day trip which includes all transport, an expert guide, plus a reindeer sleigh ride, ice fishing and an insight in Sámi culture and traditions.
What are some of the best things to see and do in Lapland?
Lapland is a great place for adventure sports, such as this snowmobile safari from Tromsø in Norway or this snowshoe and ice fishing trip from Kiruna in Sweden.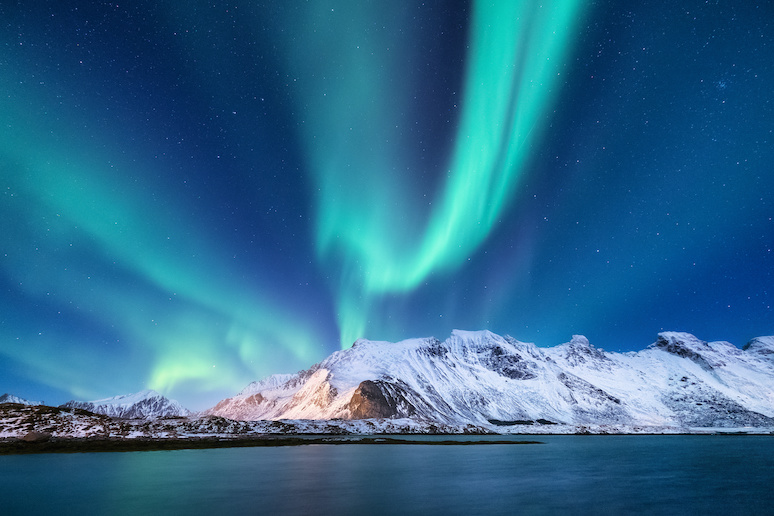 It's also a good region for wildlife tours. You can ride on a reindeer sleigh or drive a husky sled from Rovaniemi in Finland, and even go whale-watching from Tromsø.
And since Lapland is in the Arctic Circle all three countries offer great opportunities to see the northern lights in winter, such as this northern lights photo tour from Abisko in Sweden.
Visiting Lapland – FAQs
Can you visit Lapland?
Yes, you can easily visit Lapland in Norway, Sweden and Finland. Visiting Russian Lapland is more problematic at the moment.
Can you do Lapland yourself?
If you rent a car (for more info, see our guides to renting in Sweden and Norway) you can visit Lapland independently, though if you're going in winter make sure you and your vehicle are well-equipped for snow and harsh weather conditions.
Can you do Lapland in a day?
Bearing in mind how far north Lapland is compared to the Scandinavian capitals, it would be a shame to come all this way and just spend a day.
To make the most of the region, you want to factor in enough time for a few activities, such as a husky trip, a reindeer sleigh ride or a snowmobile tour.
Is Lapland safe to visit when you're pregnant?
Sweden, Finland and Norway all have good healthcare facilities, so there's no reason why you shouldn't visit Lapland while pregnant.
Obviously, you may want to avoid any potentially dangerous sports such as skiing or snowmobiling, but provided you take the usual precautions, you should be fine.
Which airports can you fly to in Lapland?
There are airports in Kirkenes, Tromsø and Alta (Norway); Ivalo, Kittilä and Rovaniemi (Finland); and Gällivare, Kiruna and Luleå (Sweden).
Can you visit Lapland without a car?
Yes, you can get a train, a bus or fly to one of the main activity centres and take tours out from there.
Can wheelchair users visit Lapland?
Yes, Lapland is generally regarded as having good provision for wheelchair users. Despite the rough terrain and potential snow, there are companies that can provide wheelchair adapted tours and hotels with wheelchair access.
The Friendly Moose in Övertorneå, Sweden is a guesthouse in Swedish Lapland that specialises in trips tailored to people with a range of different abilities.
Can you visit the North Pole from Lapland?
Not really, no. Although both are within the Arctic Circle, the North Pole lies some 1700 miles north of Lapland.
The nearest settlement to the North Pole is Longyearbyen on Svalbard.
Since the North Pole is in the middle of the Arctic Ocean it's most usually accessed by boat, though you can ski or go there by dog-sled in winter when the sea is frozen over.
See also:
How to see Swedish Lapland on a budget
Where to stay in Swedish Lapland
Spa experiences in Swedish Lapland