Food critics always bang on about places inspired by Noma, one of the world's most expensive and exclusive restaurants.
Spend a day or two in Copenhagen, however, and you'll realise that dining out can actually be great value – and it certainly isn't just for the rich and famous. The Danish capital is a scrumptious city where even cheap food is taken extremely seriously.
Whatever your budget, there are delish meals and snacks just waiting to be devoured.
Follow these tips and you'll soon be tucking into some of northern Europe's tastiest eats on the cheap.
Hit the food halls
Your first port in any hungry storm should be one of Copenhagen's food halls. These places are perfect for those times when you really can't decide what to eat. They each have loads of different stalls squeezed under the same roof, so you can basically spend an hour or two wandering around, slowly getting fatter as you go.
A good, central place to get your first taste of food halls is Torvehallerne, near Nørreport. There are actually two big, glass-sided food halls here, with a sprinkling of market stalls set up on the square between them.
This place is bustling at lunchtime, with locals coming to fill up on South Korean noodles, freshly baked bread and delicious cakes and pastries. There's even one stand that specialises in porridge. Yep, porridge. The two halls are open every day from 10am onwards.
The Tivoli Food Hall, on the edge of the Tivoli Gardens, has 15 different food stalls selling reasonably priced fast food, from Icelandic health food to Chinese dumplings.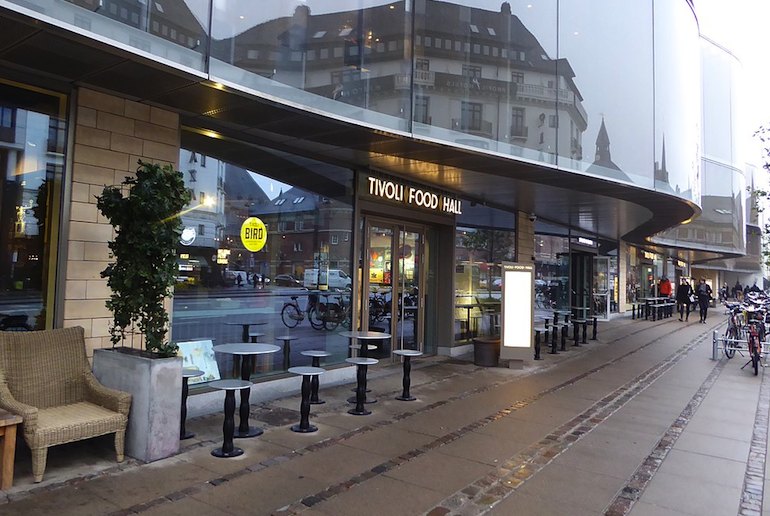 You can pick up the likes of a chicken pita with hummous and grilled vegetables for 65 DKK, or a vegan beetroot burger for 80 DKK. Access to the food hall is from inside the gardens or from outside on the street.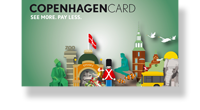 Is the Copenhagen Card worth buying?
Read this guide to see how much you could save during your trip!
Try the hot dogs
It seems like there's a hot dog stand on almost every street corner in Copenhagen.
For all you've read about the 'New Nordic revolution', the humble hot dog is still pretty much the country's national dish.
The vast majority of hot dog stands in the city centre are super-simple affairs, serving up classic røda pølser (red sausages) for around 40 DKK.
For some of Copenhagen's best hot dogs, try one of the DØP stalls, near Rundetaarn on Købmagergade, or at at The Church of the Holy Spirit on Amagertorv. They may not look much different from their competitors on the outside, but these little stalls specialise in organic ingredients and have yummy, unusual options like goat-meat sausages.
A classic grilled pork sausage served with mustard, ketchup and a divine potato-and-parsnip mash will cost you just 37 DKK. Be prepared to queue.
Fill up on street food
Located in a former shipyard by the waterfront, Reffen is Scandinavia's largest street food venue. This huge, urban space has loads of cheap and tasty places to grab lunch – and they all have to sign up to re-use and recycle, and use local, sustainable ingredients where possible.
Stalls made from recycled shipping containers serve up everything from sushi and African street food to Nepali dumplings and traditional Danish meatballs and hot dogs.
This huge waterfront space also hosts music, events, concerts, quizzes and workshops. Lunch will cost you around 100 DKK (around US $14) for a tasty bowl of Cajun chicken with rice from the Big Easy New Orleans Soul Kitchen stall. Cheap, eh? The food stalls are open from around 11.30am–9.30pm, with bars open from 11am–9.30 every day.
Another waterfront venue selling street food is the Bridge Street Kitchen with stalls and outdoor tables in the former Greenland Trade Square, between Christianshavn and Nyhavn.
Stalls sell everything from Korean fried chicken to crepes – you can tuck into a bowl of spicy pork noodles for around 100 DKK, while watching the sunset over the harbour.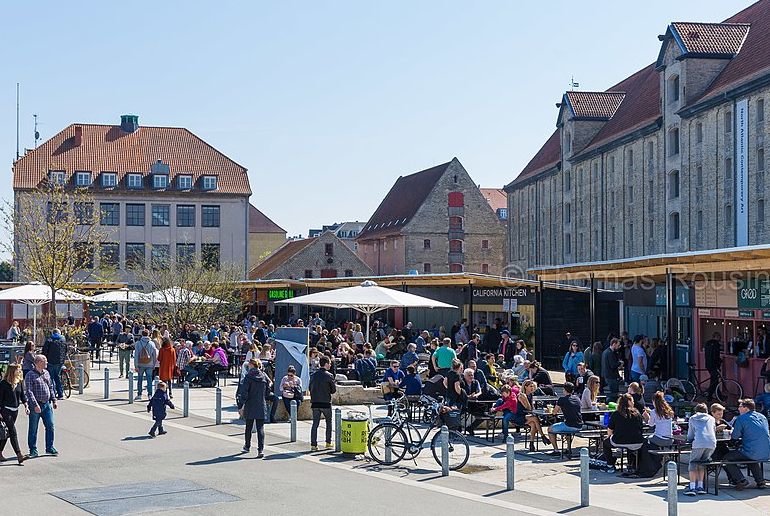 Eat smørrebrød
You won't get far in Copenhagen without encountering smørrebrød – the famously tasty open sandwiches that are piled high with fresh ingredients and are, quite simply, impossible to eat without spilling all over your face.
Etiquette dictates that you should really eat these with a knife and fork, but there's a lot to be said for just throwing handfuls of food mouthwards and keeping a napkin handy.
The quality of smørrebrød is high across Copenhagen, but there are a couple of places that deserve a special mention. Try Hallernes Smørrebrød, inside the Torvehallerne food hall and the Tivoli Food Hall (see above).
Open from 10am daily (11am on Sun) it attracts a steady stream of hungry locals and tourists, who snap up sandwiches that are topped with everything from roast beef to little mountains of hand-peeled prawns.
Prices are low – from 80 DKK for a prawn and egg smørrebrød – and a couple of smørrebrød will be enough to keep hunger at bay for a few hours.
An even more affordable option is Domhusets Smørrebrød at Kattesundet 18 (Mon–Fri 7am–3pm). It serves all the classic smørrebrød, plus more unusual options such as fish fillets or roast pork, all beautifully presented: prices for smørrebrød range from around 20 DKK up to 60 DKK.
Go to the supermarket
The absolute cheapest way to eat in Copenhagen is to visit one of the city's supermarkets and stock up on food that you can prepare back at your hostel or Airbnb rental. Unlike in Sweden, where booze is only sold by one state-owned chain of shops, you can also use supermarkets to stock up on cheap drinks.
The most obvious choice for penny-pinching tourists is Danish-owned Netto, where you'll find everything you need for a picnic or slap-up meal. There's a handy branch near Rundetaarn in the city centre (daily 7am–9pm).
The bakery department at 7-Eleven stores is also good value for tasty takeaway salads, wraps, paninis, bagels and sandwiches.
Choose cheap restaurants and cafés
Even if you're visiting Copenhagen on a budget, it's not much fun to eat all of your meals out on the street, or back at your accommodation.
Happily, there are some great-value cafés and restaurants that offer a taste of the city's cool dining scene without making you poor and miserable in the process. Need some recommendations for good-value places? Here goes.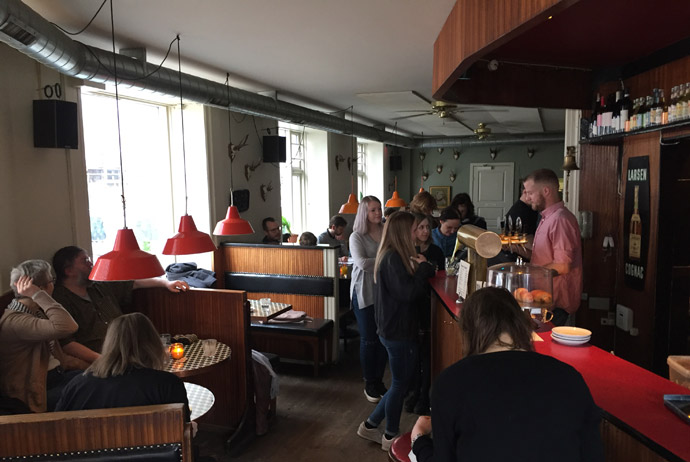 At breakfast time, head to Café Dyrehaven at Sønder Boulevard 72. This is one of the city's nicest places to start the day, with a retro wood-panelled bar area that's decorated with antlers and old photos.
Well-priced breakfast options include granola with blackberry pureé, and a zesty avocado mousse served on sourdough with a poached egg. Breakfast is served is daily from 9.30am onwards (or 10am on weekends, when it gets incredibly busy).
If you're looking for an unusual place to eat dinner in Copenhagen without blowing your travel budget, try Sporvejen at Gråbrødretorv 17 (daily 11am/noon–10pm). Done up like an old tram, it's popular among the city's students and does some uh-maz-ing cheeseburgers that start from 85 DKK in the evening and an even better-value 60 DKK during the day.
There are some good beers to choose from too, available by the glass, half litre or litre. Expect to wait a while for a table here on weekends – space is tight inside the tram!

Alternatively, head to Copenhagen's trendy Meatpacking district, where you can get a tasty burger from 70 DKK, or the full deal of burger, fries and a soft drink from 99 DKK, at Tommi's (Høkerboderne 21–23, Kødbyen). Known for its help-yourself sauce bar, it does takeaways too, or you can sit inside or at the tables outside.
And if you're feeling really hungry, you can fill your boots at Riz Raz all-you-can-eat vegetarian buffet, at Store Kannikestreede 19. It specializes in healthy Mediterranean-style dishes, so you can tuck into salads, vegetables, couscous, pizza, lasagne and falafels, etc for just 99 DKK during the day (11.30am–3.30pm) or 129 DKK in the evening (3pm–midnight)
See also:
Where to find cheap beer in Copenhagen
77 cheap and free things to do in Copenhagen
Free museums in Copenhagen