Fancy getting close to nature? You could stay in one of Sweden's rural hostels or hotels. But when camping is so easy – and often completely free – why bother?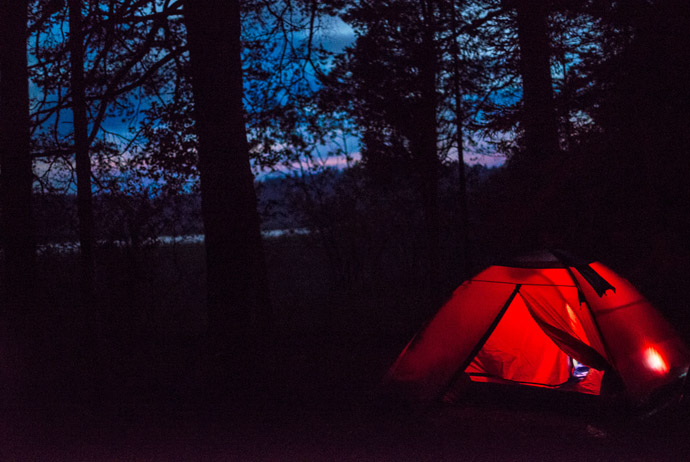 Spending the night under canvas in Sweden is about as good as camping gets.
You can fall asleep to the sound of howling wolves and a crackling campfire, and wake up to magnificent views of the sunlight stretching through the trees.
But what's the best way to try camping in Sweden? And where should you pitch up?
The first thing to decide is whether you want to camp wild or pitch up at an organised campsite.
Wild camping gives you the flexibility to set up almost anywhere, but facilities are limited to what you can carry with you (and perhaps a lake for getting washed in).
Campsites offer a bit more comfort and maybe a Swedish sauna, but you'll usually have to weigh this up against the fact that – with kids running wild – it won't feel like much of a 'back to nature' experience.
Wild camping
Rules for camping in Sweden
Seeing wildlife
Seeing the midnight sun
Camping with children
Campsites in Sweden
Our top 10 campsites in Sweden
Wild camping in Sweden
Sweden is one of the best places in the world to go wild camping. Unspoilt areas of forest abound and Allemansrätten (the freedom to roam) is enshrined in Swedish law.
In simple terms this exists to give everyone access to nature, including areas of privately owned land, but there are still certain rules about what you can and can't do.
The golden rules for camping wild in Sweden:
Show respect towards the environment. That includes wild plants, any animals you encounter, and any other people who are also out trying to enjoy the Swedish countryside. Don't walk over or camp on crops, or any other areas that can be easily damaged. Don't litter.
The Allemansrätten (right to roam) law says you have a limited right to cross another person's land or stay on it for a short period of time, even if the owner hasn't given specific consent. But you cannot pitch up anywhere near their buildings, or otherwise disturb the owner or their business interests. Gardens and other areas that look like they are part of a plot of land around a building are always off limits, even if forested.
You must obey any specific bans on camping, campfires etc. These might apply in areas where rare species are found, or where there's a big chance of forest fires. If there's a maximum stay of one night, make sure you only stay for one night.
There's no problem with camping for a night or two in forested areas, so long as you are far enough away from any houses. Don't stay for so long that people think you're squatting and might never leave.
What about cycling and skiing?
The same rules apply for cycling and skiing as for walking – avoid crops and areas near buildings and you won't go far wrong.
Obviously you should take care not to ski or go cycling if there are signs forbidding it. There's more info in our guides to skiing and cycling in Sweden.
Can I bring a car or motorbike?
The basic rule is that you can only bring your car or motorbike to the point where marked roads ends.
If a track is fenced off, don't try to go along it. Snowmobiles are often permitted in rural areas, but you should always try to stick to marked trails.
Can I swim in lakes?
Yes, as long as you respect the rules about not getting too near to private homes.
If you have a boat or kayak, you can usually take that onto the lake without any trouble (motorboats are sometimes banned for environmental reasons).
Likewise, when lakes freeze over, you're free to ice-skate or ski across them, providing it's safe to do so.
Is it okay to jump from someone else's jetty?
Yes, as long as the owner isn't using it. If there are slides or more elaborate platforms overhanging the water then they may be able to charge you, but in reality it's unlikely that they will.
Can I go fishing and eat what I catch?
If you're at sea or on one of the big lakes (Hjälmaren, Mälaren, Vänern, Vättern or Storsjön) you're free to fish and eat what you like, as long as you catch it with a rod or small net – leave the trawler at home.
On smaller lakes and waterways, you'll almost always need a permit.
Can I go foraging?
With some exceptions (like saplings, for example) you're free to pick what you find in the forest.
This means that you can liven up a camping trip with some delicious wild berries, herbs and mushrooms.
Be certain that what you've picked is safe to eat – you really don't want to poison yourself a long way from the nearest hospital.
Can I pick wild flowers in Sweden?
Yes, but do not pull up saplings or remove bark from trees for your campfire.
Can I make a campfire?
Unless there is a specific rule against it in the area you are camping, yes. Make sure you keep an eye on the fire so that it doesn't spread – fines for starting fires that get out of control can be hefty.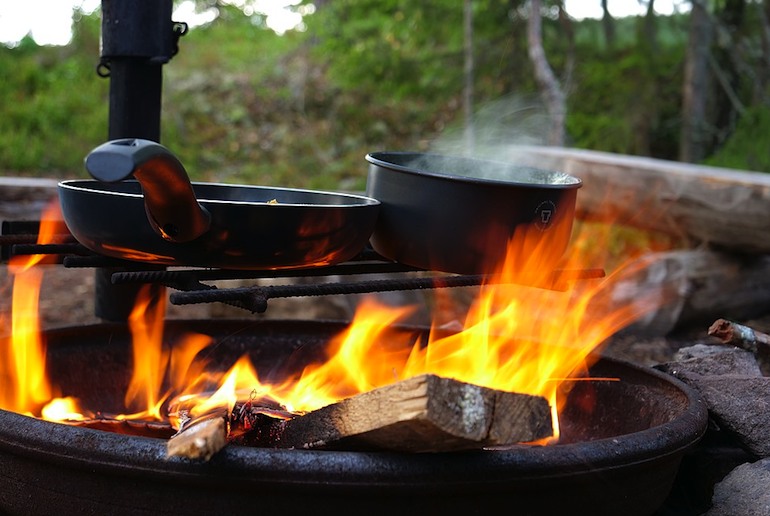 Take extra care in the summertime when things dry out and the risk for forest fires becomes serious.
You can collect as much dead wood to get your fire started as is necessary but don't fell timber or borrow bark from any living trees.
Where do I go to the toilet?
Do your business away from any walking trails and at least 50 metres away from the nearest water source.
Dig a hole for your number twos, or at very least cover them (along with any corresponding paperwork) using sticks, dirt, stones or leaves.
Can I bring my dog camping?
Yes – just make sure it doesn't cause alarm to other animals. From early March to mid April, dogs should be kept on a lead so as not to scare off livestock.
If you spot reindeer or think there's a chance you might encounter them in the area, you should keep your dog on a lead regardless of the time of year.
What about caravans?
You can usually overnight in a caravan or campervan as long as you're off the road and parked safely in a layby (for advance rental bookings, you can try sites like goboony.co.uk).
If there are signs that expressly forbid staying overnight, carry on until you find somewhere else. The rules are similar to those for camping – don't get too near to private houses and you should be fine.
Is it possible to camp wild in the winter?
It doesn't appeal to everyone but camping in the winter is possible in Sweden.
It goes without saying that you should be prepared for snow and very low temperatures – you'll need a good tent, a sleeping bag that's designed for extreme cold (ideally with a built-in hood) and proper winter wear.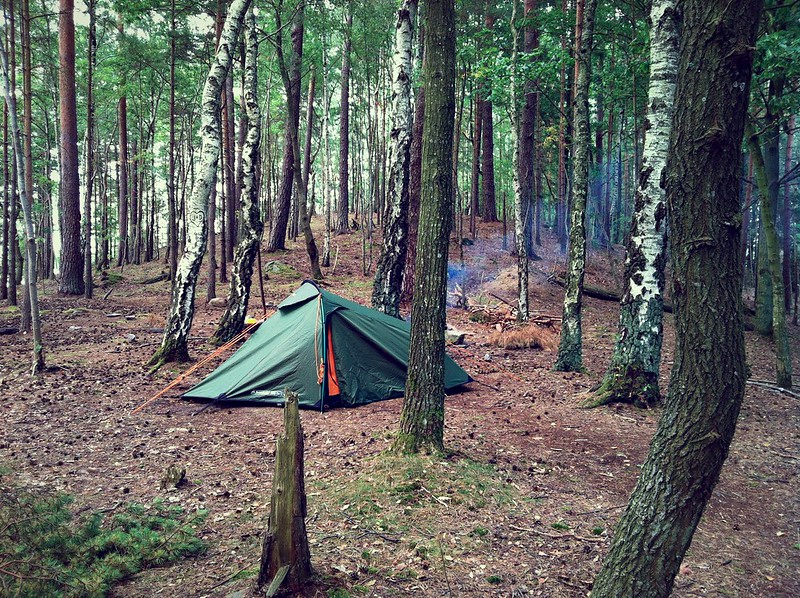 The key to staying warm is staying dry. Keep anything wet (clothes, shoes, etc) outside the tent.
You'll also need to insulate yourself from the ground as best you can – bring foam roll mats to lie on, and perhaps a camping chair like this portable chair from Kamui to sit on beside your campfire.
What about organised tours?
If you don't fancy going it alone, consider joining an organised trip that involves a bit of wild camping.
We like this two-day guided camping and hiking trip, where you'll explore a Swedish forest, set up camp by a lake and cook dinner on a campfire.
Will I see wildlife?
What wildlife you see depends on which part of Sweden you're camping in and how far into the wilds you head.
Bears, lynx, wolves, and even Arctic foxes, all live in the remote northern and central parts of Sweden. However, they are rare and shy of humans, so the chances of coming across any of these while camping are small.
Moose, beavers, otters and deer can be found in central and southern Sweden, though again you're unlikely to encounter them while camping without expert help.
If you want to see some of Sweden's big-ticket wildlife, your best bet is to go on a camping tour, with an expert guide who knows what to look out for and how to spot the signs of wildlife.
We like this guided camping and hiking trip along Sweden's scenic UNESCO Heritage High Coast, where the guide can help you spot wildlife such as roe deer, hares, foxes, badgers, martens, ermines, minks and moose.
There's very little danger from any large wild animals in Sweden – the last person killed by a wolf there was in 1821!
And the only venomous snake that lives in Sweden is the adder, which is not common and its bite is not usually life-threatening.
Children, however, should be careful in summer if running around in forests or open land.
The biggest pest you're likely to encounter is mosquitos and midges, which are prevalent in summer and at their most active around dawn and sunset.
However, they are not dangerous, just annoying, so make sure you have plenty of insect repellent with you.
Can I see the midnight sun?
It's an eerie experience to be sitting outside your tent around the campfire at midnight – and it's still light!
Anywhere above the Arctic Circle will experience the midnight sun on and around June 21st.
The further north you go, the longer the season that you can see the midnight sun.
And if you're camping as far north as Abisko, you'll get daylight at midnight for most of June and July.
For more on how and where to see the midnight sun, see our guide to the midnight sun in Sweden.
Tips for camping with children
Camping in Sweden with kids is generally safe and fun. There's plenty of space for them to run around in, lakes to bathe in and woods to explore.
Here are a few top tips on camping with children.
Make sure your tent has a mosquito net. Midges and mozzies are rife in summer, so keep kids well-protected with repellent and use a mosquito net at night.
Bring games. There may be no electricity or charging points, so camping wild is the perfect opportunity to introduce your kids to the old-fashioned joys of card games round the campfire!
Bring plenty of sun cream. Make sure children are well-protected from the sun. Even if it's not particularly hot, the sun can be powerful during the long sunshine hours in summer.
Choose a child-friendly campsite. If you have young children, you may prefer to stay in a campsite rather than camping wild. Many Swedish campsites have excellent facilities for kids, such as pools, water parks, games and rainy day activities. The beachside Råå Vallar Resort near Helsingborg is a good child-friendly choice.
Campsites in Sweden
If the idea of trudging off to the forest for a night under canvas fills you with dread, don't worry – there is another way.
Organised campsites are found right across Sweden, providing a more civilised (and some would say less adventurous) alternative to camping wild.
The size and quality of Swedish campsites varies enormously.
Some are little more than empty fields with a block of toilets and a couple of showers, while others are big, family friendly resorts with a mix of static caravans, cottages and hotel rooms, all connected to a whopping great waterpark or pool, plus self-catering kitchens and a restaurant.
Campsite prices
How much you pay will depend of the facilities but a typical price for a tent and two adults is around 250–350 SEK per night.
Sometimes showers are included in the price but otherwise you may have to buy a 'shower card' that's loaded with money – you hold the card up to a reader near the shower itself and are then charged by the minute.
Some Swedish campsites stay open for tents all year round but most close off those pitches when winter rolls around, so your only alternative is to camp wild or pay up for a bed in a cottage or dormitory.
Where to book
You can check prices for campsites across Sweden and Denmark on Booking.com.
Some 300 campsites in Sweden are affiliated to the National Swedish Campsite Association. To use these sites, you need to be a member of Camping Key Europe, which costs 199 SEK a year.
Some Swedish camping sites also accept the Camping Card International (CCI), which costs 495 SEK a year and offers discounts of up to 50% on off-season stays, plus two free nights camping at one of their sites.
10 special campsites in Sweden
First Camp Moraparken, Dalarna
Right near beautiful Lake Siljan in Central Sweden, First Camp Moraparken has lovely grass pitches surrounded by tall pines, plus wooden cabins and bungalows to rent.
When the weather's good you can hire a kayak from the campsite and paddle out into the lake.
Visby Strandby, Gotland
Marvellous sea views and a good location near the medieval stronghold of Visby make Visby Strandby a popular choice among Swedish families visiting the Baltic island of Gotland.
You can book ready-erected tents, luxury glamping tents, simple cabins and caravans or bring your own tent.
First Camp Malmö, Malmö
On a clear day you'll see Denmark from the beachside plots at First Camp Malmö, which is within easy photo-snapping distance of the Öresund Bridge.
It's a bit of a bus ride from Malmö's town centre, but close to a couple of nice swimming spots.
Camp Ripan, Kiruna
Kiruna's relatively big by northern Swedish standards, but it's still relatively easy to escape the industrial sprawl.
At Camp Ripan, on the edge of the city, you can camp under the midnight sun, or rent a chalet.
First Camp Solvik-Kungshamn
You don't need to drive far from Gothenburg for the classic west coast images of fishing boats, red cottages and smooth granite boulders to roll into view.
This coastal campsite near the holiday island of Smögen has nice flat pitches for tents, campervans and caravans, plus waterside cabins to rent.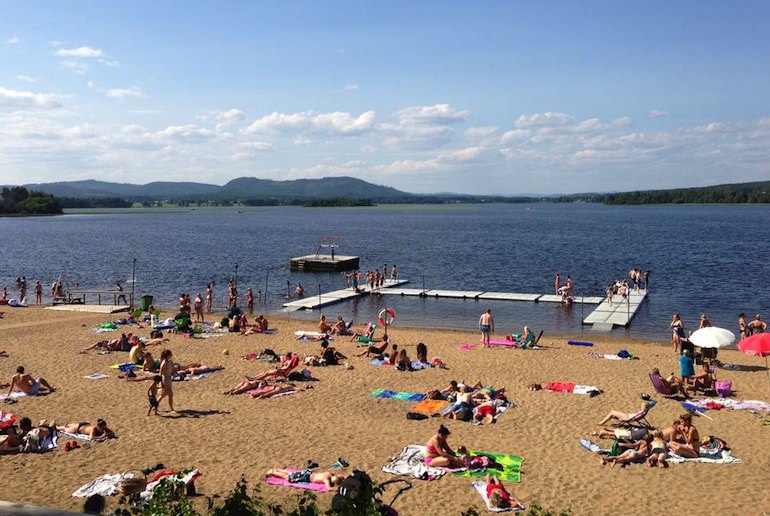 Ljusdal Camping
In the Hälsingland region in central Sweden, Ljusdals Camping runs along the shores of Lake Växnan, with grassy pitches, lakeside cottages and cabins in the woods.
It's right next to a long sandy beach, with a swimming jetty, from where you can leap into the lake.
Duse Udde Camping
On the banks on Scandinavia's largest lake, Lake Vänern, Duse Udde Camping has grassy pitches in the woods, plus plenty of lakeside plots to pitch up at.
It has a shallow, sandy beach nearby, which is safe for children to swim at, plus pedaloes, kayaks and rowing boats to rent.
And there are plenty of hiking trails and cycle paths in the surrounding nature reserves too.
Camp Alta Kiruna
Right on the shores of Lake Altajärvi, Camp Alta Kiruna has tent, camper van and caravan pitches, plus a variety of cottages and cabins to rent.
In summer, you can kayak on or swim in the lake, and there's a floating sauna to warm up in afterwards.
In winter you can go snowmobiling and dog-sledding, or just look out for the northern lights over the lake.
Karlstad Swecamp Bomstadbaden
This lovely wooded campsite on the shores of Lake Vänern has plenty of pitches nestled amongst the pine trees or along the shore with views of the water.
There's kayaking, canoeing and swimming on the lake and it's a peaceful spot despite being just six miles away from the city of Karlstad for rainy day entertainment.
First Camp Edsvik Grebbestad
First Camp Edsvik Grebbestad sits right on the seafront along the beautiful Bohuslän coast. You can pre-book specific pitches – some of which have sea views – so you can choose exactly where to set up camp in advance.
There's an on-site children's playground and kid's club so it's a good choice for families.
Do I need insurance?
Sweden is a safe place but you still need travel insurance. A good policy can make a world of difference if things go wrong when you're camping in the middle of nowhere.
The best policies also offer trip cancellation cover, giving you the chance to recover costs in the event that you or a close relative falls ill. For lots of different reasons we recommend World Nomads.
See also:
Camping in Norway
Camping in Denmark
The best Swedish islands: our top 12
TOURS AND ACTIVITIES IN SWEDENMORE TOURS