When you're in Stockholm, nature is never far away. From the blue waters of the archipelago stretching across 30,000 islands, to the deep woods and forests just a short drive from the city centre, there are plenty of ways to enjoy one of the best things Sweden has to offer – its natural surroundings.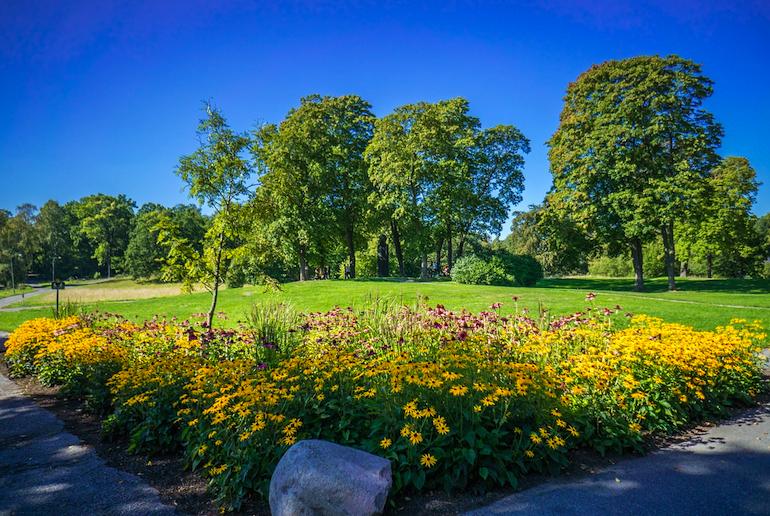 But Stockholm also has plenty of parks and gardens to enjoy in the city itself, so you don't have to travel far to find a green space to chill out and have fun in.
So here's our guide to the best parks and gardens in Stockholm – plus a few ideas for how to get back to nature in the city.
Stockholm's top parks
Stockholm is one of Europe's greenest capital cities in terms of green spaces, parks and access to nature. So here are some of our favourite parks in Stockholm to relax and destress in.
Take a stroll through leafy Djurgården
Djurgården is one of Stockholm's best-loved islands. Formerly the royal hunting grounds, it's now a beautiful, green oasis with leafy paths stretching to the edge of the archipelago.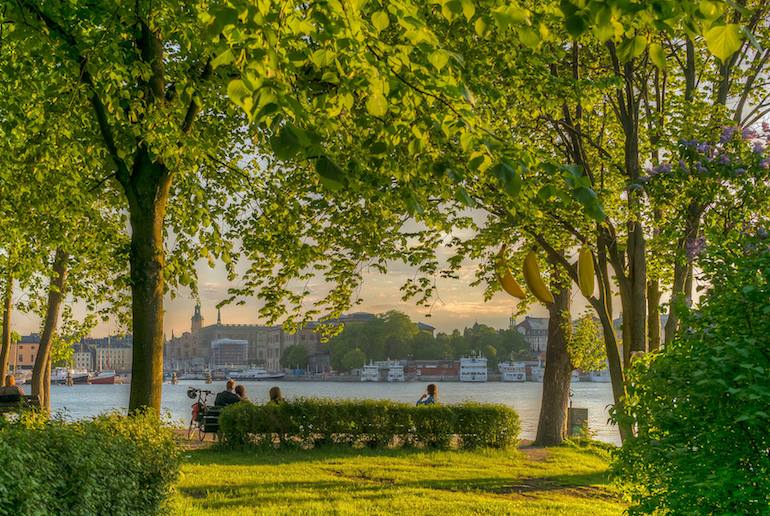 While the island is also home to the open-air Skansen museum, the Gröna Lund amusement park and the Vasa Museum, it's the royal park that gets nature-loving Stockholmers flocking here.
Don't miss a walk along Djurgården canal, especially in autumn and summer when it's at its most beautiful.
Relax beneath the apple trees at Rosendals Trädgård
In the heart of leafy Djurgården, Rosendals Trädgård is unusual for a city centre park. It's surrounded by a beautiful orchard, where the greenhouse-turned-café and flower shop offer a perfect combination of great food made from homegrown ingredients and nature.
We love the café and wood-fire bakery here, which specialises in making tasty meals and treats from its own vegetables, herbs and fruit grown in the garden.
★ SUGGESTED DISCOUNT
Save with the Stockholm Pass
Get up to 50% off at Stockholm's top attractions, including the Vasa Museum, SkyView Stockholm and The Viking Museum, plus discounts on some of the city's best boat trips.
See the cherry blossoms in Kungsträdgården
Formerly a military parade ground, for much of the year this tiny garden is little more than a public square and meeting place with patches of greenery and benches centred round a large fountain.
But in springtime, the trees in Kungsträdgården fill with cherry blossoms to rival anything anything that you'll see in Japan.
In April/May, the small square is awash with pink blooms that form a cloud of colour in the canopy.
There's even a Japanese festival held here every year to celebrate the flowering of the blossoms, with food and craft stalls.
Hang out at the Humlegården
Literally "the hops garden", the Humlegården was originally a royal garden established by King Johan III in the 16th century to grow fruit, vegetables and, yes, hops for the royal family.
However, it's been open to the public and used as a much-loved park and recreation space by Stockholmers since the 18th century.
Today, it's popular with runners, people picnicking, kids practising at the skate park, and locals enjoying some peace and nature, away from the busy city centre streets.
It's also home to Sweden's national library, the Kungliga Biblioteket, an imposing 19th-century building which is worth a peek inside.
Explore the Skogskyrkogården cemetery
OK, so it's not exactly a park but we love this beautiful woodland cemetery, filled with huge pine trees, open green spaces and a calm, tranquil atmosphere that makes a welcome escape from the bustle of city life.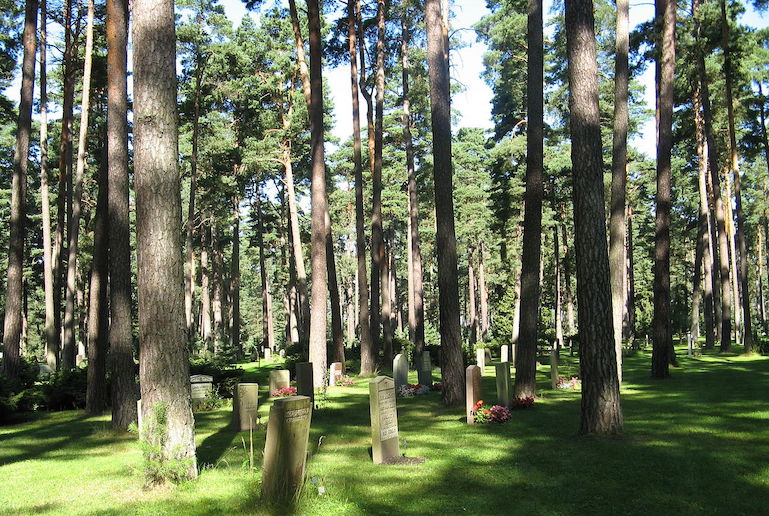 South of the city centre, Skogskyrkogården is a peaceful place where you can walk amongst the trees, enjoy the greenery and contemplate the graves – look out for Greta Garbo's.
Unusually, it's even got UNESCO World Heritage status, due to its outstanding design and landscaping.
And if you're if need of some refreshment, there's a decent café here too.
Chill out at Bergianska trädgården
For almost 100 years, the Gamla Orangeriet has sat by the waters of Brunnsviken Lake, surrounded by the gorgeous Bergianska trädgården, home to tropical and Mediterranean plants.
It's hard to believe that this lush oasis is only a short train ride away from Stockholm's city centre.
We really like the orangery café restaurant for its delicious, home-grown produce, served in a stunning setting, with light flooding into the white-washed conservatory through large windows.
Have a picnic in Hagaparken
Stockholmer's favourite park, Hagaparken is perfect for picnics, dates and long strolls along the lake.
Its history stretches back as far as Gustav III who founded it in the late 1700s, while the current Swedish monarch, Carl XVI Gustaf, grew up at Haga Palace, in the heart of the park.
Home to royal palaces, gazebos and fairytale-like pavilions resembling something out of a Studio Ghibli Japanese anime film, Hagaparken's charm is undeniable.
Stretching all the way from Northern Vasastan to suburban Solna, it has plenty of places for a good walk or a picnic.
It's also one of Stockholm's most beautiful places to see the autumn leaf colours in full glory.
Sunbathe at Rålambshovsparken
Kungsholmen's most beautiful park Rålambshovsparken, or Rålis as the locals call it, runs from Norr Mälarstrand, the island's famous waterfront promenade, all the way to Mariaberg.
It's a popular spot especially in spring and summer, when the parkside cafés start to open, making it a great place to enjoy those first rays of spring sunshine.
We particularly like Mälarpaviljongen, with a balcony over the water, that serves tasty local and seasonal dishes, such as Sweden meatballs with lingonberries and smørrebrød with shrimp or herring.
Like many other Stockholm parks, Rålambshovsparken sits right by the water, with a beautiful, sandy beach at the foot of the park.
Locals come here to play football, boule, beach volleyball, softball or to visit the skate park and, in summer, to swim in the lake.
Explore Hellasgården
Pretty paths, bike trails, a lakeside sauna, a small beach and a charming restaurant serving wine and Swedish meatballs by an open fire… Hellasgården has it all.
Just a 20-minute bus ride from the city centre, Hellasgården is part of the Nacka Nature Reserve, and makes a perfect break from the busy city life.
Here, you can swim in the lake (or go cross-country skiing if you visit in winter!), warm up in a Swedish sauna or grill sausages over a fire, right by the lakeside.
Go for a run through Tantolunden
At a comfortable distance from the cafés and restaurants of hipster Hornstull in Stockholm's trendy Södermalm district, Tantolunden stretches all the way to the waterfront, where pretty, sandy beaches and waterside cafés create plenty of opportunities to enjoy the sun in summer.
It's a good place to chill out and enjoy the sun in summer, and there are plenty of winter activities too.
Stroll along Zinkens Väg in the northern part of the park and explore the local allotments, or go for a run along Tantolunden's many paths.
Other ways to get back to nature in Stockholm
But it's not just parks and gardens that Stockholmers can access to get back to nature and bring about sense of calm and peace.
To banish the bustle of city life, Swedes love a relaxing sauna and getting out onto the water – or, ideally, combining both!
Hop on a floating sauna
Having a sauna is a quintessentially Swedish experience and there are plenty of ways to enjoy it in Stockholm.
The philosophy behind it is very much rooted in nature, which is why most saunas are built by the water – so you can cool off after enjoying the warmth of the hot wood.
Tanto Bastu is a floating sauna in Hornstull with beautiful views of Liljeholmskajen – nicknamed "little Manhattan".
It's for members only, but they sometimes sell tickets for open evenings and sessions that visitors can buy – check the website for dates and details.
Alternatively, the woodland sauna in Hellasgården is a lovely relaxing place by the lake, where you can warm up after a bracing dip in the water.
For extra peace and tranquility, Thursdays are quiet evenings, where chatting is discouraged and calm contemplation encouraged.
And for the ultimate in combining a sauna with getting out onto the water, Bastuflotten ReLaxa is a wood-fired floating sauna raft that takes you on a small cruise around the archipelago while you bake!
Paddle round the archipelago
One of the best ways to explore Stockholm's natural surroundings is, of course, a trip to the islands of the archipelago.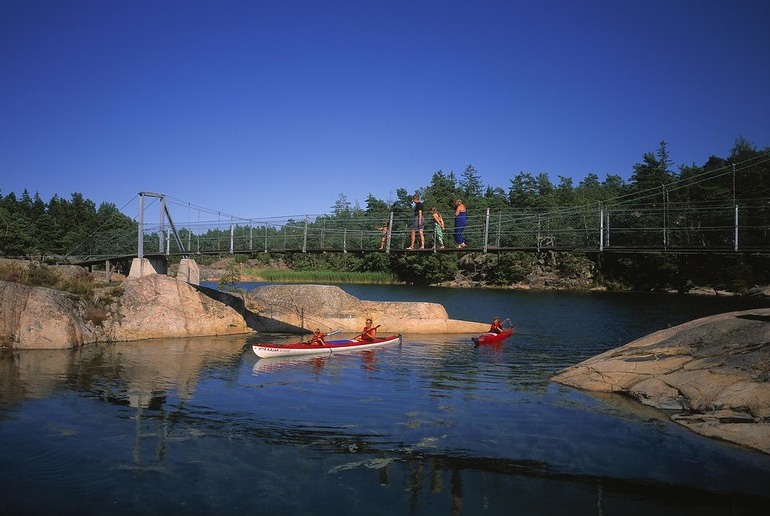 There are plenty of options to choose from, with the nearest island, Fjäderholmarna – famous for its artisan studios and speckled with pretty beaches – only a 20-minute boat trip from Stockholm.
For more ideas on islands to visit, read out guide to the 8 best islands in the Stockholm archipelago.
But for the ultimate in calm exploration, a kayak tour is the best way to get back to nature and discover the delights of the archipelago.
On this two-day guided tour, you'll travel to the very heart of the archipelago by kayak, paddling from island to island, sunbathing on the warm rocks, camping under the stars and cooking in the wilderness.
For more ideas on exploring the archipelago by kayak, see our guide to canoeing and kayaking in Stockholm.
Take a boat tour
In order to escape the busy streets and discover Stockholm from the water, you can hop on board the Delfin II and explore the city's waterways.
This two-hour boat trip takes you on a tour of the city's landmarks, as you glide your way beneath Stockholm's bridges and admire the beautiful waters of Lake Mälaren and the Baltic Sea.
How will you choose to explore Stockholm's nature? Let us know in the comments!
Planning a trip? Get insured
However you're planning to get back to nature, it's always a good idea to have adequate insurance.
There are plenty of different policies on the market, so make sure you shop around to find one that suits you and get a few quotes. We recommend World Nomads – you can get a quote for your trip below.
See also:
Getting around Stockholm
Where to go swimming in Stockholm
The best Stockholm boat tours and cruises