Let's be upfront about this: Denmark is an expensive country to visit! Things feel a little different if you work there, as wages are pretty high – but then again, so are the taxes.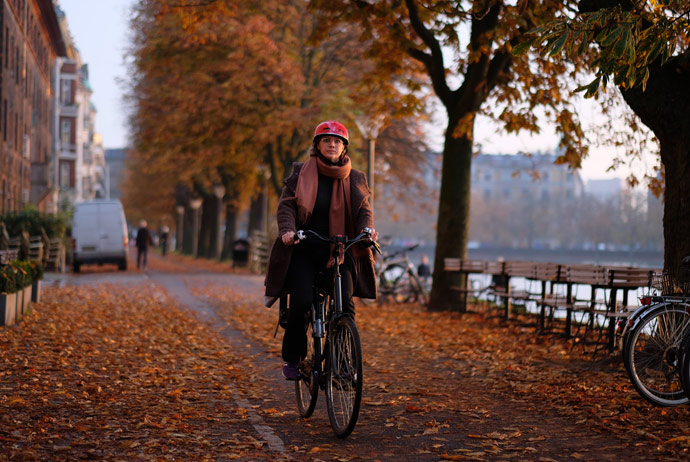 Eating out in Denmark is still relatively expensive, and the reality of trying to find affordable accommodation in Copenhagen might hurt more than stepping on a piece of Lego. If you like a beer, there is one glimmer of hope – alcohol is much cheaper in Denmark than across the border in Norway or Sweden.
But how much does everything else cost? We've put together this guide to help show the average prices you can expect to pay for basics and essentials in Denmark. Prices do vary depending on where in the country you go, with Copenhagen usually being the most expensive place of all.
Whether you're just visiting for a weekend or planning to convert and become a full-time Viking, this handy guide to the cost of living in Denmark is the perfect place to start!
Jump to a section:
Accommodation
Food and drink
Public transport
Alcohol and tobacco
Sightseeing and tours
Entertainment
Staying in touch
Accommodation costs in Denmark
Copenhagen is the most expensive city in Denmark, and it has a huge range of accommodation across all price levels – from cheap hostel dorms to a suite in the fancy-pants Hotel d'Angleterre, which comes in at a wallet-wrenching rate of around 18,000 DKK (€2,400) a night.
In between the two extremes, however, you'll find plenty of budget-friendly and mid-range hotels in Copenhagen and Denmark's other major cities. Just be aware that very cheap backpacker-style hostels are not very common outside Copenhagen.
What about Airbnb? Well, a 2017 survey showed that all of the Scandinavian countries were in the top 10 most expensive countries in Europe, though Denmark came in cheaper than both Sweden and Norway. There are some ideas for good Airbnb rentals in Copenhagen here.
Camping in Denmark can be a money-saving option, whether you bring your own campervan or tent, or book on-site accommodation. Standards on Danish campsites are high, but if you've camped elsewhere in Europe you may find them relatively expensive.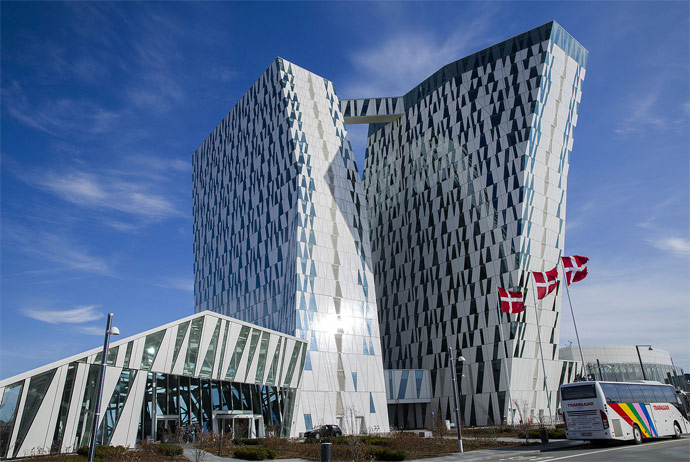 Short-term
Price per night
Hostel bed in a shared dormitory
150–350 DKK
Double room in a budget hotel
500–1000 DKK
Double room in a luxury hotel
1500–5000 DKK
One-bedroom apartment via Airbnb
450–1200 DKK
Basic four-bed cottage in rural area
450–900 SEK
Long-term
Rent per month
One-bedroom apartment (city centre)
9000–11,000 DKK
One-bedroom apartment (suburbs)
6000–8000 DKK
Buying
Approx cost
One-bedroom apartment (city centre)
1.5m–3m DKK
One-bedroom apartment (suburbs)
1m–1.5m DKK
Food prices in Denmark
Arriving at the airport and spotting the price of a simple hotdog might freak you out immediately, but remember: airports the world over have crazy prices.
Even outside the airports, though, Denmark remains one of the most expensive countries in the EU for food and drink.
The cheapest place to buy both food and drink is at budget-friendly supermarket chains like Lidl, which make it affordable to cook and drink at home.
Browsing through the supermarket offers online might save you some money, too. So will the Copenhagen-designed app Too Good To Go, which aims to reduce food waste by making it easy for customers to find cheap products close to their sell-by dates.
Going out for dinner will take a large bite out of your budget, though a good way to save money is by looking for time-limited "deals" through apps and websites.
Supermarket products
Price
Milk (1 litre carton)
8.5 DKK
12 eggs
23 DKK
Loaf of bread
17 DKK
1kg of Danish cheese
100 DKK
Eating out
Price
Big Mac meal
64 DKK
Lunch at a café
130–160 DKK
Two-course meal (mid-range restaurant)
250–300 DKK
Two-course meal (high-end restaurant)
300–600 DKK
You'll find recommendations for specific places to eat on the cheap in this Copenhagen guide!
Alcohol and tobacco prices
Alcohol is much more affordable in Denmark than in its Scandinavian neighbours.
This is partly because Danes are not subject to a monopoly when it comes to buying their beer, wine and spirits (like the one in Sweden, for example).
Beer is surprisingly cheap in Denmark. Expect to pay between 3–10 DKK for a can of good domestic beer at supermarkets and convenience stores, or more at bars and restaurants.
Pretty much whatever you fancy can be bought in almost any local supermarket or kiosk, although there are speciality stores for harder-to-find drinks.
For Danes living close to the border with Germany, border shopping has long been a popular day out – not least when it comes to stocking up on alcoholic drinks.
However, it's only really worthwhile if you're staying right near the border – you'd need to buy a lot of beer to make up for the journey if you're coming from Copenhagen.
Alcohol
Price
Bottle of domestic beer at a supermarket (33cl)
3–10 DKK
Bottle of wine (drinkable) at a supermarket (75cl)
65 DKK SEK and up
Small bottle of whisky/gin at supermarket
100 DKK and up
Draft beer at a bar
45 SEK and up
Bottle of beer at a nightclub
65 DKK and up
Cocktail at a nightclub
100 DKK and up
Tobacco
Price
Packet of cigarettes
45 DKK and up
Public transport prices in Denmark
Since budget long-distance buses became mainstream in Denmark, travelling between the major cities (for example, Copenhagen to Aarhus) has become much cheaper.
Not only are the buses budget-friendly, but train fares have dropped drastically in the past few years to try an compete with them.
So it's worth looking into all options for your long-distance journey – including ride-share apps such as GoMore. Note that Uber is currently suspended in Denmark because of government regulations.
If you're travelling by car between Zealand and Jutland, then check out the ferries as well, as the toll alone to cross the Great Belt Bridge will swallow some of your petrol budget.
Due to Denmark's relatively small size, domestic flights tend to be mainly used by business people in need of fast connections between Copenhagen and Northern Jutland.
As for city transport, you might have heard of Denmark's excellent infrastructure when it comes to cycling, and travelling by bike will save you a ton of money in the major cities where parking fees are high. There are tips on getting around Copenhagen by bike in this guide.
| | |
| --- | --- |
| City transport | Price |
| Copenhagen 1–2 zones (single ticket) | 24 DKK |
| Copenhagen 1 zone (24-hr ticket) | 150 DKK |
| Copenhagen 1 zone (30-day ticket) | 400 DKK |
| Long-distance transport | Price |
| Train Copenhagen–Odense (single) | 70–290 DKK |
| Train Copenhagen–Aarhus (single) | 100–400 DKK |
| Bus Copenhagen–Odense (single) | 99–199 DKK |
| Bus Copenhagen–Aarhus (single) | 159–259 DKK |
Where to buy travel tickets
If you plan on staying in Denmark for a long period, a Rejsekort (travelcard) will save you money and make your life easier as it covers both buses, trains and the Copenhagen metro system.
DSB (Danske Statsbaner) has a monopoly on Denmark's main train routes, and you can buy tickets through ACP Rail. Tickets can vary a lot in price but it's usually cheaper the further in advance you book.
Since 2017, the German company Flixbus has become the biggest provider of budget-friendly buses between Denmark's major cities, while also offering affordable airport connections. Tickets can be bought via flixbus.dk or through their app.
Sightseeing and tour prices
While it is completely free to view the Little Mermaid, the travel budget of families wanting to visit popular attractions like Tivoli and Legoland will be sky-high.
Note that the admission fee to Tivoli is slightly cheaper on weekdays than at weekends, and if you plan to go on lots of rides you'll save money by buying a collective pass right away.
The many theme parks and zoos around the country are generally not cheap, but it's still possible to find plenty of other free and budget-friendly activities and attractions in Denmark.
Need recommendations for affordable tours? Try these great options in Copenhagen.
| | |
| --- | --- |
| Attraction/ticket | Price |
| Copenhagen Card 24 hr (incl. 87 attractions) | 399 DKK |
| Canal boat tour in Copenhagen | 50–95 DKK |
| Tivoli, entrance & tour pass | 383–391 DKK |
| Legoland, entrance & rides | 395 DKK |
Entertainment and going out
A trip to the cinema or a game of bowling isn't something most Danes do on a weekly basis. It is costly and many Danes already spend a chunk of their "entertainment budget" on membership of gyms and sports clubs.
You can save money on sports, though, if you make use of the outdoor training facilities that can be found in parks and green areas in the major cities.
Looking for a night out? Then Copenhagen has plenty of night clubs to check out, with admission fees ranging from free to about 150 DKK.
| | |
| --- | --- |
| Entertainment | Price |
| Gym membership (one month) | 240 DKK |
| Tennis court hire (1hr) | 175 DKK |
| Cinema ticket | 100 DKK |
| Entrance to night club | 150 DKK |
Staying in touch
If you're travelling to Denmark from a fellow EU country, there are no extra roaming fees when using your phone. This makes it just as cheap to use your own sim card as it is at home.
But if you need a temporary sim you can buy one for about 30–50 DKK, then top up with a data package.
Unless you are planning to relocate to Denmark for a long period, it doesn't make sense to set up a proper mobile plan with a company, as you normally need a Danish ID number.
| | |
| --- | --- |
| Service | Approx cost |
| Danish sim card | 30–50 DKK |
| Pre-paid calls within Denmark, per min | 0.20–0.50 DKK |
| 100gb of mobile data for use in Denmark | 150 DKK |
See also:
Is the Copenhagen Card worth buying?
50 cheap and free things to do in Copenhagen