There are countless good reasons for taking a guided tour in Stockholm – whether it's learning about Swedish history from an expert or getting insider tips from a local resident who knows the best places to eat, drink and have fun.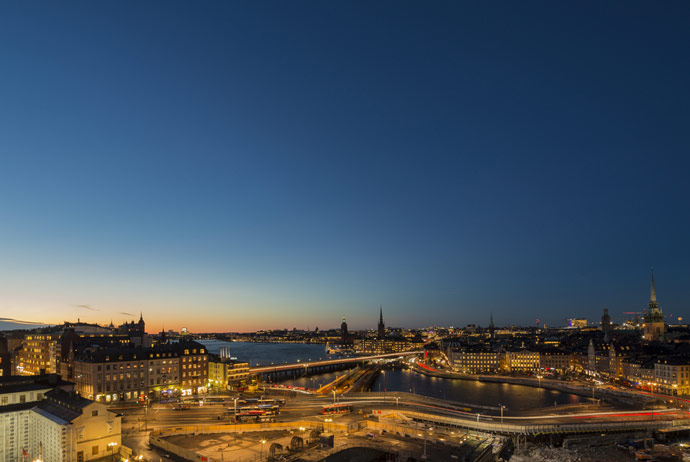 Guided tours are a great, sociable option if you want to enjoy some uniquely Swedish sights and experiences that you might have otherwise skipped. In an island city like Stockholm – where one neighbourhood can be separated from another by bridges and boats – it can be all too easy to accidentally miss something amazing.
We've rounded up the best tours of Stockholm so you can make the most of your visit to the beautiful Swedish capital without the stress of doing everything under your own steam.
Most guided tours in Stockholm are either public (with a group of strangers enjoying the same tour together) or completely private, with just you, your buddies and a knowledgeable guide. We've included a mix of both types here, from quick-and-easy walking tours to more unusual excursions – from drinking craft beer to hearing wolves howl.
Short walking tours
Longer walking tours
Boat tours and cruises
Bike tours
Trips outside of Stockholm
Free tours

Short walking tours in Stockholm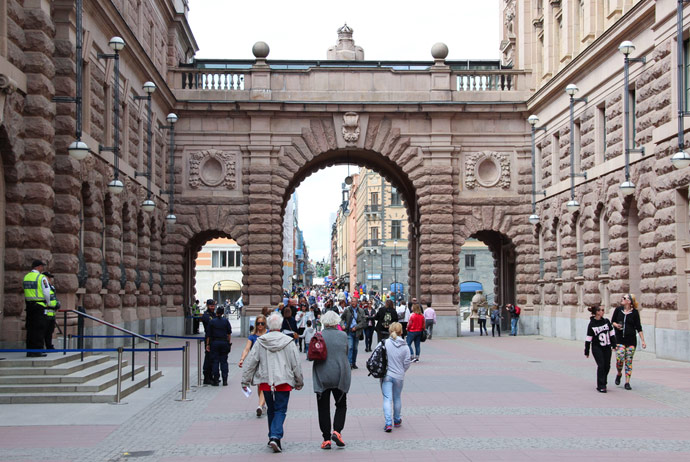 There's no doubt that Stockholm's a beautiful city, with elegant bridges that span glittering stretches of water, and a unique combination of modern and medieval city streets.
One of the first things you'll notice is that it's all very walkable. So much of the city is easy to discover on foot and although the local transport network is great, you could happily avoid it altogether (see this walking map for an idea of how long it takes to walk from one place to another).
As you might expect, there are a variety of guided walking tours available in Stockholm, each with a different focus. If you're looking for a nice quick intro to one of the city's coolest neighbourhoods, we'd recommend checking out this hipster tour of Södermalm, where you'll find galleries, record stores and thrift shops dotted among slick bars and restaurants.
If history's your thing, you might prefer this private tour of Stockholm's old town, which takes you for a look at some of Gamla Stan's most important historical landmarks – and reveals some of the beautiful neighbourhood's darkest secrets.
If you're visiting in late autumn or December, you can also take a cosy Christmas tour of the same area, sampling delicious mulled wine from the Christmas market that sets up on the main square.
For those who want something a bit more relaxed, there's also a craft beer tour of three bars in Gamla Stan – a tour that will give you a delicious taste of yummy Swedish beers and a historical background on the country's complicated history with alcohol.

★ SUGGESTED DISCOUNT
Save with the Stockholm Pass
Get up to 50% off at Stockholm's top attractions, including the Vasa Museum, SkyView Stockholm and The Viking Museum, plus discounts on some of the city's best boat trips.
Longer walking tours
There are also longer walking tours in Stockholm where you get the chance to see even more of the city, usually with one or two fika breaks along the way.
This five-hour excursion gives you a whistle-stop tour through Stockholm's rich history, with an amazing route that begins at City Hall in central Stockholm, heads through Gamla Stan and ends up on the scenic museum island of Djurgården.
A shorter three-hour history tour of Stockholm also takes you around Gamla Stan to see the Royal Palace and then over to Djurgården. Both of these tours take you to the Vasa Museum, which we reckon is easily Stockholm's best museum.

Boat tours and cruises
There are countless public boat trips out into the canals and the Stockholm Archipelago – this guide to Stockholm's best boat trips has more info!
If you're feeling flush, this guided sailing trip takes you out for a day in the beautiful Stockholm Archipelago, with the chance to fish, swim and eat lunch on a deserted island.
A cheaper option is this full-day kayaking tour, which includes transfers from central Stockholm and lets you enjoy peaceful parts of the archipelago. Along the way, you might catch a glimpse of seals and white-tailed eagles.
Bike tours of Stockholm
Stockholm is also very cycle-friendly, especially during the warm and sunny summer months. If you're up for an adventure and want to hit the streets on two wheels, but don't have any gear with you, a guided tour makes a lot of sense.
There are several surprisingly affordable tours available, including this pleasant three-hour bike tour of Stockholm which includes the inner-city areas as well as some rides through the lush nature that surrounds the city.
You could also try this eco-friendly bike tour, which gives you the chance to enjoy beautiful views and learn about some of the green initiatives that have helped Stockholm to reduce its carbon footprint by around 25% since the 1990s.

Guided tours beyond Stockholm
Stockholm is just the beginning when it comes to exploring the wider region, which has history and nature by the bucketful. So, if you have more time, we recommend setting some time aside for a longer tour that goes beyond the city limits.
For those interested in ancient Swedish history, this fascinating Viking history tour is well worth a look. A shorter half-day option is also available. The guided tour will take you by car through the Swedish countryside north of Stockholm, with tales of Viking history, plus plenty of rune stones, burial mounds, and ruins along the way. The longer version of the tour will even take you as far as Sigtuna, Sweden's oldest surviving town.
Another exciting excursion is an overnight camping tour to hear wolves howl just two hours west of the city in Baggbron. This unique and thrilling experience in nature is run in cooperation with expert researchers from the Scandinavian Wolf Project, and includes top-quality Nordic camping equipment for an unforgettable overnight stay.

Free tours of Stockholm
We've included a couple of walking tours in our guide to free and cheap things to do in Stockholm. These tend to be a little less personal than private tours, but are worth considering if you're on a tight budget. Just be aware that you may be expected to tip at the end of the tour.