The Stockholm Archipelago is home to some 30,000 islands, the vast majority of which are small, wooded and uninhabited.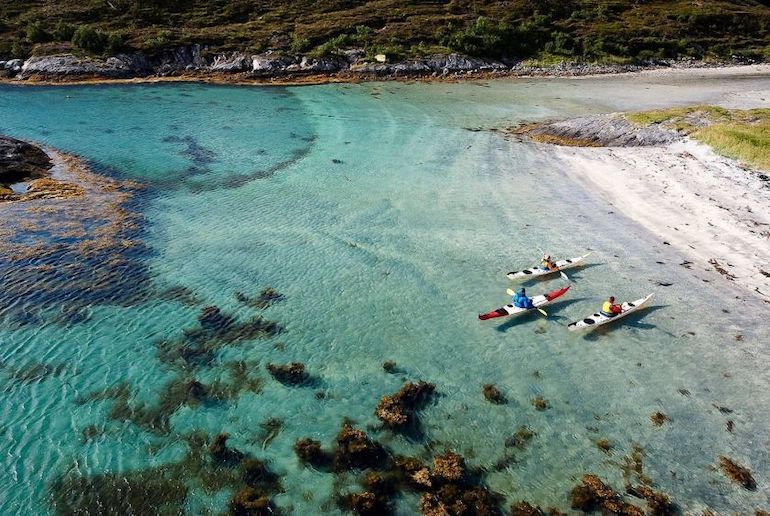 So, it's not surprising that resident Stockholmers love to to get out in their canoes and kayaks and explore these unspoilt islets and inlets.
Not only do you get a different viewpoint of this stunning scenic city from the water, but it's a popular form of exercise for city dwellers.
Add a tent, a picnic, some friends and family, and you've got a fun, social weekend activity away from the stresses of the city. And it's not only the islands that you can see on Stockholm kayaking trip.
When to go
The best kayaking spots
Where to rent a canoe or kayak
Safety tips for kayaking in Stockholm
The best tours to join
Stuff that's good to know
What to bring with you
What's the best time of year for kayaking in Stockholm?
Summer is by far the best time of year for kayaking in Stockholm, especially if you're planning to combine your outing with a picnic or camping trip.
From May to August, the temperatures are generally milder and the evenings are waaay longer – in mid-June, you can still be paddling around in daylight beyond 10pm.
There are advantages to kayaking at other times of the year, though – provided you are well-equipped for the weather. In autumn, the colours of the trees and woods are spectacular, and the waterways are quieter.
And you can even go kayaking in winter, when the city and its surrounding waterways look at their most picturesque beneath a covering of snow and ice.
You really do need proper gear for this though, including a high quality dry suit, so it's a good idea to go out with an experienced guide, who knows where's safe to go and can provide all the necessary kit.
Where are the best places to go canoeing and kayaking in Stockholm?
There are so many different places to go kayaking and canoeing around Stockholm that time is really your only limit. Here are few popular locations to consider.
The Djurgården Canal
Lake Mälaren
The island of Vaxholm
The central islands of Långholmen and Kungsholmen
The Bogesund Nature Reserve
If you just want a short taster trip which takes in some of the city's sights from the water, a paddle down Djurgårdsbrunnskanalen (the Djurgården Canal) or to the islands of Långholmen and Kungsholmen is a good option for beginners.
If you've got more time, you can head out to Lake Mälaren or round some of the further-afield islands of the Stockholm archipelago.
Kayak trips on Lake Mälaren often include Sigtuna and take in the medieval city's ancient sights and royal palaces in the vicinity. This full-day tour includes a 12km paddle on the lake plus a guided walking tour of Sigtuna.
For a more challenging trip, experienced canoers can go sea-kayaking: Stavsnäs and Sollenkroka are both good places to start from when exploring the outer archipelago by kayak.
Most kayak hire companies and tours offer the option of double or tandem kayaks. These are a good choice for children (so that mum or dad can do all the hard work!) or couples, when one partner might be less experienced than the other.
Where to rent a canoe or kayak in Stockholm
There are plenty of canoe and kayak rental outlets in Stockholm, many of which also provide organised and guided tours. Some hotels and outdoor gear shops rent out kayaks, or can put you in touch with companies that do.
For most visitors, joining a tour is the best option. If you're experienced enough to feel confident renting your own kayak, Långholmen Kajak is the locals' favourite spot for daily rentals.
Some of the companies that specialise in tours in the outer archipelago don't have a base in the centre of the city, but can usually arrange for you to be picked up from your hotel or a central meeting point.
Reputable companies will match you up with right type of kayak, depending on your experience, size, age – and, of course, your budget!
And most guided tour companies will provide all the kit you need, including life jackets, dry suits (in winter), a dry bag (for your valuables), a paddle, spraydeck and a map.
★ SUGGESTED DISCOUNT
Save with the Stockholm Pass
Get up to 50% off at Stockholm's top attractions, including the Vasa Museum, SkyView Stockholm and The Viking Museum, plus discounts on some of the city's best boat trips.
Safety tips for kayaking in Stockholm
Whether you're renting your own kayak and heading out alone or going on a guided tour, there are a few simple safety guidelines and regulations that you should always follow.
Always wear a life jacket
Avoid busy waterways: Stockholm's canals, especially, can get very crowded in summer
Respect the environment: never leave any litter on the islands or in the water
Check the weather forecast: stay in more sheltered waters if weather conditions are poor
Never stand up in a kayak
Always tell someone where you're going – especially if you're heading out alone
Follow your guide's instructions – they know what they're talking about!
The best organised kayaking and canoeing tours in Stockholm
If you're not familiar with the waterways round Stockholm, taking a guided kayak trip is the best way to explore and see the sights.
Whether you're a complete novice, or an experienced kayaker who wants to discover somewhere new, having an expert local guide with you can really enhance your experience.
Here are five of our favourite guided kayak tours in Stockholm.
Go city-sightseeing by kayak
This two-hour kayak tour takes in some of the city's best sights from the water, including Gamla Stan (the old town), the trendy Södermalm district and the City Hall.
It's suitable for everyone from complete beginners upwards and is one of the cheapest guided tours available, starting at around £50 per person.
See Stockholm at sunset
What could be more romantic than paddling around the waters of one of Stockholm's largest nature reserves at sunset and watching the sun go down over the imposing Vaxholm fortress?
This fun evening tour starts from the island of Vaxholm, with a transfer from the city centre included.
Explore the Stockholm archipelago by kayak
Spend the day paddling around the Stockholm archipelago and cook lunch round a campfire on one of the islands. This full-day kayak tour includes transfers to the kayak base, lunch, Swedish coffee and fika and an experienced guide.
Camp on an island in the Stockholm archipelago
Under Sweden's right to roam rules, you can camp wild just about anywhere, so what's not to like about paddling to an uninhabited island and pitching your tent?
This may not be the cheapest option (at around £450 per person), but it's a real bucket-list camping and kayak trip that includes three days paddling and two nights camping on an island.
You'll set up camp, cook on a campfire, go fishing and can even have a dip in the Baltic!
Take a trip in a big canoe
Great for team-building, this large canoe seats up to 15 and is a fun way of exploring the waterways if you're travelling with friends or a large family.
You can look out for native wildlife, such as beavers and seals, and there's even an option for a sauna afterwards.
Have family fun on this private kayak tour
Take the whole family on this private kayak tour round the beautiful Bogesund Nature Reserve.
The expert guide will tailor-make the tour to your family's needs, so the kids can stop off for a swim and a snack whenever they like – or simply slow down to watch the wildlife.
Tips to get the most out of canoeing and kayaking in Stockholm
If you take a guided tour, most companies will provide all the essential gear, such as lifejackets and dry bags for storing your valuables.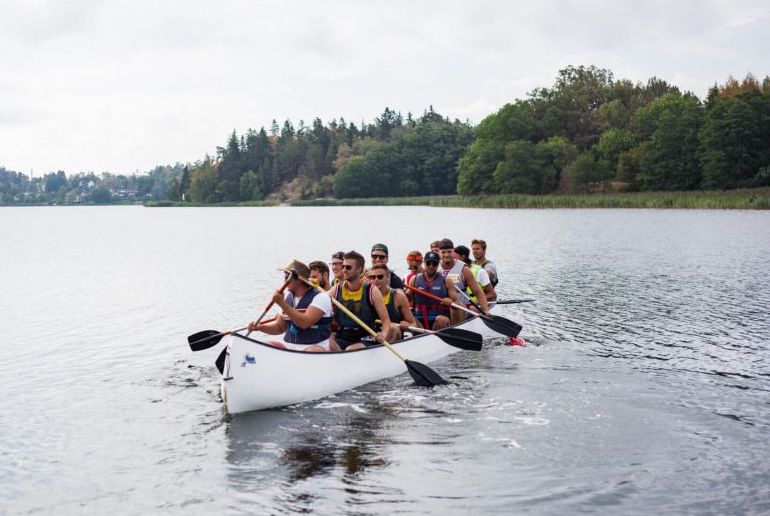 However, they usually also recommend that you bring extras such as a change of clothing and water shoes, if you have them, as you can get wet while kayaking.
Obviously the gear you need will depend on the time of year. In winter, gloves, hats and warm clothing are required, while in summer you'll need sunscreen, a sunhat and your swimming costume.
What to bring when canoeing and kayaking in Stockholm
Since most people go out in summer, here's a checklist of what you might need for a summer kayaking trip.
Sunglasses
Sun hat
Swimwear – if you fancy a dip in the Baltic!
A change of clothes – in case you get wet
Sunscreen
A water bottle
Snacks – paddling is hungry work!
A camera or phone – preferably waterproof
So is Stockholm a good place for a kayak or canoe trip?
The answer is a most definite yes! With so many islands and waterways to explore it's an ideal region in which to kayak.
Whether you're a complete beginner who wants to have a go at kayaking somewhere scenic, or are an experienced paddler keen to explore some new and wild regions, Stockholm is a great choice.
And there are plenty of local companies that can set you up with the gear you need or take you out on a once-in-a-lifetime trip.
See also:
The best kayak and canoe tours in Sweden
Where to go skiing near Stockholm
The best Stockholm boat tours and cruises