Stockholm's waterfront views and charming cobbled streets are worth raising a glass to, but the Swedish capital is still among the world's most expensive cities for drinkers. Even fairly average bars can be soberingly expensive, with small beers going for upwards of 60 SEK (around US $6.50).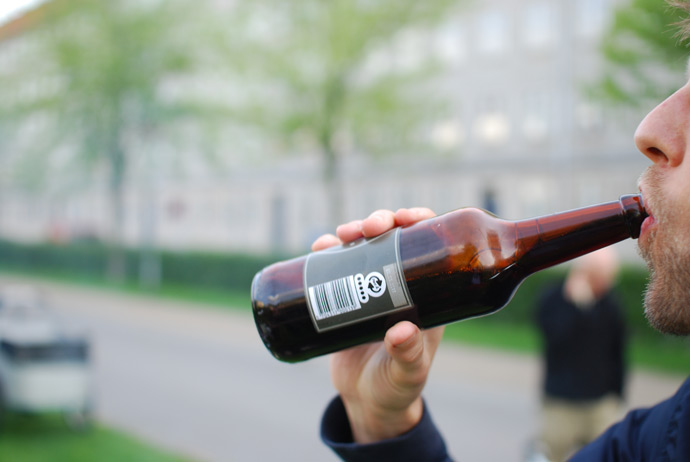 Drinking in Stockholm doesn't have to be expensive though, as long as you know the right places to go. We just pounded the city's pavements with one mission: to quench our thirst at Stockholm's cheapest bars.
They're not especially swanky, but all of the places listed here serve up cold beers for less than 36 SEK – at the time of writing that's about £2.90, €3.40 or $3.75.
And several of our recommendations charge considerably less, around 25 SEK a glass. For that money, you'll usually get a Swedish lager in a bottle or a glass. Craft beers and imported lagers cost a fair bit more.
You can see all of the bars we've recommended on the map below.
Retro Bar & Restaurang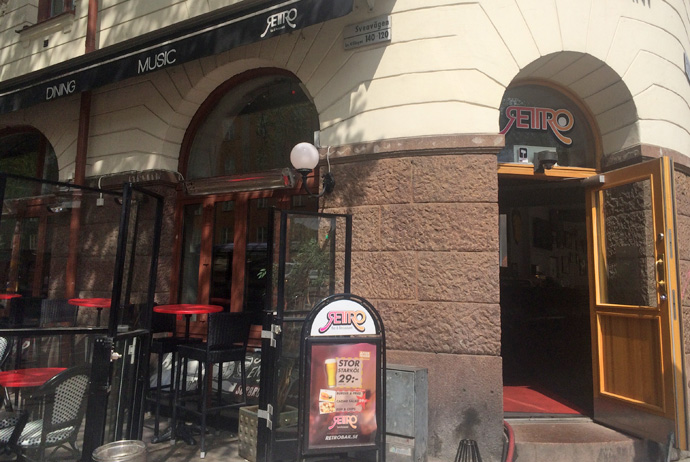 Retro Bar has four locations across Stockholm, which means a cheap beer is never too far away. At the Sveavägen branch (pictured), happy hour runs from 1–7pm on Monday to Friday, when you'll find a stor stark (big, strong draught beer) for just 29 SEK.
Food is reasonably priced then too, with a burger, chips and salad for under 100 SEK. All these bars are pretty simple, with cosy inside areas showing live sports; some of them also have outdoor seating areas for affordable summer boozing.
Where: Sveavägen 120, Sankt Eriksgatan 22, Bondegatan 25 & Hornsgatan 136
More info: retrobar.se
Carmen
Deep, down and "divey", Carmen is the art bar on Södermalm. Don't let that put you off, though, as it's not just trendies skulking behind these walls. A mixture of old locals alongside musicians and foppish twenty-somethings provides an atmosphere like none other.
Get down here early if you want to grab a table or even just a seat as it fills up quickly. It's not really recommended for eating, but it's an ideal place to meet friends before heading to a gig or an art opening. And beers start at a wallet-friendly 30 SEK.
Where: Tjärhovsgatan 14, Södermalm
★ SUGGESTED DISCOUNT
Save with the Stockholm Pass
Get up to 50% off at Stockholm's top attractions, including the Vasa Museum, SkyView Stockholm and The Viking Museum, plus discounts on some of the city's best boat trips.
Lion Bar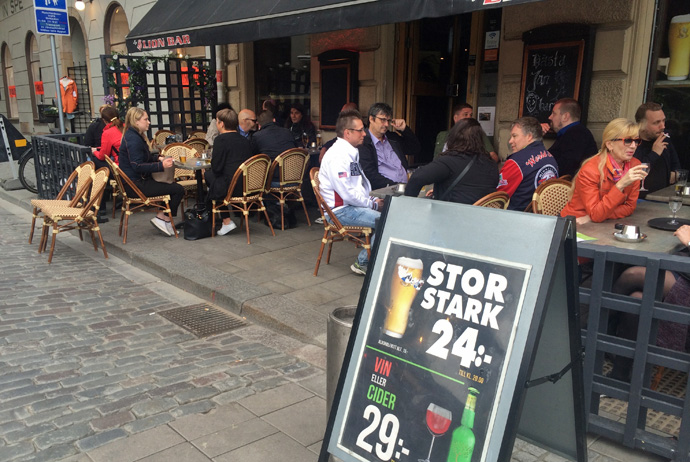 Lion Bars have popped up all over the city. Drinkers young and old drop into the one at Sveavägen 74, and there's another handy branch at Kornhamnstorg 61 in Gamla Stan (pictured).
It's one of the few cheap places to drink in the Old Town, and there are great water views from the little terrace out front. Be sure to get in early in the afternoon to snag yourself a seat.
Prices and exact happy hours vary depending on the branch, but at most of the Lion Bars around the city, you can expect to pay around 25 SEK for a wine, beer or cider before 8pm, and just 33 SEK after 8pm.
Where: Sveavägen 74; Sveavägen 39; Kornhamnstorg; 61 ; Östgötagatan 27.
More info: lionbar.se
Dovas
Hidden on a largely residential and retail-focused high street to the eastern side of Södermalm, Dovas is another of those bars that simply oozes character and authenticity.
Like Carmen (above), it provides a snapshot into the grittier and most authentic side of Södermalm, with its clientele ranging from young folk to the city barflies that prop up the best independently run pubs in the city.
Beers cost just 25 SEK during the daily happy hour (which runs until 7pm) and only 30 SEK afterwards – astonishing prices for this part of town!
Like something out of a Strindberg novel, it's a good option if you're having trouble finding a decent förfest (a pre-party, where locals load up on alcohol before heading out on the town).
Where: Hornsgatan 90
Bara Enkelt
Wandering around Södermalm, you'll be struck by the sheer number of bars and eateries on the island and while they all look super-cool, most will seriously hit your pocket.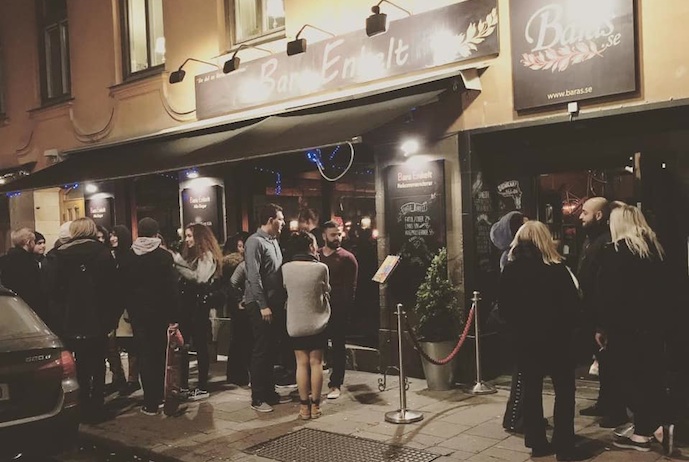 So, head just off the main road to this bustling little place that does great beers for 29 SEK all evening. The nibbles are good too, if you're peckish – the pulled pork nachos will set you back just 95 SEK.
It's perfect for a quick meeting or a catch-up with a friend, and there's excellent access for disabled guests, too.
Where: Skånegatan 59, Södermalm
More info: baras.se/baraenkelt/
Nivå 22
When it comes to cheap drinks, Nivå 22 is a bit of an old favourite for Stockholmers. The bar is in a great location on Fridhemsgatan, near leafy Kronobergsparken.
A big bottle of Norrlands Guld beer is only 28 SEK, while Heineken is 25 SEK and a big bottle of cider is 30 SEK. Nivå 22 has a cosy bottom level and a large open space upstairs – it's great on summer nights, and heated during the winter.
Where: Fridhemsgatan 17
More info: niva22.se
Crazy Horse Saloon and Bar
If you're shopping along Stockholm's famous high street, Drottninggatan, then you may want to escape from the mania of the crowds.
Just a short way from the main drag, on a parallel street, lies Crazy Horse, where a cool 36 SEK will get you a large bottle of locally brewed beer in quaint surroundings. As it's an American-themed place, you may want to grab a burger for a not-unreasonable 129 SEK.
Where: Sveavägen 60, Vasastan
More info: crazyhorse.se
Hellströms Bar & Restaurang
Hellströms is handy for Stockholms Södra train station and is close to a couple of nice parks. The outdoor seating area fills up quickly on summer nights, and there's usually a young crowd on weekends. A stor stark (big strong) beer here will set you back 27 SEK from 3–8pm.
Where: Fatbursgatan 1
More info: hellstromsbar.com
Systembolaget
This isn't a bar but it's still a useful place to know about. Sweden's cheapest booze is always sold at Systembolaget (the country's alcohol monopoly). When summertime approaches, locals often head to parks or beaches with a few drinks in hand to watch the sun go down. Just make sure you plan ahead, as the opening hours at Systembolaget are pretty restrictive.
Where: There's a central branch at Drottninggatan 22 in Norrmalm.
Map of Stockholm's cheapest bars
TOURS AND ACTIVITIES IN SWEDENMORE TOURS
See also:
110 cheap and free things to do in Stockholm
Affordable cocktail bars in Stockholm
6 cheap Airbnb rentals in Stockholm