With over 300 kilometres of cycling lanes, Copenhagen is one of the world's most bike-friendly cities.
So the idea of a taking a segway tour might seem bizarre. However, the Danish capital's infrastructure is precisely why you should consider joining one.
Copenhagen's flat topography, well-maintained bike lanes and compact size make it a great place for segways. And with sights like Amalienborg Palace and Christianshavns Kanal, the scenery isn't too bad either!
This guide will tell you everything you need to know about segway tours in Copenhagen.
Who should take a segway tour in Copenhagen?
If you don't have prior cycling experience, riding a bike in Copenhagen can seem daunting. So joining a segway tour with a knowledgeable guide can help you navigate the city more comfortably.
Cycling is also quite physically demanding, which is one reason you'll see so many Danes in good shape – despite the Carlsberg and kanelsnegl (cinnamon bun) consumption.
A segway tour is a great option if you don't want to exert yourself too much.
What to expect from your tour
Generally, your segway tour will take in many of the Danish capital's highlights, such as the Little Mermaid, Nyhavn and the Amalienborg Palace. Tours always start with some training and by kitting you out with protective equipment.
Most segway tours provide live commentary about the sights you're passing through. And groups are usually limited to around ten people at most.
While some meeting spots aren't in the city centre, you can easily reach them by bike or public transport.
Copenhagen's weather is notoriously fickle, and the city experiences around 170 rainy days yearly. Many tours provide ponchos to ensure potential downpours don't spoil your fun.
Tours usually take place regardless of the weather, but your guide will cancel if conditions get too extreme. In such cases, you can join a rescheduled trip or get a full refund.
Some tours include a free drink, while others will give you a discount at the cafés you visit. And many will provide you with a segway souvenir at the end of the adventure.
How long should you allow for a tour?
Copenhagen's segway tours usually last for 1–2 hours. You'll also need to give yourself time to get to the starting point, and you might want to stay behind afterwards to chat with the new people you've just met on your tour.
Bearing everything in mind, we recommend allowing 3–4 hours all in.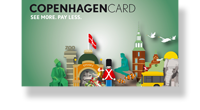 Is the Copenhagen Card worth buying?
Read this guide to see how much you could save during your trip!
How much much do segway tours usually cost in Copenhagen?
Tour prices vary from about 350 DKK (50 USD) for a one-hour of the city's main sights, up to 550 DDK (75 USD) for a two-hour tour.
5 of our favourite segway tours
Take in the city sights on a segway
This guided tour takes in Copenhagen's top sights including the The Little Mermaid, Nyhavn, the Amalienborg Palace and the Kastellet, as well as some of Copenhagen's most attractive architecture, such as Marmorkirken and the Royal Opera House.
If you opt for the two-hour version, you'll also see sights such as the Christiansborg Palace, City Hall Square and the Tivoli Gardens.
You can also experience some Danish hygge with a café stop during the trip. Throughout the tour, your guide will let you stop to take photos.
Listen to live commentary on a guided segway tour
Learn all about Copenhagen's history, sights and culture on this fun tour with a live commentary transmitted through through a built-in radio in your helmet.
Your guide will take you to some of Copenhagen's more unique attractions – such as the old Børsen building.
You'll also get to see the Little Mermaid and the Christiansborg Palace, which you might recognise from the iconic Borgen TV series.
The meeting spot is at Nikolaj Plads, next to Gammel Strand Metro Station. There are luggage lockers available to store your belongings.
Segway along the shore
It's hard not to notice the vast amount of water when you visit Copenhagen, and this excursion will take you along part of the city's inner harbour.
You'll get to see the iconic Nyhavn and the Royal Danish Playhouse, one of the finest examples of modern Scandinavian architecture. The tour ends up close to the Langelinie Cruise Terminal.
Take a two-hour tour
This two-hour segway tour takes in numerous sights, including the Black Diamond building – another example of Danish modern architecture done well.
You'll also see the impressive Mormorkirken (Marble Church), and the beautiful City Hall as well.
The tour includes a free drink and stops in numerous spots for photo opportunities.
Book a private segway tour for you and your friends
A private segway tour is ideal if you're travelling with a group of friends or family. This good option takes in some of Copenhagen's best sights, plus some hidden gems, such as Holmen and the city's English-style church.
It also visits the Amalienborg Palace and Toldboden – a great place to hang out during the summer months.
Are any segway tours included in the Copenhagen card?
Segway tours aren't covered by the Copenhagen Card, though it does include plenty of boat trips. See our guide to find out if buying the Copenhagen card is worth it for you.
Are there any downsides to joining a segway tour?
As fun as segway tours are, there are a few drawbacks. Copenhagen is often incredibly windy, and you'll need to deal with that along the waterfront in particular. Note that many tours have weight limits for safety reasons.
Segway tours in Copenhagen also aren't usually suitable for pregnant women or those with serious medical conditions. Also bear in mind that, if you choose to cancel your tour after booking, you may not always receive a refund.
Alternatives to taking a segway tour in Copenhagen
If segways don't interest you, you can join several other tours in Copenhagen. Exploring the city by bike can be fun, and there are numerous bike tours that show you some of the city's most iconic spots.
Walking tours are also plentiful, including a free walking tour from Rådhuspladsen (though you may want to tip the guide at the end!).
Another excellent way to see Copenhagen is from the water. You can book several canal tours, which take in some of the lesser-known parts of the city, such as the up-and-coming Sydhavn district.
Segway tours: a unique way to experience Copenhagen
Segway tours are an intriguing way to explore one of Europe's most exciting capital cities. Copenhagen's topography makes getting around easy, and you'll get to learn more about the city as you explore some of its best sights.
And if you've only just arrived in Copenhagen, these tours will help you get your bearings with the city's layout.
See also:
Day trips from Copenhagen by bike
The best guided tours in Copenhagen
Copenhagen's best communal spas and baths