The Swedish capital is famously expensive but we've still managed to create this epic guide showing 110 cheap and free things to do in Stockholm. Whether you want to go gallery hopping, get behind the wheel of the nation's newest cars, or simply dress up like the Swedish king, we'll show you how it's done.
As this guide is pretty long (and you probably won't have time to squeeze in all of our recommendations), we've divided it up into handy categories. Click below to hop straight to the section you're interested in.
• Historic sights and attractions
• Fun and entertainment
• Museums and galleries
• Just chilling
• Parks and nature
• Excursions and day trips
• Tours
• Viewpoints and lookouts
• Health and fitness
• Window shopping
• Eating and drinking
• Kids
Historic sights and attractions
1) Get lost in the old town, Gamla Stan, and find Stockholm's narrowest street among the tangle of cobbled lanes. Mårten Trotzigs Gränd is just 90 cm (three feet) wide. This cheap, guided tour is a good option if you'd like to learn more.
2) Find your way to Stortorget, the old town's main square. In 1520, following the Danish invasion of Stockholm, the square was the scene of a bloodbath – these days it's a wonderful (if touristy) spot for a coffee.
Try Kaffekoppen on the western edge of the square, which attracts locals as well as tourists.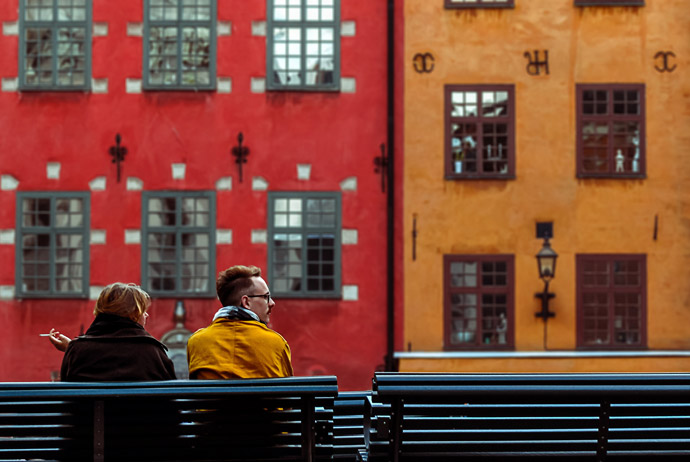 3) Go to church. Storkyrkan, Stockholm's de facto cathedral, still charges tourists an admission fee but there are some other beautiful churches in Stockholm that are free to look around.
Dating back to 1571, Tyska Kyrkan (the German Church) charges a small entrance fee and has a stunning baroque interior.
4) Watch the changing of the guard ceremony. The parade takes place daily in Gamla Stan during summer and at least three times a week during the winter. The timings of the parade change depending on the season, so check before setting off.
Fun and entertainment
5) Try parkour. Stockholm is home to Sweden's first purpose-built training ground for parkour. Located in Nydalsparken, Tensta, the park is completely free to use and has a whole bunch of different obstacles to hop over and around.
6) Watch a film in the park. For a few nights each August, free films are screened under open skies in Rålambhovsparken, on the island of Kungsholmen.
Go early to get a good space on the grass (and to stock up on popcorn). See our Events guide for more info.
7) Play laser tag. This one isn't strictly free, but it is pretty cheap – head to Cybertown at St Eriksgatan 56 (on Kungsholmen) and you'll get 15 minutes of childish fun for around 75 SEK.
There are ramps, mazes and bridges set across the 600 sq m arena.
8) Go geocaching. Geocaching isn't just the modern answer to a good old-fashioned treasure hunt; it gives you a good excuse to get off the beaten track and explore areas that tourists don't usually bother with.
There are hundreds of caches hidden all over the Stockholm area.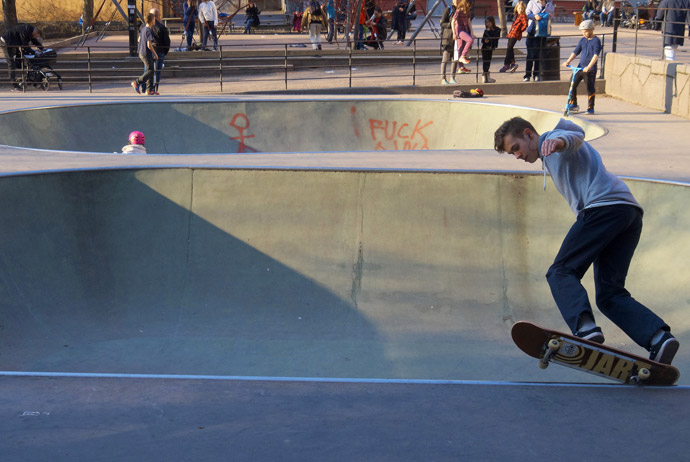 9) Rent a bike. Stockholm's handy bike hire scheme runs from April–October each year, making it cheap and easy to get around without relying on buses and subway trains.
It costs just 250 SEK for seven months' unlimited bikes use (up to three hours at a time).
Another fun way to see Stockholm's best bits on two wheels is to join this organised bike tour.
10) Go longboarding through Stockholm's parks. City Backpackers has some great boards for rent. Alternatively, you could buy your own board from a shop like Hollywood.
For ramps, pools and street skating, try Kristinebergs Skatepark on the island of Kungsholmen.
11) Try dancing on ice. During winter, the octagonal ice rink at Kungsträdgården opens for business.
It's free to use if you have your own skates – otherwise you can rent a set for around 60 SEK per hour. There are also disco-skating sessions on selected Saturday nights.
12) Play pub games. There are a couple of mega pubs in Stockholm that offer more than the usual dartboards and fruit machines.
At O'Learys Tolv you can try curling, go bowling or mess around on whacky golf simulators. BallBreaker has slot-car racing, shuffleboard, and simulators that let you hunt virtual bears and elk (it doesn't get much more Swedish than that).
13) Watch free stand-up comedy. The Big Ben Pub in Södermalm has free stand-up shows on Thursdays and Sundays at 8pm, with acts performing in English and Swedish.
14) Listen to free organ music. Escape the noise of the city with a little musical interlude – every Tuesday at 12.15pm, Adolfs Frediks kyrka in Norrmalm has free recitals.
15) Head to the Lida Nature Reserve to do some outdoor parkour. This specially-built parkour course is surrounded by woods and greenery – and it's completely free to use.
16) Go bouldering. There are some good, purpose-built bouldering walls near the play park in Rålambshovsparken. Just turn up and start climbing.
17) Watch a free performance. Check out the many free gigs, plays and cultural activities that take place across Stockholm in summer.
Parkteatern puts on free outdoor shows from theatre to opera to jazz and dance performances from June–August.
18) Play a round of frisbee golf. There are a full 18 holes to try out at Visättra Discgolf in Huddinge, which has free entry.
19) Grab a beer at Pub Anchor and watch some real-life head-banging karaoke unfold before your eyes.
Museums and galleries
20) Wander through medieval Stockholm (and see the last remaining section of the old city walls) at Medeltidsmuseet. It's completely free to visit.
21) See how Sweden conquered the seas at the free-to-visit maritime museum, Sjöhistoriska.
22) Go to court (without committing a crime). You'll have to pass security to get inside Stockholm's courthouse, Rådhuset, but there's no admission fee – and it's one of the best examples of the national romantic architectural style in Sweden.
23) See some of the world's biggest coins (which weigh in at almost 20kg!) at Stockholm's free-to-visit history museum.
24) Learn what it takes to win a Nobel Prize at Nobelmuseet, which tells the stories of past recipients. It's normally 120 SEK to get inside, but admission is free between 5pm–8pm on Friday evenings. This and many other museums are included with the Stockholm Pass.
25) Head to Nordiska Museet for the inside track on Swedish traditions.
Look out for the quirky part of the museum dedicated to Swedish table settings, which shows how attitudes to entertaining have changed throughout the ages. It's free after 5pm on Wednesdays (September–May only).
26) Feast your eyes on the real-life treasures at Historiska, Stockholm's main history museum.
In addition to the usual Viking relics, there's more than 50kg of gold stuffed into the museum's vault, just waiting to be gawped at. It's free for under 18s and just 50 SEK for adults.
27) Wander among the trippy sculptures in the grounds around Moderna Museet, which are always free to visit. The museum's main collection is also free.
28) Learn how stuff works at Sweden's museum of science and technology, which is free on Wednesday evenings from 5–8pm.
Or you could just head to the museum's 4D cinema, which specialises in – you guessed it – movies about science and technology.
29) Admire the art in the metro. Stockholm's metro is like one giant gallery, with 94 of its 100 stations boasting artworks, sculptures and exhibitions by some 250 artists.
All you need is a metro ticket and you can ride round and enjoy the artworks for free.
30) Visit a commercial gallery. There are lots of small ones worth visiting around Stockholm, including the Lars Bohman Gallery at Karlavägen 9, which shows off works by Swedish greats like Lars Lerin.
31) Visit Scandinavia's only Japanese teahouse.
Browse round the Ethnografiska on Djurgården and admire some of the 8000 cultural and ethnic artefacts that were collected during round-the-world sailing trips and expeditions from the 17th to 20th centuries. Check out our guide for more free museums in Stockholm.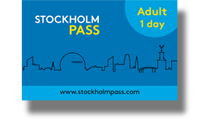 Is the Stockholm Pass worth buying?
Read this guide to see how much you could save during your trip!
Just chilling
32) Marvel at the vast curved bookshelves in Stockholm's distinctive City Library, which was built in 1928 and holds more than 400,000 books. There's no charge to get in.
33) If you're hungry for more book-based sightseeing, head to Kungliga Biblioteket in Humlegården – the main reading room is packed with beautifully bound books.
34) Enjoy a stroll along the waterfront on Skeppsholmen, admiring what might just be the world's most beautiful floating hostel.
35) Pray for sunny weather and go for a picnic in one of Stockholm's best parks. Need a recommendation? Try Humlegården, Hagaparken or anywhere green on Djurgården. This tour of the Old Town, Djurgården and the Vasa Museum is a good option if you'd rather have a guide.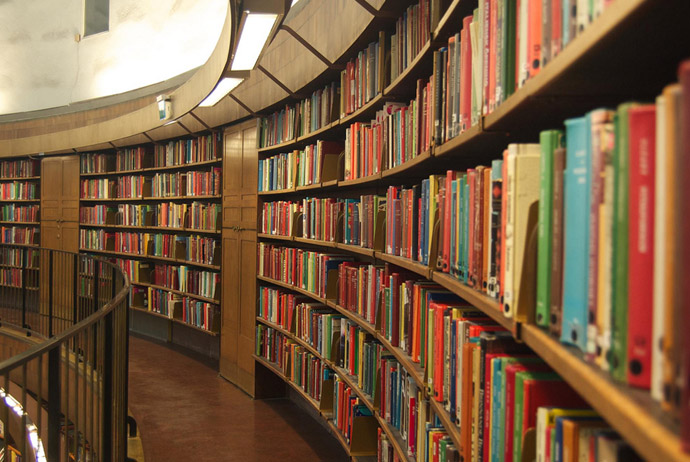 36) Practice your Swedish (or Spanish, or Arabic, or German…) at one of Stockholm's language cafés. This site (in Swedish only) has a list of upcoming events at libraries across the city.
37) Kick back while listening to a free jazz show at Lilla Hotellbaren, part of the Scandic Malmen hotel. The shows take place every Tuesday night and although this is far from being the cheapest spot in town, you can still grab a beer for around 65 SEK.
38) If you're in Stockholm on a cloud-free summer's day, grab a pedal boat from Sjöcaféet (230 SEK an hour) and soak up the sun as you splosh about, snapping pictures of the ridiculously pretty skyline.
39) Grab a perfect photo of Stockholm City Hall while listening to the buskers on the Riksbron bridge, at the southern end of Drottninggatan.
Parks and nature
40) Get a taste for Swedish design by admiring the 500-or-so functionalist villas in Södra Ängby, a leafy residential area that's now protected by Swedish law. This map shows where it is.
41) Discover the weird and wonderful buildings dotted around Hagaparken, including a Chinese pagoda and a copper 'tent' that looks like it's fallen straight from a book of fairytales.
There's also a butterfly park and an aquarium.
42) See (and smell) some of the world's most dazzling plants at Bergianska Trädgården, a botanical garden with two impressive glasshouses. You can visit the outer areas for free, while entry to the Edvard Anderson Conservatory is 80 SEK.
43) Get lost on Djurgården. Most tourists only come for the museums, but there's enough pretty parkland on the island for a thousand free walks.
44) See the cherry trees burst into life in Kungsträdgården. They usually start blossoming in early April, and the show lasts just a couple of weeks at most.
45) Sweden isn't exactly famous for its wine, but grapes will grow in southern and central parts of the country. You check out a real Swedish vineyard inside Rosendals Trädgård.
46) Find the final resting place of Swedish actress Greta Garbo among the countless tombstones at Skogskyrkogården, one of three World Heritage Sites in Stockholm, and the only one that's free to visit.
47) Go skating in Tantolunden Park. OK, so you'll have to wait til a cold snap, when the shores of the lake freeze over, but this large inner-city park is a great place for some outdoor activity.
If you haven't got your own skates, you can watch the locals take to ice or join them in sledging down the park's hills.
Excursions and day trips
48) Go on the hunt for berries. If the season is right (late summer) you'll find tasty berries growing wild all over the place in Sweden. Tyresta Nationalpark, around 25km south of Stockholm, is a great place to start.
You can pick as many as you want for personal consumption – just make sure you know what you're eating.
49) Swedes love picking and eating mushrooms and you can join them towards the tail end of the summer, when yummy chanterelles start popping up in the forests near Stockholm.
Try a day trip to the forests in the eastern part of Djurgården. And again, make sure the mushrooms you're collecting are safe to eat (or you definitely won't be a fungi to be with).
50) Get a taste for archipelago life by visiting Vaxholm, a pretty island with a fortress just offshore. As there's a bridge to the island, you can get there and back using Stockholm's affordable public transport network.
For a totally different perspective of island life, try this half-day kayaking and walking tour.
51) Take the tram. Stockholm has plenty of bus and subway lines, but trams only operate in one part of the city.
The old-fashioned carriages that loop past Djurgården's most popular museums make a fun alternative to walking, and they're the same price as the snazzy modern trams which cover the same route.
Single tickets are around 45 SEK.
52) See Stockholm from the water by riding Djurgårdsfärjan, the ferry service that runs year-round between Slussen and Djurgården. Public transport passes are valid on the boats.
53) Take the bus to Ikea. It's free, presumably in the hope that you'll buy something when you arrive. Services leave roughly every hour from Vasagatan 38, near the main train station, every weekday (10am–7.15pm).
54) Escape to an island. Using the ferries run by Waxholmsbolaget you can get to beautifully sleepy islands in the Stockholm Archipelago for around 160 SEK.
Car-free Finnhamn takes around five hours to reach from central Stockholm and has just one laid-back hostel, along with a few cottages. There are tips on the best islands to visit in this guide.
If you'd rather not go it alone, try this guided tour of the archipelago.
55) Gawp at the grand old oak trees in The Royal National City Park.
56) Take a north-south walk through the heart of Stockholm. Start at Sergels Torg, the huge pedestrianised square in Norrmalm and head all the way south to the bottom of Södermalm, passing through Gamla Stan along the way. This bus and boat tour is a good alternative if you'd rather not walk too far.
You'll get a good feel for Stockholm's old and new sides and see a lot of sights along the way.
57) A good alternative is to pick a central island and walk the whole way around it. Långholmen is a very pretty one to begin with, offering good views and clean air.
58) Seek out the Söderbysjön. Just a short bus ride from Stockholm, this beautiful lake is surrounded by woods and has a small sandy beach for swimming. Better still, leap off the rocks into the refreshing water.
59) Camp wild. Thanks to Sweden's right to roam, which is enshrined in law, your options for free camping near Stockholm are practically limitless. Follow the advice in our camping guide and you won't go far wrong.
60) Watch a circus performance. Head out to the suburb of Botkyrka, where the Subtopia circus school puts on free shows of acrobatics, dance, parkour and circus skills. After the performance, you can even try your hand at some of the skills yourself.
Tours
61) Be wowed by Stockholm's art-filled subway system. The public transport operator SL runs free guided art walks to some of the most elaborate parts of the metro network.
Tours in English take place from June to August on Tuesdays, Thursdays and Saturdays at 3pm, and leave from the SL Customer Centre, at T-Centralen Metro station.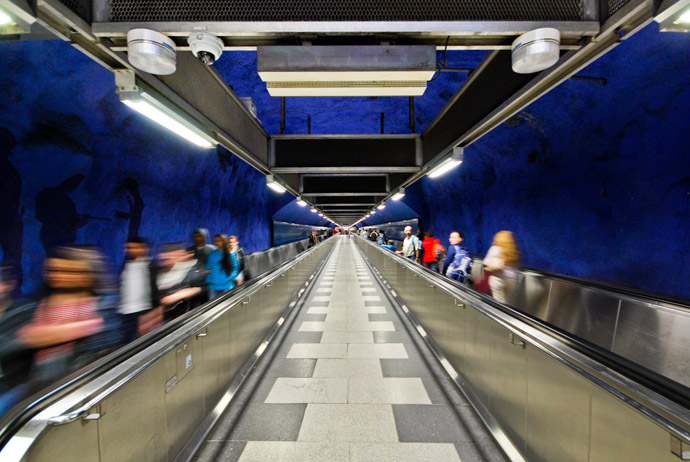 62) Take a free walking tour of Stockholm. Free Tour Stockholm and Stockholm Free Tour both run trips (the latter also runs paid-for segway tours).
63) Have a wander around the Swedish parliament building on a free guided tour. Our guide to exploring the parliament building has more info on when tours take place in English.
64) Guided tours based on Stieg Larsson's Millennium books have been running for a while now. If you want to keep things cheap, just buy the official Millennium Map (40 SEK) from the main tourist information centre on Sergels Torg and guide yourself to the key sights.
Viewpoints and lookouts
65) Get a free, postcard-quality view of the Royal Palace from the island of Skeppsholmen. Climb up towards Eric Ericsonhallen and Östasiatiska museet for the best panoramas.
66) Head to Evert Taubes Terrass, on the western edge of Riddarholmen, for waterfront views of the City Hall, where the Nobel Prize banquet is held each year.
67) From May to September, you can get great views by climbing up to the top of City Hall's 106-metre-high tower (60 SEK). There are 365 steps, but it's worth the effort for the amazing panorama over the whole city.
68) Get a sense of how low-rise Stockholm really is by taking a walk across Västerbron, the big bridge that links Kungsholmen with Långholmen.
69) The Fjällgatan viewpoint on Södermalm is also a great place for views back over Gamla Stan, Skeppsholmen, Djurgården and the waterfront.
70) Drink in the amazing views from Skinnarviksberget, the highest point on Södermalm. This rocky lookout is a popular hang-out during summer, with plenty of space to have a picnic.
71) For great views over the roof-tops, head up to the ninth-floor Takpark, on one of Stockholm's largest roof terraces.
For the price of a coffee, you can chill out and admire the views from this large park-like open-air space with wooded walkways and greenery.
72) Take a selfie. Yes, we know you don't have to be told this one, but as one of Europe's most picturesque capital cities, Stockholm has plenty of opportunities for you to get your phone out and snap away.
Health and fitness
73) Go running. There are some great suggestions for running routes over at Run With Me Stockholm.
74) If you fancy some company on your run, hook up with the folks at Ssideline City, who arrange regular sessions with post-run meals and drinks.
75) Do the Stockholm park run. Like park runs the world over, this one's completely free. Join fellow Stockholmers at 9.30am on Saturday for a 5km run round the Hagaparken in Solna.
76) Swim wild. Locals all have their own favourite spots for summer dips – for something central, we'd suggest trying one of the beaches on the northern edge of Långholmen.
77) Take a Swedish sauna. Hellasgården, located on the edge of the lake called Källtorpssjön, has two single-sex saunas with direct access to the lake (entry costs just 70 SEK).
There are mixed-sex sauna sessions on Mondays, Wednesdays and Fridays. Nervous about stripping off? Read our guide to Swedish sauna etiquette first.
78) Have a workout. There are free, outdoor gyms located across the city, offering a mix of chin-up bars, balance beams and resistance-training machines.
This website (in Swedish) has a list of all the free outdoor gyms in Stockholm, organised by area.
79) If you're not in the mood for working out alone, try one of the free group sessions arranged by Friskis&Svettis, a nationwide chain of gyms.
These outdoor workouts take place in several parks across Stockholm from mid-June to August, covering everything from yoga to dancing.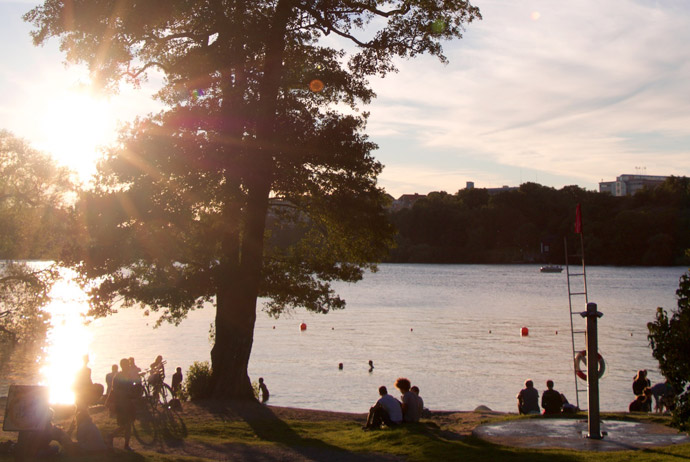 80) If it's a little too chilly for free wild swimming, never fear! Sweden's national swimming centre, Eriksdalbadet has three outdoor pools and five indoor pools, including an Olympic-sized one, a diving pool and a slide pool.
Entry to this watery wonderland costs around 90 SEK (or 40 SEK for kids).
Window shopping
81) Visit NK, Stockholm's grandest department store, to browse through the swanky products – this place stocks everything from books and clothes to ornaments. There's also a splendid food court.
82) Rummage through the bargains on offer at a classic Swedish loppis (flea market).
There are a few different ones dotted around the city. Check out the Hötorget flea market, which takes place every Sunday, when the regular food and vegetable stalls are replaced by tables of old vinyl records, books, kitchenware and other bric a brac.
83) Browse the second-hand stores in Södermalm, which sell everything from old records to kids' toys.
Prices vary from pretty cheap to ultra-expensive, depending on what's deemed 'in' at any given moment. There are some recommendations in this guide.
84) If second-hand is not your thing, there are upscale design shops all over the place in Södermalm. Start searching in SoFo, the area south of Folkungagatan.
85) Hit up the Swedish fashion stores that are tricky to find abroad. Acne, Weekday, Cheap Monday and Cos all have outlets in the Swedish capital.
86) The world's biggest H&M isn't in Sweden at all (it's in New York). But if it's cheap Swedish fashion you want, there's still a sufficiently massive H&M at the Mall of Scandinavia, just north of Stockholm.
87) Get behind the wheel of the latest cars at the flashy Volvo Car Showroom at Kungsträdgården. There's also an exhibition about the brand's road-safety ambitions.
88) Play with the whacky gadgets and cool kitchen accessories at the Nordic design shop Designtorget, which has stores at Arlanda Airport and Stockholm's main train station.
89) Learn what snus is (and stuff some under your lip) at the Swedish Match snuff shop on Kungsgatan.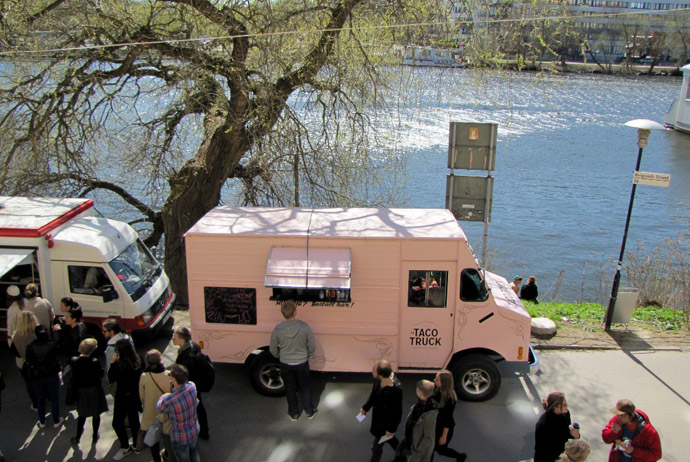 90) Try on a few crazy wigs (or wear a mask with Swedish king's face on it) at Buttericks fancy dress shop, which has been open at Drottninggatan 57 for more than a century.
91) Browse the stalls at Hornstulls Marknad, a waterside market that sells a good mix of vintage items and some modern street food. It's open on Saturdays and Sundays from April to October only.
Eating and drinking
92) Munch your way through Swedish street food. The long-running Nystekt Strömming van at Slussen does Baltic herring to go, charging around 80 SEK for a hearty lunch.
Our guide to cheap eats in Stockholm has other recommendations.
93) Look out for free samples at Hötorgshallen, one of the most popular lunchtime hangouts for local office workers.
94) Drool over the sweets at one of Stockholm's colourful candy shops. There are still independent places selling hundreds of different sugary treats, but otherwise you can always try a branch of Hemmakväll.
95) Hear your tastebuds scream 'WTF' when you sample Swedish salt liquorice. Lakritsroten, which has five branches in Stockholm, sells dozens of different types.
96) Search out Stockholm's cheap bars. Yes, alcohol is notoriously expensive in Sweden and, of course, even more so in the capital city.
But, don't despair, there are plenty of places where you can get a beer for under 30 SEK, if you're in the know. Check out our guide and join the locals for a super cheap beer.
97) Wander into a branch of Systembolaget, the nation's alcohol monopoly, for a true taste of Swedish culture.
The shop at Drottninggatan 22 is nice and central, but be sure to avoid Friday evenings, when the queues are ridiculous.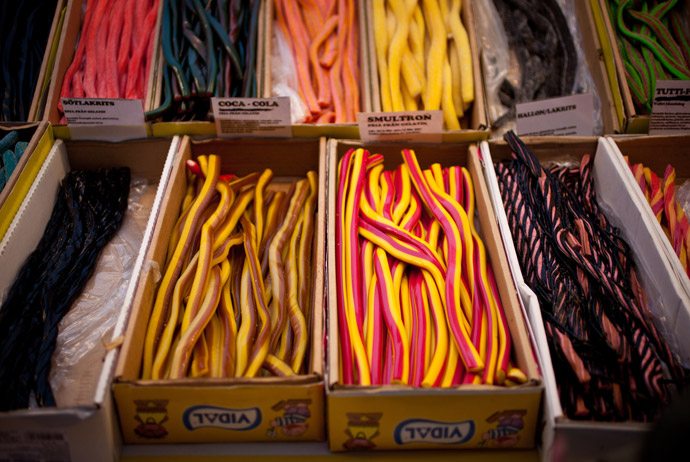 98) Browse the city's food markets. Stockholm's grandest, Östermalms Saluhall may be closed currently for renovation, but you can buy gourmet food from around the globe, as well as typically Swedish products like reindeer meat, from the stallholders in the temporary market hall in nearby Östermalmstorg.
If you'd rather have company, this Stockholm food and walking tour is worth a look.
99) That eye-wateringly stinky Swedish fish you've heard about – surströmming – is available to buy in cans. Your mission: find one in Stockholm's supermarkets.
Don't try to fly home with it though (some airlines have banned it due to the risk of the smell leaking out during transit). For more on this smelly speciality, see our guide to Sweden's stinkiest food.
100) Have a hot dog. There are hot dog stands all over Stockholm and they make a tasty filling lunch that won't break the bank. Bruno's Korvbar serves a variety of different sausages in a bun, from chorizo to lamb and veggie options – all for 60 SEK, or 70 SEK with a generous helping of potato salad.
101) Try the gooey, homemade gelato at StikkiNikki. Odd flavours include vegan cashew and sea salt – and if you ask nicely, you can try before you buy.
102) Go to an "afterwork". Some of Stockholm's restaurants and bars provide a small buffet of food on weekday evenings (Monday–Friday).
Similar to traditional Spanish tapas bars, you can get something to eat for free every time you buy a drink.
The quality and type of food varies, from pizza to salads to chicken wings, but if you're canny you can eat well for the price of a drink or two. See our guide for more on the Swedish "afterwork".
Kids
103) Clamber around on the colourful wigwams at Indianparken, a themed playground out near the Hammarbyhöjden subway station.
104) Get a feel for how Södermalm looked in the 1800s at Bryggartäppan, another themed children's play area with swings, wooden houses and a maze.
105) Feed the ducks at Långbro Park (see here for a map of where it's located).
106) Play ping-pong. There's a regular table tennis meet-up for kids aged 8–12 at the Timmermansgården youth centre in Södermalm. Games take place on Thursdays from 5–7pm (it's free to join in).
107) Get creative at Lava. Run by the Kulturhuset, Lava is a library and meeting space for young adults aged 14–25.
You can borrow books and musical instruments (you'll need a Stockholm library card ), or try your hand at textiles, painting graphic design, 3D printing and music production.
108) Read a comic. Check out Comics Heaven book shop in Gamla Stan. It's a treasure house of comic books, in both English and Swedish, where kids will happily browse the sci-fi, Manga and adventure stories.
109) Take the kids to a dance class. Stockholms Barnidrottsförening runs free taster sessions for little ones throughout the year.
110) Head to the beach. The Smedsuddsbadet on Kungsholmen is a sandy family-friendly beach, with a large lawn behind – perfect for kids. There are toilets and an electric barbecue if you want to make a day of it.
So what are the 10 best free things to do in Stockholm?
As we've shown, there are more than 100 great free and cheap things to do in Stockholm. It would take months to check out every fun and free activity the Swedish capital has to offer, so to help you prioritise, here are 10 of our favourite budget-friendly activities:
Wander through the beautiful Old Town (Gamla Stan)
Go swimming at one of the city's unspoilt lakes
Enjoy the amazing murals on Stockholm's metro system
Check out the Swedish delicacies on offer at Östermalms Saluhall
Soak up epic views of the city at Takpark
Walk across Västerbron and grab some incredible photos
Get a free tour of the Swedish parliament building
Take the free bus to the world's biggest Ikea
Visit the Stockholm Archipelago for total peace and quiet
Picnic and play in the city's many parks
Like what you've been reading? Get our best tips by email!