There's so much fun stuff to do within Copenhagen's city limits (see this guide for ideas) but sometimes it's nice to escape the central areas for a while, just to get a feel for some other towns, or life in the Danish countryside.
These day trips from Copenhagen are mostly very easy, whether you're driving or using public transport. Some can even be done by bike.
Set off bright and early and you'll be back in town in time for dinner – or at least a well-earned drink before bed!
Dragør
12km from Copenhagen
The sleepy town of Dragør is an old fishing community turned tourist attraction, and one of the easiest day trips from Copenhagen. It's only around 12km south of the city, and is even closer to Kastrup airport.
Why should you bother visiting? Well, apart from the fact that Dragør offers a bit of relief from Copenhagen's hustle and bustle, it's also one of Denmark's best-preserved old towns, and it's bursting with history and charm.
Wander along the narrow streets and you'll find handsome, mustard-coloured houses with thatched roofs and neatly tended gardens.
Boats and ducks bob around in the harbour – and when the weather's decent enough you can join locals at one of the pavement cafés near the waterfront.
Make time for a look around Amagermuseet in the adjoining village of Store Magleby.
Set in one of the area's oldest buildings, the museum gives a nice introduction to the region's history and has some friendly farm animals, too.
If you want to extend your day trip, consider a stay at the Dragør Hotel, in the town's historic centre.
Getting there
The journey to Dragør is quickest with a combination of train and bus, which takes around 35 minutes; take a train from København H (the main train station) to Tårnby Station.
From there you can hop aboard bus 250S bound for Dragør Stationsplads.
The trip from Copenhagen is also easy enough to do by bike – it'll take you around an hour to cycle from Copenhagen, or slightly longer if you take the scenic coastal route.
Bakken
12km from Copenhagen
One of the first things that tourists see when they emerge from Copenhagen's main train station is Tivoli, a cutesy theme park that's home to rides, lakes and gardens.
A lesser-known but equally fun alternative is Bakken, around 12km north of the city centre.
This is supposedly the oldest theme park in the world, with roots going all the way back to 1583. You could easily spend a full day here, riding on the teacups and rollercoasters.
Don't all rush at once, but there's also a pretty sweet log flume.
You'll have to pay for the rides at Bakken but it's free to get in and wander around, absorbing the happy atmosphere as you go.
There are shooting and throwing games to be enjoyed, and you can stuff your face with as much candy and ice cream as you like.
A brief warning for coulrophobics: the theme park's mascot is a slightly scary white-faced clown.
If you're going to make the trip to Bakken you may as well have a wander through Jægersborg Dyrehave – it's a huge area of parkland offering cycle trails, picnic spots and a couple of thousand deer.
Fortunens Ponycenter, over in the southwest corner of the park, does horse-riding trips.
If you want to stay nearby, we suggest the Bernstoff Castle, a real-life 18th-century palace with comfortable rooms, just a ten-minute drive from the park.
Getting there
Bakken is around 12km north of the city centre. The best way to get there is by train: services from København H take about 20 minutes to reach Klampenborg.
From there the entrance to the theme park is a 10-minute walk to the east. Cycling? The journey from central Copenhagen is nice and flat and will take you around 50 minutes.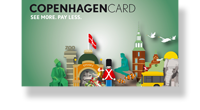 Is the Copenhagen Card worth buying?
Read this guide to see how much you could save during your trip!
Malmö, Sweden
30km from Copenhagen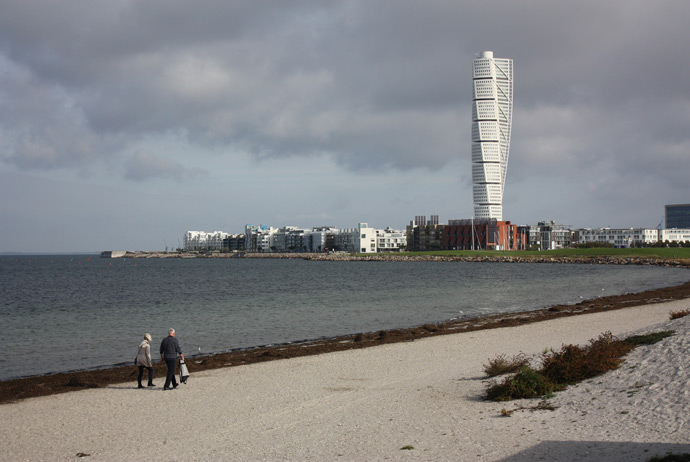 One of the most obvious day trips from Copenhagen is Malmö. Not only is it a cool city, it's also in a completely different country.
All you have to do is make your way across the Öresund Bridge (details here) and you'll be enjoying Sweden in no time at all.
There's a lot to like about Malmö, Sweden's third-biggest city. It's probably the most multicultural part of the whole Öresund region, with a big migrant population and a compact central area that's dotted with cosy bars and restaurants.
Further away from the train station, around Möllevångstorget, you'll find a surprisingly diverse food scene.
Falafel is a seriously big deal here; go hungry and be prepared to leave full.
The museums and galleries in Malmö are interesting enough to keep you busy for a whole day – try Moderna Museet, which puts on some great modern art exhibitions, or Malmöhus Castle, a huge fortress that contains a history museum and a more traditional art gallery.
Not a culture vulture? You can always make a beeline for the beach, or go and check out the whacky Turning Torso.
Better still, see the sights from the comfort of a boat on this fun guided boat trip on the city's canals.
Malmö is also a good place to spend the night, with slightly cheaper rates than Copenhagen.
Our hotel guide has some useful suggestions, but our top tip is the stylish eco-friendly More Hotel Mazetti, in a converted chocolate factory.
Getting there
This guide tells you everything you need to know about making the border crossing between Denmark and Sweden.
While the actual journey time is quite short you should allow yourself around an hour to get from Copenhagen to Malmö – that should give you time to buy tickets, grab a coffee and deal with any passport checks.
Or, to make things really easy, just book this self-guided tour from Copenhagen, which includes train tickets, map and a choice of bus, mini-train or electric bike to explore Malmö once you there.
Helsingør
45km from Copenhagen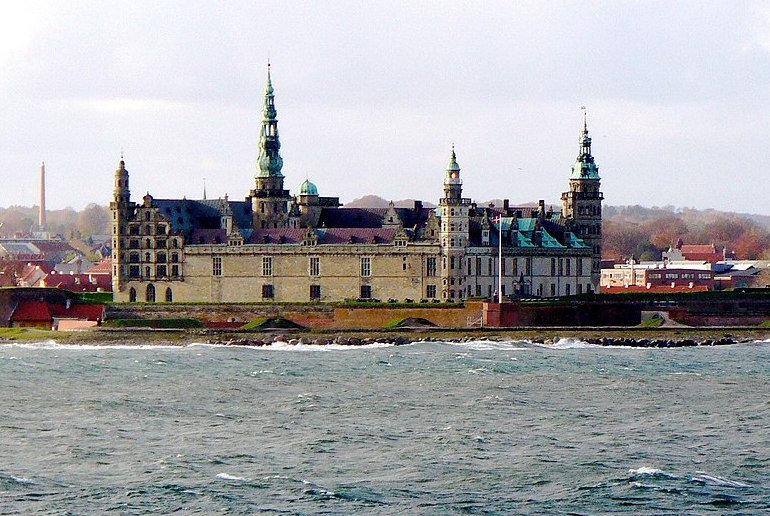 Top day-trip from Copenhagen, in our opinion, is to the town of Helsingør, overlooking the Øresund strait some 45km north of Copenhagen.
Also known as Elsinore, the town's main attraction is the impressive 16th-century Kronborg Castle, which was the setting for Shakespeare's Hamlet.
Sitting at the Øresund's narrowest point, the UNESCO World Heritage castle looks over the water to the town of Helsingborg in Sweden, opposite.
Entrance to Kronborg Castle is induced in the Copenhagen Card, or you could splash out on this private tour which includes train tickets from Copenhagen, entrance to the castle and an expert guide.
Also in Helsingør, you shouldn't miss the M/S Maritime Museum of Denmark, close to the castle. 
The award-swimming building is worth a look for its architecture alone, and inside there are plenty of interactive exhibits that tell the tale of Denmark's maritime history.
Our favourite place to stay the night in Helsingør is the Marienlyst Beach Hotel, just 1km from the castle and right on the beach.
Getting there
The best way to get to Helsingør is by direct train from København H, which takes 45 minutes. 
Or you could do it the easy way and visit Helsingør on a guided day trip from Copenhagen that takes in Frederiksborg and Roskilde too.
Louisiana
35km from Copenhagen
Although it's within easy day-tripping distance of the city and still along the same stretch of coastline, Louisiana feels a world away.
This is one of Denmark's most popular galleries, focusing on all things modern art.
Now before you yawn yourself to sleep, we'll jump in and say we love Louisiana! There's a lot more to it than just rooms full of paint-splashed canvas. 
The gallery building itself is a work of art, like a James Bond villain's hideout with sleek panes of glass poking out from behind the trees.
There are sculptures dotted around the grounds, and the views across the water towards Sweden are definitely worthy of a picture or two.
There are more than 3,000 works of art to explore in the bright, airy galleries, including pieces by Andy Warhol and Danish artists like Richard Mortensen.
If you get peckish during your visit, refuel at the gallery's café, which offers panoramic views, outdoor seating, and a whole load of salads and sandwiches.
Entrance to Louisiana is included for free with the Copenhagen Card. For more on Louisiana, read our guide to Visiting the Louisiana art museum from Copenhagen. 
Getting there
Unless you're super fit, we wouldn't recommend cycling to Louisiana – it's a good 35km from the city centre.
Taking the train is easy. Head to København H and jump aboard a service bound for Helsingør. After around 35 minutes you'll reach Humlebæk Station. From there it's around a kilometre on foot to the museum.
Roskilde
30km from Copenhagen
Say the word Roskilde and most people think of the music festival – around 130,000 people attend the super-sized event each year, making it one of Scandinavia's biggest festivals.
There's also a whole town called Roskilde, just north of the festival site, and it's a cool place to visit in summer or winter.
Only around 50,000 people live in Roskilde but the city's history goes all the way back to the time of the Vikings.
Intriguing attractions abound and there's a museum dedicated to real-life Viking ships (and let's be honest: that alone should be reason enough to make the 30km trip from Copenhagen).
We think history fans will also enjoy a trip to the Roskilde Museum and cathedral: entrance to both is free with the Copenhagen Card. 
The dining scene in Roskilde can't quite match up to Copenhagen but it's still worth exploring, if you stay overnight.
We like this comfortable B&B with a pretty garden, close the town centre
Getting there
Roskilde is easy to get to from Copenhagen. Trains leave København H roughly every 10–15 minutes, taking around 20 minutes to reach Roskilde.
Or you can take the easy route, and visit Roskilde on this guided day trip from Copenhagen that takes in Frederiksborg and Kronborg too.
Hillerød
40km from Copenhagen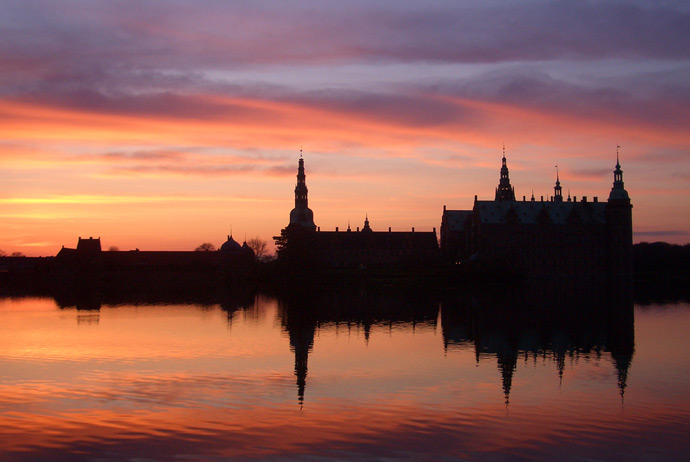 If you fancy a nice relaxed train journey from Copenhagen, try Hillerød. It takes about 50 minutes to reach and is surrounded by serene countryside.
There's also the impressive Frederiksborg Slott right in the middle of town, that claims to be Scandinavia's largest palace.
It's set amid gardens and houses a museum that delves into the last 500 years of Danish history through portraits, furniture and lavishly decorated rooms.
When you're done exploring the museum and palace grounds, take a walk through the town's quiet streets, which are home to a few nice restaurants and cafés.
There's not a huge amount to see, but it's a traditionally Danish kind of place where foreign tourists are few and far between (compared with Copenhagen, anyway).
If you want to stay the night, we recommend the Danhostel Hillerød, surrounded by woods but just 3km from the town centre and station.
Getting there
Hillerød is about 40km from Copenhagen by road. Going by public transport? Direct trains leave København H roughly every 10 minutes, with a total journey time of around 50 minutes.
Legoland, Billund
270km from Copenhagen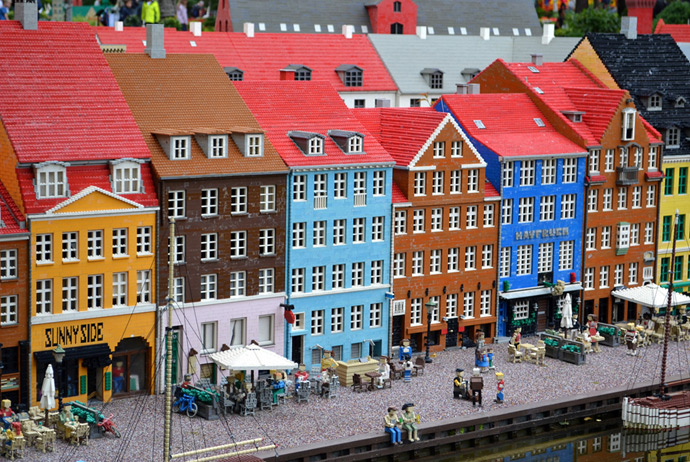 If you're happy to have a very early start then it's possible to visit Legoland on a day trip from Copenhagen.
The best option is to drive – you should be able to cover the 270km journey in about three hours. Is it worth the effort?
Well if you love Lego and big, whizzy rides, then the answer is definitely yes. Plus, you'll get to drive past a place called MIDDELFART, which is always fun.
We like these one-day and two-day tickets, which include skip-the-ticket-line entrance to the park plus all the rides.
If you want to stay at the park, rather than drive back from Copenhagen and back on the same day, consider staying over.
Some of the rooms at Hotel Legoland are colourfully themed (pirate room, anyone?) and some have views over the theme park. Rates are high, though, even by Danish standards.
The park is open from mid-March until October each year.
Getting there
After driving, the next-best option is public transport. The quickest combined train and bus journey from Copenhagen to Legoland takes just over three hours.
Take a train from København H to Vejle station, the bus #43 from there to the park. You can use the Rejseplanen site to get up-to-date departure times.
Lund
60km from Copenhagen
Yes, we know it's in Sweden, but there's nothing wrong with a day-trip to a different country – and the ancient university town of Lund is definitely worth a visit.
An impressive twelfth-century Romanesque cathedral dominates the town, and we certainly recommend that you should look inside.
But we also love just wandering the medieval cobbled streets lined with pastel-coloured houses and the open squares, which buzz with cafés and restaurants where students hang out.
Lund is also home to a few good museums, the best of which is the Kulturen open-air museum, with beautiful gardens that gives an insight into life in the city from medieval times onwards.
Click here for more on Lund's museums and check out our guide to Free things to do in Lund.
If you fancy staying the night here, we like the Magles Smiley Inn in an attractive 19th-century building just five minutes walk from the cathedral.
Getting there
Öresundstag direct trains leave København H and arrive in Lund just 55 minutes later.
Or, why not sign up for this fun round trip bus tour that takes in  Kronborg castle in Helsingør, a ferry across to Helsingborg in Sweden, a tour of Lund, time for shopping in Malmö then back across the famous Øresund bridge to Copenhagen.
| Location | Distance from Copenhagen (km) |
| --- | --- |
| Dragør | 12 |
| Bakken | 12 |
| Malmö, Sweden | 30 |
| Helsingør | 45 |
| Louisiana | 35 |
| Roskilde | 30 |
| Hillerød | 40 |
| Legoland, Billund | 270 |
| Lund | 60 |
See also:
70 cheap and free things to do in Copenhagen
The best guided tours in Copenhagen
10 of the best bike tours in Copenhagen