Copenhagen may not be the first place that comes to mind when thinking of art destinations, but truth be told, it has a rich and diverse art scene that is worth exploring.
The city is home to several museums, galleries and exhibitions that showcase local and emerging artists.
Copenhagen also has a rich cultural history that is reflected in its architecture, street art and monuments, making it a perfect destination for art enthusiasts looking to explore a diverse range of art and culture.
Major art museums and galleries in Copenhagen
National Museum of Denmark
A visit to the National Museum offers an insight into the country's cultural heritage and provides an in-depth look into the history of Denmark.
The museum also has an extensive collection of artefacts, artworks and objects that span a wide range of historical periods from prehistory, through the middle ages to the present day.
Admission to the National Museum is included on the Copenhagen Card.
Louisiana Museum of Modern Art
The world-renowned Louisiana Museum of Modern Art is located in Humlebæk, just 32km (19 miles) north of Copenhagen. Although it's a bit of a journey to get there, it's definitely worth the trip.
MoMA's permanent collection includes works by Picasso, Warhol, Hockney and Lichtenstein as well as many Danish artists.
In addition to its art collection, there is also an outdoor sculpture park in the waterfront gardens, featuring works by the likes of Henry Moore.
The Louisiana Museum of Modern Art is definitely a must-visit and is included as part of the Copenhagen Card.
The National Gallery of Denmark
Denmark's largest museum, the National Gallery, or SMK, is the country's main museum for visual art.
It houses around 260,000 paintings and sculptures dating from 1300 to the present day. A very impressive collection!
The SMK can also be visited as part of the Copenhagen Card.
Thorvaldsens Museum
The Thorvaldsens Museum is an excellent destination for art lovers, particularly those interested in neoclassical sculpture.
This museum is dedicated to the life and works of the Danish sculptor Bertel Thorvaldsen and has a large collection of some of his most famous works.
The Thorvaldsens Museum can be visited as part of the Copenhagen Card.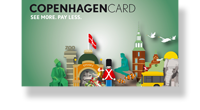 Is the Copenhagen Card worth buying?
Read this guide to see how much you could save during your trip!
Glyptoteket
The Glyptoteket is an art museum known for its collection of sculptures, which is one of three main sections of the museum.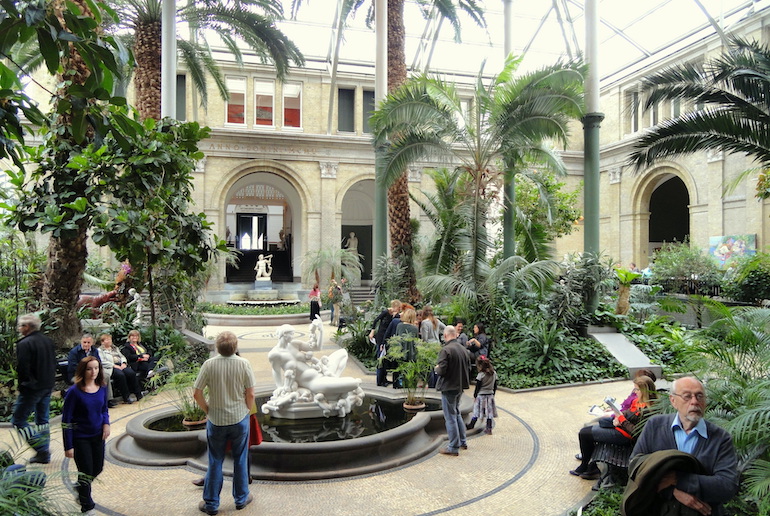 The museum is home to more than 10,000 works of art and features many famous sculptors such as Auguste Rodin and Jean-Baptiste Carpeaux.
Its paintings include masterpieces by Paul Cézanne, Vincent van Gogh, Claude Monet and Théodore Rousseau.
Entrance to the Glyptoteket is included as part of the Copenhagen Card.
The Hirschsprung Collection
The Hirschsprung Collection is a public art institution located in the Østre Anlæg park in Copenhagen.
It's home to a large collection of Danish art from the 19th and early 20th centuries and is particularly known for its collection of works by the Danish Golden Age painters.
Like the other museums mentioned above, the Hirschsprung Collection can be visited as part of the Copenhagen Card.
The David Collection
One of Denmark's premier art museums, The David Collection (Davids Samling) is located in the centre of Copenhagen. It features a wide range of art from the Islamic world as well as Danish and European art from the 18th and 19th centuries.
Founded by the Danish lawyer and businessman C. L. David, the collection is housed in his old private home, which is now open to the public.
Danish Architecture Center
The Danish Architecture Center, or DAC, is located in the heart of Copenhagen, in the impressive waterfront BLOX building.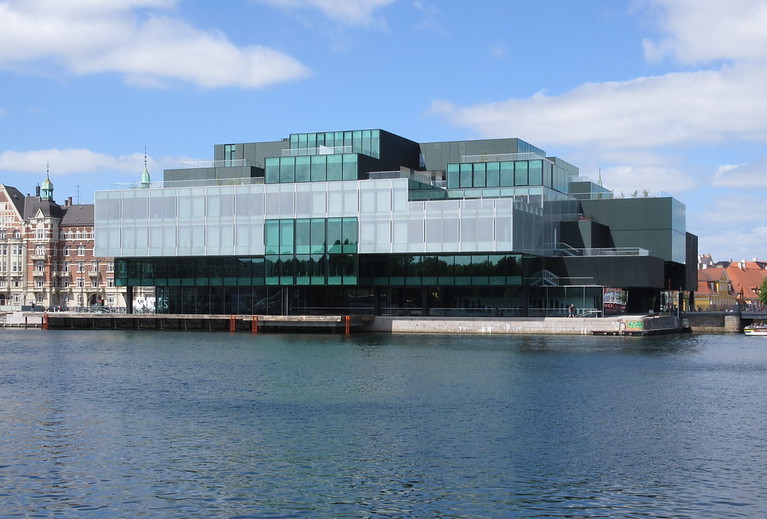 Even if you're not knowledgeable about design and architecture, the DAC is still worth a visit because of its interactive and curiosity-inducing exhibits.
Designed by Rem Koolhaas and considered a masterpiece, the building alone is worth a visit, thanks to its clean lines and waterfront location.
The Danish Architecture Center can be visited as part of the Copenhagen Card.
Nikolaj Kunsthal
The Nikolaj Kunsthal is a contemporary art centre housed in the former St Nicholas Church, one of Copenhagen's oldest churches.
It hosts exhibitions featuring Danish and international contemporary art, as well as events such as concerts, performances and dinners.
Grab the Copenhagen Card if you want to visit the Nikolaj Kunsthal for free!
Smaller studios and galleries in Copenhagen
Martin Asbæk Gallery
The Martin Asbæk Gallery is an international contemporary art gallery that houses works by established and emerging artists. The gallery showcases a variety of media but focuses on photo-based art.
It is a relatively small gallery but houses some extraordinary pieces by both Danish and international artists.
Bricks Gallery
Bricks is a contemporary art gallery that mixes all kinds of media in an open-minded atmosphere. It features many exhibitions throughout the year, presenting Danish and international artists.
Von Bartha Gallery
Incorporating a real lighthouse tower, the Von Bartha Gallery was established in the 1970s and remains one of the longest-running international contemporary art galleries.
Inside the gallery are works by a number of different artists, exhibitions and installations in some distinctive architectural spaces.
Galleri Nicolai Wallner
Exhibiting challenging and innovative contemporary art, the Galleri Nicolai Wallner has a fantastic reputation in Copenhagen, and many locals and tourists claim it is one of the best art galleries in the city.
It displays works from the careers of many established Scandinavian artists, plus a few international artists as well.
Galleri Nils Stærk
Founded in 1997, the Galleri Nils Stærk is another well-respected contemporary art gallery in Copenhagen.
The gallery represents contemporary artists from all across the world working in a variety of different media, approaches and genres.
Etage Projects
Etage is an art and design gallery that displays and sells interesting and unusual artworks and ceramics from a variety of genres. It houses unique exhibitions by artists who blur the lines between art and design, and abstraction and function.
This is an excellent visit for people with an open mind to new artistic concepts!
Sculpture parks in Copenhagen
Louisiana MoMA
The sculpture park at the Louisiana Museum of Modern Art is one of the highlights of this museum, and the sculptures are worth the visit even without going inside the museum.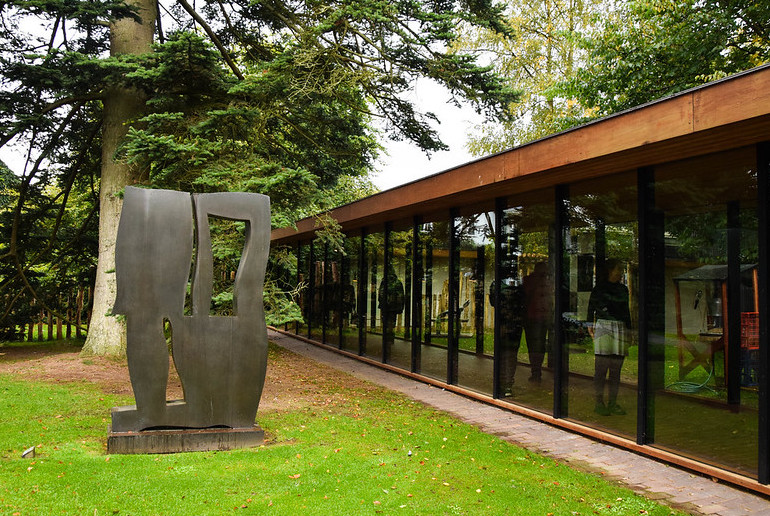 There are 45 sculptures for you to walk around and admire, and each one is remarkable in its own way.
Thomas Dambo sculptures
Dotted around Copenhagen are six giant sculptures created by Danish sculptor Thomas Dambo. These troll-like sculptures are made entirely out of recycled materials, and each one is located in a hidden spot around Copenhagen.
This would be a fun scavenger hunt and a great way to see parts of Copenhagen that are off the beaten path.
The Little Mermaid
And, of course, Copenhagen's best-known sculpture is The Little Mermaid, inspired by Hans Christian Andersen's famous fairy tale.
Sitting by the waterfront a short walk from the city centre, this statue is one of Copenhagen's most iconic landmarks.
Free art and graffiti
Freetown Christiania
Sometimes referred to as Copenhagen's 'hippie paradise', Christiania is a quirky, colourful and vibrant neighbourhood in Copenhagen with a lot of graffiti and street art to see.
We definitely recommend a visit here, so check out a more detailed guide about Christiania here.
Art tours in Copenhagen
If you want to know more about Copenhagen's art, culture and history, why not take a tour with a knowledgeable local guide? We've picked out some interesting tours that will expand your mind.
Art and Culture tour
This art and culture tour is a perfect way to find out more about Copenhagen's art scene.
On this ninety-minute walking tour, you'll stroll around Copenhagen learning all about the city's galleries, museums and artists and discover some of Copenhagen's artistic highlights.
Quest around Freetown Christiania
On this tour around Christiania, you will not only get to explore the alternative artistic neighbourhood and art installations, but you will also play a game where you get to face challenges, solve clues and unlock stories.
Frederiksborg Castle Tour
This private tour to Frederiksborg Castle is perfect for those who want to find out more about the lives of the Danish royal family and their history.
This castle is home to a large collection of art, including portraits of the Danish royals, historical paintings and applied art.
Although the castle isn't located in Copenhagen, it is an easy journey by train. You'll meet your guide at Copenhagen station and travel with them to the castle – the fare and castle admission fee is included in the tour.
See also:
Visiting the Little Mermaid in Copenhagen
Free museums in Copenhagen
Viking attractions in and around Copenhagen