Stockholm's subway system is usually quick and reliable, but it isn't always the best option for getting around the city on the cheap. For one thing, the cost of tickets can add up quickly, which means less money for your next fika. And as our handy new walking map shows, the distances between subway stops can be surprisingly small.
Let's say you want to get from the Central Station to Gamla Stan. You could hop on the tunnelbana (subway) and use the green or red line to make the journey. But instead of paying for a ticket, navigating the escalators and waiting for a train, you could just walk – as our map shows, it's only 14 minutes away on foot.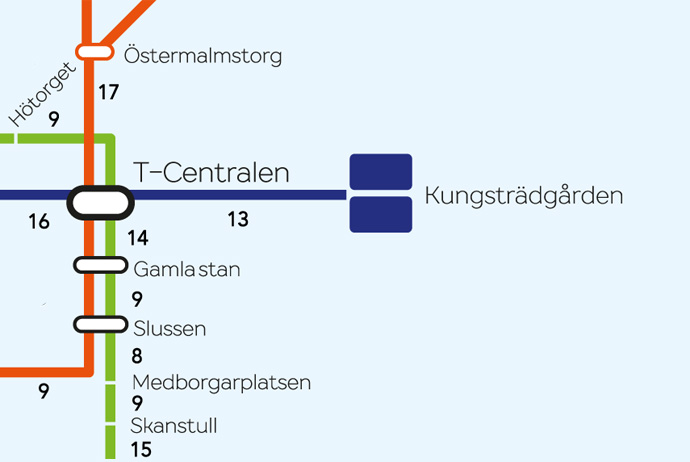 Need a bigger version? Check out the full-size Stockholm walking map here. With talk of Stockholm's public transport prices rising in the near future, it'll help you save cash, stay healthy and get some nice views of the city along the way!
★ SUGGESTED DISCOUNT
Save with the Stockholm Pass
Get up to 50% off at Stockholm's top attractions, including the Vasa Museum, SkyView Stockholm and The Viking Museum, plus discounts on some of the city's best boat trips.
Quick stats from our Stockholm walking map
– Longest walk between stations: Kista–Hallonbergen (60 mins)
– Shortest walk between stations: Rådmansgatan–Hötorget (7 mins)
– Total number of stations: 100
– Money saved by walking a single inner-city journey: 36 SEK
– Calories burned per minute of walking: around 5
Other cool guides to Stockholm
– 100 free things to do in Stockholm
– Stockholm neighbourhood guide
– Stockholm Pass: is it worth buying?
– Getting around Stockholm