Copenhagen isn't just famous for being the happiest city in the world; it's bursting with history and culture. In fact, there's so much good stuff to see and do that it can be hard to know where to begin.
Guided tours are great for giving you a quick introduction to the city, whether you want to learn a bit of Denmark's history or even get local tips on where to eat and drink. This is especially true if it's your first visit in the city – or if you're short on time and just want to start exploring.
On a guided tour of Copenhagen you won't have to worry about getting lost or relying on your phone to guide you. All you have to do is relax, socialise, and let an expert show you the Danish capital's best bits. Most tours are either private or public – we've included both types here, from historic palace tours to rowdy pub crawls through the city centre.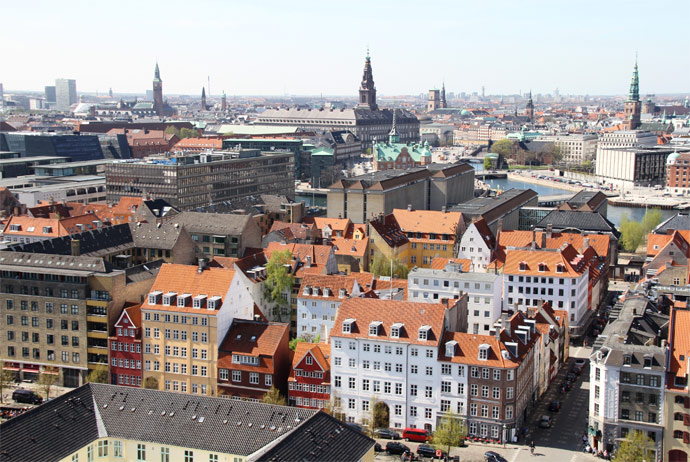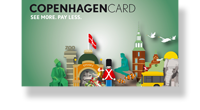 Is the Copenhagen Card worth buying?
Read this guide to see how much you could save during your trip!
Group tours
Group tours are a great, sociable way to meet new people while getting to know Copenhagen. You'll be part of a larger group led by a local guide. The downside to group trips is that they can be a little slower, but by the end of the tour you'll probably have made some new friends to share your experience of the city with.
Our favourite group tours in Copenhagen include this two-and-a-half-hour walking tour, which will help you find your feet – it takes in the City Hall, Christiansborg Palace and colourful Nyhavn. You'll check out Copenhagen's main shopping street during the first half of the tour, before seeing some of the city's biggest attractions.
Another great option, especially if you're travelling alone, is this group bike tour. Lasting three hours, it takes you to see some of the city's best bits. The guides speak English and can give you lots of background info on the landmarks you cycle past.
Another great idea for anyone who loves good Danish beer and wants to party in the capital is this fun and affordable guided pub crawl through the city. With a free drink at the four bars you visit (including the Culture Box nightclub on Fridays and Saturdays), you'll get an exciting taste of Copenhagen's nightlife and could end up meeting some fun people.
For those ready to leave the walking behind and have a bit of an adventure, this grand, full-day tour of Copenhagen offers a group mini-bus tour that will take you further out of the city, north to Helsingør and also down south to the former Danish capital, Roskilde. You'll be able to see Kronborg Castle, Frederiksberg Palace, Roskilde Cathedral and the Viking Ship Museum, a feat that really takes some dedication if you do it under your own steam. All entrance fees are included with this tour.
Private tours
These tours let you get to grips with Copenhagen at your own pace. You and your friends get a private tour with a knowledgeable guide who knows the city inside-out and can answer any questions you might have along the way.
Many of the guided tours in Copenhagen are walking or biking tours – the city is beautiful and bursting with details that are best seen at a more sedate pace. Of course, Copenhagen also has a totally accessible public transport system, but if you're walking or cycling you can really slow down and learn more about how things work. As Copenhagen is almost completely flat, you won't be tackling any big hills!
There a few different types of walking tours on offer. History lovers might want to consider this private tour of Copenhagen and Christiansborg Palace. It'll take you and your group through the elegant palace that houses the Danish parliament, and then on for a stroll to the city's top attractions, including the colourful waterfront area of Nyhavn.
For something a bit more offbeat, check out this two-hour walking tour of the Christianshavn area, including the famous (or should that be infamous?) Freetown Christiania. The tour gives you time to soak up the laid-back atmosphere, admire the area's kaleidoscopic street art and even swing by Copenhagen's most famous restaurant.
A longer and more comprehensive walking tour is this amazing half-day tour of Copenhagen, led by a local guide. Taking a beautiful route through the city, you'll be able to get a truly local perspective on Danish history and culture while seeing everything from Nyhavn to the iconic Little Mermaid statue – it's a perfect introduction to the city.
You can't visit Copenhagen without at least having a go on a bike (there's info on what to expect here). If you want to join an organised excursion, try this three-hour private cycling tour that hooks you up with a super-modern bike and a knowledgeable local guide before hitting a mixture of Copenhagen attractions, from tourist sites to quiet backstreets.
Free tours of Copenhagen
On a budget? We've included a few free city tours in our guide free things to do in Copenhagen. There are a few walking tours that operate daily. These are a great choice, especially if you're counting the pennies – just be aware that you might be expected to tip your guide at the end of the tour.
See also:
Guided tours in Stockholm
Guided tours in Oslo
Like what you've been reading? Get our best tips by email!