Stockholm is lovely and all, but after a few days in the city you might feel the urge to explore the great outdoors.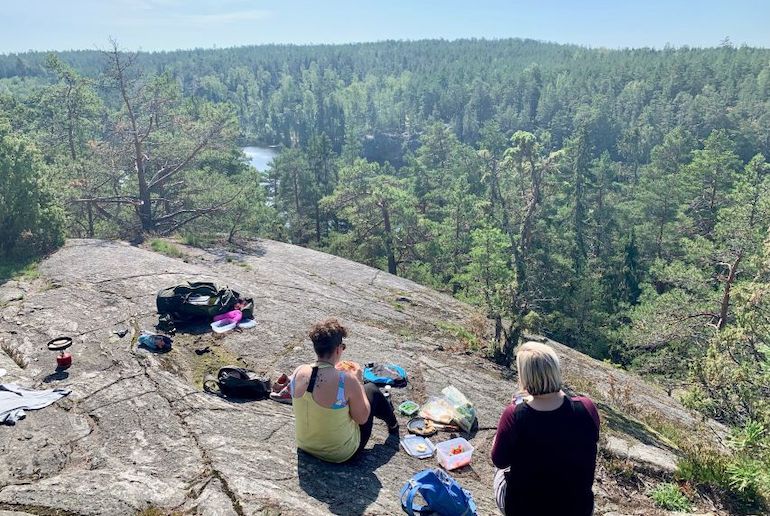 Fortunately, there are tons of awesome hikes that you can take from Stockholm, giving you the chance to spend a few hours strolling along the coast, turn it into a day trip, or better yet, go on a multi-day hiking extravaganza.
You can reach all these hiking trails and nature reserves by bus, tunnelbana (subway) or commuter train. The cheapest option is usually to take public transport, but a car will be the quickest – as long as it's not rush hour.
When is the best time to go hiking near Stockholm?
Summer is the obvious time to go hiking near Stockholm, with warm temperatures, long light evenings and less chance of rain.
Since Stockholm is in the south of the country, temperatures can hit up to 25ºC from June to August, though average highs are nearer 22–23ºC, and nights can get cold.
However, perhaps surprisingly, June, July and August are also the wettest months in the Stockholm region, with around an average of 7cm of rain in July and August.
Whilst temperatures are lower in April and May, so too is rainfall, so Spring is also worth considering for a hiking trip.
September and October can be some of the most beautiful months to go hiking, with the autumn foliage turning a gorgeous golden orange colour.
Temperatures, of course, are lower than in the summer but rainfall is too, and you have the advantage of fewer other hikers on the trails.
For more on when to visit, see our guide to the weather in Sweden. 
Tyresta National Park
Close to the capital, Tyresta National Park has beautiful lakes and 1,964 hectares of primeval pine forests – it's exactly what an untamed wilderness should feel like.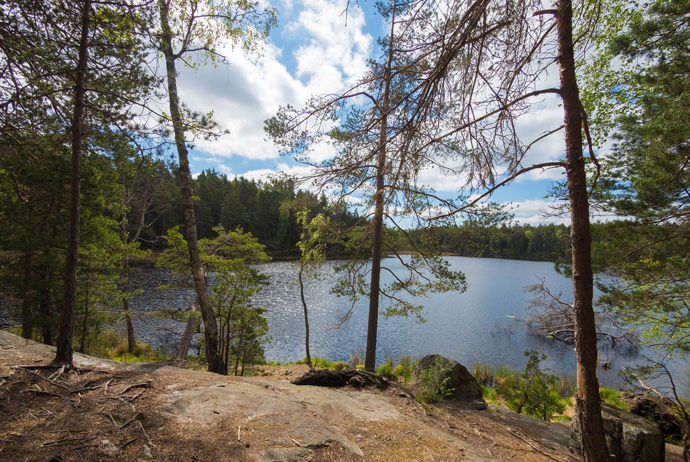 Designated as a national park in 1993, Tyresta is just 20km south of Stockholm's city centre. It's one of the largest old-growth forests in southern Sweden, and some of the pine trees here date back around 400 years.
The park has 55km of hiking trails, so you can easily spend a full day hiking, or simply come for a picnic and a short stroll.
You can pick up a map at the park visitor centre and get information about the trails.
Difficulty rating: Easy to Moderate. Tyresta has a range of trails raging  from the moderate 22km Stensjön Loop to the easy 2.5km Urskogsstigen Trail.
What wildlife can you see?
There are up to 8,000 species of animals here, who depend on the area's unusual conditions to survive.
If you're lucky, you may spot woodpeckers, beavers, elks, capercaillie, mountain hares and even wolverines.
Where to eat and stay
Bring a picnic or food to barbecue on the fire pits by the lake. Or drop into the park café for lunch, coffee and pastries.
You can camp overnight stay at one of the park's dedicated campsites, though there's no advance booking and pitches are limited: see the park website for details.
Alternatively, you can stay nearby on the shores of Lake Långsjön at this lovely cabin Sjöställe Gudö with its own private beach. 
Getting there
Take bus #834 from Haninge train station, or bus #807 or #809 from Gullmarsplan to Svartbäcken. From Svartbäcken, you can walk the final 2km east to Tyresta.
On some services, buses #807 and #834 continue all the way to the park.
If you're driving, take the road 73 between Stockholm and Nynäshamn, then exit towards Brandbergen and follow signs for the 'Nationalpark'.
Brunnsviken
Brunnsviken is a large, picturesque lake a quick hop north of Stockholm's city centre.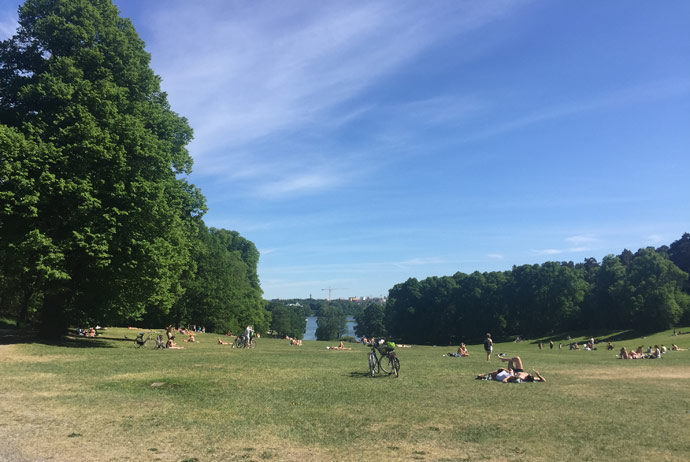 It's a popular choice for picnicking families, but it also provides a great opportunity to go for a relaxing wander (rather than a full-on hike) and see some unusual sights at the same time.
In the 1780s, landscapers laid out three large English-style parks around Brunnsviken: Bellevue, Haga and Tivoli.
The area also includes beautiful, historic attractions like the Bergius Botanical Garden and the Swedish Museum of Natural History.
Look out, too, for the butterfly house, a museum dedicated to the sculptor Carl Eldh and some ornate Turkish-style 'copper tents', one of which houses a simple café.
The grounds makes an ideal escape from the bustle of the city, and hikers can walk a 12km-long trail that makes a scenic loop around the whole area. And it's totally free to visit.
Difficulty rating: Trails range from Easy to Moderate.
What wildlife can you see?
You're most likely to see birds on the lake, though if you're lucky you may spot a roe deer or a jackrabbit. For more on wildlife around Stockholm, see our guide.
Where to eat and stay
There are plenty of places to stop and recharge along the way, especially during the summer.
Café Sjöstugan on the northern shore of the lake, in Solna, serves organic and Fair Trade cakes, pastries and lunch, all home-made.
Brunnsviken is so close to the centre Stockholm, you can get there pretty easily from just about anywhere in the city.
But if you do want to stay close by, the upmarket Winery Hotel in Solna has its own on-site winery plus a roof-top swimming pool with views over the lake.
Getting there
There are a few different ways to reach the parks that surround Brunnsviken. From T-Centralen, take a commuter train heading north and get off at Solna, then catch bus #515 to Haga Norra.
Alternatively, you can take the subway line #17 or #18 to Odenplan, then change to bus #515. 
Since Brunnsviken is so close to the middle of Stockholm, driving there can be a real hassle (expect tolls and traffic). If you're determined to drive, just keep on the E4 and take exit 167 for Haga Park.
Or better still, rent a bike and cycle there.
Nacka Nature Reserve and Hellasgården
Another great place to go hiking without journeying too far from Stockholm's city limits is Nacka Nature Reserve, known by locals as Nackareservatet.
Not to be confused with Nacka Municipality (a suburb east of Stockholm), this nature reserve is a lovely little slice of wilderness with great birdwatching and lakes that are ideal for swimming in the summer.
After a full day of hiking among the trees and meadows, you can kick back in the sauna at the nearby Hellasgården recreation area, which also offers good swimming and winter ice skating.
Difficulty rating: Hiking trails range from Easy to Moderate.
What wildlife can you see?
There's plenty of birdlife in Nacka, including great loons, terns and woodpeckers, while beavers also live in the reserve.
Where to eat and stay
Hellasgården has the Storstugan restaurant, which serves home-made seasonal and regional dishes, and the more casual Sjöcaféet.
If you want to stay, this lovely forest cabin is close to the nature reserve, right on the edge of a lake. 
Getting there
From Slussen in central Stockholm, catch bus #401 straight to Hellasgården. Alternatively, you can take subway line #17 to Kärrtorp, then walk 2km east to the reserve.
If you've rented a car, take road 73 south out of the city, and turn east onto the southern link road 75. Then turn off onto the 260 and follow it to the car park at Hellasgården.
A trail runs southwest towards the reserve from there.
Sörmlandsleden
Covering some 1,000km of trails in the area southwest of Stockholm, Sörmlandsleden is one of the longest hiking paths in Sweden.
The path is divided into around 100 different sections that introduce hikers to plenty of wilderness areas and historic monuments. The route also crosses familiar hiking areas like Nacka and Tyresta (see above).
Other than the beautiful Marviken lakes, there are some interesting sights to check out including the well-preserved mining area at Skottvång, the Östra Södermanlands railroad, Ådal's mill, and remnants from the area's once-active coal industry.
The 100-odd hikes are of varying lengths (from 1.5 km to 17 km) and each has its own level of intensity. Whether you're looking for a simple one-hour walk or a circular loop that takes a full day or more, the trails are suitable for most types of hiker.
Difficulty rating: Different sections of the trail range from Easy to Challenging.
What wildlife can you see?
The trail passes through a variety of different landscapes including forest, open ground, lakes and coastline, so is home to a range of wildlife.
Birds that you might encounter include black grouse, capercaillie, cranes, loons and even osprey, while moose or deer can also be seen along the trail.
Where to stay
If you're walking the trail over a few days, you can either camp overnight or stay at one of the hostels along the way.
Strandstuvikens Camping, near Nyköping, has cabins to rent plus tent pitches, close to the trail.
Getting there
The trail begins in Stockholm and passes through several cities and towns to the southwest, including Eskilstuna, Katrineholm and Norrköping.
You can start from multiple points, but the shortest route from Stockholm begins in Björkhagen.
To get there from T-Centralen in downtown Stockholm, catch the subway line #17 south to Björkhagen station.
Once there, the trail takes you on a 8.5km walk through rich vegetation and birch forests, past Hellasgården, and on to scenic Skogshyddan.
Occasional buses run back to Gullmarsplan in Stockholm from Bäckalidsvägen, a 15-minute walk west. 
If you're driving from the city centre, take Söderledstunneln to Hammarbyhöjden and then head for Björkhagen.
Norra Järvafältet
The pretty area known as Norra Järvafältet incorporates four nature reserves which are all ripe for trekking: Östra Järvafältet, Västra Järvafältet, Hansta and Molnsättra.
This area has been inhabited since the Bronze Age, and history lovers can check out the many hill forts and burial sites dotted across the reserves.
With 1,938 hectares to explore across these four areas, visitors can enjoy lots of hiking and trail riding.
Difficulty rating: Sections of the trail range from Easy to Challenging.
What wildlife can you see?
The area is home to the Getholmen bird sanctuary, which is on the tiny island of Getholmen in the middle of Översjön lake(closed to tourists from mid-April to June).
Here, you can look out for the rare three-toed woodpeckers and hazelhens.
Where to stay
The Golden Hostel is close to Norra Järvafältet, with clean rooms and friendly staff.
Getting there
Järvafältet is accessible via entrances at Säby Gard in Järfälla, Bögs Gård in Sollentuna and Hagerstalund, north of Akalla.
The shortest route there from Stockholm is via Akalla, which you can reach using line #11, followed by a 1km-long walk north to Hansta.
If you're driving follow the E4, merging onto road 275 and up towards Hansta.
Joining a guided hike
Hiking is generally very safe in Sweden, as long as you take sensible precautions, but if you'd rather not head out into the wilds alone, you might want to consider a guided tour.
There are several good options available, like this fun one-day trip which which takes you out by mini-bus to walk a section of the Sörmansleden, with a knowledgeable guide.
We also like this Nacka Nature Reserve hike though forests and over granite cliffs in the Nacka Nature Reserve, with an experienced guide who'll cook lunch for you on a campfire.
Even if it's winter, you can still get out of the city and go for a full-day trek on this winter snowshoe hike through snow-filled forests and past frozen lakes. And there's a warming lunch round the campfire included too.
And if you're looking for a longer hike, we suggest this three-day, two-night camping and walking trip along the UNESCO Heritage Höga Kusten (High Coast). You'll camp out, eat meals cooked on a campfire by an experienced guide – and can even have a dip in the Baltic, if you want!
Roslagsleden
Roslagsleden is 190km-long system of hiking trails on Sweden's Baltic coast, a short journey northeast of Stockholm.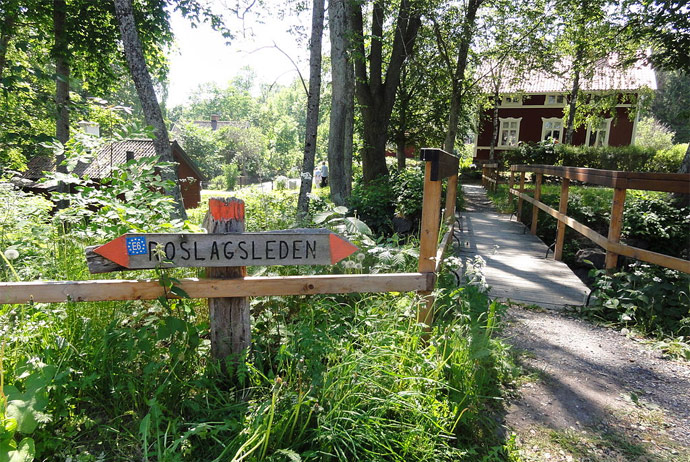 Running through six municipalities from Danderyd Church to Grisslehamn, the trails pass Viking runestones and provide terrific views over the Baltic Sea.
Although the trails cover a long distance, they are well-marked with signs and arrows, which makes it a great long-distance trail for beginners.
This useful website breaks down the trail into easy day hikes, with maps, route descriptions and information on how to get to the start of each section.
Difficulty rating: Sections of the trail range from Easy to Challenging.
What wildlife can you see?
Angarnssjöängen on stage 2 of the trail is known for its bird-watching with 25 species of birds nesting there, including whooper swans, geese and cranes, black-billed grebes, coots, and a variety of ducks, gulls and wading birds.
Where to stay
There are campsites and hostels en route if you want to do more than one section at a time – allow around ten days to do the whole trail in one go.
Here are some suggestions of places to stay along the trail, from upmarket hotels to cosy lakeside cabins.
Getting there
The quickest way from T-Centralen in downtown Stockholm is to take subway line #14 to Mörby centrum, then walk about 15 minutes to Danderyd Church.
Alternatively, you can take the subway to Danderyd Sjukhus (Danderyd Hospital), then take bus #604, #607, #611, or #613 to Rinkeby.
If you're driving, take Roslagsvägen and the E18 north towards Danderydsvägen before heading for the church.
Björnö nature reserve
The Björnö nature reserve sits on a peninsula at the bottom of Ingarö by the sea, some 35km southeast  of Stockholm.
This wooded reserve is a great place for hiking, with trails leading through the woods to pretty beaches, viewpoints and jetties.
The walking is gentle – it's just 7km around the whole reserve – so perfect for casual hikers or children, with no steep climbs, just pine forests, coastal inlets, open sea and verdant islands.
A lookout tower gives great vistas over Ingaröfjärden and Nämdöfjärden, and barbecue areas are dotted around the reserve, so bring a picnic.
You can even rent kayaks here in the summer and paddle around the reserve if you tire of walking.
Difficulty rating: Easy.
What wildlife can you see?
As well as a variety of birdlife, the Björnö nature reserve is home to moose and roe deer.
Where to stay
There are plenty of cabins to rent at Ingarö, near the reserve.
Getting there
Despite having the vibe of a Stockholm archipelago island, you don't need to get a ferry here. Buses #428 and 429 run every couple of hours or so from Slussen to Björkvik.
Get off at the Björnö nature reserve bus stop, and it's about a 1km walk to the reserve.
Alternatively, you can drive here from central Stockholm in under an hour: route 222 runs all the way here.
See also:
The best hiking trails in Sweden
6 of the best long-distance hikes in Norway
Kungsleden: Walking the King's Trail in Sweden