Stockholm has a whole bunch of fun things to see and do. But with so many islands and neighbourhoods to choose from, it can be difficult to know where to base yourself. Our super-simple area guide will help you find the best neighbourhood to stay in, whether you're planning to party all night or sightsee until sunset. Use the links below to hop straight to a specific area, or pick a place on the map.
Stockholm neighbourhood guide
♦ Norrmalm
♦ Gamla Stan
♦ Södermalm
♦ Östermalm
♦ Vasastan
♦ Kungsholmen
♦ Djurgården
♦ Långholmen
♦ Söder om Söder
♦ The Stockholm Archipelago
Norrmalm
Best for: shopping and eating
The modern centre of Stockholm, Norrmalm, is the first port of call for nearly everyone who visits the city. The main train station is here, and so is the long-distance bus terminal. Norrmalm is a busy commercial district with lots of offices and a fair bit of motorised traffic – needless to say, it's not the prettiest part of town, but it's perfect for eating, drinking, and shopping (Stockholm's biggest department stores are here, along with famous Swedish brands like H&M). Most of the hotels in Norrmalm are big, flashy joints aimed at business travellers, but there are also a couple of hostels, including our favourite, City Backpackers.
Highlights
• Shop til you drop at Gallerian, Stockholm's most central mall
• See ancient artefacts from across the Mediterranean at Medelhavsmuseet
• Marvel at the cherry trees in Kungsträdgården
• Explore Hallwylska Museet, a lavish inner-city palace
• Join locals for a slap-up lunch at Hötorgshallen, one of Stockholm's best food courts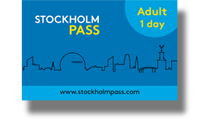 Is the Stockholm Pass worth buying?
Read this guide to see how much you could save during your trip!
Gamla Stan
Best for: history and sightseeing
Gamla Stan is Stockholm's old town – and a jolly nice place to base yourself while visiting the city. The location is perfectly central, and nowhere else can compete on the cobbled-lanes-and-cute-buildings front. Some of Stockholm's best bars and restaurants are tucked away on the winding streets of Gamla Stan, and given that this is the oldest part of the city, there's no shortage of historic sights, either. There are downsides to staying in the old town, though: the hotels and hostels are usually on the expensive side compared with other parts of the city, and rooms in the old buildings tend to be quite small.
Highlights
• See the world's largest coins for free at Myntkabinettet, Stockholm's money museum
• Scoff your way through Gamla Stan's best cafés
• Take a free tour of the Swedish Parliament building
• Get lost in the vast Royal Palace and see the changing of the guard
• Check out a band at Stampen, the old town's lively jazz and blues bar
Södermalm
Best for: drinking… and hipsters
At one time it was rough and ready, but Södermalm is now the domain of arty types, fashionistas and wealthy young parents, who seem to spend their days sipping lattes and browsing the neighbourhood's upscale vintage and design shops. Some of Stockholm's best bars are found out here, particularly in the area south of Folkungagatan (SoFo), which comes to life after dark. Södermalm is also home to a fantastic photography museum, an excellent hostel, and more delicious, healthy food than you can shake an organic salad at.
Highlights
• Improve your holiday snaps with a masterclass at Fotografiska
• Learn about the Swedish capital's early days at Stockholm City Museum
• Sample the weird and wonderful flavours on offer at the ice cream shop called StikkiNikki
• Stay in the hotel owned by Abba member Benny Andersson
• Tuck into freshly fried Baltic herring at this insanely popular food cart
Östermalm
Best for: totally blowing the budget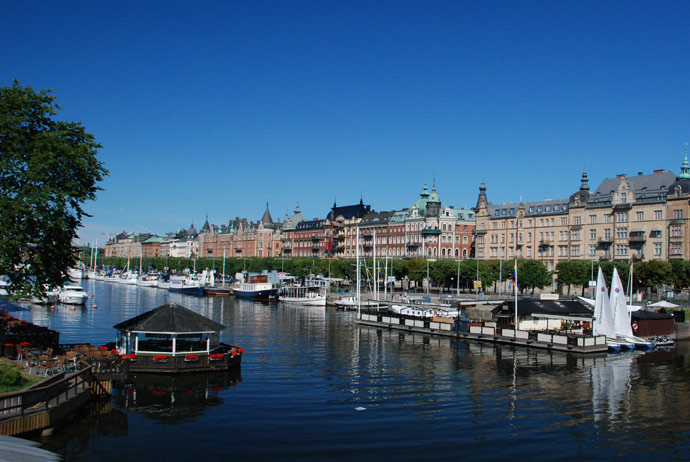 Gucci, Versace, Prada: the glittering shopfronts say it all. Östermalm is Stockholm's fanciest district, and the whole place is positively dripping with money; good old fashioned Swedish restraint is hard to spot around here. As you might expect, staying in Östermalm usually results in a much lighter wallet, but those who can afford the hotels find themselves in close proximity to some of Stockholm's finest hangouts, including theatres, galleries, Michelin-starred restaurants and swanky nightspots.
Highlights
• Take a stroll along the waterfront, stopping for a drink on the terrace at Hotel Diplomat
• Stock up on Swedish goodies like salt liquorice and elk meat at Östermalms Saluhall
• See real Viking treasure at Historiska, Sweden's main history museum
• Have a picnic at Humlegården, a green oasis in a busy part of the city
• Fika with the locals at Sturekatten, a cafe that's done up like your granny's front room
Vasastan
Best for: that 'local' feel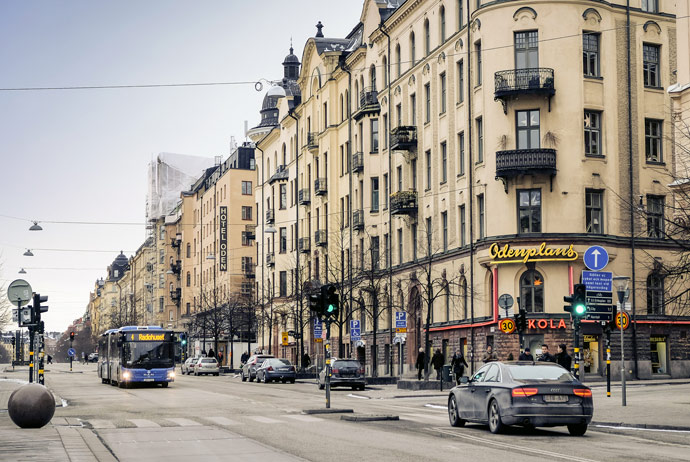 Looking at a map of Stockholm, Vasastan can seem a bit out of the way. But actually, if you don't mind taking the subway now and again, it's not a bad place to stay. It's busy and modern, just like Norrmalm, but it somehow feels more 'local' – and prices for hotels are often a little lower. There are a few leafy parks in this part of town. You'll also find some nice restaurants and cafes, but apart from a magnificent library and an observatory, tourist sights are pretty thin on the ground.
Highlights
• Join the queue for Stockholm's best burgers
• Marvel at the spectacular city library
• Soak up the sun (if there is any!) in the park called Observatorielunden
• Mix boules with beer at this fun bar-restaurant
Kungsholmen
Best for: waterfront walks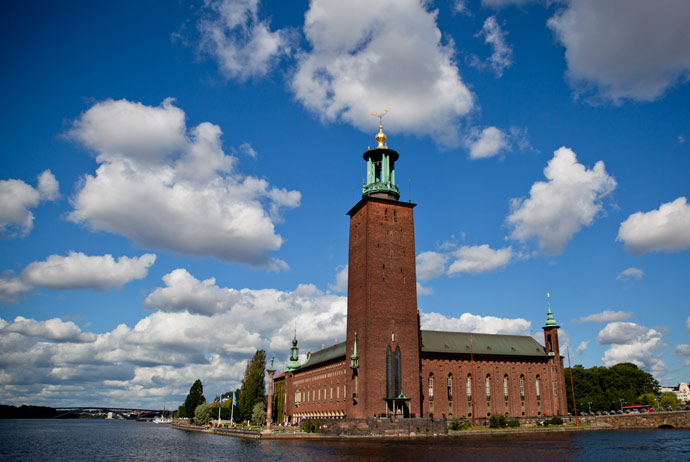 Kungsholmen is just across the water from Stockholm's busiest area, and can be handy if you're planning to use the city's main train or bus stations. A big plus is that it's waaay quieter than the main downtown neighbourhoods AND it comes with the additional bonus of lots of open spaces, including public squares and waterfront walking trails. Hotels here are good value, too – you can even rent a boat for the night if you want to feel at one with Stockholm's watery goodness.
Highlights
• Give regular hotels the cold shoulder and spend a night aboard MS Monika
• Climb the tower at Stockholm's city hall
• See justice in action at the city's main courthouse
• Try proper Swedish food (on a budget) at Restaurang Salt
Djurgården
Best for: museums and galleries
If you're a vulture who likes culture, Djurgården will definitely turn up somewhere on your Stockholm itinerary. This sprawling, laid-back island is home to loads of the city's best museums, as well as a cheery theme park with scream-inducing rides. The only trouble is, there aren't many hotels to choose from. If you're really set on staying on Djurgården, try the Pop House Hotel or Scandic Hasselbacken.
Highlights
• Get white knuckles at the Gröna Lund theme park
• See the gigantic warship Vasa, which spent centuries at the bottom of the sea
• Travel through Sweden in a single day (well, sort of) at Skansen
• Visit Nordiska to learn about Swedish trends and traditions
• Wander along woodland paths in the tranquil eastern part of the island
Långholmen
Best for: peace and quiet
Greenery abounds on the little island of Långholmen, which is blissfully peaceful and quiet, despite being in central Stockholm. The island is best known for its imposing prison, now converted into a swish hotel and hostel with rooms squeezed into the old cells. When you're done exploring the prison's small museum, you can cycle or walk through the surrounding parkland enjoying the island's chilled vibe – a real treat whether it's sunny or snowy. There's also a great little beach on the island's north coast, which is perfect for summer swims.
Highlights
• Spend the night in a cell (without getting arrested)
• Don your Speedos for a swim off Långholmen's north coast
• Get a breath of fresh air on a walk around the island

Söder om Söder
Best for: a taste of things to come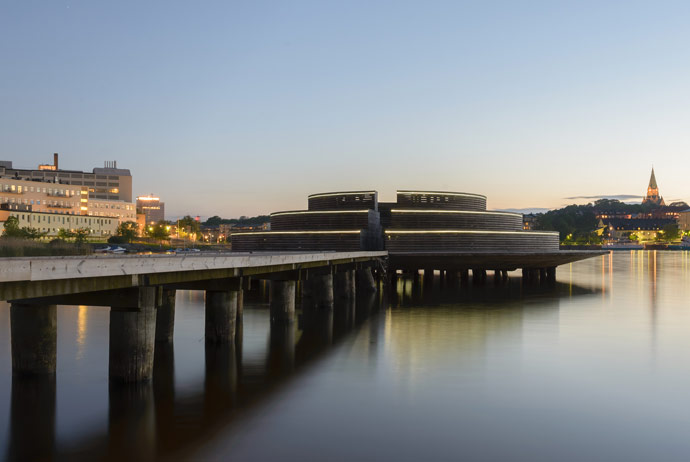 Söder om Söder is, literally translated, the area south of Södermalm. While that part of town has gone through a process of rapid gentrification in recent years, this area has changed more slowly – but slick new apartments continue to spring up near the waterfront and new residents are flooding in. Few tourists venture out to this part of Stockholm but it's not without its charms – spend time exploring and you'll find welcoming cafés, as well as an excellent brewery that offers free tours. Further south still is Skogskyrkogården, a Unesco World Heritage Site (see this guide for more info).
Highlights
• Grab a beer (and a free brewery tour) at Nya Carnegiebryggeriet
• Visit the grave of Swedish actress Greta Garbo at Skogskyrkogården
• Check out a concert at the Ericsson Globe, or admire views of the city from the roof
The Stockholm Archipelago
Best for: experiencing island life
Staying on the islands east of Stockholm will give you a completely different perspective on the Swedish capital. Gone are the busy roads, replaced by serene beaches, pretty harbours and sleepy woodland hideaways. Generally speaking, the islands nearest to Stockholm are the busiest (this is especially true in summer, when bus loads of locals arrive to swim and eat lunch at waterside restaurants). More remote islands tend to be quieter, but many of them are still accessible using public transport.
Highlights
• Find tranquility on the sleepy island of Finnhamn
• Visit the fort and museum at Vaxholm, an easy bus ride from the city centre
• Stay in a cute seaside cottage, like this one on Värmdö
• Get your fix of art and culture at Artipelag, a slick gallery with bay views
• Camp wild on a remote island
FIND A HOTEL IN THE ARCHIPELAGO
Need more help deciding where to stay in Stockholm? See our main city guide.
Like what you've been reading? Get our best tips by email!