With great opportunities for cycling and a public transport network that's quick, convenient, and surprisingly good value, Stockholm is an easy place to get around. Sometimes though, nothing beats the comfort of a nice warm taxi to shuttle you through the city.
Stockholm has around 5,500 taxis, but compared with the city's other modes of transport they are extremely expensive, and many locals will avoid them in favour of cheaper modes of transport.
The taxis that you do see tend to cater to tourists and business travellers, and you'll often seem them clustered around the Central Station or outside Stockholm's airports, ready to whisk people off to fancy hotels. If you do decide to take a taxi, there are a few main things to keep in mind.
Tips for taking a taxi in Stockholm
In Stockholm, taxis need a special licence to operate. By law, prices aren't regulated and drivers can essentially charge what they want, as long as they follow certain rules. One of these rules is that they are required to display their prices (or at least an indicative price) on the outside of the taxi.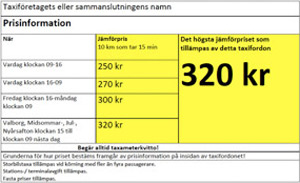 Look for a yellow and white label on the rear side window, marked with the price in Swedish kronor (SEK). This price shown in big black letters is the cost of a 10km, 15-minute-long journey.
A reasonable price for a 15-minute journey is around 300 SEK, but it isn't unusual to see higher prices of 350–490 SEK shown on these tariff cards. It goes without saying that if you see a very high price on that sign, you should steer well clear!
★ SUGGESTED DISCOUNT
Save with the Stockholm Pass
Get up to 50% off at Stockholm's top attractions, including the Vasa Museum, SkyView Stockholm and The Viking Museum, plus discounts on some of the city's best boat trips.
Typical taxi fares in Stockholm
To give you an idea of what your taxi journey in Stockholm might cost, we've collected a few typical journey prices. These are subject to change, of course, and will also increase if you travel at night or with lots of luggage and passengers. If you're arriving at Arlanda Airport and want alternatives to taking a taxi, check our airport transfer guide.
| | |
| --- | --- |
| Taxi journey | Approximate price |
| Arlanda Airport to Central Stockholm | 495–595 SEK |
| Bromma Airport to Central Stockholm | 360–460 SEK |
| Skavsta Airport to Central Stockholm | 1340–1500 SEK |
| Central Stockholm to Drottningholm | 340–440 SEK |
| Gamla Stan to Globen Arena | 210 SEK |
| Gamla Stan to Djurgården | 180 SEK |
Okay, so what about booking a taxi?
In general, Stockholmers don't hail their taxis. Instead, they prefer to call one of the reputable companies or order a taxi via an app (most of the main companies have their own).
When you're ordering a cab on the phone, ask the agent to quote in a fixed price (fast pris), which is generally lower than the metered fare and can give you some confidence that the driver won't ask for a million kronor when you reach your destination.
If you don't have phone service, you can always ask any hotel, restaurant or museum to call one for you. If you need to order a taxi with a special service, such as child seats or a wheelchair-accessible taxi, you can speak with the taxi hub at the Central Station, or call one of the main companies (see below) a few hours in advance.
If you're paying by card (recommended), you should receive a delivery note and a receipt from the taxi meter if you agreed to travel on a metered fare. The receipt will have all the information of the taxi, such as the car's registration number, taxi company and driver. If you need to make a complaint, keep this receipt for reference.
Should I tip the driver?
Taxi drivers in Sweden don't usually expect tips, but if you're travelling with a lot of luggage, or merely want to make the gesture, a tip around 10% should be fine. This tipping guide has more info on when (and when not) to tip in Sweden.
Does Stockholm have Uber?
Uber is relatively new in Stockholm and not as established as in some other big European cities, but it is growing and the fares can be cheaper than standard taxis.
A one-way journey from Arlanda Airport to Central Stockholm, for example, is around 80 SEK cheaper with Uber (depending on traffic and the time of day). If availability is limited and you're having a hard time hailing a car with the Uber app, you might have to use a local taxi firm instead.
Getting a taxi to Stockholm from Arlanda Airport
From Arlanda Airport to the city centre, you can usually catch a daytime taxi for around 495-595 SEK. All taxis are required to have a yellow licence plate with a small 't' on it – so if you don't see one, look elsewhere.
Be cautious around the airport especially, as there are many unlicensed drivers looking for fares. The maximum legal price for trips into the city centre is 675 SEK. There's more on the options for getting into the city in this guide.
Taxi scams to look out for in Stockholm
Sweden is a super-safe place to travel, but the taxi industry in Stockholm has a bit of a sketchy reputation. Since drivers are legally allowed to charge as much as they like, there have been reports of drivers charging tourists astronomical fares.
For this reason, we'd alway recommend checking the yellow window sign (see above) before entering the car. Even better, agree a price with the driver before setting off, or get a fixed price agreed over the phone before you're picked up. You may encounter unauthorised taxis, especially outside nightclubs late at night – we recommend avoiding these altogether.
Some small taxi companies have been called out for performing scams on unsuspecting tourists or drunk locals, such as charging in euros instead of SEK. One newspaper reported that a tourist was tricked into paying 450 euros instead of 450 SEK from the airport to the city centre (around 10 times the amount).
Some of these companies also attempt to deceive would-be customers by adopting names and logos similar to more legitimate taxi companies. Your best bet is to order your own cab from a reliable large taxi company.
Reliable taxi companies in Stockholm
Taxi Stockholm (+46) 08 15 00 00
Taxi Kurir (+46) 08-30 00 00
Sverige Taxi (Taxi 020). (+46) 020-20 20 20
Top Cab (+46) 08-33 33 33