So you've touched down, been to the bathroom and breezed through passport control. Welcome to Stockholm! All that's left for you to do is get into the city centre.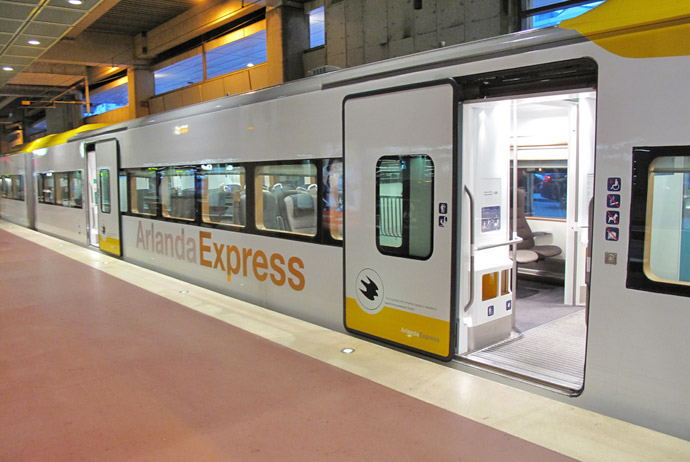 The good news is that there are a few different options available for the 40km journey from Arlanda to Stockholm's downtown area – some are cheaper than others, but all will get you into the centre in less than an hour.
Read on to find the option that suits you best, whether you're looking for the cheapest or fastest option!
The fastest way: take the train
There are several different train options to consider, depending on how quickly you want to arrive and how much you want to pay.
Arlanda Express
If you're in a rush and need to get from Stockholm Arlanda to the city centre as fast as possible, the speedy Arlanda Express trains are a good choice.
They leave every 15 minutes or so during the day (every 30 minutes during at night) and will whizz you from the airport to Stockholm's main train station in under 20 minutes.
Tickets for the Arlanda airport shuttle are on the pricey side, though: if you're 26 or older you'll pay a whopping 299 SEK for a one-way ticket, and 579 SEK for a return.
Youth rates are good, though. Those aged 8–25 pay 149 SEK one-way, or 298 SEK return, though you'll need to show proof of your age.
There are also decent discounts for those travelling with a partner or in a group.
One-way tickets for two travellers together are 399 SEK (that's 149.50 SEK each); three travellers will pay 499 SEK (that's 166 SEK each); and four travellers will pay 599 SEK (149.75 SEK each).
Note that families travelling with children under 25 may find it cheaper to buy a group rate for the parents and a youth ticket for any children. Children under 8 are free anyway.
SJ Intercity trains
SJ Intercity trains also make the same journey in around 20 minutes, but have less regular departures than the Arlanda Express.
They cost around 185 SEK one-way, so are cheaper for those over 25 who are travelling alone. Under 25s and those travelling with a partner will get a cheaper rate on the Arlanda Express.
You can buy tickets for these trains on the Omio website.
★ SUGGESTED DISCOUNT
Save with the Stockholm Pass
Get up to 50% off at Stockholm's top attractions, including the Vasa Museum, SkyView Stockholm and The Viking Museum, plus discounts on some of the city's best boat trips.
The cheapest way: take public transport
Not worried about time and just want to get into Stockholm city centre as cheaply as possible? Take public transport.
Local trains
The local commuter stopping train runs from Arlanda Central to Stockholm City station, next door to Stockholm Central.
It leaves every 30 minutes, takes around 40 minutes and costs 169 SEK (156 SEK for under 20s and over 65s). Timetables and tickets are available online.
Public bus and commuter train
But the very cheapest way of all is to take the public bus. This isn't the fastest option (it takes about an hour to reach central Stockholm), but with a one-way journey costing as little as 39 SEK, it's certainly the cheapest way to get into the city.
And discount rates for under 20s, over 65s and full-time students with a valid ID start at 26 SEK.
Bus #583 departs from outside Terminal 5 at Arlanda every 15 minutes or so, bound for Märsta station.
Get off when you reach Märsta (this part takes around 15 minutes) and then switch to a #41 or #42X commuter train heading for Nynäshamn. The bus stops right by the train station, making transfers quick and easy.
The commuter train stops at Solna and Stockholm Odenplan, before arriving at Stockholm City (it's the last stop, so you really can't miss it).
You can make this whole journey using a single public transport ticket – this guide has all the info you need to get a ticket.
Cheap direct option: hop on the airport bus
There are several airport bus options that will take you directly into the centre of the city, all of which are cheaper than the train.
Flixbus
The cheapest direct bus transfer we've found is by Flixbus. The journey takes 40–45 minutes depending on the time of day and goes straight from Arlanda to City Terminalen in the middle of town.
Buses run from 8.45am–11.15pm, though check the online timetable as there are large gaps when there are no buses.
One-way tickets cost from 75 SEK and can be bought online. Bear in mind that the fare increases the more seats are sold, so at busy times you'll pay a lower price if you can book in advance.
The fare includes one piece of luggage, plus one piece of hand luggage, though you can buy additional bags for around 50 SEK.
Flygbussarna
In addition, Flygbussarna airport buses run from Arlanda to the main bus terminal in the centre of Stockholm, with round the clock departures.
They leave every 20 minutes or so from around 7am–midnight, less frequently through the night. The ride from Arlanda to the city takes around 45 minutes and there's free wifi onboard.
One-way tickets cost 99 SEK and 119 SEK (109 SEK for under 18s). Group tickets are also available at 299 SEK for three people and 399 SEK for four people.
Tickets can be bought online in advance or on the bus (credit and debit cards only). Alternatively, you can can buy online through Viator.
VY bus4you
In addition, the VY bus4you runs around six times a day from the airport into the city. It takes around 45 minutes and fares start from 108 SEK. Click here to buy tickets.
The laziest way: grab a taxi
Taking a taxi isn't the quickest option and because of the rip-off costs involved we'd suggest giving it a miss. The 35-minute ride from the airport is very expensive and no faster than the train.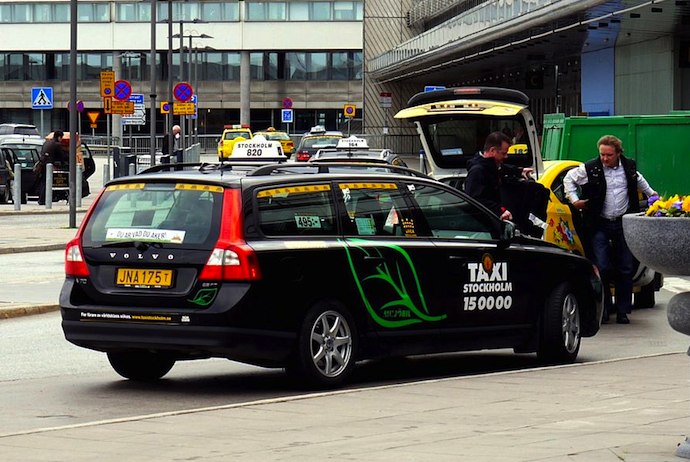 Most taxi companies have fixed rate fares of around 700 SEK into the centre of the city.
There's also a small chance that you might end up getting scammed (the city's taxi market is not regulated and drivers have been known to overcharge tourists on the way into Stockholm from Arlanda).
That said, a taxi might be worth considering if you're sharing the journey with a few friends, or have a lot of luggage and want to avoid carrying your bags onto a bus or a train.
To find a cab simply head to the rank outside the airport. Try to agree a price with the driver at the front of the queue. If the first person you speak with won't give you a fixed price (fast pris in Swedish) just try another driver.
Uber fares are pretty much identical to regular taxis, so unless you have a good coupon code you won't save a lot of cash.
The easy way: by car
If you're planning to do a lot of travelling around Sweden after your stay in the city, you may want to rent a car directly from the airport.
It's worth noting though that you won't need a car in central Stockholm itself, so this is probably only really a good idea if you're planning to head out into the countryside afterwards.
Like all major European cities, parking in central Stockholm is not easy to find and can be expensive – expect to pay around 400 SEK a day for garage parking.
So, you'll need to factor this into your decision as to whether it's worth hiring a car while you're in the city.
If you do decide to rent a car, all the major international car rental companies have offices at Arlanda, including Alamo, Avis, Budget, Enterprise, Europcar, Hertz, National and Sixt.
All the car rental offices are in the airport's P2 Beta long-term car park, and Swedavia buses run there from terminals two and four.
For more on the dos and don'ts of car rental in Sweden, check out our guide.
The VIP way: take a limo or private van
And if you fancy doing it the luxury way, why not order a private airport transfer?
Yes, it's pricey, but you get your own chauffeur, no extra luggage charges and you can be dropped off wherever you like in the city.
Luxurious private vans are also available to book online.
The fun way: by helicopter
Need to travel from Arlanda to Stockholm even faster – and money is no object? You can always charter a helicopter with this company, which has a helipad right in the middle of the city, in Gamla Stan.
Just starting your trip? Don't forget your insurance!
Stockholm is a safe place but you still need travel insurance. A good policy can make a world of difference if things go wrong. For lots of different reasons, including the fact that they will cover you even if your trip has already started, we recommend World Nomads. You can get a quick quote below:
See also:
Surviving a layover at Stockholm Arlanda
The Stockholm Pass: is it worth buying?
110 cheap and free things to do in Stockholm