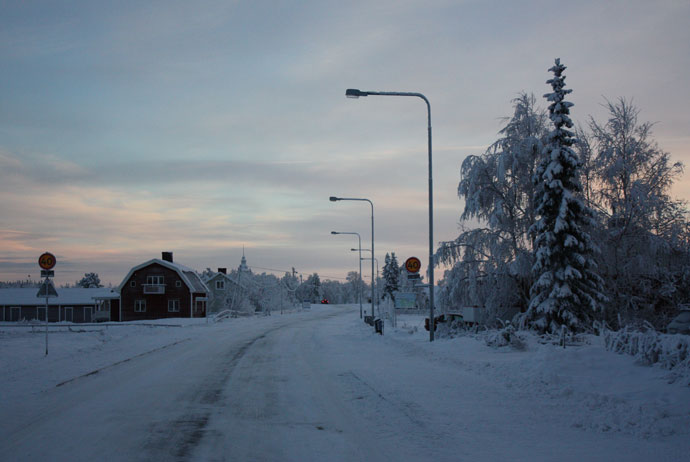 Jukkasjärvi travel guide
The small village of Jukkasjärvi has a history stretching back centuries. First mentioned in 1554, it's thought to have been an important meeting point for Sami traders, who considered the location – squeezed between a river and a lake – the ideal spot for a marketplace.
For hundreds of years very little changed in this sleepy community, where pretty wooden houses edge the snowy streets. Then in 1990, an enterprising Swede hit upon an unusual idea – to build a structure out of ice and snow and let people sleep in it. The idea developed quickly, attracting the attention of the world's press in the process. Today, the Icehotel is one of Sweden's true blockbuster attractions.
Naturally, the success of the Icehotel has had an effect on Jukkasjärvi. Tour buses wheeze up and down the village's main road, and there's a distinctly international feel to the place, with visitors arriving from all corners of the world to experience sleeping in a hotel made of frozen water.
A successful tourism industry has grown up around the hotel and nowadays Jukkasjärvi is home to a restaurant and a touristy Sami camp. It's also the starting point for dozens of different guided tours – from northern lights safaris to dog-sled tours. Tourism has certainly brought in cash and created jobs, but there are some problems, such as the constant whirr from the snowmobiles that zoom visitors up and down the Torne River.
Much of Jukkasjärvi's charm remains intact, however – particularly as you head away from the Icehotel and towards the village's gorgeous wooden church, parts of which date back to 1607.
Many tourists on package trips to the Icehotel base themselves in Jukkasjärvi for the duration of their stay but you can just as easily make the trip there from Kiruna – or even Abisko, if you prefer.