These days, Sweden's brewing scene is super exciting. And with small craft breweries popping up like bubbles in a pint glass, it's growing all the time.
Drinking beer in Sweden used to be a pretty uninspiring experience (partly due to the government's alcohol monopoly), but in the past decade or so, experimental breweries have been turning out some amazing beers, from flowery, hoppy IPAs to wonderfully creamy porters.
Some of these great breweries are located in the Swedish capital, and most are happy for visitors to go along to taste their beers and generally see what all the fuss is about. Read on for the lowdown on four of the best breweries in Stockholm, each offering visitors very different experiences.
Stockholm Brewing Co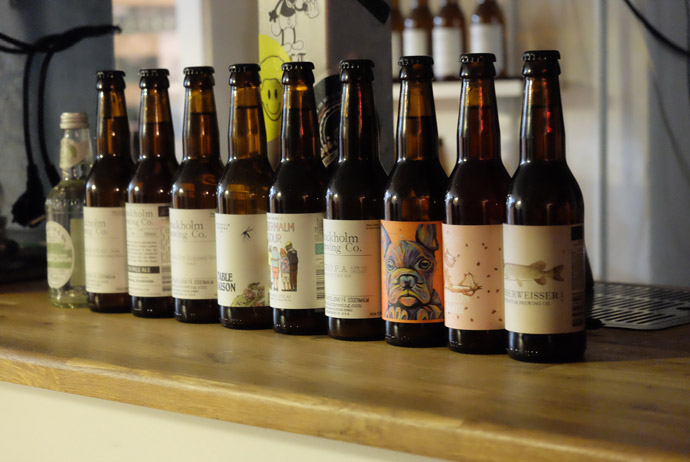 Founded in 2011, this small-batch brewery is just a stone's throw from the trendy bars in Södermalm, which makes it a great place to start an evening of bar hopping.
With a rare EU certification for organic production, Stockholm Brewing Co offers a good selection of fresh, local beers, putting the focus on crisp, drinkable brews. It opens to the public on Friday evenings only, giving thirsty workers the chance to try some of the latest flavours fresh from the tap.
It's a simple place (more like a garage than a big brewery), and so the focus is very much on the beers. Stockholm Brewing Co was actually the first brewery in Sweden with permission to offer tastings in-house without being part of a restaurant (yeah, it's a Swedish rule). However, they do still team up with local restaurants to serve snacks during their weekly 'brewpub' events, so don't worry about getting hungry while you drink.
The Friday brewpubs are definitely worth checking out if you want to drink quality beer in a laid-back environment. Just turn up between 5pm–9pm, grab a glass and a drink ticket from the front, and then choose from a selection of top-notch beers that cost just 30 SEK each. Friendly staff members punch the drink ticket for each beer so visitors only have to pay their tab once, when they decide to move on.
Check the brewery's Facebook page for updates on when the next events are taking place. You'll be pleasantly surprised by the garage's cosy feel, and the warm welcome offered by the neighbourhood crowd.
Need a tip for what to drink? Try Hop Hound or the Södermalm Sour.
Södermannagatan 49
Södermalm
Friday brewpub events take place from 5pm–9pm
★ SUGGESTED DISCOUNT
Save with the Stockholm Pass
Get up to 50% off at Stockholm's top attractions, including the Vasa Museum, SkyView Stockholm and The Viking Museum, plus discounts on some of the city's best boat trips.
Omnipollo
Also in Södermalm, Omnipollo combines a craft beer haven, a pizza parlour and a brewery into one delightful package. Although based out of Stockholm, Omnipollo functions as a nomadic brewery, renting out free capacity from other breweries around the world, including locations in Sweden, Belgium, the USA, and Brazil. For the past two years, it's been on the list of the top 100 best breweries in the world.
The space in Södermalm is small but beautiful; everything is custom designed, from the tasty brews and pizzas to the handmade tap handles behind the bar. With generous opening hours and a unique, friendly atmosphere, Omnipollo is the idea place to get a taste for Stockholm's burgeoning craft-beer scene.
Omnipollo offers seven or eight of brews at any one time, along with a couple of guest ales. Try one of their eclectic smoothie/milkshake beers, which they've fashioned using lactose sugar to produce memorable flavours – they're aromatic and creamy, yet lighter than what you might expect. The Noa Pecan Mud Cake Imperial Stout is a good one to try for 'dessert'.
Tjärhovsgatan 6
Södermalm
Daily noon–1am
Sundbybergs Köksbryggeri
This brewery is about 15 minutes north of central Stockholm by commuter train. Okay, so it takes a bit of effort to reach, but the unique ambiance of this spot makes it a hard one to pass up on.
The brewery is housed in a repurposed church in central Sundbyberg, and offers a very cosy experience complete with high ceilings, twinkling lights and plenty of space. Visitors are seated upstairs where they can view the brewing facilities in the church's nave below. The comfortable atmosphere here will make you feel right at home – and it would work just as well for either a date or drinks with friends.
The brewery offers beer tastings on Monday evenings for around 350 SEK, as well as Friday brewpub events with their latest beers on tap, plus home-cooked dinner options. Keep in mind, though, that you need a reservation for both the tasting sessions and the brewpub events – book online through their website before you go.
The beer at Sundbybergs Köksbryggeri is quite experimental with ingredients ranging from ginger, passion fruit and elderberry to spinach, beets and spruce. Their 'Supa' Sundbyberg Pale Ale is a nice choice if you're just getting started.
Sturegatan 41
Sundbyberg
Friday brewpub (book ahead): 4.30pm–11pm
Monday tastings (book ahead): 6pm–7.30pm
Nya Carnegiebryggeriet
Nya Carnegiebryggeriet is about 30 minutes south of the city center by public transport, but we reckon it's well worth the trip. Housed in a renovated light bulb factory right on the water in Hammarby Sjöstad (Söder om Söder), the brewery is a lovely sight.
Visitors are greeted with luminescent waterfront windows and, in the summer months, a huge outdoor beer patio. The brewery is co-owned by Carlsberg Sweden and Brooklyn Brewery, a collaboration started in 2011 to celebrate the 175th anniversary of Carnegie Porter, Sweden's oldest registered trademark.
They offer 10 beers on tap at all times, including a range of Nya Carnegiebryggeriet in-house brews, plus a few from Brooklyn Brewery. There's often a guest brew from another craft brewery in Sweden, too.
Hour-long brewery tours are offered daily from 4pm-7pm for 300 SEK, and for that price you get to try four beers. Reservations for the tours should be made online. Visitors can also taste four beers for 144 SEK without the tour, or just tuck into snacks from the restaurant menu.
Make a reservation if you're coming for dinner on the weekend, as it gets busy after around 6.30pm. With excellent service, great food and delicious beer, this place could easily keep you happy for a couple of hours. And just FYI, the 'Bonfire' smoked lager is awesome.
Nya Carnegiebryggeriet
Ljusslingan 15-17
Hammarby Sjöstad
Tues-Sat 4pm–midnight
Map of breweries in Stockholm, Sweden
Like what you've been reading? Get our best tips by email!