Heading to Stockholm during the winter? It's well worth going ice skating. Having a twirl on the ice is fun, festive and surprisingly easy in the Swedish capital, thanks to the sheer number of ice rinks dotted across the city.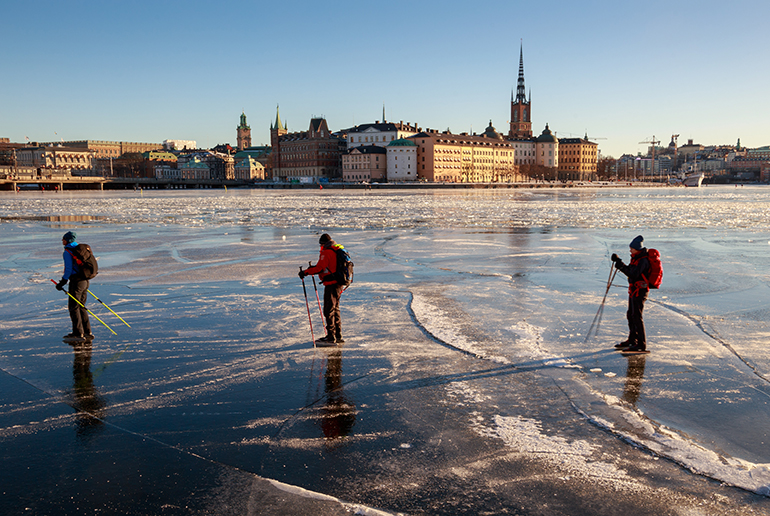 If you're feeling a bit more adventurous, you can also go ice skating on one of the many lakes near Stockholm, which often freeze over during the winter – or head out into the archipelago to skate among scenic islands.
There are safe organised tours you can join – or if you have your own skates and take sensible precautions, skating wild in Stockholm can be completely free.
When to skate
Outdoor ice rinks
Skating tours
Wild skating
Indoor ice rinks
When can you go skating in Stockholm?
Most of the outdoor ice rinks in Stockholm are open from the autumn holidays (late October) until early March.
Temperatures don't need to be freezing for these rinks to open up for skating, but they do tend get a lot busier in the run up to Christmas when the days get shorter and people start getting into the festive mood.
Skating out in nature is a different story altogether. Stockholm's natural lakes and waterways are open for skating as long as it's cold enough and the ice stays thick enough.
Normally, companies start taking bookings in late December and carry on running them until the late winter (normally mid March or early April).
Just bear in mind that you're totally at the mercy of the weather with these kinds of tours. If you book a skating tour that can't go ahead because things suddenly warm up and the ice isn't safe to skate on, companies normally have a back-up tour they can send you on, like hiking or cross-country skiing.
Outdoor ice rinks
If you're in Stockholm for a short time, heading to one of the city's outdoor ice rinks is a fun and reliable option. Even if it's sunny and a little warmer than usual, you'll still be able to skate and soak up the winter vibes. Here are some of our favourite options.
Kungsträdgården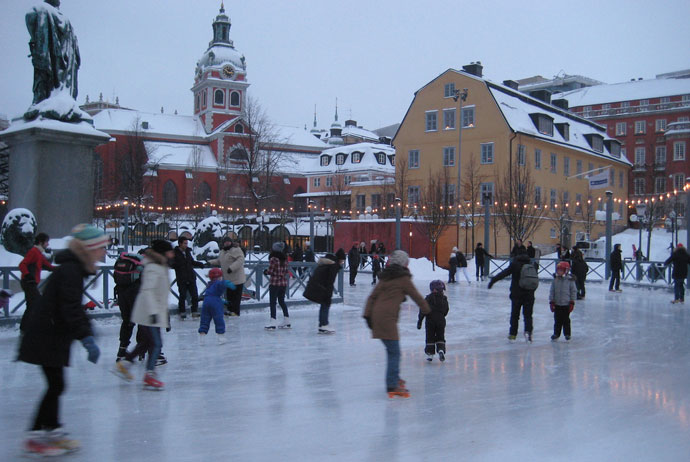 The most popular ice-skating rink in the city, Kungsträdgården is handily located right in the downtown area, just across the water from Gamla Stan.
Not only is it one of the more accessible ice rinks for tourists, but it also makes for a lively day out, especially in the run up to Christmas, when you can expect to see twinkling lights and Christmas stands serving up hot glögg (spiced wine).
Each weekend, the whole rink also brightens up with a disco and figure-skating performance. Beginners and pros alike are welcome as soon as the rink opens for the season, usually during the höstlov (autumn break) holiday in early November. Once it's up and running for the season it stays open until March.
Skate hire costs 70 SEK per hour for adults and 30 SEK per hour for children, who must wear helmets (they're available to borrow at the rink).
To really save on the bucks, bring your own skates. Like many ice rinks in Stockholm, this is council-run and you can get on the ice for free with your own gear. (Pros, you can get your skates sharpened at the rink for just 60 SEK!)
Jussi Björling allé, Stockholm
Mon–Fri 10am-9pm, Sat & Sun 11am-9pm
Tel: 076 129 1606
Vasaparken
A quieter and more spacious alternative to Kungsträdgården is Vasaparken, which sits between Odenplan and Sankt Eriksplan on the northern edge of central Stockholm. The popular artificial rink here is open between November and March.
The rink is actually three times larger than the one in Kungsträdgården, measuring around 60 x 43m and is a bit more of a local hangout so can be fun if you want to see the Swedes in action.
Since it's manmade like the Kungsträdgården rink (see above) it's usually a more reliable bet than Stockholm's natural rinks, but it does close periodically throughout the day for resurfacing (usually 6.30am–8am, noon–1pm and 5pm–6pm). Just be sure to bring your own skates – you can't hire them here.
Dalagatan 11C, Stockholm
Daily: 8am–10pm
Tel: 08-508 090 00
Medborgarplatsen
Another local hangout, this small manmade ice rink is on one of Södermalm's main squares. Because of its small size, it tends to be popular among children and beginners.
It's easy to reach using the metro and has several amenities nearby, including restaurants, a cinema and the Söderhallarna Saluhall (food hall). For kids there's a also a fun playground right across the street.
It's a nice free place to skate with locals, with good lighting after dark. You can't hire skates here though, so you'll have to bring your own. If you want skates, gloves or other outdoor gear, there's a branch of the sports chain Stadium a 10-minute walk south of the square along Götgatan.
Medborgarplatsen 29
Always open
Tel: 08 508 87526
Scandinavian Ice Adventure
Located beside the Maritime History Museum (Sjöhistoriska museet) this ice-themed 'adventure park' has lots of skating-based activities, from American-style 'pond hockey' to skate discos.
It's a little pricey when compared with other rinks in town but is a fun option if you're looking for something more than skating around in a big circle.
Note: At the time of updating this guide, the park had decided to close due to the high energy costs needed to keep the park running.
Zinkensdamm Idrottsplats
Artificially frozen, the Zinkensdamm ice rink is made primarily for ice hockey and bandy. If it isn't booked up by local players, however, you can bring your own skates and spend as long as you want skating here on the west side of Södermalm. The times for public skating can vary week to week – be sure to call ahead.
Ringvägen 16
Tues–Fri 8am–4.20pm
Tel: 073-921 90 56
Östermalm Idrottsplats
The artificial rink at Östermalm opens on December 1 each year and boasts a long oval area where you can try out your Lutz and Axel figure skating jumps. You can either rent skates here or bring your own. This particular rink also keeps a couple of outdoor grills, so you can make a day of it with your family and bring your food, coals and matches to barbecue after a healthy skating session. There's also an indoor hall here for out-of-season skating.
Fiskartorpsvägen 2
Mon & Fri 5pm–8pm, Tues–Thurs 7pm–9pm, Sat & Sun 11am–4pm
Tel: 08-508 283 54
Hellasgården
If you're looking to get out of the city, stop at the Hellasgården recreation area. This lovely outdoor ice skating rink is also a good option if you want to try some ice hockey.
It takes 20 minutes to get to Hellasgården from downtown Stockholm; hop on bus 401 from Slussen to the Hellasgården stop in Älta, or you can also take Subway line 17 to Skarpnäck and get off at Hammarbyhöjden, Björkhöjden, or Bagarmossen.
Follow the signs from the station to the nature area of Hellasgården and its frozen lake. After skating, you can relax your muscles in the sauna or take a plunge into a hole cut through the ice. Brrr!
Ältavägen 101
Mon–Fri 10am–9pm weekdays, Sat & Sun 10am–6pm
Tel: 08-716 39 61
Recommended skating tours
If you'd rather not skate on a rink and like the idea of trying something more exciting, consider joining an ice-skating tour. This guided, one-day trip takes you out onto the frozen lakes (or sea!) around Stockholm, with the chance to learn at your own pace and enjoy some amazing nature. Sometimes the ice on this tour is so clear that you can see fish swimming beneath your skates!
Another good option for beginners is this gently intro to natural ice skating with tips (and lunch!) provided by an expert guide.
For something shorter but more just as memorable, try this moonlit tour with hot chocolate served on the ice to keep you toasty warm.
Natural ice skating on Stockholm's waterways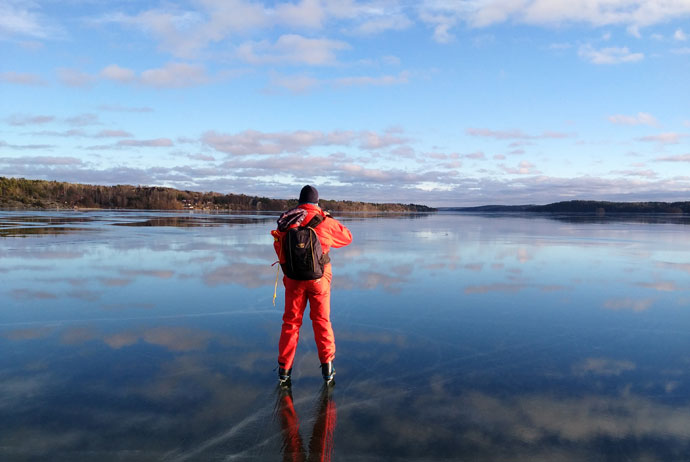 If man-made facilities and urban sprawl make you feel claustrophobic, don't worry!
Stockholm offers hundreds of lakes that are perfect for ice skating. You can book with a guide or if you're confident enough, you can go out on your own to any of these lakes to test your mettle.
Just be sure to check the weather and temperature, especially when spring is approaches and you could quite literally be skating on thin ice (we don't recommend it).
Earlier in the year, skating out on natural ice is a favourite pastime for many Swedes – as a good guide, it's usually safe if you see lots of local families gathering on the ice. If you're in any doubt, ask locals or air on the side of caution.
Trying to find a secret spot all by yourself is extremely dangerous. A nice middle ground between that and jostling for elbow room at the main outdoor ice rinks is to head to one of Stockholm's city-run natural ice 'tracks' such as Magelungens sjöisbana in Farsta (set your GPS for Farstastrandsbadet). Talk with locals and they will be happy to help you understand if the ice is safe for skating. If in doubt, don't go out.
Need a more recommendations? There are some excellent wild lakes just west of Stockholm in the area known as Södermanland. On a clear day, you'll likely see many fellow skaters, teenagers playing ice hockey, and families walking across the ice with their little kids. If you're not comfortable heading out onto the ice alone, this short evening tour is a nice alternative (hot drinks included!).
Indoor rinks
If you're visiting outside of winter and still want to skate, these indoor rinks are worth a look.
Stora Mossen
Stora Mossen ishall is a small skating area in the Bromma district, just west of Alvik. Bring your own skates and helmets to hit the ice for some fun toe jumps and loops. Though it's usually reserved for sports games and athletic groups, during select hours this rink is open for the public to enjoy.
Västerled 26
Mon–Fri 6.30am–11pm, Sat 6.30am–9pm, Sun 8am–11pm
Tel: 08-253 527, 070-771 85 95
Farsta idrottsplats
Another indoor rink run by the kommun (city council), this place is a solid option if you're just looking for somewhere to skate. We'd recommend checking ahead to see if the ice is available though – and do bring your own gear to be on the safe side.
Farstaängsvägen 3
Call ahead for times
Tel: 076 129 4213
See also: 100 free things to do in Stockholm