Winter is coming. And while the coldest season of the year can be truly delightful in Copenhagen – filled with outings to the ice-skating rink, and glasses of warm gløgg at lively Christmas markets – it can also be a little bit too cold and a little bit too dark.
Yep, the reality of the long Danish winter can be quite daunting, especially if you're not used to it. It doesn't snow too much in Copenhagen, but the nearby Baltic Sea sends hefty bouts of chilly wind through the city, and in the deepest part of winter the daylight hours in Copenhagen dwindle, with the sun setting before 4pm.
This means winter can be bitingly cold for visitors and locals alike, and sometimes you just need a change of pace to leave the cold behind. We totally get it – and that's why we've put together this list of places to go in Copenhagen to escape from the winter chill. We hope they warm you up.
Go for a sauna… or a swim
An easy way to warm up is by doing as the locals do – by staying active. Of course, walking, running and cycling can all be a bit of a pain when it's raining sideways, so why not go swimming instead?
The city is full of great indoor pools, some designed for doing proper laps and others more aimed at the 'hot tub followed by a sauna' kind of swim. Either way, a trip to a local leisure centre is a great option if you want to leave the cold and the wind behind for a couple of hours.
A handy option is to check out the city's municipal pools, a collection of accessible, clean and inexpensive bath halls managed by Team Bade.
One of the best is Hillerødgade Bad og Hal, a five- or 10-minute walk south from the station in Nørrebro. It has a 25-meter-long pool that's perfect for swimming laps, and a sauna room for those who just want to relax.
On weekdays, the entrance price is only 20 DKK until 3pm, and the weekend and evening price is around 40 DKK per person. Hillerødgade also offers special 'sauna gus' sessions, with aromatherapy oil infused steam filling the saunas once a week. Check the website for the dates and times, and remember to sign up in advance.
Hillerødgade Bad og Hall
Sandbjerggade 35
Nørrebro
Mon–Fri 6.30am–9pm, Sat & Sun 9am–9pm (hours subject to change)
teambade.kk.dk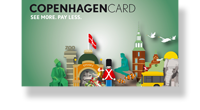 Is the Copenhagen Card worth buying?
Read this guide to see how much you could save during your trip!
Drink cocktails in a tiki bar

A sure-fire way to leave the winter behind in any city is to head to a friendly, tropical-themed bar for some fruity cocktails.
Located in Vesterbro, Brass Monkey is Copenhagen's first and only tiki bar. With its abundance of Aloha shirts and warm, beachy décor, it's a fun way to escape to your very own tropical paradise for an evening.
Brass Monkey features the city's largest collection of rums, serving up a menu of creative cocktails made with fresh fruit juices. Enjoy live music and get your tropical fix by downing some pineapple, mango and banana cocktails served up in special tiki mugs.
They highly recommend guests to split a 'Volcano' cocktail with five friends; it's a big tub of signature Brass Monkey cocktail served with a bunch of straws for you to enjoy together. Winter? What winter?
Brass Monkey
Enghavevej 31
Vesterbro
Thursday 8pm–1am, Friday–Sat 8pm–3am, Closed Sun–Wed
brassmonkey.dk
Cosy up in a 'living room'
If you've just arrived, you'll quickly realise that Danes are constantly searching for the perfect feeling of 'hygge,' or cosiness, to combat the harsh cold of the Nordic winter.
The Living Room, a café in the center of downtown Copenhagen has really mastered the art of hygge, making it the perfect spot to spend a cold day. The Living room has three floors filled with comfy couches, pillows and soft blankets for curling up in and enjoying cups of hot coffee and tea.
It's cosiest down on the bottom floor (the café gets its name from the basement's 'living room' atmosphere. With a crackling fireplace and bright candles atop each rustic coffee table, it's an unbeatable spot to escape the winter weather.
The Living Room 
Larsbjørnsstræde 17
København K
Mon–Thurs 9am–11pm, Fri 9am–2am, Sat 10am–2am, closed Sun
facebook.com/thelivingroomdk
Experience the greenhouse effect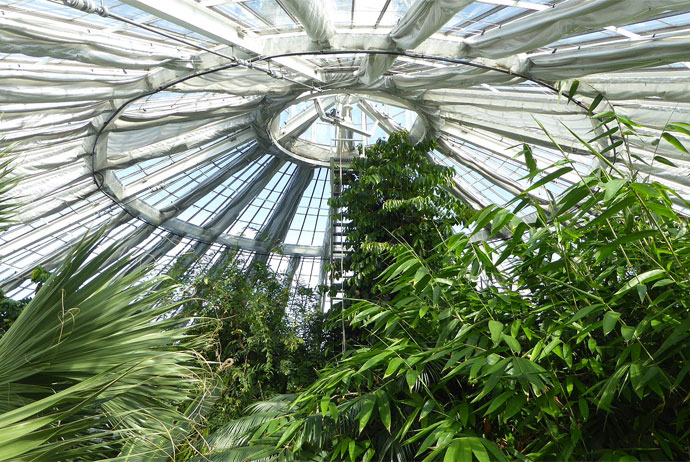 Warming up in nice cosy greenhouse is yet another way to beat the cold in Copenhagen. The tropical plants that are cultivated inside these beautiful glass buildings require special, warmer-than-usual conditions all year round, meaning that even on the darkest winter days the greenhouses are protected from the cold outside.
Copenhagen's Botanical Gardens, or Botanisk Have, have stunning greenhouses open to the public throughout winter (entry is free). The Palm House (Palmehuset; open from 10am–3pm in the winter) offers a totally picturesque experience, with a spiral staircase that gives you the chance to soak in the steamy tropical rainforest climate from high up in the canopy.
If you're hungry, check out the greenhouse restaurant called Väkst. Located in central Copenhagen, this trendy restaurant is set in a two-storey greenhouse. Väkst offers a nice reprieve from the outdoors – dine on fresh Nordic cuisine while surrounded by lush greenery, enjoying the restaurant's flawless aesthetic of wood, concrete and bright glass windows.
Botanisk Have 
Øster Farimagsgade 2B
1353 København K
Winter: Mon–Sun 8.30am–4pm, Palmehuset 10am–3pm; summer: Mon–Sun 8.30am–6pm, Palmehuset 10am–5pm
Väkst
Sankt Peders Stræde 34
1453 København K
Mon–Sat noon–5pm and 5.30pm–10pm; Sun 5.30pm–10pm
hostvakst.dk
Get some light therapy
Some people fight the onset of winter blues by increasing their vitamin D levels with light therapy, warming their skin under special heated lamps. These lamps are specifically made for combating the darkness of the Nordic winter, simulating the sun's rays to strengthen the immune system and improve the depressive moods that can be brought on by the lack of sunlight.
Locals often buy special heat lamps to keep at home, but you can also enjoy light therapy at spas around the city. It can be pricey, but if you're desperate for some sunlight, even spending just a few hours under these lamps can make a world of difference.
A few spots to indulge in spa treatments include the Frederiksberg Swimming Hall, which has special infrared sauna rooms in its spa department. A trip spans two hours of spa time and costs 170 DKK, with additional access to the swimming pool. And if you're really looking to pamper yourself, head 30 minutes north of Copenhagen to the Skodsborg Spa at the Kurhotel Skodsborg. This gorgeous spa specialises in light, scent and sound relaxation therapy and costs 600 DKK for an all-day pass.
Frederiksberg Svømmehal
Helgesveh 29
Frederiksberg
Mon–Fri 10.30am–8.30pm, Sat & Sun 9.30am–3.30pm
svoemmehal.dk
Kurhotel Skodsborg
Skodsborg Strandvej 139
Skodsborg
Spa: Mon–Fri 6am–10pm, Sat & Sun 7am–9pm
Book a stay
Looking for more things to do in Copenhagen this winter? This guide has loads of suggestions for wintry activities – from festive markets to cosy nights at local cinemas.