Summer in the city can be hot and muggy, so why not grab your swimming gear and head off to the beach? Nowhere in Copenhagen is very far from the water, and the city has plenty of places where you can swim in the sea.
Whether you're looking for a quick dip at one of the city's urban beaches, or want to spend the whole day chilling out at an unspoilt and more secluded spot, we have the right beach for you.
Don't forget that there are lots of other swimming spots in Copenhagen itself!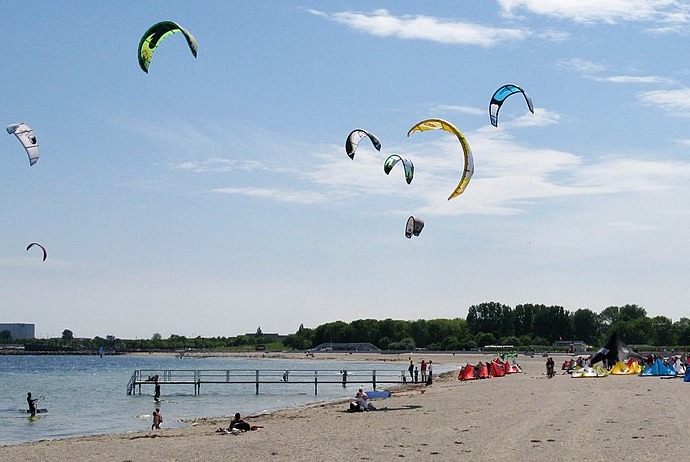 Amager Beach Park
Backed by sand dunes, Amager Beach Park (or Amager Strandpark, as the locals call it) is one of Copenhagen's most popular beaches – and for good reason.
It lies just 5km from the City Hall, and has no less than three metro stations within walking distance. On a warm summer's evening it feels like most of the city has decamped here!
With some 4km of long sandy beaches to enjoy, this partially man-made island has a shallow lagoon where children can play safely on one side and a big sandy beach with dunes on the other.
Unsurprisingly, it's a lively place with no shortage of sporting activities, from wind-surfing and kayaking to kite-surfing, paddle-boarding and, of course, swimming.
Or, you can simply lie back on the sands and admire the views of the iconic Øresundsbroen bridge and the impressive wind turbines out to sea.
Getting to Amager Beach Park
One of the nearest beaches to the city centre, Amager is easily reached on the M2 metro line.
You can get off at one of three stations, depending on which part of the beach you're heading for: Øresund station is best for the northern section of the beach, Femøren station for the south, and Amager Strand station to be right in the middle of the action.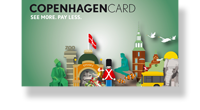 Is the Copenhagen Card worth buying?
Read this guide to see how much you could save during your trip!
Svanemølle Beach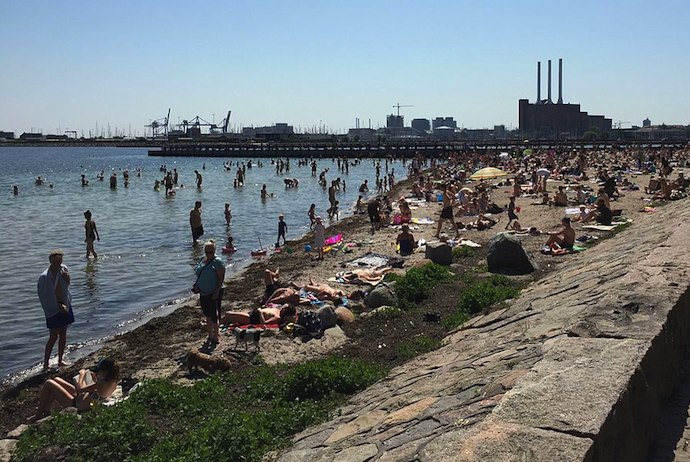 It may be small, but the sandy Svanemølle Beach provides a welcome escape for the residents of Østerbro, who flock here to enjoy a dip in the refreshingly cool seawater on warm summer days.
Built less than ten years ago, the beach has a clean sandy stretch where you can swim, paddle and sunbathe, plus a long pier that's perfect for summer jumps and dives.
Getting to Svanemølle Beach
The beach is a 10-minute walk from Svanemøllen station, which is served by lines A, B and E. Alternatively, it's just a 20-minute bike ride from the city centre.
Bellevue Beach
Some 10km north of Copenhagen in the suburb of Klampenborg, Bellevue Beach is a pretty stretch of sand, with a more chilled vibe than the larger urban beaches mentioned above.
Backed by lawns, it has 700m of white sand to relax on, plus a few low-key facilities, such as a diving platform, pedalos to hire and lifeguards on duty in the summer season.
Getting to Bellevue Beach
Close to the pretty fishing village of Tårbæk (or Taarbæk), the beach can be easily reached by S-train from Copenhagen – get off at Klampenborg station, and it's just a five-minute walk to the east.
Dronningmølle Beach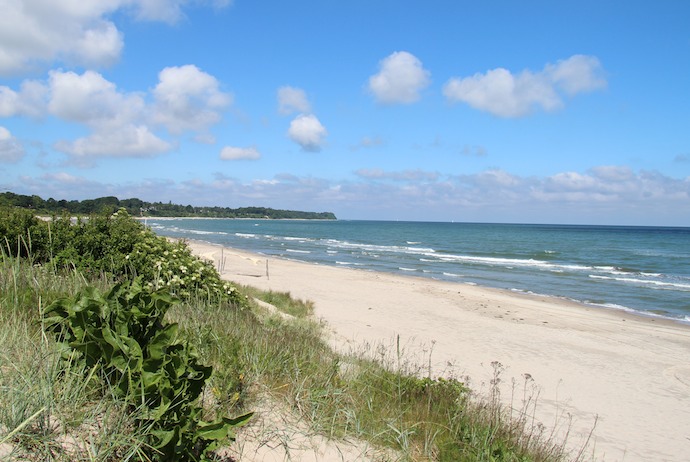 Also known as the Danish Riviera, the northern coast of North Zealand is fringed with long sandy beaches that are relatively easy to reach from Copenhagen.
One of the nicest beaches here is Dronningmølle Beach, with a wide stretch of sand backed by dunes. There's parking at the beach and there's a nice campsite just back from the sands.
The water is clean and shallow here, so it's safe for children, and lifeguards are on duty in the summer. It can get pretty busy in the summer, but it's not difficult to find a private spot in the dunes to escape the crowds.
Getting to Dronningmølle Beach
It's an easy 50-minute drive from Copenhagen to Dronningmølle, along the E47 to Helsingør, then on routes 235 and 237.
Alternatively, trains leave Copenhagen every 20 minutes for Helsingør, where you can change for Dronningmølle – the whole journey takes around 90 minutes.
Tisvildeleje Beach
Also along the Danish Riviera, Tisvildeleje Beach is a pretty 1km-long stretch of white sand with brightly-coloured beach huts dotted among the dunes behind it.
The water quality is good here – it has a Blue Flag – and the beach is popular with kite-surfers, but still shallow enough to be safe for children.
Getting to Tisvildeleje Beach
Trains leave Copenhagen Central Station every 30 minutes for Hillerød, where you can change for Tisvildeleje: the beach is just 1km from the train station. The train journey takes about 90 minutes, while driving will take around 55 minutes.
Gudmindrup Beach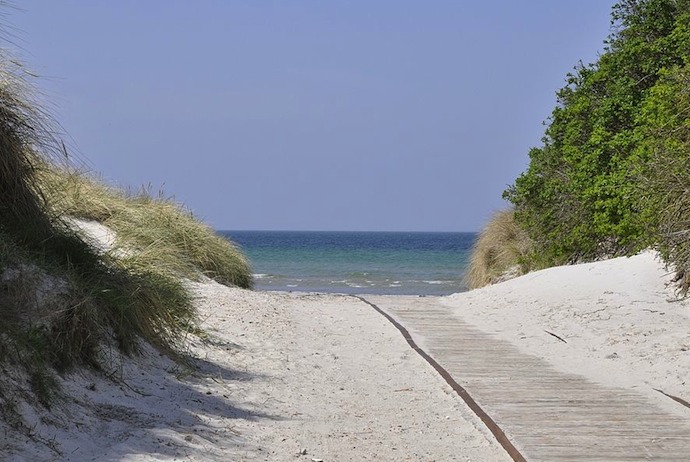 And if you fancy something more wild and undeveloped, one of Denmark's best beaches can be reached in little over an hour's drive from Copenhagen.
Gudmindrup Beach is a wide, white sand beach, backed by rolling dunes and sheltered within Sejerø Bay.
The beach shelves gently into the sea, and there are lifeguards on duty in summer, so it's perfect for children – a perfect escape from the hustle of the city.
Getting to Gudmindrup Beach
The quickest way to get here is by renting a car. It takes about one hour and five minutes to drive from Copenhagen, following the N21 towards Højby.
Map of beaches near Copenhagen
See also:
Where to go swimming in Copenhagen
Copenhagen's best houseboats and waterfront hotels
Like what you've been reading? Get our best tips by email!