Some time around late October or early November, Stockholm begins to transform into a winter wonderland. Even if there's no snow, the air becomes crisp and fresh, and the city takes on a distinctly wintry feel.
This means Christmas markets, spiced glögg, and plenty of snow-and-ice-based activities for the months ahead.
Winter tends to last for a while in Stockholm – at least five to six months – and it can get very chilly, so be sure to get bundled up if you're planning to visit at this time of year!
You should also be prepared for very 'short' days, with as little as six hours of sunlight a day around winter solstice, just before Christmas.
The good news is that Stockholm still shines during the winter! This is a city that's properly geared up for harsh winters, and it's unlikely that the weather will cause you too many problems, even if temperatures plunge.
Things just keep running, and there are actually a lot of winter-friendly sights and activities to keep you busy.
When's the best time for a winter trip to Stockholm?
Undoubtedly, the most popular time for a winter trip to Stockholm is just before Christmas, when you'll find all sorts of festive activities and markets taking place across the city.
There are cosy cafés galore in Stockholm (here are some of our favourites) and you'll also see many of the local restaurants offering the traditional Swedish julbord (Christmas buffet).
It doesn't always snow in December, though, so if you're hoping for some really snowy holiday snaps, you're best off waiting until January, February or March.
This is also the best time of year to visit if you want to combine a trip to Stockholm with a skiing holiday at one of Sweden's more southerly ski resorts.
By April, things have usually warmed up a bit in Stockholm, giving you the option to combine relatively mild weather with some seriously good snow-based activities in the north of Sweden (like dog-sledding tours and trips to see the northern lights).
Note that regardless of when you visit Stockholm, there is only a teeny, tiny chance that you'll be able to see the northern lights – this guide has more info.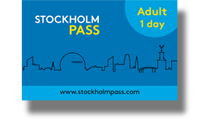 Is the Stockholm Pass worth buying?
Read this guide to see how much you could save during your trip!
What to do on a winter trip to Stockholm
Eat a julbord
In December, most Swedes love to sit down and enjoy a beautiful Christmas smörgåsbord, traditionally loaded with dishes that are prepared especially for the occasion.
At restaurants you can usually pay a flat fee and enjoy an all-you-can-eat buffet of classic dishes like cured salmon, Christmas ham, beetroot salad, meatballs, pickled herring and maybe even some glögg (mulled wine).
Prices start from around 400 SEK (£32; $37) for a lunch julbord and around 800 SEK (£64; $75) in the evening. Overall it's not bad value for all-you-can-eat in Sweden – especially if you're hungry!
Some canal boats even offer cruises with a julbord included, so you can eat while gliding through the waterways.
Check out the nearest julbord to you at julbordsportalen.se (in Swedish only).
For more on the smörgåsbord and julbord, check out our guide to What is a Swedish smörgåsbord?
Winter tours in Stockholm
Even when it's cold outside, Stockholm is a city that's brimming with outdoor activities.
This fun winter boat tour is one of our absolute favourites – it'll take you along some of the city's most scenic waterways and past the leafy island of Djurgården.
This guided snowshoeing adventure is another great choice – it gives you the chance to explore some beautiful countryside just outside the city centre.
A nice alternative is this ice-skating trip, which will take you out to skate on the sea in the Stockholm archipelago or on Lake Mälaren, depending on the conditions. If you're more of a history buff than an outdoor enthusiast, don't miss this popular Viking history tour!
Go ice skating
With loads of ponds, rinks and squares in Stockholm, it's easy to get out on the ice.
You have plenty of options to choose from without even having to leave the city (see this guide for more tips) and some rinks are completely free if you bring your own skates.
The most popular rink by far is at Kungsträdgården, which lights up in the evening with a disco and the odd figure-skating pro.
If you want to avoid the crowds, you can also check out the huge rink at Vasaparken or the kid-friendly, illuminated rink on Medborgarplatsen.
Several sports halls around town also freeze their stadiums artificially in the winter for ice hockey or skating – keep your eyes peeled for the word Idrottsplats.
For something totally different, consider joining this full-day ice-skating tour, which takes you out onto the glassy waterways around Stockholm to enjoy some beautiful nature.
Take a winter boat cruise
It may not be the most obvious thing to do in winter but Stockholm looks particularly picturesque when viewed from the water, its roofs and streets covered in a layer of white snow or ice.
Some of the city's boat tours run year-round (provided the waterways are not actually iced up), such as this sightseeing tour in a classic archipelago boat.
And you needn't worry about getting too chilly either – there are cosy reindeer skins to snuggle up under and hot Swedish pea soup and glögg is available on board to warm you up.
For more on Stockholm's boat trips see this guide.
Watch some ice-hockey
With the Swedish football league league closed from November to March, most Stockholmers' sporting interest turns to ice hockey in winter.
The Swedish ice hockey league is one of world's best, and a great place to catch some of the top players and action is at the atmospheric Hovet stadium in central Stockholm.
Top team, Djurgården, who play in Sweden's elite SHL league, are based here – and watching one of their games is an unforgettable winter experience. Ticket prices start at around 250 SEK.
Go skiing at Hammarbybacken
People are often surprised to find out that Stockholm has its own ski slope, right near the city centre.
Hammarbybacken isn't big, but it is a great place to get back in the swing of things for the winter season, or perhaps try out your new skis.
You can rent equipment at the slope or sip hot chocolate in the café. For tips on other ski resorts near Stockholm, see this guide.
Visit Skansen
The oldest open-air museum in the world, Skansen is a delight even in the dead of winter. Cute Scandinavian homes, traditional craftsmen and real-life moose mean you get to see some of Sweden's best bits, all in one place.
See these for yourself by getting a ticket here!
See how glass is blown, taste some old-fashioned Swedish soups, and take home your very own Dala horse.
Fika with the locals
Of course, when in doubt, you can always go for fika – the Swedish tradition that loosely means huddling with friends or family for a chat over coffee and pastries (there's more info here).
Stockholm has no shortage of cosy cafés in which to snuggle up with a cinnamon roll while the snow falls silently on the cobbles outside.
It can take a bit of exploring to find your favourite coffeehouse, but you might want to start somewhere cosy and local like Mariatorget in Södermalm, or tour the snug (albeit touristy) cafés on Stortorget in the Old Town.
This list rounds up some of the more unusual cafés in Stockholm (you can even fika on a tram!).
You can also explore the Old Town with this unique self-guided exploration game that takes you around Stockholm's most iconic buildings.
Go toboganning in Haga Park
At fist sight of the white stuff, do as the locals so – grab a toboggan and head off to Haga Park to the north of Stockholm in the suburb of Solna.
This beautiful landscaped park is home to several royal sites, including the Chinese Pavilion and the Haga Palace, but in main appeal in winter is the snowy slopes, where kids can hurtle downhill at high speed.
Check out the Christmas markets
Like other Scandinavian cities, Stockholm loves its Christmas markets.
If you're visiting in the run up to the big day, it's worth keeping your eyes peeled out for these little stalls, which help to make the dark days just a little bit brighter.
Vendors sell everything from seasonal candies to candles, decorations for the tree, jams, reindeer meat, and spiced glögg.
Head to Stortorget for the classic Gamla Stan Christmas market. This festive walking tour takes you round the old town and its market stalls and includes a traditional glass of mulled wine and gingerbread.
Alternatively, you can head over to the more traditional crafts market at Skansen (see above).
Go kayaking!
OK, so it may not seem the most obvious winter activity but Stockholm's waterways can be magical when covered in snow and frost.
This half-day winter kayak tour is led by an experienced guide and provides you with all the gear you'll need for the winter weather, plus a warming fika stop. There's even an option of a sauna afterwards.
Need to warm up?
Wandering around sub-zero temperatures can be a chilly business! Fortunately, the area around Stockholm has some lovely places to warm up when the cold gets too much.
Here are some of our favourite options for warming up on a winter's day.
Try a Swedish sauna
Swedes love saunas, and you may well want to book a hotel that has one. The upmarket Grand Hotel Stockholm has a lovely sauna and spa or, if you're travelling with friends and family, you could rent a house with your own private sauna.
Alternatively, you can visit one of Stockholm's spa and swimming pool complexes, like Centralbadet at Drottninggatan 88.
Admission to this upscale place is a bit pricey, but the entrance fee will get you into the swimming pools, the thermal baths and a hydrotherapy pool, as well as the sauna.
A friendlier, more down-to-earth option is Farsta Simhall at Farstaängsvägen 3– set around a 25m pool, it comes with its own sauna, hot tub and kiddie training pool. Entry is a steal at around 100 SEK.
First time having a sauna in Sweden? This guide has info on what to expect.
Go ice-swimming
OK, so it may not seem like a good way to warm up, but once you've braved the ice-cold waters, that session in the sauna will seem like the warmest, most tropical experience ever!
Ice swimming is increasingly popular in Stockholm with regulars swearing by its health benefits, and there are several places where you can join the locals in this winter activity.
At Hellasgården, just 20 minutes south of city centre, there's a jetty where you can plunge into the scenic Lake Källtorp, plus a sauna to warm up in afterwards – a swim and sauna session costs 100 SEK.
Or, if you can get a group together, you can book a swim in the waters of the archipelago, followed by a sauna, at the pretty, traditional wooden bathhouse, Saltsjöbadens, about 30 minutes outside the city centre.
For more ideas on taking to the waters outside, see our guide on where to go swimming in Stockholm.
Visit an indoor waterpark
But, of course, not everyone wants to plunge into icy waters.
If you'd rather warm up and soak your bones in an almost tropical environment, head to Västerås, a small city about one hour west of Stockholm and easy to reach using public transport.
The harbour area is home to the Kokpunkten Water Park. Housed in an old steam power plant (the name means 'boiling point'), it stretches over three floors full of heated pools and hot tubs.
There are also waves and slides galore. There's an even an outdoor infinity pool that overlooks the docks – perfect if you want a nice hot soak while surrounded by snow.
And if you're really having a good time you can stay overnight at the cool Steam Hotel, with its industrial-style decor and great views over Lake Mälaren.
Hit the food halls
Take a break from the snowy streets in one of Stockholm's classic food halls (called saluhallar in Swedish).
There are several around the city, but one of the oldest and best known is Östermalms Saluhall, which was founded in 1888 in a huge beautiful brick-built building in the district of Östermalm.
The original building has been completely renovated, and the fully-refurbished historic hall reopened in Spring 2020.
This indoor market is the perfect refuge during cold weather and is a great place to pick up smoked meats, cheeses, smoked fish, beverages and candy. The best part is no one will rush you, so you can easily while away an hour or so here.
Another popular food hall is the one on Hötorget, right in the city centre, where you'll find everything from Finnish and Greek food to tasty Japanese snacks.
Söderhallarna, over on Medborgarplatsen, has some good restaurants below ground level, while K25 on Kungsgatan is a great option for Asian options and casual street food.
Eat at a themed restaurant
If warm food and central heating isn't quite enough, consider eating at a themed restaurant.
Koh Phangan (with several branches across the city) does a good job of transporting diners to a dreamy Thai island, with fairy lights, fiery curries and cold bottles of Chang and Singha beer.
Or for something far more Scandinavian, how about a Viking-themed restaurant? The Aifur pub and bar is named after a Viking ship and decorated in the Viking style with long wooden benches.
It has live music and serves up Viking-style food, such as venison and rack of lamb. You can see more of Stockholm's themed restaurants in this guide.
Check out Stockholm's museums
It may seem obvious but winter is a great time to get your fix of culture and keep warm in Stockholm's many museums and galleries.
The city has a fantastic variety of museums on a huge range of subjects, from the Nobel Prize (Nobel Prize Museum) to photography (Fotografiska) and 17th-century warships (Vasa Museet) to Strindberg (Strindbergs Museet).
Many of the city's museums stay open late one evening a week for late-night browsing; some are completely free while others offer free entrance on certain afternoons or evenings.
For more info on Stockholm's free museums, see our guide.
Hang out with tropical plants
Another fun way to escape the cold: pay a visit to Bergianska Trädgården, where the Edvard Anderson Conservatory, houses countless tropical and subtropical plants.
Opened in 1995 and nurtured by staff from Stockholm University, the greenhouse shelters plants from the Mediterranean, South Africa, Australia, California, and other places that are a bit less brrrr than Stockholm.
Here you can wander at leisure, enjoying the regulated warm air and perfumed air from the flowers. You can even warm yourself with a cup of cocoa in the café.
The gardens are at Veit Wittrocks Väg 5 and entry to the greenhouse is around 90 SEK, though if you're feeling hardy you wander around the outside gardens for free.
Go to the cinema
There's no reason to hole up in your hotel or Airbnb on winter evenings. Drop by Indio, one of Stockholm's oldest arthouse cinemas in artsy Södermalm.
This beautiful art deco cinema has one screen and a nice attached bar, so you can grab a beer before plopping down in front of an independent masterpiece. The cinema is at Hornstulls Strand 3.
Go Nordic skiing
If downhill skiing is a bit too much of an adrenaline-rush for you, why not try Sweden's national sport and go Nordic skiing instead?
On this fantastic full-day tour, you'll be picked up in a minibus and taken out to a frozen lake, where your instructor will teach you the basics of cross-country, or Nordic, skiing.
Then you'll head off on skis along tracks through the woods and open countryside.
Go on a ghost tour
OK, so this is not just a winter activity, but the spooky streets and winding alleyways of the Old Town are particularly atmospheric in winter.
On this ghost tour, your knowledgable guide will take to the city's oldest areas and fill you in on the hauntings, history and everyday happenings of the Gamla Stan.
And, on a cold foggy day, with snow on the ground, the horrific histories, gruesome ghosts and tales of public executions and harsh life in medieval Stockholm seem much more chilling.
Take a magical Christmas tour
To see Stockholm at its most festive best, why not take a magical Christmas tour with your own private guide?
You'll visit the city's Christmas markets, learn all about the legends and stories associated with the Swedish celebrations, and sample some festive food and drink.
And if you're with a large family or a group of friends, the price of the tour works out as not much more than a regular tour.
Go on a winter nature hike
Winter is a wonderful time of year to explore the woods and countryside outside Stockholm, with its snow-capped tree tops and icy lakes and rivers.
On this winter nature hike, your expert guide will take you to a nature reserve outside the city and teach you all about the native animals and plantlife.
You'll then light a campfire, and cook a tasty lunch in the woods or by the lake.
See also:
110 cheap and free things to do in Stockholm
Skiing in Stockholm
Ice-skating in Stockholm
Visiting Copenhagen in the winter
The best guided tours in Stockholm
10 ways to save with the Stockholm Pass this winter
Like what you've been reading? Get our best tips by email!