Think about skiing in Europe, and your mind might automatically drift to the Alps. But what about a trip to Scandinavia instead?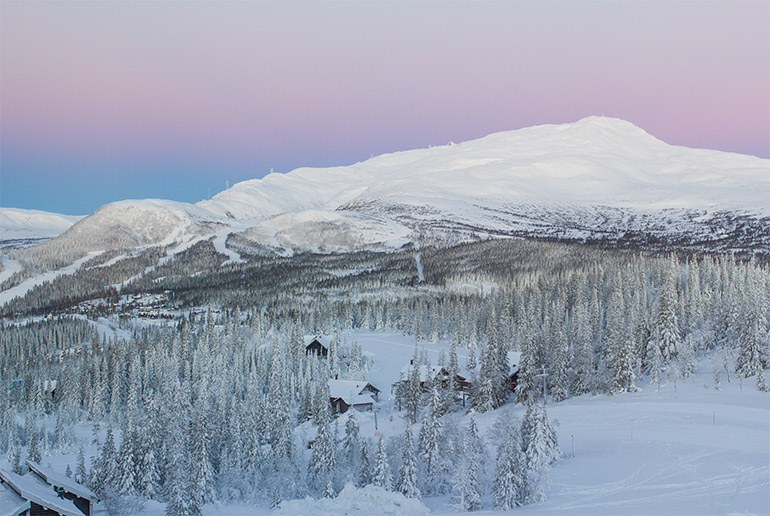 Sweden is home to wild mountain landscapes, perfectly groomed pistes and some truly world-class skiing.
If you're looking for something a little out of the ordinary for your next ski holiday, we think Sweden is definitely worth a look.
Is there good skiing in Sweden?
The answer is most definitely, yes! Sweden is home to some of the most vibrant, welcoming and enchanting ski resorts in Europe.
They might not have the glitz and glamour of Courchevel, but they're charming in their own uniquely Swedish way.
Another plus is that Sweden's ski season starts later and ends later than resorts in the Alps.
This means that, while you can ski in January, you're often better off waiting until later in the year, when there's still plenty of snow – and a lot more daylight, too.
What is skiing in Sweden like?
The vibe at Sweden's ski resorts tends to be relaxed and family friendly (there's less of the raucous après-ski that you'll be used to if you've visited France).
The runs are shorter in Sweden, but there's usually less hustle and bustle at the lifts.
So where are the best places to ski in Sweden? This list should get you off to a good start – and for further suggestions, check out our guide to the best ski areas near Stockholm.
Sweden's best ski resorts
Åre
Åre is the most famous ski resort in Sweden, with thousands of Swedes making the long journey there to ski each winter (it's around seven hours from Stockholm by train).
There's a reason it's popular: Åre is home to Sweden's largest downhill ski area, with the longest runs coming in at about 6km.
Åre is really the Disneyland of the Swedish ski experience – it's a little more commercial than the country's other ski resorts, but the upside is that it's become a bit of a hub for music, culture, skiing, and outdoor activities.
From ice climbing and kayaking to freeriding, events and foodie experiences, you can find it all in Åre.
Sälen
Some of the best skiing in Sweden near Gothenburg can be found at Sälen, where the ski area is made up of four interconnecting resorts (Lindvallen, Högfjället, Tandådalen and Hundfjället).
Ok, so it's still around five hours' drive from Gothenburg (and the same from Stockholm), but that's perfectly manageable for a long weekend's skiing.
The four resorts are all a little different and easy to reach from one another, so no matter how good your are at skiing or boarding, you're guaranteed to find an experience that suits your group.
If you're looking for family skiing in Sweden, our tip is to choose Lindvallen. Or for a more challenging ski experience, try Tandådalen.
Further west, Stöten is another picturesque little resort with oodles of charm, plus rustic hotels and great ski schools.
Sälen is one of Sweden's biggest ski areas, and there are loads of accommodation options to choose from in the surrounding areas.
Riksgränsen
Fancy skiing under the midnight sun? In June? Then you'll want to consider a trip to Sweden's northernmost ski resort.
Up in the Arctic Circle, it's so far north (an epic 16-hour drive up from the capital) that there can be decent snow here even in the summer.
Riksgränsen has a special place in our hearts. It's heaven for freeriders. While the southern resorts in the Alps – places like Chamonix and Zermatt – have been almost totally explored, Riksgränsen remains beautifully wild.
If you can handle the journey, this is an elusive, mysterious and exciting place to go skiing or snowboarding.
Hemavan
Nestled in the imposing mountains of Swedish Lapland, Hemavan is the perfect place to head to if you want reliable ski conditions without needing to jostle for space on the slopes.
The expansive slopes are lovingly maintained and largely above the treeline, making Hemavan the ideal resort for a relaxing trip with friends or family (consistent snowfall and cold temperatures mean that there's nice hard-packed snow, day in, day out).
When you're done skiing, head into the quiet town (population c. 222), to drink some local beers and enjoy Arctic cuisine.
Idre Fjäll
Partway between Sälen and Åre (see above), the scenic ski area known as Idre Fjäll oozes charm.
It's home to neatly tended slopes and a little chocolate box village, where restaurants and cafés beckon riders in with delicious food and roaring fires.
Up on the mountain, expect tree-lined runs and some excellent opportunities for fun off-piste skiing.
Although you can't often ski here outside of the main winter season, the resort is open all year for other outdoor activities like cycling and trail running.
Vemdalen
Often whispered about as being one of the best ski resorts in Sweden, Vemdalen is renowned for wide-open pistes that are groomed to perfection.
Amazingly, there are rarely ever crowds here, outside of big Swedish holidays like the sportlov break (normally mid-Feb to mid March).
Vemdalen also had a good reputation for its après-ski (or 'after ski' as the Swedes call it). There are a few select watering holes where everyone goes, making it easy for the good times to roll.
Branäs
Branäs is the biggest ski resort in Värmland, which hugs the Norwegian border in the western part of Sweden.
It's best suited for families with kids, as the runs are fairly tame and there's a purpose-built children's ski centre (plus, all kids under the age of eight ski for free).
"Branäs ski centre is a great place for kids to have fun! The slopes are designed specially for kids so they can ski safely and practice their skills. Plus, there are lots of friendly instructors who can help teach them how to ski if they need it." says Sarah from Toddler Trips.
Other reasons to go? Well, Branäs has a state-of-the-art lift system, which makes getting around a breeze.
And the resort has some incredible snowmaking capabilities. Even if you're visiting early or late in the season, you should be guaranteed good coverage.
Romme Alpin
Romme Alpin deserves a place on our list of Sweden's best ski areas as it's location is so handy. Just a few hours' drive northwest of Stockholm, it's a big hit with locals and tourists alike.
This is actually one of the only Swedish ski areas that lets you combine all the excitement and culture of a city break with a mini skiing holiday – not a bad shout if you're short on time and want a traditional Scandinavian experience.
The resort itself has some lovely tree-lined runs, and there are good options available for trying your hand at other activities like snowmobiling.
Ramundberget
On a good day, Ramundberget is a proper winter wonderland. Prone to light and fluffy snow, it's an excellent choice for freeriders and powder chasers but also for people who like to balance a few hours on the slopes with generally taking it easy.
It's also the place to come if you're looking for Nordic skiing in Sweden, otherwise known as cross-country skiiing or längdskidor.
Right next to the resort there are Nordic ski slopes, making it part of a huge interconnected ski trail system with more than 300km of cross-country pistes.
Dundret
Perched above the mining town of Gällivare, high up in northern Sweden, Dundret offers 15 different runs and spectacular views of the surrounding forests.
There's also a snowpark and a ski school, and ski equipment is available for rent.
Dundret Laplands Fjällhem provides simple hostel accommodation right at the foot of the ski lift, with ski-in, ski-out access and a sauna.
Kungsberget
With 24 pistes and 15 lifts, the low-key resort of Kungsberget is a good bet if you're looking for somewhere close to Stockholm. At 220km north of the capital, it can be reached in around two and a half hours by car.
Alternatively, you can take the weekend direct ski bus from Stockholm, which runs on renewable fuel and the fare includes a lift pass. And the bus schedules are organised so that you can even do a day-trip from the capital!
Kungsberget is a good resort for children and beginners, but there are also a few more challenging runs for experienced skiers.
And because the resort is relatively low-lying, they guarantee that at least two of their runs will have enough snow to ski – or you can get the money for your trip back.
Map of ski resorts in Sweden
When can you ski in Sweden?
Generally speaking, there's a very good chance of snow at ski resorts in central Sweden between late November and late April. The further north you travel, the longer this wintry season extends.
But do remember that good snow is only one part of the equation. Daylight (or the distinct lack of it) should be a major consideration when planning your ski trip to Sweden.
In December and early January, the sun barely rises at all in northern Sweden, and there are just a few hours of sunlight per day in central areas.
It is still possible to ski or snowboard (pistes are often lit by floodlights) but the extremely low temperatures between December and February mean that you'll need to wrap up extremely well. Warm, windproof clothes are essential.
Skiing in Sweden at Christmas is cold with only a few hours of daylight, but that does mean that you've got a better chance of seeing the northern lights, especially in the northern resorts.
And, of course, Christmas markets, beautiful decorations, twinkling lights and cosy bars all add to the festive atmosphere in the resorts.
Skiing in Sweden in February can be good provided you avoid the break that Swedes call Sportlov, which usually falls in late February. Prices at these times tend to shoot up, making the whole trip considerably more expensive.
In terms of getting a good deal on lift passes and accommodation, it's also worth avoiding the main Easter holiday.
Outside of Easter, however, then the best time to go skiing in Sweden is probably early April – there's still plenty of snow and the air temperature is fresh, rather than bone-chillingly cold.
The days are also much longer, meaning you can spend more time out on the slopes before heading to the bar.
How much does skiing cost in Sweden?
Skiing in Sweden is not necessarily pricier than skiing in the Alps – and lift passes can actually work out a fair bit cheaper.
So while a five-day lift pass at Chamonix costs around €340 in high season, a similar pass at Åre in Sweden costs just €248.
Accommodation prices are fairly similar to the Alpine resorts, though you may find that things like food and beer cost slightly more in Sweden.
Even if you choose self-catering accommodation and decide to make your meals at home, you'll be subject to Swedish prices (our guide to the cost of living in Sweden will give you an idea of what things cost).
Also bear in mind that supermarkets near ski resorts tend to charge more for everyday items, so it's worth stocking up with supplies elsewhere in Sweden before reaching the slopes.
Why is skiing popular in Sweden?
First of all, the skiing and snowboarding scene in Sweden is one of the most relaxed in Europe, and few Swedish resorts have the pretence or attitude you find at flashy resorts in the Alps.
Even at the best resorts there are rarely ever big crowds, and the long Swedish winters mean that you can find good snow for at least six months of the year.
It's also great for cross-country skiing (or längdskidor in Swedish), with good cross-country trails all over the country. And at most resorts, you can mix in a bit of cross-country skiing with the usual downhill skiing.
FAQs about skiing in Sweden
Is Sweden a good place for beginner skiers?
Yes, there are plenty of resorts in Sweden that are suitable for beginners. Some of the best include Hemavan, Idre Fjäll and Lindvallen and Högfjället in the Sälen ski area.
Where are the best places for downhill skiing in Sweden?
While it may not have quite the same extreme options as the Alps, downhill or Alpine skiing in Sweden is possible in all the resorts we suggest above.
Åre, in particular, has Sweden's largest downhill ski area, while the villages in the Sälen ski area combine to make northern Europe's largest ski resort.
A ski-through Mcdonalds – is it real?
Oh yes! Only in Sweden would you find a ski-through Mcdonalds. In the village of Lindvallen, part of the Sälen ski area, the Mcdonalds has a ski-up counter, called the McSki, where skiers can order burgers and fries on the go.
Where can you find ski jobs in Sweden?
Ski guiding and ski instructor jobs are hard to come by in Sweden for foreigners, since there are plenty of Swedes who can do the job themselves.
However provided you're eligible to work in Sweden, it's worth looking at individual resort websites, such as this one in Kungsberget or this one in Riksgränsen to check for vacancies.
Hospitality is the most common sector to employ people in the ski resorts in Sweden, and jobs such as chefs, waiting staff and cleaners are always needed.
If you can get morning and evening shifts, that will leave you time to get out onto the slopes during the day. Check here for jobs in Swedish Lapland.
See also:
Cross-country skiing in Norway
Great ski spots around Oslo
Fun in the snow: the best winter tours in Sweden