Autumn and winter can be challenging in Denmark. Days get darker at a rapid rate and a fierce combination of rain and wind from the sea makes even active Copenhagen residents consider staying indoors with a board game and a hot drink.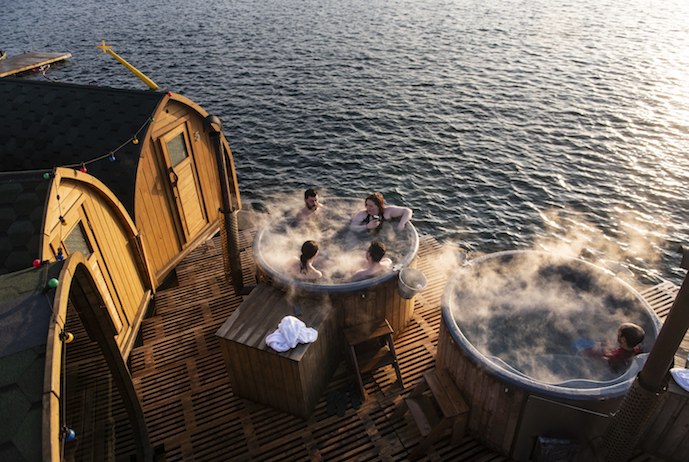 At this time of year, there is no greater pleasure than swapping a few hours of sightseeing for a nurturing soak in a warm bath. Luckily, the Danish capital is full of atmospheric spas and old bath houses – ranging from the budget-friendly to the more extravagant.  
While bathing is the ultimate way to get rid of sore muscles and free the mind, it also brings you closer to the communal spirit of Danish culture.
Lying next to each other in identical tubs, chatting over a steam bath or floating in salt water, busy Danes enjoy the informal setting and social intimacy of shared baths.  Here's a quick guide to the Danish capital's best communal baths!
Sjællandsgade Bad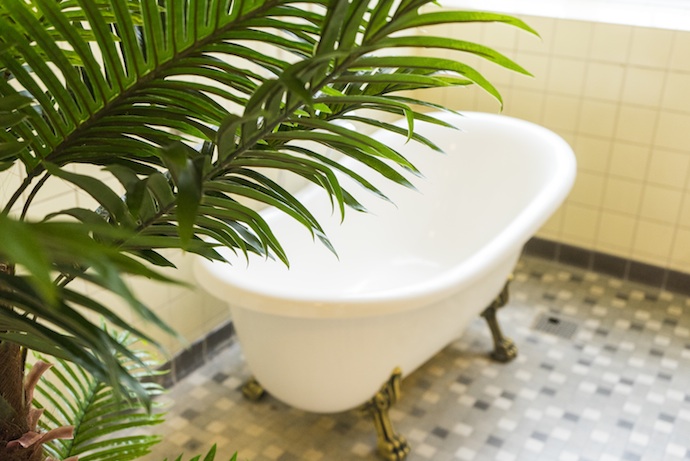 You only need to lie in the big white tubs listening to classical tunes in this 100-year old bath house for a short while before the world outside begins to feel wonderfully distant.
While Sjællandsgade Bad was originally built to cater for citizens without access to their own shower, today it has become a cultural meeting point for all kinds of people.
It's run by a volunteers, who aim to nurture a feeling of community and closeness between different people in society.
You don't come here to wash for hygienic reasons, you come because the vibe is welcoming, and you can be just as you are.
A one-hour session in a big tub at Sjællandsgade Bad costs 60 DKK (you can stay longer than an hour if there's no-one waiting to use it after you), and a hot shower costs 30 DKK.
Where: Sjællandsgade 12 A, Nørrebro, 2200 København N.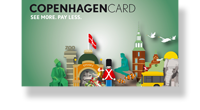 Is the Copenhagen Card worth buying?
Read this guide to see how much you could save during your trip!
CopenHot
If a tour of Copenhagen's canals sounds a bit too tame, why not spice it up with a sailing trip in a floating jacuzzi? CopenHot is definitely the new kid on the block, taking the idea of a bath with a view to a whole new level.
You can rent your own hot tub, filled with seawater warmed to a deliciously soothing 40˚C, and explore the Copenhagen waterfront, or catch a beautiful sunset accompanied by your own music under the guidance of a skipper (2200 DKK per sailing tub).
There are also stationary hot tubs and a panoramic sauna with views of the harbour, opera house and the Amalienborg Palace. There's even a 'tower hot tub' for even better views!
On Fridays and Saturdays, you can book a private hot tub for yourself (1300 DKK per hot tub; 1580 DKK for the tower tub including a bottle of cava).
If you prefer a more sociable vibe, the "hotdays" sessions (selected days only) are cheaper, with guests bathing in communal hot tubs and sharing the facilities (300 DKK per guest).
Where: Refshalevej 325, Refshaleøen, 1432 København
Frederiksberg Svømmehal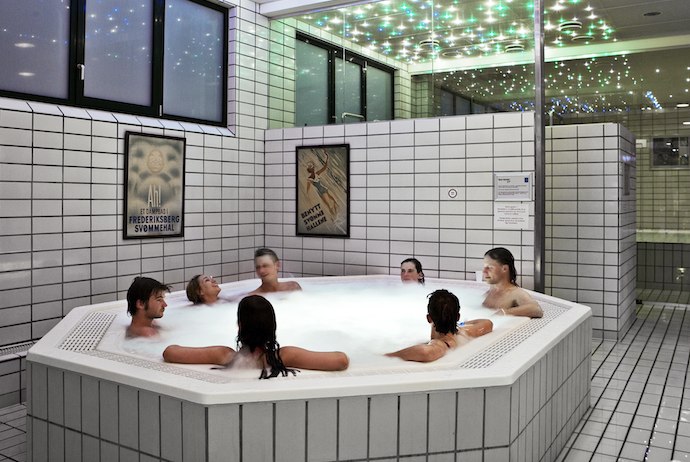 With swimming pools, a hot water pool and even water slides, Frederiksberg Svømmehal is a great place to get active – you can even book in for a midnight swimming session. And its health spa has long had an excellent reputation too.
Why not start by getting warm in the big jacuzzi and then move on to enjoy some intense sauna therapy or breathe the fresh air (cleaned by a wall of living plants!) in the 'immersion room'?
There are also aromatic steam baths, and there's a sauna furnished with Himalayan salt rocks that are send to release calcium, magnesium and potassium.   
If you're up for some alternative meditation, try the salt water basin, where you can float in quiet surroundings: the process of "weightlessness" apparently causes your blood vessels to open, allowing oxygen to remove body waste from your muscles more effectively.
This place is popular, so you're advised to book in advance. Tickets to the health spa cost around 175 DKK for two hours, while the floating experience costs around 110 DKK for 25 minutes. And if you book a health spa session, you can use the public swimming pools for free.
Where: Helgesvej 29, 2000 Frederiksberg
Sofiebadet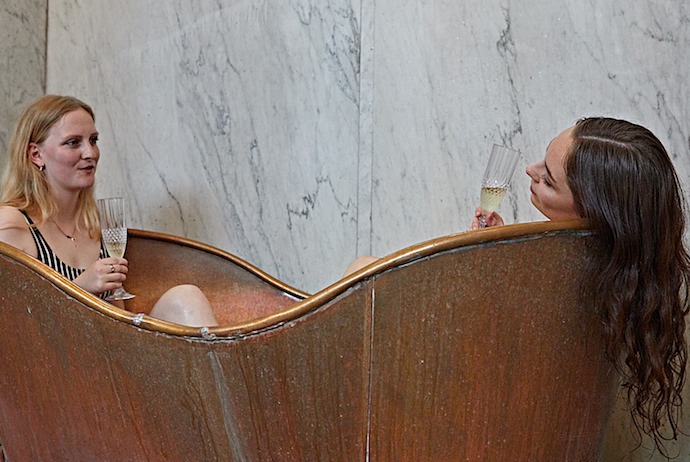 For more than 100 years, Danes have been enjoying the marble showers and bath tubs at the spacious old bathing institution of Sofiebadet.
Wrapped in a bath robe, you can wander between the copper-headed showers and warm tubs, reinvigorate yourself beneath buckets of ice cold water, then relax with herbal tea and fresh fruit in the chill-out room.
The luxury tub experience includes a face mask of seaweed, clay and herbs, a mint salt scrub and an organic hair treatment. Alternatively, you can have a hammam treatment or go for the herbal bath which contains essential oils.
Sofiebadet is reserved for women only on Thursdays after 4pm; the rest of the week, it's open to everyone. Prices start at around 200 DKK for the health spa, 300 DKK for the luxury experience, and 350 DKK for the herbal bath.
Where: Sofiegade 15, Christianshavn, 1418 København K
Arndal Spa
If you want to go all in on spoiling yourself and money's no object, Arndal Spa offers a variety of luxury spa treatments.
Whether you want to spend some quiet time with your family in the hot waters, or fancy adding a culinary twist to your spa visit, Arndal has it.
With the Arndal Afternoon Tea package, you can combine your visit to the sauna, steam bath and salt water jacuzzi with a massage and delicious snacks, such as truffle salami sandwiches or buns with chocolate spread from the Danish chocolate brand Peter Beier.
Where: Store Kongensgade 21, 1264 København K
See also:
Unusual places to stay in Denmark
Escaping the winter in Copenhagen
Like what you've been reading? Get our best tips by email!