Copenhagen is one of the most bike-friendly cities in the world. There are hundreds of kilometres of cycle lanes crisscrossing the city, and each day tens of thousands of people choose two wheels for their journey instead of four. In fact, there are now more bikes than cars on Copenhagen's roads.
Still need more encouragement? Well, cycling is a cheap, fast, healthy and green. And because the city is relatively flat, you won't have to worry about struggling your way up any big hills. You can find a set of wheels to rent on just about every block, so it's easy enough to get started. Here are some of the options when it comes to renting a bike in Copenhagen.
The best bike rentals for short trips
Official city bikes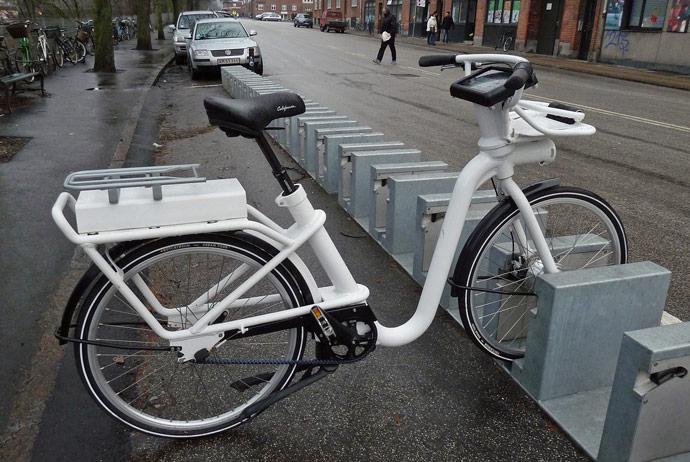 You'll find white city bikes (Bycyklen) at docking stations dotted all over town. They're available to hire 24/7 and each bike has a touchscreen tablet with its own onboard GPS – just type in your destination or pick one from the 'points of interest' list and the map will tell you where to go. It's super easy.
One thing to be aware of is that these bikes are quite heavy, which can make for a tough ride, but that's rarely an issue thanks to the fact that they're fitted with an electric motor that can help you reach speeds of up to 22km/h.
With an extra boost like that, you can cover a lot of ground surprisingly quickly. The bikes also have an electronic wheel lock, meaning you can leave them anywhere during your rental period – just remember that they have to be returned to one of the official docking stations when you're done.
These city bikes cost about 30 DKK per hour to rent on a pay-as-you-go basis. Alternatively you can buy a subscription allowing you to use the bikes for a set number of hours per month.
To get started, just head to one of the docking stations (map here) and use a credit or debit card to unlock the bike. When it's time to return your bike, you can let the onboard GPS guide you to the nearest empty docking station.
Donkey Republic bikes (aka 'donkey bikes')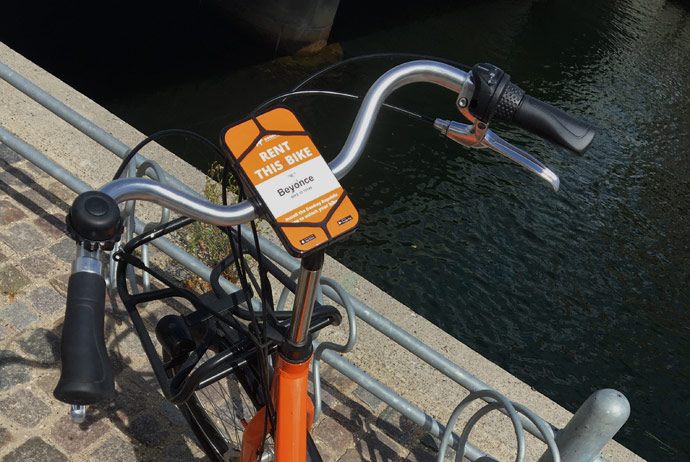 A nice, slightly cheaper alternative to the official city bike scheme is Donkey Republic. With a big emphasis on technology and using bikes to change the way cities work, this bike rental scheme lets you rent bright-orange bikes with super-cool names like Beyonce, Mad Max, Fairyfloss and Don't Drink & Drive.
The bikes are parked up all over the city; you can find, book and unlock them using the Donkey Republic app on your smartphone. These bikes are a bit lighter and cheaper to rent than the city bikes, but if you want GPS navigation you'll have to use your phone (and your own data).
You can strap your phone onto the special holder panel on the handlebars for easy viewing. Like the official city bikes, donkey bikes have an electronic wheel lock and must be returned to specific drop-off locations, which the app will guide you to.
The longer you rent a donkey bike for, the cheaper it becomes. As a general guide, you can expect to pay around 55 DKK for two hours, or 460 DKK for a week.
Renting from your hotel or hostel
If you're really pressed for time, most hotels and hostels will have bikes available for rent, although the going rate is a little higher than at bike shops – about 150 DKK per day. Make sure you give the bike a good check over before you set off to avoid getting stranded (or charged for something you didn't break).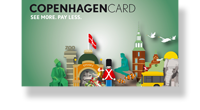 Is the Copenhagen Card worth buying?
Read this guide to see how much you could save during your trip!
Longer-term bike rentals in Copenhagen
If you're not sure which type of bike to go for, or if you just want something comfy for a full day or more, pop into one of Copenhagen's many bike stores.
One of the easiest bike shops to rent from is this place in Nørrebro where you can rent a standard adult bike for about 120 DKK per day.
Another good option is Baisikeli at Ingerslevsgade 80 in Vesterbro, about 1km southwest of Copenhagen's main train station – just look for the huge rainbow mural. Renting a budget bike for 24 hours will set you back about 80 DKK here, plus around 40 DKK for a helmet. You can buy a set of removable lights for about 80 DKK (in Copenhagen it's mandatory to have lights on your bike after dark).
Another option is Bike Rental Copenhagen at Kongens Nytorv, where you can get a 20% discount for pre-booking online. The bike will be ready for you at your requested time. Expect to pay about 130 DKK for 24-hour rental, plus around 40 DKK for a helmet and lights.
What about bike tours?
Explore the city with a knowledgable, local guide can be more enlightening than exploring alone. There are a few great bike tours available in Copenhagen, including this two-hour group tour and this awesome private tour (minimum four participants).
Other types of bike to rent in Copenhagen
Bikes for children
Children's bikes can be rented from most bike shops in Copenhagen for about the same price as an adult bike. For smaller kids, you can hire an adult bike with a child's seat strapped to the back. This booking form lets you reserve a bike with a child seat ahead of your arrival.
Renting a Christiania bike
Since you're in the home of the original Christiania Bikes, why not try a cargo bike? If you've been in Copenhagen before you've probably seen someone riding one of these three-wheeled cargo bikes laden with two kids, a dog, a couple of shopping bags and everything else but the kitchen sink.
Reserve one online or head down to Christiania Cykler in Freetown Christiania to hire one for about 450 DKK for a day, plus extra for a helmet and lights.
Electric bikes
If you want to venture outside Copenhagen, you can hire an electric bike that travels at up to 30km/h. Although the official city bikes (see above) also come with a battery-powered boost, the ones at Copenhagen Bicycles in Nyhavn are better for longer trips.
Copenhagen Bicycles also lets you rent electric family bikes that fit two children in the front – seatbelts included – and reach speeds of 25km/h. See, who needs to rent a car? Expect to pay about 300–650 DKK for 24 hours of bike rental, plus about 40 DKK for a helmet.
Tandem bikes and road bikes
The aptly named Rent a Bike, located right near Østerport train station, is the best place to rent tandems and road bikes in Copenhagen. Rates range from about 250–350 DKK per day.
A word on safety
Regardless of which bike you decide to get, make sure it has lights because it's illegal to ride at night without them. The City Bikes and Donkey Republic bikes come with automatic lights, while most bicycle shops will provide lights for their rentals. Using a helmet is optional, but always a good idea.
This guide has more on the rules to follow when cycling in Copenhagen. It's also crucial to make sure you have good travel insurance in place before you even think about cycling in Copenhagen! You can get a quick quote below.