Winter can be a lovely season to visit Oslo. The low winter sun gives a unique perspective to the contemporary architecture on the city's waterfront, including the Opera House with its sloping white roofs, and She Lies, the glass-and-steel sail-like sculpture by Monica Bonvicini in the middle of the fjord.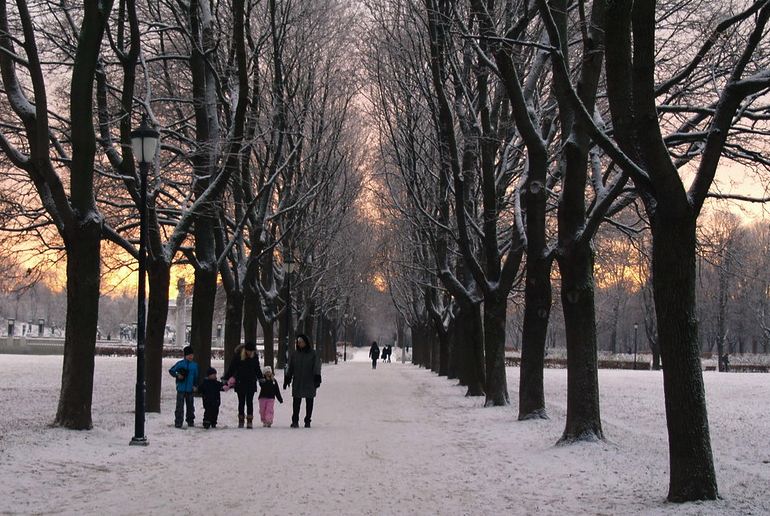 You can explore the city on foot or by bike – yes, even in winter you can pedal along car-free routes, making welcome pit-stops at indoor food markets and cafés. Join a winter cycle tour and they'll provide a bike with winter tyres.
And although it's warmer than Northern Norway (and therefore often wetter!), Oslo still usually gets snow in winter, with flurries as early as November.
If there's been a good dump of snow, you don't have to travel far from the city centre to go snowboarding, sledging or skiing. You can do all these winter sports and more at the Oslo Winter Park and Normarka forest, which can be easily reached by metro.
In the lead up to Christmas, Oslovians shed their typical reserve. Step into the city's bars or restaurants and you get a blast of warmth and bonhomie, especially if there's a Julebord (work Christmas buffet) in full swing.
When's the best time to visit Oslo in winter?
December is the peak time for Christmas cheer. The city's biggest Christmas market, Jul I Vinterland, takes over Oslo's main pedestrian street Karl Johans Gate opposite the Royal Palace from mid-November through to New Year's Eve.
Trees festooned with lights, little red apple decorations hanging in windows and gløgg (mulled wine) with pepperkake (gingerbread biscuits) all add to the atmosphere at this magical time of year. A smaller, tented market takes place on Youngstorget.
This winter tour shows the city at its festive best, and gives an insight into Oslo's seasonal traditions.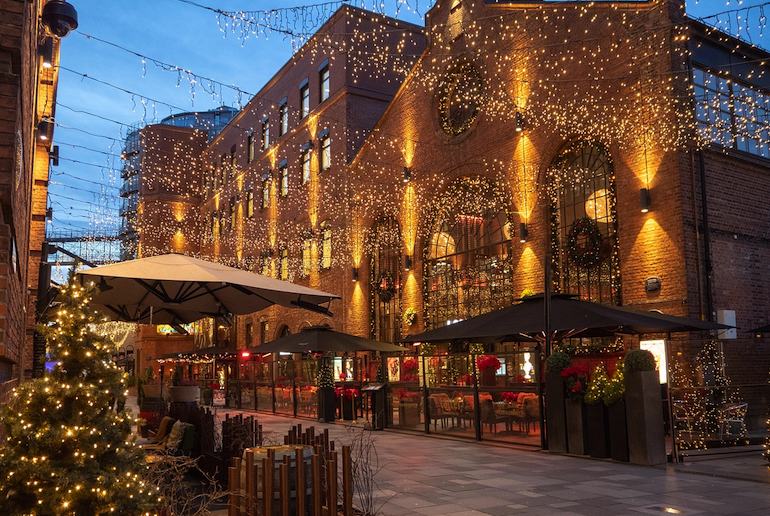 The often clear, crisp weather of January through March is ideal for a city break – though we don't want to oversell this, as Oslo has its share of grey, sleety days too!
But, it's a good time of year to avoid the crowds at popular attractions such as the Kon-Tiki museum and the collections dedicated to Amundsen's Polar expeditions – both of which are included with the Oslo Pass. You could also combine a couple of days in Oslo with a few days at a ski resort such as Beitostølen, Geilo or Hemsedal, all within easy reach of the city.
It's difficult to predict exactly what the weather will be like from month to month, especially with the way climate is changing.
January 2020 was the first time on record that Oslo – along with Stockholm, Helsinki and Copenhagen – was above freezing (0°) every day of the month, with little or no snow. In a cold snap, however, temperatures can plunge to -5°C degrees C, and even lower with windchill. Pack layers!
What to do on a winter trip to Oslo
Is the Oslo Pass worth buying?
Read this guide to see how much you could save during your trip!
Break the ice with the locals
Steam at the floating Oslo Fjord Sauna at Sørenga, the regenerated dockyard area near the Opera House. And when you're nice and sweaty, jump into the freezing fjord! Brrr!
Hit the indoor food markets
Mathallen's stalls sell everything from reindeer sausage, goat's cheese with seaweed, smoked whale and craft beers to Asian tapas and bento boxes; there's also live music at the on-site gastropub Smelteverket.
Newer Vippa, in an Oslo Fjordside warehouse at Akersbusstranda 25, supports young refugees and recent immigrants and focuses on street food from around the world.
Ice skate in the open air
Skating is free at the Spikersuppa ice rink in a twinkly setting on Karl Johans Gate. The rink is open daily, and you can hire skates at the rinkside.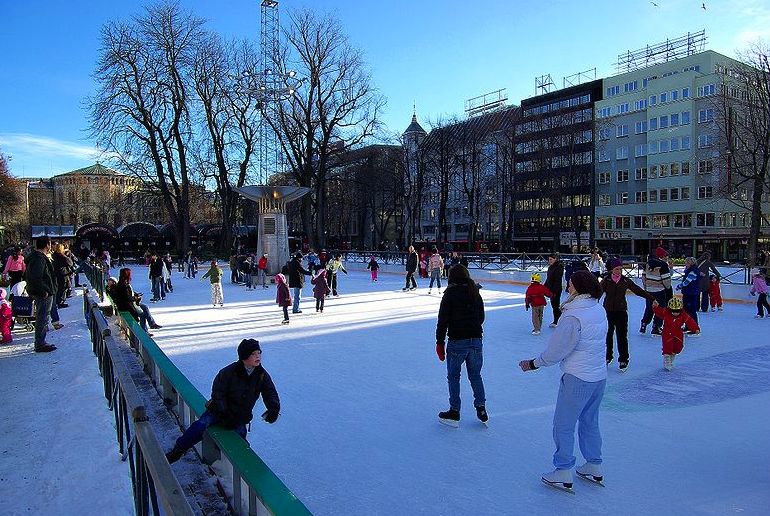 Do some shopping
Have a rummage at Sinsen Brukthall fleamarket (Sinsenveien), join metal heads from around the world at Neseblod records (Schweigaards Gate 56), find rare grooves at Bare Jazz, (Grensen 8), upgrade your wardrobe at Dapper (Nordre Gate 20) and check out all things photography-related at foto.no in the Barcode district.
Just after Christmas is best for the winter sales, with big discounts that can last into February.
Try cross-country skiing
Familiarise yourself with the technique, kit yourself out at Tryvann ski rental then schuss along well-signposted floodlit trails in the Nordmarka forest on the edge of the city.
And if there's not enough snow for outdoor skiing, you can still get onto the slopes at the new Snø centre, a vast indoor winter sports arena on the edge of the city.
Find your snowboarding legs
Start off in the easy 'blue park' in the Oslo Winter Park, step it up with a few half-pipes in the 'red park' or go all out on the black Slopestyle Tyr route, used for the Snowboard World Championship 2012.
Just 20 minutes from the city centre by metro, the park is open til 10pm most days and rents out all the equipment you'll need – with a 15% discount for Oslo Pass holders.
Get a bird's-eye view of Oslo
On a clear day the panorama from the observation deck of the sinuous Holmenkollen ski jump tower is incredible, as is the 36-degree in-run which the world's best ski jumpers hurl themselves down during Oslo's annual ski festival each March. Either scare yourself silly by abseiling or ziplining back down, or just take the lift!
Find out all you could want to know about skiing – apparently the sport dates back 4000 years to prehistoric times – at the on-site ski museum (metro Line 1, Holmenkollen station). Entry to the Holmenkollen tower and museum is free for holders of the Oslo Pass.
Get serious about coffee
Hipster roastery and espresso bar Tim Wendelboe (Grüners Gate 1) across the river from Mathallen, Supreme Roastworks (Thorvald Meyers Gate 18) in Grünerløkka and mid-century modern heaven Fuglen (Universitesgata 2) are three gourmet favourites – the latter features on this guided coffee lover's trail.
Go tobogganing
The 2km-long Korketrekkeren (meaning 'corkscrew'), near Frognereseteren metro station is great fun to bomb down – you can do it in 10 minutes. At the bottom, hop on the metro at Midtstuen for the 16-minute ascent back to the top.
You can rent a toboggan and helmet at Akeforeningen just down the hill, or do this as part of an organised tour.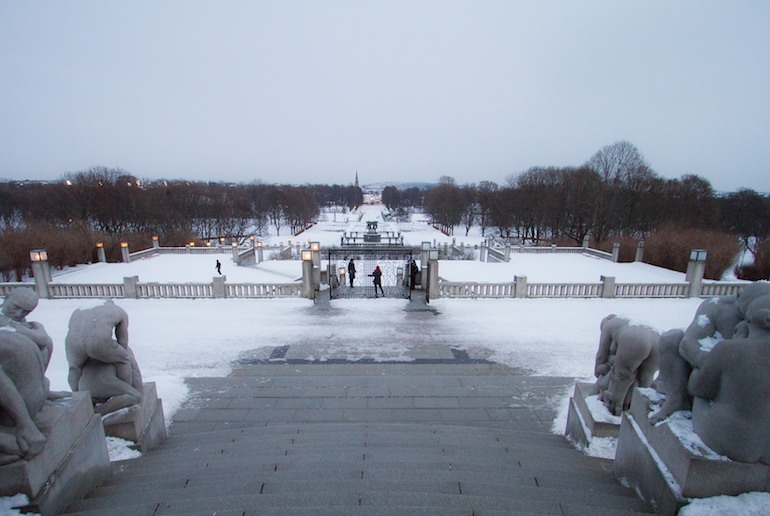 Try some festive fare
Ribbe – roast pork belly – with boiled potatoes, sausages, prunes, lingonberries and pickled cabbage is synonymous with Christmas in eastern Norway and can be found on menus all over the city. Rakfish – salted and fermented trout – is another Christmas delicacy (not recommended if you're pregnant!).
And what could be more comforting in the cold than a fondue or apple tart in a timber chalet next to a roaring fire? Head for the 19th-century 'dragon-style' Kafé Seterstua at Frognerseteren, which has bags of atmosphere and gorgeous views.
See also:
Oslo for book lovers
Great ski spots in and around Oslo
Five cool Oslo neighbourhoods you have to check out