Copenhagen's sprawling Kastrup airport is the largest and busiest airport in Scandinavia.
However, arriving here can be a surprisingly nice experience; as you walk through the automatic doors and into the arrivals hall, there's a good chance you'll be met by a sea of locals waving little Danish flags for their returned comrades.
The abundance of red-and-white Dannebrog (because obviously, a flag must have a name) can be quite a sight, and it makes for a heartwarming welcome to the Danish capital.
This guide will help you decide how to get from the airport to the centre of Copenhagen, a short distance away. You can hop to a specific mode of transport using the links below.
By train
By metro
By bus
By taxi
By rental car
By bike
So how far is Copenhagen from the airport?
Strictly speaking, Copenhagen's airport is actually located at Kastrup, on the island of Amager.
It's about 10km south of downtown Copenhagen and that usually means that whichever mode of transport you opt for, you should be able to make it into the city within 30 minutes or so.
There two terminals at Kastrup – terminals 2 and 3, which are linked together.
Terminal 1 used to handle a few domestic flights, but now most domestic flights land at terminal 2 and the vast majority of international flights arrive at terminal 3.
This is good news, because the train and metro stations are in terminal 3, and most buses into the city centre leave from outside here too.
The cheapest and fastest way: use public transport
Copenhagen's airport is extremely well connected, with trains, buses and metro services all travelling between the airport and the city centre.
Fares and buying tickets
The cost of a train, metro or bus trip to the city centre is the same regardless of which option you choose.
The airport is in Zone 4, so you'll need a ticket that is valid for four zones to get into the centre of the city.
The current single fare is 40 DKK for a one-way ticket, which is valid in four zones on all three modes of transport for one hour.
You won't need to worry about buying tickets for young kids, as each paying adult can bring two children (aged 12 and under) for free.
Children aged between 12 and 16, and those travelling on their own, pay half price (20 DKK).
Tickets for all forms of transport can be bought from the red DSB ticket machines inside terminal 3, and metro tickets can be bought at the station.
The ticket machines don't accept notes, but they do accept coins and established credit/debit cards, such as Visa.
Alternatively, you can buy tickets in advance by downloading the DOT app onto your phone. Tickets bought via the app cost the same as buying them at the station.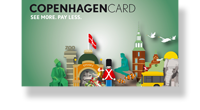 Is the Copenhagen Card worth buying?
Read this guide to see how much you could save during your trip!
Will I save money with a City Pass?
If you're planning to travel around the city a lot on public transport, you may want to buy a City Pass, which comes in various versions.
They are valid for 24 hours up to five days, and they come in Small and Large versions, depending on how far you want to travel.
The Small Pass is the cheapest and covers central Copenhagen, plus the journey out to the airport.
The Large pass covers the area surrounding Copenhagen up to and including Roskilde and Helsingør.
There are also three other City Passes that are available only for 24 hours.
The West pass covers the area to the west of the city; South includes the islands of Lolland, Falster and Møn; and X-Large covers the whole of Zealand, plus the southern islands of Lolland, Falster and Møn.
Small and Large passes can be bought at the airport, in selected stations in the city centre and via the DOT app. The West, South and X-Large passes can only be bought via the DOT app.
| | | | | | |
| --- | --- | --- | --- | --- | --- |
| | 24 hours | 48 hours | 72 hours | 96 hours | 120 hours |
| Small Pass | DKK 80 | DKK 150 | DKK 200 | DKK 150 | DKK 300 |
| Large | DKK 160 | DKK 300 | DKK 400 | DKK 500 | DKK 600 |
| West | DKK 160 | n/a | n/a | n/a | n/a |
| South | DKK 160 | n/a | n/a | n/a | n/a |
| X-Large | DKK 260 | n/a | n/a | n/a | n/a |
A single ticket in zone 1 costs 24 DKK, so if you're in Copenhagen for three days, you only need to make five journeys in Zone 1 by public transport, plus a return trip to/from the airport to make buying the City Pass worthwhile.
Is it worth buying a Copenhagen Card?
Alternatively, you can buy a Copenhagen Card Discover that gives you free entrance to more than 80 attractions in the city plus unlimited public transport within zones 1–99 – which includes the airport.
It, too, comes in one-, two-, three-, four- and five-day versions.
Be careful not to confuse it with the Copenhagen Card Hop. This is available for a similar price, and includes free entrance to 40 attractions and unlimited access to the city's hop-on/hop-off buses. However, it does not include public transport or the journey to/from the airport.
For the full rundown on the ins and outs of the Copenhagen Card, check our post on Is the Copenhagen Card worth buying?
So which is the best option?
Well that really depends on which part of Copenhagen you're staying in. If you're aiming for the city centre, the train is hard to beat, while the metro may be quicker for in-between stops and suburban areas like Amager East.
The train and metro platforms are located inside the airport building, at the end of terminal 3. The bus stations are located outside terminals 2–3.
Just follow the signs, which are in Danish and English.

The Copenhagen Airport to Copenhagen train
If you want to get to Copenhagen's Central Station from the airport, regional trains run by DSB are your best bet; they will whizz you to the city centre in about 15 minutes.
These trains are perhaps the most luxurious of all the public transport options, with clean and spacious carriages, plus free wifi.
Trains to Copenhagen Central Station (also known as København H) leave from platform 2 roughly every 10 minutes.
Trains on platform one will take you over to Sweden, so be careful not to get on the wrong one, unless you are heading for Malmö!).
Note that you must have a valid ticket before you board the train. Don't be tempted to jump on without one as this route is patrolled by regular ticket inspectors.
The metro from Copenhagen Airport
If you want to be smack bang in the middle of the action, take the metro straight from the airport to Kongens Nytorv (around 19 minutes).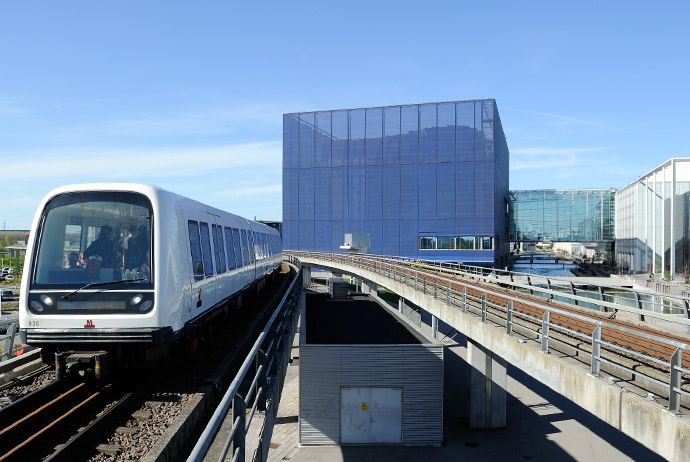 This is where you'll find the picturesque houses at Nyhavn and the shopping street Strøget.
The airport is at the end of line M2, and other stops along on the same line include Nørreport, Frederiksberg, and the old maritime area of Christianshavn.
The metro costs the same as taking the train, so take a look at the metro map (available here) and see which stop is nearest to wherever you're going.
Metro trains run every five minutes or so during the day and every 15–20 minutes at night. The airport is right at the end of the yellow line, so jump on any of the metro trains and you'll be downtown in about 20 minutes.
You can't buy tickets onboard, so make sure you buy one from the station, on the app or from the DSB ticket machines in Terminal 3.

Public buses from the airport
The slowest of the public transport options, the bus ride to downtown Copenhagen takes about 35–40 minutes. It's really only worth considering if you're staying in one of the city suburbs along the bus route.
If you do decide to take the bus, the most useful option is bus #5C, which leaves from outside terminal 3 every 15 minutes or so and stops at Kottegårdsskolen, Sundbyvester Plads, Amagerbro Station, Central Station, Rådhuspladsen, Nørreport Station and Nørrebro Station.
The laziest way: grab a taxi
Airport taxis are expensive in Copenhagen, but you might want to consider taking one if you're in a group or if you have a lot of luggage that you don't want to lug around on public transport.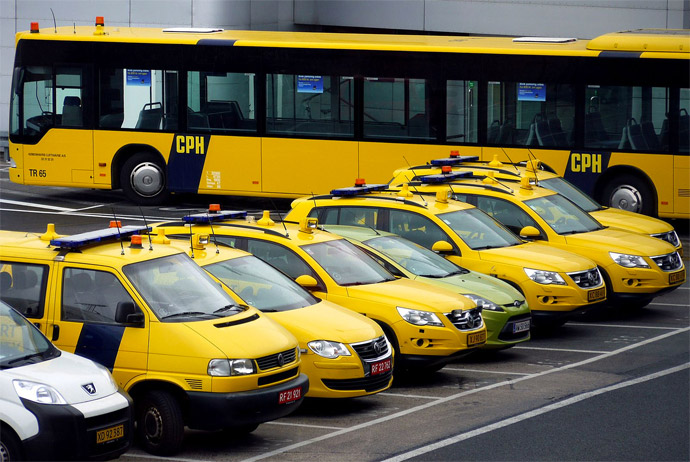 You'll find taxi ranks outside terminal 3.
It's normally a 20-minute journey that'll set you back about 350–400 DKK. The taxis have meters, so setting a price before the journey isn't an option. You can pay by card and there's no need to tip the driver.
What about Uber and other ride-sharing apps?
Uber doesn't operate in Denmark, but other ride-sharing companies do.
Taxa 4×35 is the most widely-used ride-sharing app in Copenhagen, with about half their fleet of cars being electric. They aim to be 100% zero emissions by 2025.
Charging similar prices, Viggo is a smaller company that that has about 100 cars in Copenhagen, all electric.

The DIY option: rent a car
There's no real need for a car if you're only visiting Copenhagen, as using public transport is far cheaper and easier.
That said, if you plan on travelling further afield it can be cheaper to hire a car at the airport rather than in the city centre.
This page on our site checks dozens of local providers to help you find the best deal. Once you land, a free airport bus will take you to the car rental centre where most of the big name companies are located.
The fancy option: take a VIP transfer
Some upscale hotels in Copenhagen offer complimentary shuttle bus services to and from the airport, or you could splash out and book your own private airport transfer.
You driver will show you the sights on the way and drop you directly at your hotel. And if there's a group of you, it may not work out too much more expensive than a taxi.

Bonus option for the brave and truly Danish: cycle to Copenhagen
If you don't have much luggage you could bike to the city centre in about 30 minutes, but there aren't any permanent bike rental options at Copenhagen airport.
You could try your luck with bike-sharing app Donkey Republic, which sometimes has a few bikes stationed outside the airport.
There's more on renting a bike in Copenhagen in this guide and you can check out our top tips for cycling in the city here.
FAQ
What is the cheapest way to get from the airport to Copenhagen?
It's a flat fare of 40 DKK, whether you go by bus, train or metro.
What is the quickest way to get from the airport to Copenhagen?
The train is quickest, taking 12–15 minutes to Copenhagen's Central Station (København H). A taxi and the metro will both take around 20 minutes (traffic permitting), while the bus takes 35–40 minutes.
Can I get to Sweden from Copenhagen airport?
Yes. There are direct trains and buses from Kastrup to Malmö in Sweden. Click here for all the details.
Does transport run all night from the airport into Copenhagen?
Yes. The metro runs throughout the night approximately every 15–20 minutes. The last train leaves the airport at around 12.30am and the service starts again at around 5am.
See also:
What to do on a layover at Kastrup
77 free and cheap things to do in Copenhagen
The best canal tours and boat trips in Copenhagen
The Copenhagen card: is it worth buying?
Getting from Copenhagen to Malmö